Amtrak Vacation Itinerary: 12 Day United States Grand Loop Tour
Grounded Life Travel is supported by its audience. When you purchase through links on our site, we may earn an affiliate commission.As an Amazon Associate I earn from qualifying purchases. List of everything we use in our travels.
This is one of our favorite Amtrak Vacation Itineraries as it combines the three best Amtrak routes to make a grand loop tour of the entire United States. If you can only take one Amtrak Vacation and want to ride the best that Amtrak has to offer, this is the trip to take.
Travel agents can charge up to $12,000 per couple to put this trip together for you, so you can save a substantial amount of money booking everything yourself. In this guide we'll show you step by step how to book the entire trip and save money.
Trip Overview
Major Cities: Chicago, Seattle & San Francisco
Trains: Empire Builder, Coast Starlight & California Zephyr
Days: 12
Cost For 2 People: approximately $1,900 in coach class or $4,500 in a roomette
In this guide we will show you step by step how to choose and book everything you need for your trip including trains and hotels and give you tips to help you along the way. These are actual trips we've taken and we will be recommending the exact same hotels, routes and sometimes restaurants we used.
How To Book The Amtrak Vacation
You'll need to reserve both train rides and hotels for your trip. Here is how we go about it.
Booking Your Amtrak Tickets
This is the most important and expensive part of your trip, so take the time to familiarize yourself with the options you have for booking. We've written a complete guide to booking your Amtrak tickets that will be useful to you as you reserve your tickets. If after reading the guide you feel comfortable booking on the Amtrak website or app go ahead, but if not you can easily call Amtrak at 1-800-USA-RAIL to book your tickets.
Before booking you should setup an Amtrak Guest Rewards account to earn points for your trips. This will enable you to earn free rides in the future.
Booking Your Hotels
There are many ways to book your hotels for your trip, but we think the best way is on booking.com. If you use a website such as this, you'll have all your booked hotels available in one place and you'll also start earning rewards and perks quickly.
While we are members of other loyalty programs, using booking.com gives you the most flexibility to combine hotel brands and still earn rewards. In many cities there are very specific hotels you'll want to stay at and using booking.com to reserve them is the best way we've found to do it.
Links to hotels in this guide will take you directly to the booking.com overview of the hotel where you can easily book your rooms. You can sign up for their rewards program here.
The Grand Loop Itinerary
You can start this itinerary in any of the three cities, so pick the one that is closest to you and start from there. You can also travel in any direction and it won't really change your views that much. You should also feel free to add in extra days in any city that you would like.
Your itinerary will consist of the following trains which will put you in Chicago, Seattle and Emeryville (San Francisco).
Empire Builder
Coast Starlight
California Zephyr
Day 1 – Chicago
Arrive in Chicago the day before your trip to do some sightseeing and get a good nights rest before your trip. For your hotel in Chicago we recommend the Hyatt Place Chicago Downtown – The Loop, which is about a 5 minute walk from the station. The Hyatt is the best place to stay, but at times the price can be high, so our backup hotel for Chicago is the La Quinta near the station, which is usually a little cheaper. This hotel is a bit further but we usually still walk from it to the station as we know we'll be doing lots of sitting on the train.
Hotels in Chicago have run us as little as $77 in the winter and up to $250 in the summer. If you are doing this trip in summer expect to pay more for everything.
A few of our favorite restaurants that we hit up in our videos include Al's Beef, Giordano's, Lou Malnati's Pizza, and Portillo's. These are all Chicago classics and we've never been disappointed at any of them.
If you've never been to Chicago you should check out the attractions including the Field Museum, Museum of Science and Industry, Shedd Aquarium, Skydeck Chicago, and a river cruise. These attractions can add up quickly, so we purchase a Go City All Inclusive Pass that allows entry to everything you'll want to see.
Day 2 – Empire Builder
You'll be riding the Empire Builder to Seattle from Chicago and the train leaves from Union Station in Chicago. When booking the Empire Builder be sure to use city codes CHI and SEA on Amtrak, if you pick SVF which is the Ferry Terminal in Seattle it'll tell you there are no trains available.
You can choose between a Sleeper Room or Coach seating on the Empire Builder. We almost always pick a Sleeper Room on this train as it is two nights. To get an idea of what your choices are you can read our guide to sleeper rooms on Amtrak. The Empire Builder is a Superliner train so you'll only be choosing from the Superliner Rooms. We've also written a guide to coach class on Amtrak if you want to check out that option.
You should plan to arrive to Union Station a few hours early so you can check your bag if you want to and check out the Metropolitan Lounge. We don't normally check bags on the Empire Builder as there is ample space on the luggage racks, but that is up to you. If you have a sleeper car ticket you'll get free access to the Metropolitan Lounge in Chicago, which is the 2nd best one in the country. From the lounge Amtrak staff will announce when your train is ready to board and walk you to it at the right time.
Day 3 – Empire Builder
Day 3 will be spent totally on the Empire Builder. It'll be the most exciting day as you'll go by Glacier National Park. Views are best on the Empire Builder to the north, so if you aren't on that side of the train you may want to go to the observation car when you approach the park.
Day 4 – Empire Builder – Arrival In Seattle
After another pretty day on the Empire Builder, you'll arrive at King Street Station in Seattle. The Empire Builder is usually a little late getting in, so if you are early consider it a bonus. For this reason we usually plan a flexible activity for the first evening so we aren't stressed about the actual arrival time.
There is only one hotel that is right outside the gates of the King Street Station and that is the Embassy Suites Seattle Downtown Pioneer Square. This is also one of the nicest hotels in Seattle. Since we'll also be leaving on the Coast Starlight from King Street Station, this hotel is wonderful. Book this hotel for 2 nights on booking.com and it'll give you one full day to spend in Seattle.
Day 5 – Seattle
If you've never been to Seattle you should take time to visit the Space Needle and the famous Pike Place Market, or catch a ball game of the Seattle Mariners or Seattle Seahawks who both play right next to the Amtrak Station and your hotel.
If you've already spent time in Seattle and want to venture out, rent a car and visit Mount Rainier National Park or the less visited North Cascades National Park.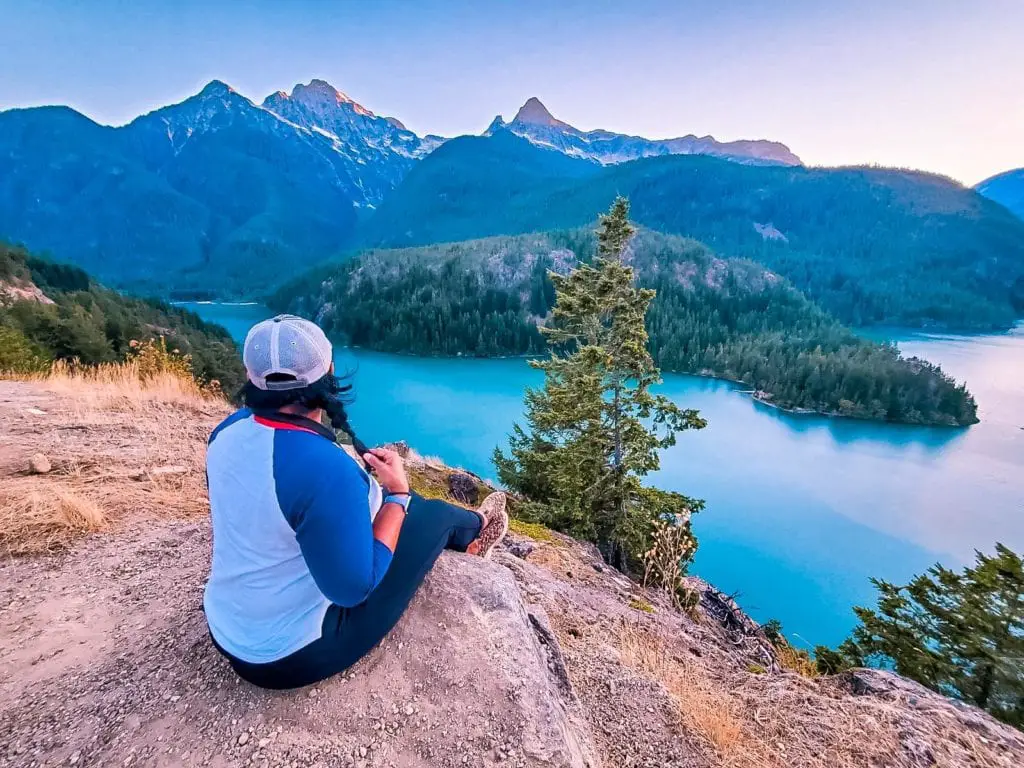 Day 6 – Coast Starlight
You'll ride in the morning from Seattle to Emeryville, CA on the Coast Starlight. Book your tickets from SEA to EMY to go to Emeryville or SEA to SFC to get a bus transfer to San Francisco from Emeryville once you arrive. There is no train that goes directly to San Francisco. On this section of track the east side can be better as you will see the mountains. Going past Emeryville, the west side would be better to see the ocean.
This train ride will last around 24 hours and you'll be on a Superliner train. The Coast Starlight is unique for a superliner train in that it also offers a business class ticket. The seats won't be too much more comfortable than coach for sleeping though, so for this trip we still recommend a roomette or bedroom.
The Coast Starlight leaves from King Street Station in Seattle.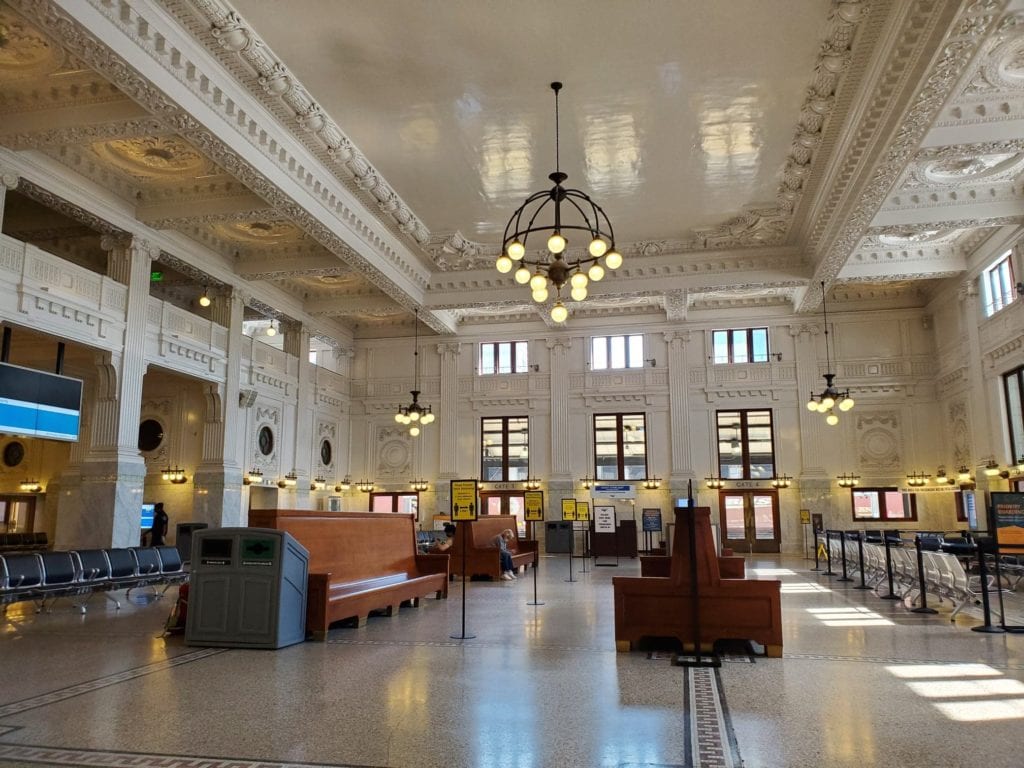 Day 7 – Coast Starlight & Arrival to Emeryville, CA
You'll wake up close to Emeryville and be getting off the train in the morning if you are on time. Then either take the bus to San Francisco or get a cab to your hotel in Emeryville. You can walk to the hotels in Emeryville, and we usually do it, but it is harder than it looks and we recommend just getting a ride.
When visiting this area we usually stay in Emeryville and get transportation into San Francisco for the day or night.
The nicest hotel and closest hotel to the station in Emeryville is the Hyatt House Emeryville. Book 2 nights here and you'll get a full day in the Bay area before getting on the California Zephyr.
We've also stayed at the Four Points by Sheraton San Francisco Bay Bridge, and can recommend it.
For the evening you can either explore Emeryville, Oakland or San Francisco, which are all within your reach.
Day 8 – San Francisco
There are so many exciting activities to do in San Francisco including Alcatraz, and the Golden Gate Bridge area. Spend the day in one of our favorite cities in the United States.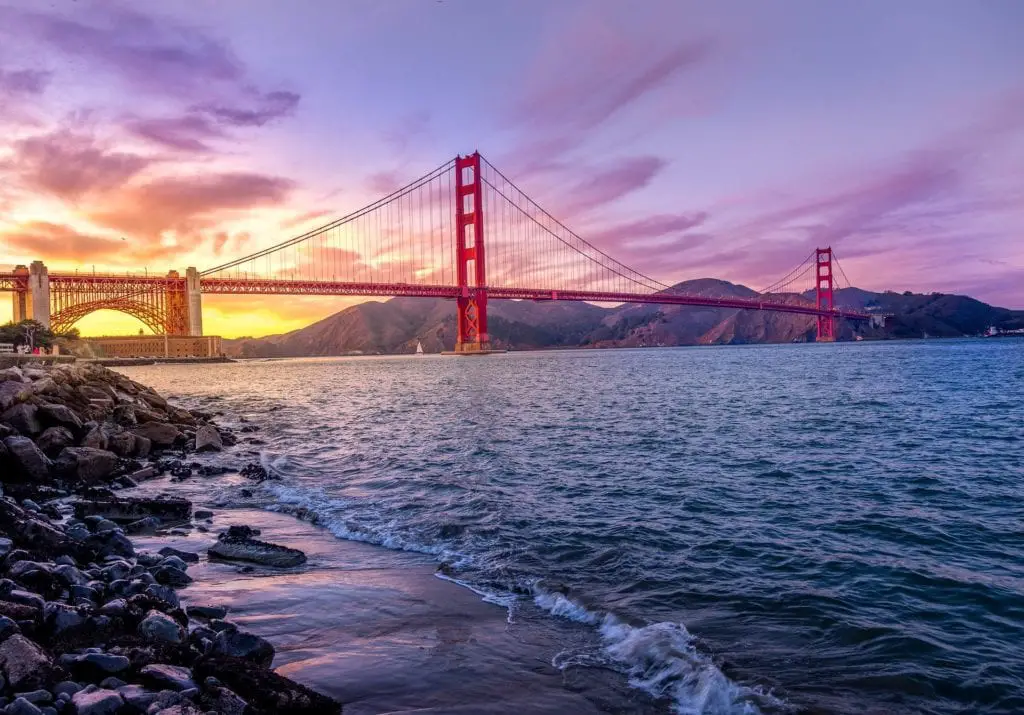 Day 9 – California Zephyr
The California Zephyr leaves in the morning from Emeryville, so if you've stayed at the Hyatt House you'll have a very short trip to the station.
Book your tickets for the California Zephyr from EMY to CHI if you stayed in Emeryville and SFC to CHI if you stayed in San Francisco. We recommend staying in Emeryville to avoid this morning commute to the train station. Views on the California Zephyr are great from both sides, but we prefer the south side of the train, especially through the canyons in Colorado.
The California Zephyr is a Superliner train so you'll have choices of coach and Sleeper Rooms. We usually book a roomette on the California Zephyr, but if you don't like tight spaces the bedroom will be a better option.
Day 10 – California Zephyr
You'll have a full day today on the California Zephyr, and you'll be going through the prettiest stretch of train tracks in the United States. This is one of the most exciting days of the trip! Make use of the observation car and enjoy everything Colorado has to offer.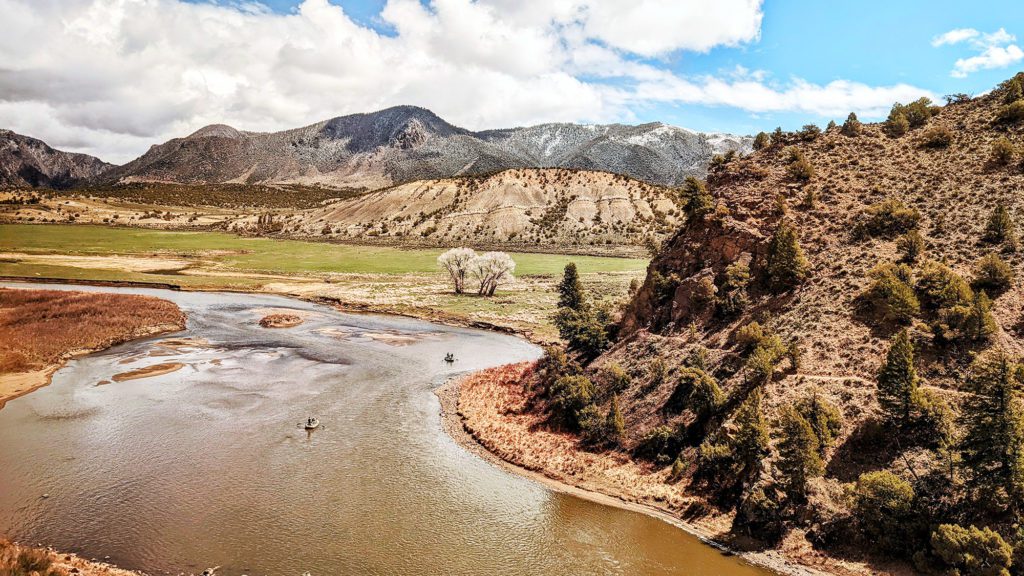 Day 11 – Arrival to Chicago
The last day of this epic trip will have you arriving in Chicago on the California Zephyr in the afternoon. We caution you to not book a flight based on the arrival time. If you are connecting, we would stay the night in Chicago and travel out the next day. The California Zephyr is usually late by several hours getting into Chicago. We've been late by as many as 12 hours.
Unless you have a car and are just driving home, get a room for the night at the same hotel you started at and finish your trip off with a night in the windy city.
Day 12 – Travel Home
Fly, drive, or take the train home from Chicago.
Amtrak Vacation Budget
These prices are for 2 people sharing rooms on the trip. It'll be less for 1 person, but not by much.
Trains
If you ride all 3 trains in coach class you can expect to pay $750 for two people. To ride in a roomette it would be around $3,200 depending on the deal you get. Coach class passengers might be able to save money with a $499 Rail Pass, depending on what else they plan to ride. The rail pass is also sometimes on sale for $299. This pass is good for 10 rides, of which this trip would only use 3!
Hotels
Your hotels should cost between $200-$250 a night, if you've picked the hotels near the station that we recommend. This will add about $1,200 to your budget.
Your total cost using roomettes should be well under $5,000 and under $2,000 if you are riding in coach. Travel agents often charge in excess of $12,000 to put a package like this together, so we recommend taking the time to do it yourself.
Once you've planned your trip be sure to check out our list of 20 things you need to bring on your Amtrak trip!