Best Amtrak Trips From Miami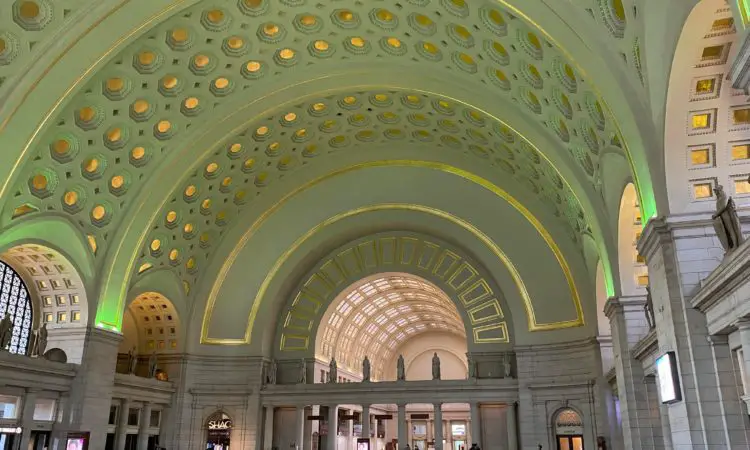 Grounded Life Travel is supported by its audience. When you purchase through links on our site, we may earn an affiliate commission.As an Amazon Associate I earn from qualifying purchases. List of everything we use in our travels.
Miami is an amazing place that brings music, culture and some of the best food available in America. Just walking down the streets of Miami, such as Calle Ocho, will immerse you in the best of the Cuban community and what makes this part of the world so interesting and dynamic.
Starting a vacation or excursion in Miami is always a great idea no matter where your true destination is. However, make sure you carve out at least a couple of days to tour around and have some fun!
Miami is sunny and warm throughout the year, so you can enjoy the great outdoors in January or September and every time in between. Your first stop can be the creatively inspiring Wynwood Walls. Murals that aren't just street art but serious works by renowned artists that are definitely Instagram worthy.
Next, you can enjoy the architecture of the Vizcaya Museum and Gardens. This gorgeous 43-acre property includes lush, beautiful gardens and bay front terraces along with a house that is jammed with priceless antiques from the 16th-18th centuries.
Lastly, you have to immerse yourself in the cuban scene and there is no better way to do that than through food. Try La Rosa for some authentic Cuban cuisine made by the owner himself.
Once you've gotten a glimpse of what this city is all about, take a train trip on Amtrak to one of these other fabulous cities in Florida and beyond.
Orlando
How to get to Orlando from Miami
Your trip from Miami to Orlando will take just under five and a half hours. Getting to Miami's Amtrak station is easy with a rental car or ride share. Start here and board ready to see some of the interior of the state. Marshes, lakes and rivers are on the agenda and you'll want to make sure you get a window seat.
You can either board Amtrak's Silver Meteor or the Silver Star trains for your trip to the "The City Beautiful". The Silver Meteor is a little quicker trip than the Silver Star, shaving off about three hours. Both trains are equipped with a dining car. You can make reservations and order from the menu. Choose to dine in or have your food delivered to your bedroom.
What to do in Orlando
Orlando has no secrets when it comes to things to do. Overwhelmingly, the first place that almost anyone wants to go are the theme parks. However, if you want to do something that involves more nature, you could choose to visit one of the many natural springs that dot the metro Orlando area. Most of these are around a thirty minute drive and are such a cool addition to your visit to the "Sunshine State". Blue, Rock, De Leon and Wekiwa Springs are all within reach for a refreshing dip, bird watching or some unique outdoor photography.
Tampa
How to get to Tampa from Miami
Your five and a half hour trip from Miami's Amtrak Station to Tampa's Union Station will be well worth the hour and a half more it takes you to get there when compared with driving.
Amtrak's Silver Star runs from Miami to New York City with many stops in Florida. Therefore, you can get on the train in Miami and depart the train in Tampa. On the Silver Star you can choose from a comfortable coach seat, or opt for a roomette or bedroom. Either way, you will have a good view and a chance to visit the cafe car if you are hungry.
From Miami , you will be crossing the state and witness its forests, marshes and beautiful bodies of water that are so plentiful in Florida. Pass through the Big Cypress National Forest and the Everglades. Keep your eyes peeled for that grandaddy alligator. Getting to Tampa this way will be hassle free as well as more efficient. Read a book, meet new people or take a nap. These are all activities that have to be passed up if driving.
What to do in Tampa
Tampa is a gorgeous city on the clear and clean Gulf of Mexico that you will love getting to know. There's no better way to introduce yourself to a city than through it food. Start at the historic and fabulous Ybor City. Immigrants from the late 1800's brought their heritage culture and culinary love from Cuba, Spain and Italy, making this the perfect place to chow. Likewise, in the suburbs of Tampa, the perfect pizza is found at Pizzeria Gregario. You are by the sea, so why not try some of the best seafood available. Head to Eddie V's for some upscale affair, or if you want a view, you can't beat the Rusty Pelican and its sunsets.
Jacksonville
How to get from Jacksonville from Miami
Your trip from Jacksonville's Amtrak Station to the Station in Miami will be a 9-11 hour trip that will take you nearly the length of the state. Watch out your window as the landscape changes from forests and marshes to palm tree laden flatlands that lead to the Atlantic. Enjoy your time gazing out the window or watching a movie, because you're not driving!
The Silver Meteor and the Silver Star travel on the first leg of a long journey to New York City when you board in Miami. The Silver Star and the Silver Meteor are very similar trains, yet they take different routes, with the Silver Star making more stops in Florida than the Silver Meteor. In fact, the Silver Star will go west and make a stop in Tampa, making the trip almost three hours longer. Both trains offer bedrooms and coach seats alike and are a comfortable ride, whichever you choose.
What to do in Jacksonville
Jacksonville is full of beaches, green spaces and some of the best eco-tourism there is. In fact, if you are in town to take advantage of everything there is to do in the great outdoors, you've made the right decision in choosing Jacksonville. Is kayaking your jam? You can't only kayak the open oceans and waterways of Jacksonville but also passed missions and other historic places, learning their stories. Take a bike tour of Amelia Island and see the pristine beauty that only the southern Atlantic coastline can produce. Take a guided boat tour off the coast of Fernandina Beach and watch for whales and dolphins as well as other sea life as you scan the horizon.
Washington D.C.
How to get to Washington D.C. from Miami
Your trip from Washington D.C. to Miami will be a trip of a lifetime using a mode of transportation that much of the world forgets is available. Start at Washington D.C.'s Union Station and land in Miami's train station. Although you will be on the train for a total of 24 hours, you will still get to see the landscape change drastically down the coast of America.
The Silver Meteor and the Silver Star can both get you to Miami. However, the Silver Star will have more stops in North Carolina and will also go west to stop in Tampa making the trip a bit longer. The experience will nearly be identical on both trains as the amenities are similar. For this trip, it is highly recommended that you secure a roomette or bedroom so that you can get some sleep and also relax alone during the day. Bedrooms feature everything you get in a hotel room and allow for quiet and privacy.
What to do in Washington D.C.
Washington D.C. is a wonderland of history and architecture. If seeing America's most valued and iconic sites is on your bucket list, then you have come to the right place. See the sights by foot, bike, Segway or double decker bus. Visit the museums and historical sites by day, or enjoy the stunning display of city lights by night. Take a guided tour, or do it yourself. Whatever you decide to see the Lincoln Memorial, the Smithsonian, the U.S. Capitol and the White House is up to you. Unfortunately, you can't see all of these and much more in one day. Take a week and enjoy it all!
Choosing one of these amazing Amtrak Trips from Miami is an amazing way to see the Eastern part of the country and experience something out of the ordinary. From Washington D.C. to Tampa Florida, it doesn't matter what you choose as Amtrak will make it a top shelf trip.