Amtrak Crescent Route Guide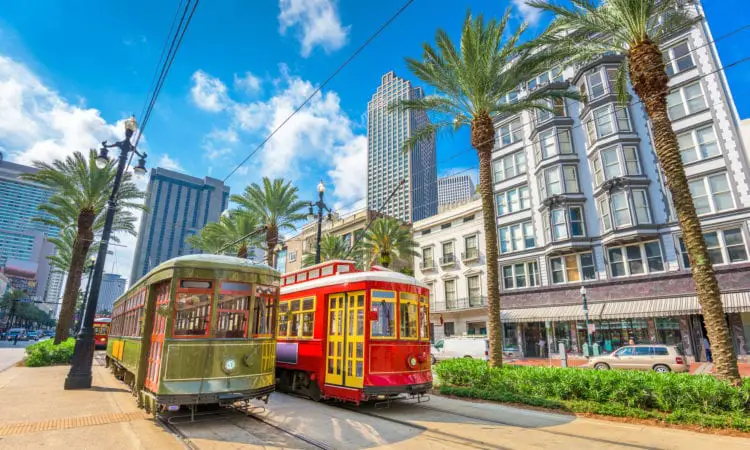 Grounded Life Travel is supported by its audience. When you purchase through links on our site, we may earn an affiliate commission.As an Amazon Associate I earn from qualifying purchases. List of everything we use in our travels.
The Amtrak Crescent is noted for it's journey to the American South. You will journey from New York to New Orleans. The crescent passes through 12 states as well as Washington DC, the most of any Amtrak route. It is Amtrak's thrid longest route in the East. You can enjoy big cities, college towns and even travel over Lake Pontchartrain as you arrive into New Orleans.
The Crescent will take you from New York to New Orleans via Philadelphia, Baltimore, Washington DC, Charlotte, Greenville, Atlanta and Birmingham before arriving in New Orleans. You can also take the route from New Orleans to New York.
Train Info
| | | |
| --- | --- | --- |
| | Wifi | Yes |
| | Observation Car | No |
| | Dining Car | Yes |
| | Cafe | Yes |
| | Distance | 1,377 Miles |
| | Time | 30 Hours |
Ticket Options
On the Crescent you can purchase tickets in these categories (sample summer fares for 2 people shown):
Coach ($300)
Viewliner Roomette ($698)
Viewliner Bedroom ($1,069)
Amtrak often runs 2 for 1 sales on coach tickets as well as roomettes. If you are planning well in advance, check out our guide to getting 2 for 1 tickets during the BOGO sale.
Meals and Metropolitan Lounge access are included for all sleeper car passengers.
Scenic Views
The Crescent will take you from New York to New Orleans through 12 states, the most states of any route on Amtrak. You will be treated to great views of New York City as you traverse the North River Tunnels and head into Pennsylvania. Don't miss the quaint views of the country as you enter the American South in Virginia. You'll also travel through the heart of the south, Atlanta. You'll have an up close view of this city that you cannot get while driving. Just outside New Orleans you'll have views of Lake Pontchartrain and the famous cemeteries of the region.
Major Sites
Most people vacationing on the Crescent are traveling between the Big Apple and the Big Easy. Along the way you will get a unique view into Monticello wine country, you'll see the charming college town of Charlottesville, Virginia. You can stop in and taste some Coca Cola in Atlanta or travel all the way to New Orleans over Lake Pontchartrain.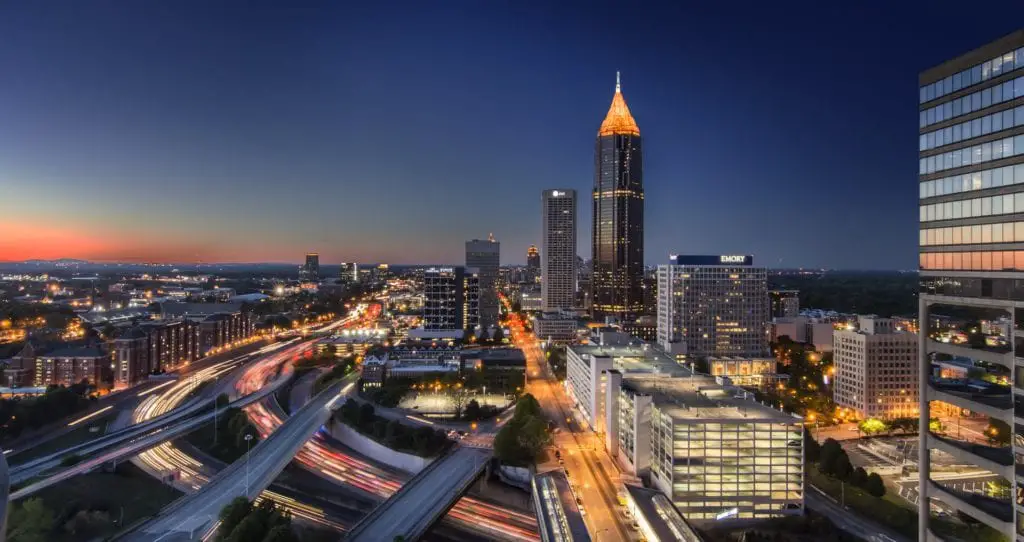 Major Stations
The major and notable stations on the Amtrak Crescent are New York City, Philadeliphia, Baltimore, Washington DC, Charlotte, Greenville, Atlanta, Birmingham and into New Orleans.
States Visited
The Amtrak Crescent starts in New York and heads straight into Pennsylvania, Delaware, DC, Virginia, North Carolina, South Carolina, Georgia, Alabama, Mississippi and Louisiana. There are many notable stops along this route.
Station Reviews
The Crescent has terminus stations of New York City on one end and New Orleans on the other. Both stations have Metropolitan Lounges but the lounge in New Orleans is just a room off the main waiting area. The Metropolitan Lounge in New York is more luxurious. You will find restaurants at both stations as well as convenience stores.
Both stations also offer free checked baggage, up to 2 bags per person of 50lbs.
New Orleans Union Passenger Terminal
New Orleans Union Passenger Terminal is an intermodal facility. The station services Amtrak, Greyhound Lines, MegaBus and NORTA. It is the terminus for City of New Orleans and the Crescent as well as the Sunset Limited. This station offers a small Metropolitan Lounge. You will also find a couple restaurants to purchase food as well as a convenience store for drinks and snacks.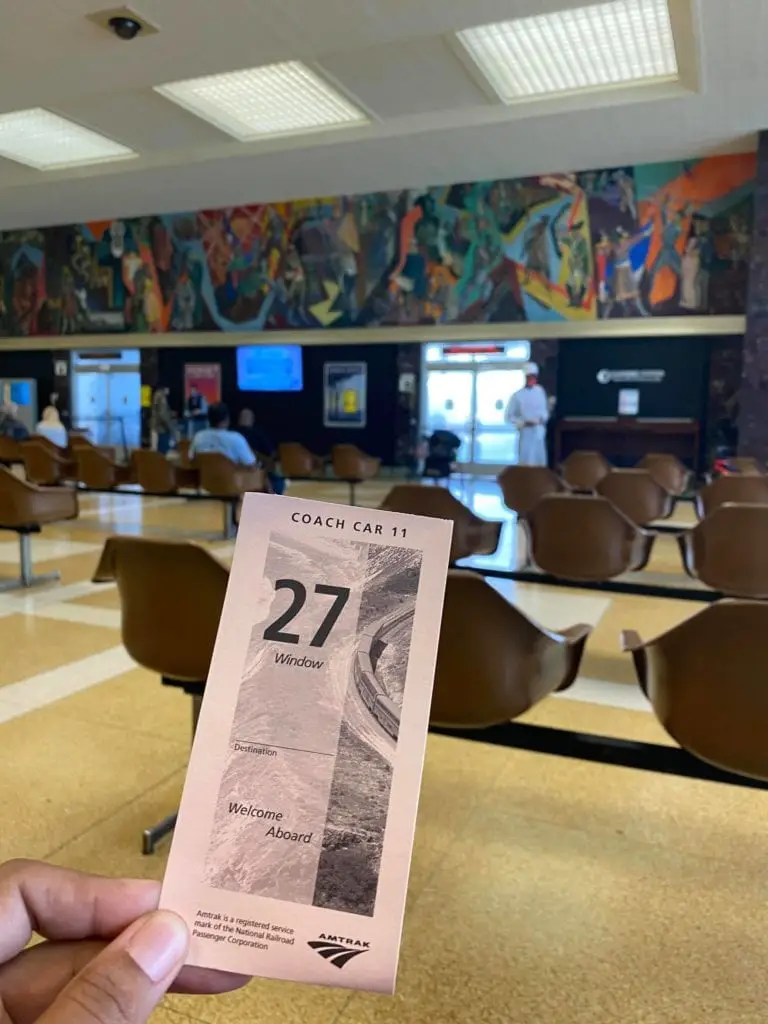 There are lots of options of places to stay near the New Orleans Union Passenger Terminal.
We stayed at the The Troubadour, and really enjoyed it. While it is not close enough to walk to the station, we ended up walking to the station with our luggage from there anyway, due to a lack of available cabs. Plan to book your ride to the station the night before with a reputable car service that your hotel can provide.
The Hyatt Regency is within reasonable walking distance to the station.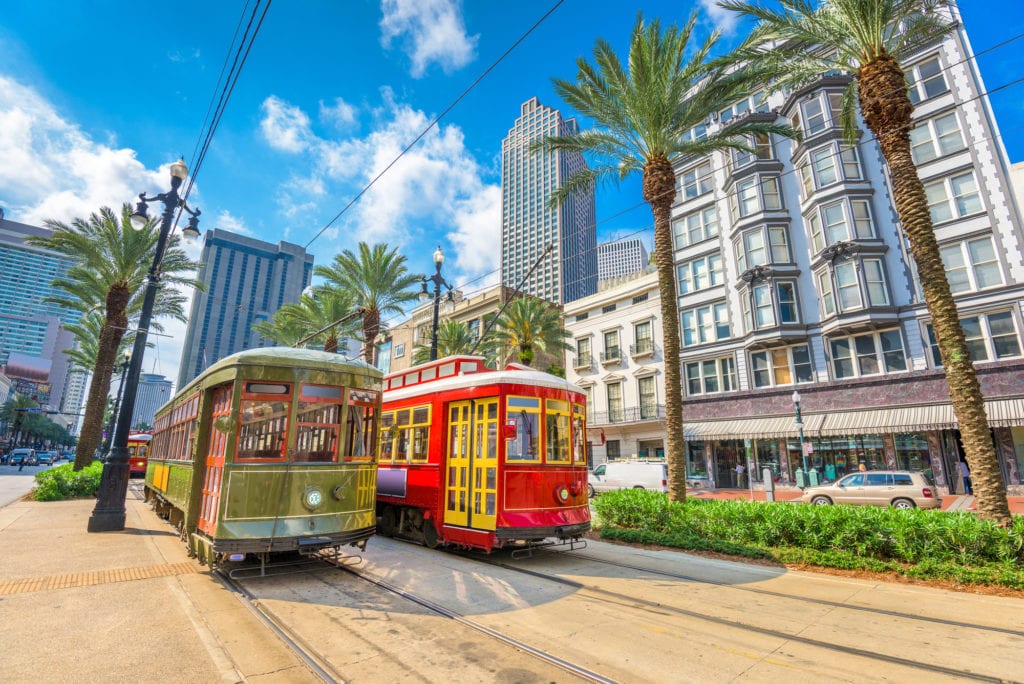 Moynihan Train Hall – New York
You will board your Amtrak train in Moynihan Trail Hall in New York. It's a gorgeous hall with 92 ft high skylights and modern amenities. It is s world class station. You will find restaurants as well as convenience stores.
There are lots of options for hotels near this station. The closest option is the Fairfield Inn & Suites Penn Station.
Trip Planning
The Crescent can be paired with several other trains for a longer vacation. You can take the Sunset Limited to Los Angeles after arriving in New Orleans for an interesting cross country trip.
You can also link the Sunset Limited to the Southwest Chief in Los Angeles and ride to Chicago and then back to New York on the Lakeshore Limited. Note that the Amtrak stations in New Orleans and New York are not near the airports, so if you are flying into those cities to start this route you'll need to get a cab or Uber to the Amtrak station.
Booking Tickets
Tickets for Amtrak can be booked at Amtrak.com or using their app on your phone. Reservations can also be made by calling 1-800-USA-RAIL.
Tags :
Amtrak
crescent