Amtrak Silver Meteor Route Guide
Grounded Life Travel is supported by its audience. When you purchase through links on our site, we may earn an affiliate commission.As an Amazon Associate I earn from qualifying purchases. List of everything we use in our travels.
Silver Meteor Route Overview
The Amtrak Silver Meteor travels from the Northeast to the beaches of south Florida. This journey will take you from the Big Apple to Miami, Florida via the Northeast Corridor. This route shares many stations with the Silver Star, which has more stops in North Carolina.
The Silver Meteor will take you from New York City to Miami, Florida via Philadeliphia, Baltimore, Washington D.C., Savannah, Orlando and West Palm Beach.
Train Info
| | | |
| --- | --- | --- |
| | Wifi | Yes |
| | Observation Car | No |
| | Dining Car | Yes |
| | Cafe | Yes |
| | Distance | 1,389 Miles |
| | Time | 28 Hours |
| | Top Speed | 79 Mph |
Ticket Options
On the Silver Meteor you can purchase tickets in these categories (sample summer fares for 2 people shown):
Coach ($300)
Viewliner Roomette ($704)
Viewliner Bedroom ($1,127)
Amtrak often runs 2 for 1 sales on coach tickets as well as roomettes. If you are planning well in advance, check out our guide to getting 2 for 1 tickets during the BOGO sale.
Meals and Metropolitan Lounge access are include for all sleeper car passengers.
Scenic Views
The Silver Meteor will take you from the Big Apple to the beautiful beaches of Miami, Florida. You'll zip through the Northeast Corridor before traveling into the nations capital. Take in the views of the quaint towns of the Virginia, North Carolina and South Carolina. Savannah, Georgia will take your breath away as you head into the state of Florida. Enjoy views of the Sunshine State from Jacksonville, Orlando and West Palm Beach before arriving in sunny Miami.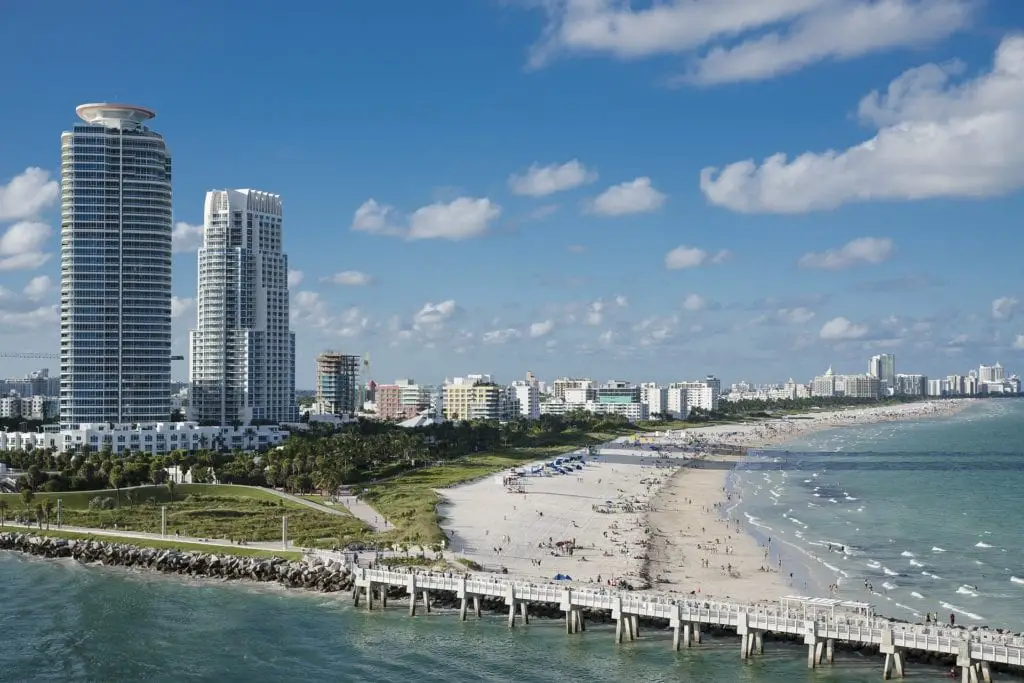 Major Stations
The major and notable stations on the Amtrak Silver Meteor starting with New York City, Philadelphia, Wilmington DE, Baltimore, Washington D.C., Richmond, Charleston SC, Savannah, Jacksonville, Winter Park, Orlando, West Palm Beach, Fort Lauderdale and Miami.
States Visited
The Amtrak Silver Meteor travels through several states from New York, New Jersey, Pennsylvania, Delaware, Maryland, Washington D.C., Virginia, North Carolina, South Carolina, Georgia into Florida. There are many notable stops along this route.
Station Reviews
The Silver Meteor has terminus stations of New York on one end and Miami on the other. Moynihan Train Hall in New York has a Metropolitan Lounge where you can relax before your journey. The Miami Amtrak Station does not have a lounge or very many services. There are several restaurant options in New York. You will want to arrive early to the New York Station to take a look around, there is lots to do.
Both stations also offer free checked baggage, up to 2 bags per person of 50lbs.
Penn Station – Moynihan Train Hall
You will board your Amtrak train in Moynihan Train Hall in New York. It's a gorgeous hall with 92 ft high skylights and modern amenities. It is a world class station. You will find restaurants as well as convenience stores.
There are lots of options for hotels near this station. The closest option is the Fairfield Inn & Suites Penn Station.
Miami Amtrak Station
This is a small station servicing the Silver Star and the Silver Meteor. Amtrak was suppose to move their services to the new 2 billion dollar train station but were unable to make the move when it was discovered they had miscalculated and the Amtrak trains would not fit. The Miami Amtrak Station is just 20 min from the airport by car. They have checked bag service, restrooms and bag storage. You will find a Walmart about 15 min walk from the station but it's best to bring what you need with you to avoid this walk in the Miami heat.
Trip Planning
The Amtrak Silver Meteor can be paired with several other trains for a longer vacation. A few options from New York are the Lake Shore Limited or the Cardinal.
Booking Tickets
Tickets for Amtrak can be booked at Amtrak.com or by using their app on your phone. Reservations can also be made by calling 1-800-USA-RAIL.
Tags :
Amtrak
amtrak routes
Silver Meteor