Best Luxury Trains of Great Britain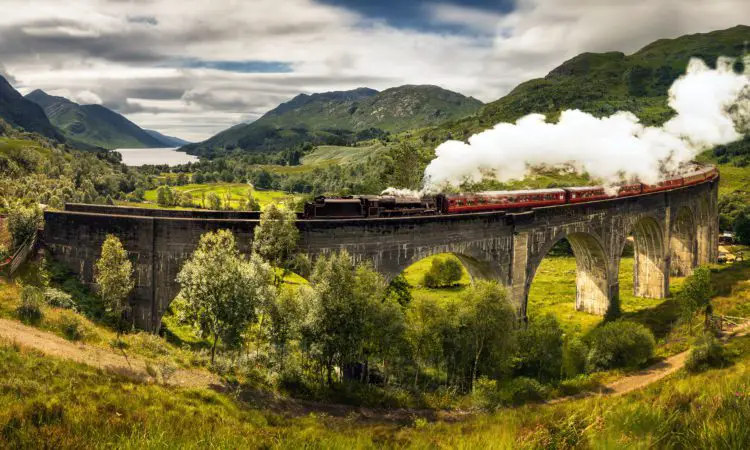 Grounded Life Travel is supported by its audience. When you purchase through links on our site, we may earn an affiliate commission.As an Amazon Associate I earn from qualifying purchases. List of everything we use in our travels.
Seeing the countryside of Great Britain is on many traveler's bucket lists. The green rolling hills that lead up to 1000-year-old castles with sheep flanking its borders is a sight we all clamor to see. The windswept cliffs of the Scottish Highlands and the craggy terrain that hides stories of eons calls to all holiday seekers.
Getting into the interior of the country can be difficult by car or bus. Traveling by train can really introduce you to the wilds of the United Kingdom and areas that would be inaccessible by any other mode of transportation. Yet, you don't have to rough it either, while seeing the wilderness and these sleepy little British towns.
Traveling by luxury train is once more a popular way to see the world. Although it isn't used as much as a commuter option, many people use train travel as a part or all of their vacation. Train travel allows every passenger to enjoy the view, have a leisurely meal and even take a nap. This simply just isn't possible with any other mode of transportation.
The United Kingdom is known for some truly stunning scenery and taking one of the luxury train trips to see it is the best way to get acquainted with what this beautiful part of the world has to offer.
The British Pullman
This train is the one to pick if you are new to train travel. The British Pullman harkens back to The Golden Age of Train Travel, when travelers wore hats and gloves and really dressed up for the occasion.
It is a day trip train that features stunning views and lovely destinations, all while entertaining and pampering you from the comfort of your seat. Names of carriages reflect the starlets that may have ridden on this moving time capsule in the 1920's and 30's giving each one their own personalities. You may find yourself on Audrey or Vera on the way to your destination, then get to experience Lucille or Gwen upon your return.
When entering the British Pullman, you will be welcomed by its rich interior of inlaid wood and plush tweed, setting the perfect stage for the landscape that will unfold outside the large picture windows.
Choose from 25 destinations that all have a different story to tell once you arrive. Enjoy Chaucer's Canterbury, the wineries of Kent or Her Majesty the Queen's Sandringham. Anywhere you choose will be an amazing addition to your travel stories.
The British Pullman has so many choices for traveling that the fare will vary. Fares start at $460 for a brunch trip through the English countryside to $960 for an all day trek that includes several stops, tea time and a five-course meal. You can also choose to get off for several planned excursions apart from the train. Departing from the train in one of the 27 cities that the train travels through is also an option.
The Jacobite
Taking the Jacobite across the magnificent Scottish Highlands won't be the only adventure you will find on this grand journey. For "Harry Potter" fans, this is the Holy Grail for celebrating the fun moments in the film that were spent on this very train.
You can even reserve the Compartment Class on 'The Hogwarts Express', where you can bring five other friends and experience the trip just as Harry, Hermione and Ron did in the famous book and film.
If you get hungry and are seated in first class, you will enjoy a service of tea or coffee. You can even splurge and order their High Tea Cream Service, which includes, tea or coffee, sandwiches, scones and other fine treats. There is also a buffet carriage for snacks or you are welcome to bring a picnic on board.
This 84-mile trip starting and ending in Fort William will be an amazing day and won't break the bank. Riding First Class will cost you $100 per person, and Standard Class is $67 per person. If you have a bunch of friends that want to relive the "Harry Potter" scenes, then make sure you book a Compartment Class service, which is $435 per compartment. If you have six friends, that's $72 per person for a "one of a kind" experience.
The Royal Scotsman
Exploring the Scottish Highlands has never been so lavish or comfortable. The inhospitable environment outside is no match for this train that exudes elegance and luxury.
Choose a shorter two-night trip and dip your toes into the world of train travel or take an expansive immersion tour and enjoy 7 nights exploring the country by enjoying castles, beach walks, monuments, gorges, waterfalls and mountains.
There are a host of accommodations to choose from on this luxury train. Choose a Grand Suite and spare no expense or you can choose a twin cabin if you are a lone traveler looking for a special experience. Opulence and the ultimate in pampering knows no bounds on this trip no matter if you splurge or are on a budget.
The Royal Scotsman has ten separate itineraries in which to choose from all having their own pricing. Pricing starts from $5,000 for a two night excursion to $16,500 for a 7 night excursion. Although traveling on this train can be expensive, you will find that it is worth every penny.
The Northern Belle
The train's theme was inspired by the 1945 film "Brief Encounter", which depicts a love story set amongst trains. You will find that each train is named after a place in which the train visits and each carriage is different and interesting in it own way. Inlaid fine woods, marquetry motifs and mural paintings set the stage. Travel in the ultimate lap of comfort and luxury while having intricate details to fawn over.
The Northern Belle can be an extension and addition to the voyage taken on the Venice Simplon Orient-Express. In fact until fairly recently it was part of the Orient Express, so you know it must be grand.
Castles, museums and even a royal yacht can become your destination of choice as there are so many to choose from when traveling on the Northern Belle.
The Northern Belle can be a relatively economical excursion, or you can go all out and spare no expense. For $365 you can enjoy a traditional English Tea Service with all the important trimmings. Strolling musicians and a magician will visit your table as you take in the ever-changing landscape.
The Venice Simplon-Orient-Express
The Venice Simplon Orient-Express is the quintessential train voyage that begins in London and can take you to various destinations throughout Europe. Only a small portion of the trip in based in the U.K. However, it is such an amazing excursion that it must be mentioned.
Since 1929, this stunning work of locomotive art has been running travelers to the likes of Paris, Verona, Venice, Prague, Vienna and Budapest. Featuring the finest cuisine, unmatched scenery and extraordinary pampering, this journey won't quite be like an other and is heralded as one of the best luxury train journeys in the world.
Additionally, there are so many various itineraries in which to choose on the Orient Express. Choose one that matches your desires and budget. Journeys start at $5,600 per person for a twin cabin and can reach as high as $14,400 per person if you book the Grand Suite. The most expensive booking is the Paris to Vienna Return with the Grand Suite. This trip will cost $30,800 per person and will take four days of luxurious travel in a round trip itinerary.
Luxury train travel around the United Kingdom is the perfect way to explore a country with unrivaled history and the topography and surroundings that beckon to be explored. Book one of these trips with a loved one, a group or even alone and you will experience a vacation that will go down in the annals of time.