Amtrak Lake Shore Limited Route Guide
Grounded Life Travel is supported by its audience. When you purchase through links on our site, we may earn an affiliate commission.As an Amazon Associate I earn from qualifying purchases. List of everything we use in our travels.
Lake Shore Limited Overview
The Amtrak Lake Shore Limited will take you from Chicago to New York or Boston. Along the route you will enjoy the famous Native American Highway. You'll also be treated to some of the most beautiful shorelines in the US.
This train splits in Albany, depending on what ticket you have. You can also start this ride in New York City or Boston and ride to Chicago in the other direction.
Train Info
| | | |
| --- | --- | --- |
| | Wifi | Yes |
| | Observation Car | No |
| | Dining Car | Yes |
| | Cafe | Yes |
| | Distance | 959 Miles |
| | Time | 20 Hours |
Ticket Options
On the Lake Shore Limited you can purchase tickets in these categories (sample summer fares for 2 people):
Coach ($180)
Viewliner Roomette ($708)
Bedroom ($877)
Scenic Views
The Lake Shore Limited will take you from the Windy City to the Big Apple or Boston, depending on train. You will enjoy views of the Great Lakes as the route travels along some of the most beautiful shorelines in America.
Major Sites
Most people vacationing on the Lake Shore Limited will get to see the beauty of Chicago as leave the Windy City and the hustle and bustle of New York City as they arrive in Moynihan Train Hall. You can even hop off and enjoy the mountains, rivers, museums and many cities along this route. You'll pass the Finger Lakes region in New York State, you will travel through the Berkshires, and you can even hop off and explore the area and visit the house where Herman Melville wrote Moby Dick.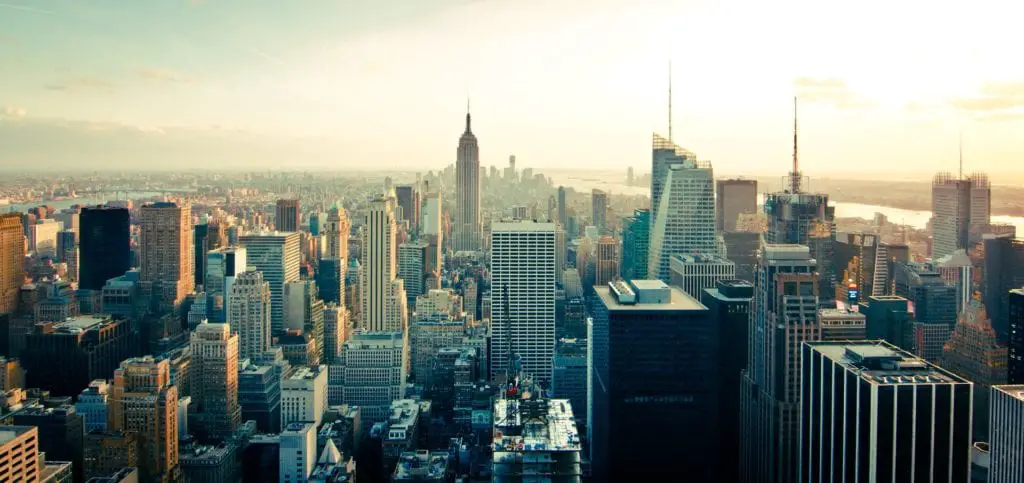 Major Stations
The major and notable stations on the Amtrak Lake Shore Limited are Chicago, Toledo OH, Cleveland OH, Buffalo and Boston if you continue on otherwise you will end up in Moynihan Train Hall in New York City.
States Visited
On the Amtrak Lake Shore Limited you travel through Illinois, Indiana, Ohio, Pennsylvania, Massachusetts and finally in New York.
Station Reviews
The Lake Shore Limited has terminus stations of Chicago on one end and New York City/Boston on the other. All three stations are spacious with lots to do. Chicago Union Station, Boston South Station and Moynihan Train Hall are all tourist attractions as well as very busy inter modal stations. You will want to arrive a bit early to tour the stations.
Chicago Union Station
Union Station in Chicago is perhaps the finest Amtrak station in the country. It offers easy access in the heart of Downtown Chicago and features the best Metropolitan Lounge you will find. There are plenty of fast food restaurants within the station where you can get food to bring back to the new 2 level Metropolitan Lounge. The entire station has a nice decor that makes you feel like you are about to take a special trip.
If you'd like to stay close to Union Station before or after your visit we recommend the Hyatt Place Chicago Downtown – The Loop, which is about a 5 minute walk from the station. We have also stayed at the La Quinta near the station, which is usually a little cheaper. Both hotels are in a pretty good area. We have walked to them with our bags after midnight without any problems.
South Station – Boston
South Station, officially known as the Governor Michael S. Dukakis Transportation Center at South Station is the largest railroad station and intercity bus terminal in the greater Boston area. This station was built in 1899 and rebuilt in 1985. You will also find a few restaurants to purchase food as well as a convenience store for drinks and snacks. There are also shops to grab a souvenir or you can even pick up some flowers.
The Intercontinental Boston is a good choice that is close to the station.
Penn Station – Moynihan Train Hall
You will board your Amtrak train in Moynihan Train Hall in New York. It's a gorgeous hall with 92 ft high skylights and modern amenities. It is a world class station. You will find restaurants as well as convenience stores.
There are lots of options for hotels near this station. The closest option is the Fairfield Inn & Suites Penn Station.
Trip Planning
From New York City your options are almost limitless. You could take the Acela To Washington DC or get on the Lake Shore Limited or Cardinal back to Chicago. If you want to head down south you could ride the Silver Star to Florida or the Crescent to Atlanta and New Orleans.
Booking Tickets
Tickets for Amtrak can be booked at Amtrak.com or using their app on your phone. Reservations can also be made by calling 1-800-USA-RAIL.
Tags :
Amtrak
amtrak routes
lake shore limited