Guide To Amtrak Booking Options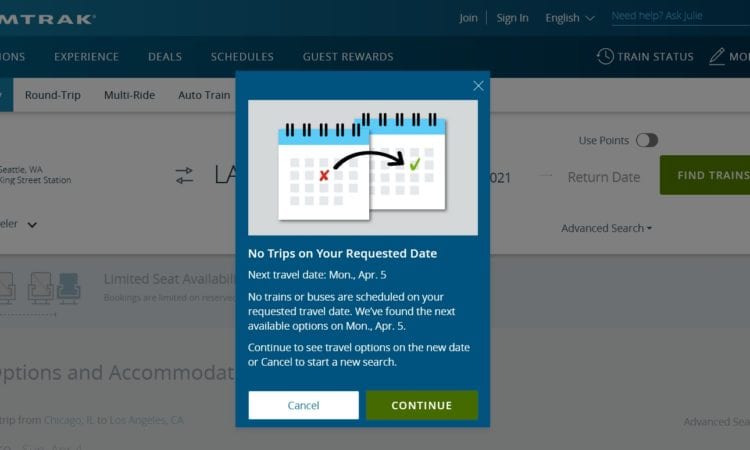 Grounded Life Travel is supported by its audience. When you purchase through links on our site, we may earn an affiliate commission.As an Amazon Associate I earn from qualifying purchases. List of everything we use in our travels.
There are 3 Amtrak booking options for reserving your next train trip in the USA. Amtrak also runs sales and discount offers that passengers can take advantage of throughout the year. Use whichever method and sale best fits your travel plans.
Booking On Amtrak.com
The most widely used method of booking train travel in the USA is directly on Amtrak.com. This is also the lowest rated method as some passengers find the booking section of the site confusing. We will walk you through what you need to know to get the job done if you use this Amtrak booking option.
At first glance, this is pretty straightforward. You'll need to know where you want to start and end a trip, and your departure date as well as the number of travelers. If you are going to a specific place this booking area works well. Where it falls short is if you are trying to find somewhere to go on vacation, and want to check your options.
You'll want to minimize transferring trains if at all possible, because that can include an overnight stay. To do this you should keep your travel restricted to one named train, such as the Empire Builder or the Southwest Chief. The issue that new passengers have, is that Amtrak.com doesn't do a great job of telling you where one train starts and ends and where you'll be switching trains. You are best served to do a little research before booking and find a route that you'd enjoy being on. We have a route guide for each named Amtrak train on this site where you can find out where each train begins and ends. Once you find one you like just type those cities into the booking engine and pick your train. We also have video reviews of many major routes on our YouTube Channel.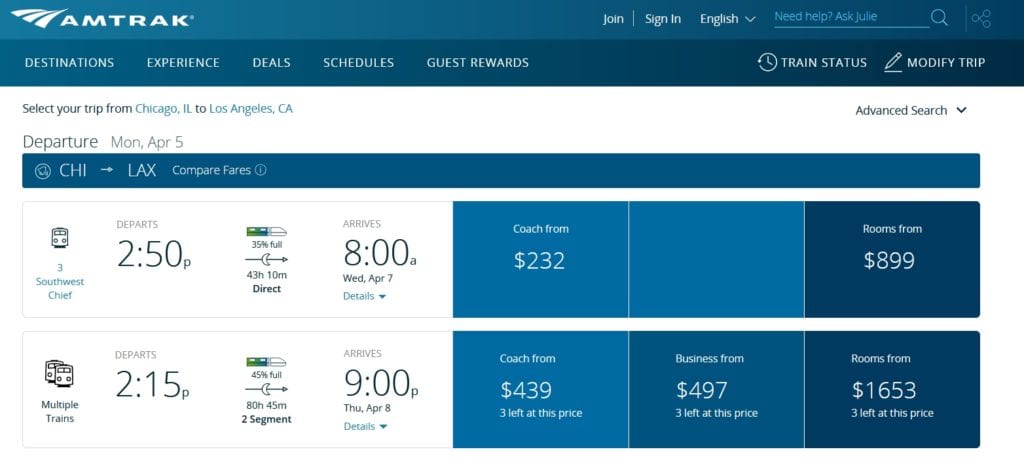 One other caveat is that if you pick a train that only goes on certain days, it might not show up for the day you selected. In this situation you could also search a day before and after to make sure you are getting a named train. If this is the case Amtrak will often prompt you that there is no service that day and take you to the next available train.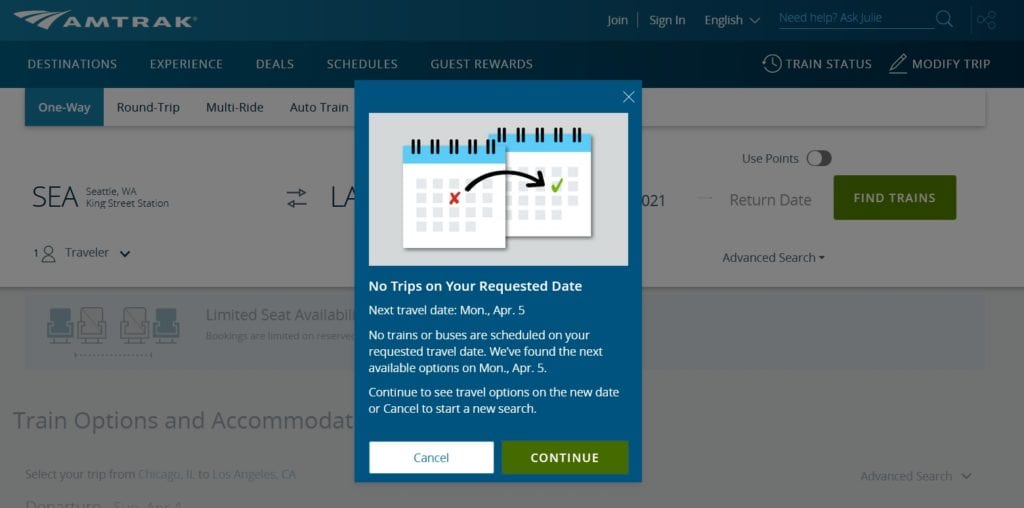 You'll also need to be sure you know the code for the main station in the city you are visiting. For instance, in Seattle, the main station is King Street Station (SEA), but there is also a Ferry Terminal in Seattle under (SVF). If you choose this by accident you'll think there are no trains from Los Angeles to Seattle, when in fact there are.
Some routes such as Washington D.C. to New York City offer multiple named trains. To only see the train you are interested in, you can click advanced search on the right side of your screen and check the box for the train you'd like. You can also sort these by time of day. These additional Amtrak booking options only show up after doing your initial search.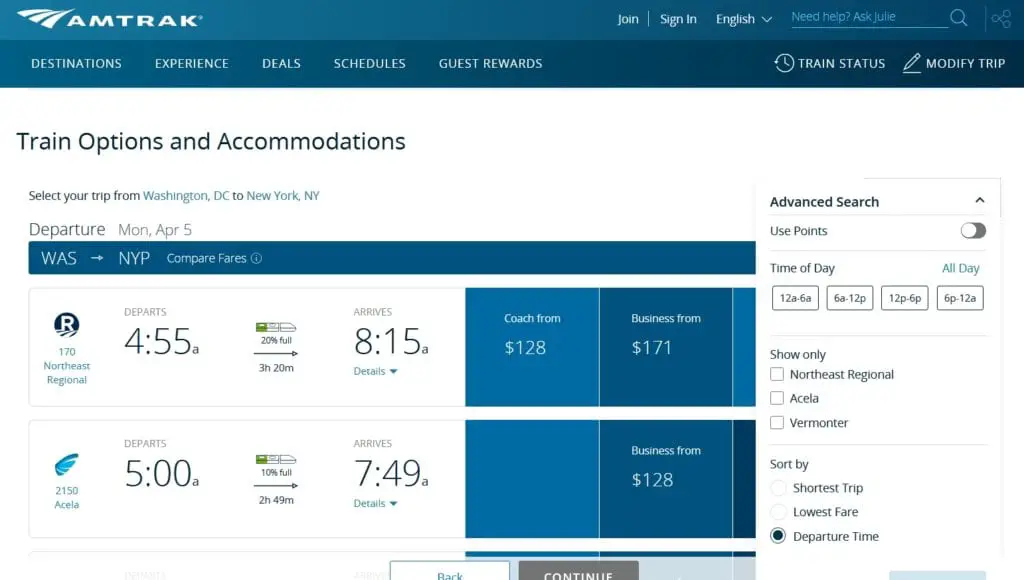 Getting one of Amtrak's many discounts is done by selecting one from the traveler drop down box before searching for your train.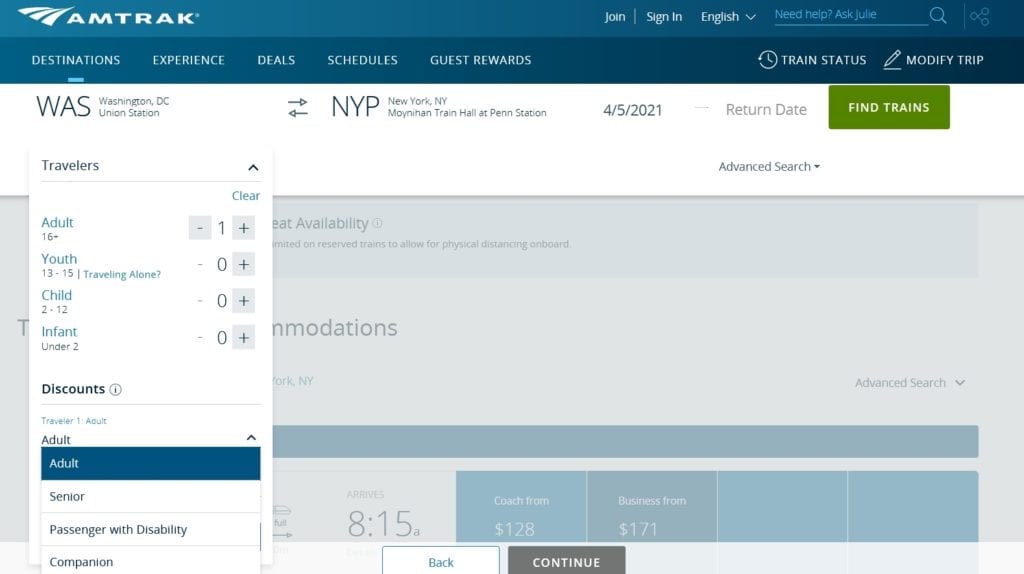 After selecting your train you'll be prompted to sign in to your Amtrak Guest Rewards account. If you don't have one yet, it is highly recommended. You'll earn points for free travel and also be on the list to get notified of any sales like the buy one get one free (BOGO) sales they run.

You'll then have the option of adding any optional ticket items like a pet or bicycle if they are available on your route. Pet tickets on Amtrak are $26 and it costs $20 to bring a bicycle.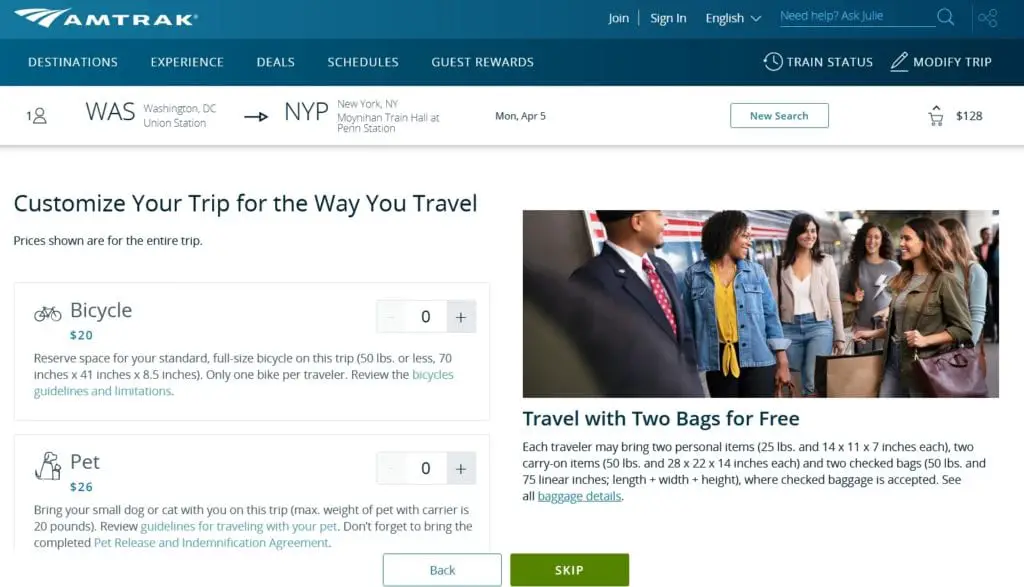 Lastly, you can decide to pay with a credit card, voucher or gift card.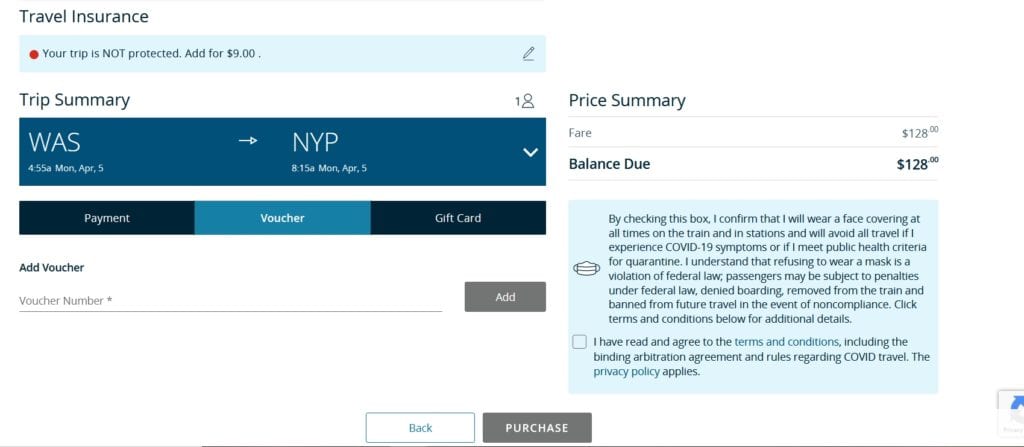 Booking Through The Amtrak App
Many passengers enjoy booking on the Amtrak app, available for Apple and Android. This is the most highly rated of the Amtrak booking options. Not only can you book trains on the app, but you can check the status of any Amtrak train, and see all of your upcoming trips in one place. The process is similar to booking on the website.
One change is you'll see a section for an Amtrak coupon or discount code right on the front page. Clicking the Travelers section will take you to other discounts such as senior or military. One this main page you can also check your account or the status of any train.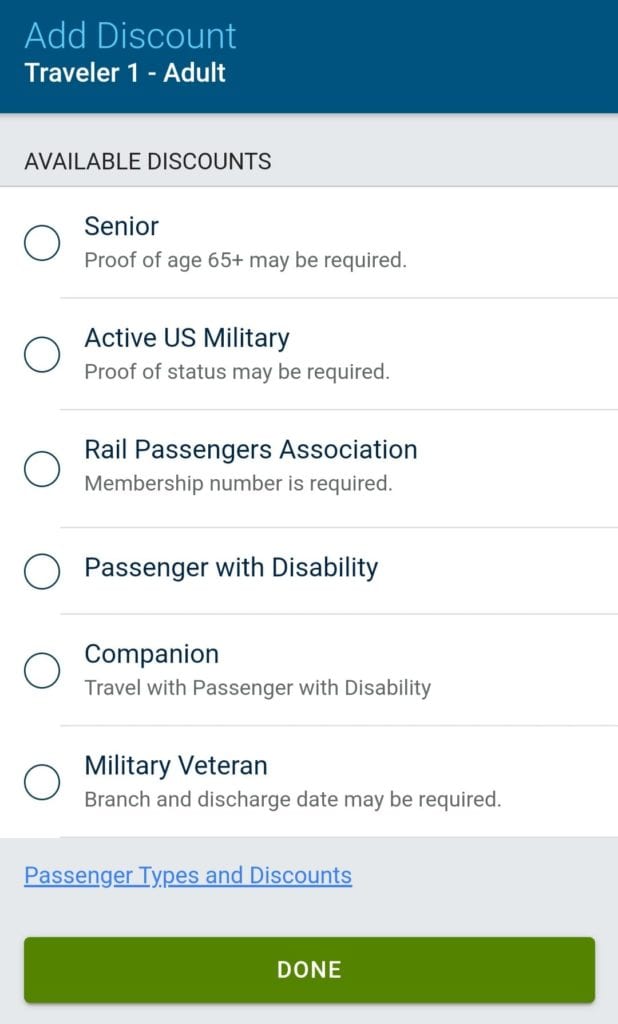 Selecting your train is easy and you can toggle between using points or paying in dollars.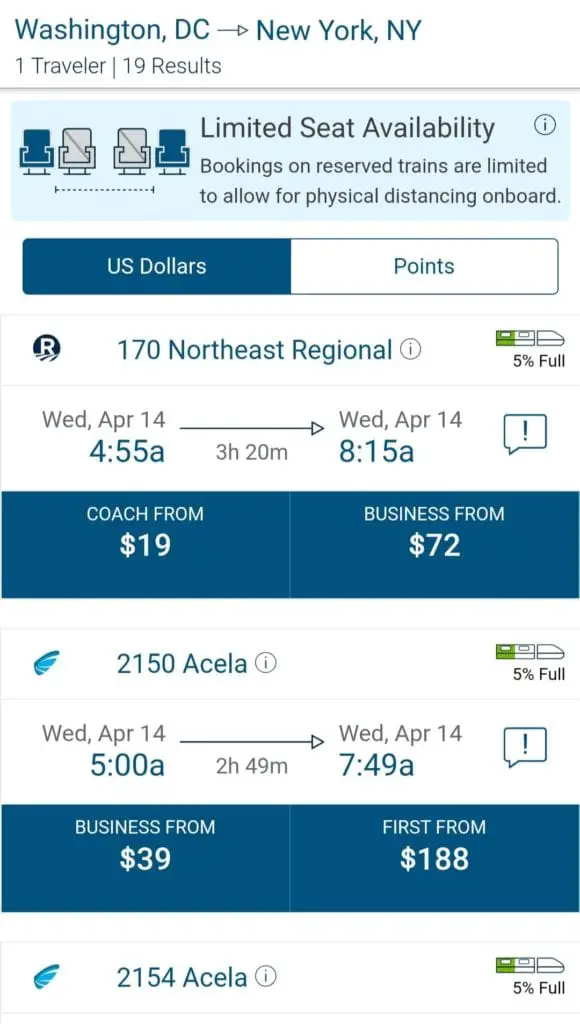 Booking Amtrak Trains By Phone
It is possible to book your Amtrak train travel over the phone by calling 1-800-USA-RAIL. This is the least popular of the Amtrak booking options because it is difficult to see all of your options using this method.
Tags :
Amtrak