Amtrak California Zephyr Route Guide
Grounded Life Travel is supported by its audience. When you purchase through links on our site, we may earn an affiliate commission.As an Amazon Associate I earn from qualifying purchases. List of everything we use in our travels.
California Zephyr Route Overview
This Amtrak California Zephyr route guide will give you all the information you need to ride the famed train route across the United States. The Amtrak California Zephyr is one of the most scenic train routes in the USA. Along the way you will travel along the Colorado River valley, the Rocky Mountains and the Sierra Nevada. It's one of Amtrak's longest routes at 2,438 miles long.
The California Zephyr goes between Chicago and Emeryville (San Francisco) via Omaha, Denver, Salt Lake City and Reno.
Train Info
| | | |
| --- | --- | --- |
| | Wifi | No |
| | Observation Car | Yes |
| | Dining Car | Yes |
| | Cafe | Yes |
| | Distance | 2,438 Miles |
| | Time | 51 1/2 Hours |
| | Top Speed | 79 Mph |
| | Average Speed | 55 Mph |
Ticket Options
On the California Zephyr you can purchase tickets in these categories (sample summer fares for 2 people shown):
Coach ($352)
Superliner Roomette ($1,152)
Superliner Bedroom ($2,332)
Superliner Family Bedroom ($1,069)
Amtrak often runs 2 for 1 sales on coach tickets as well as roomettes. If you are planning well in advance, check out our guide to getting 2 for 1 tickets during the BOGO sale.
Meals and Metropolitan Lounge access are included for all sleeper car passengers.
Scenic Views
As the most scenic route on the Amtrak schedule you will travel through along the upper Colorado River valley, through the Rockies and into Moffat Tunnel. You will cross the Continental Divide as you travel through Moffat Tunnel for 6.2 miles under James Peak. You'll travel into Winter Park Resort, Ruby Canyon and just west of Grand Junction where the train then enters Utah. The train arrives into Salt Lake City via the Wasatch Front after Soldier Summit.
Major Sites
Most people vacationing on the California Zephyr are riding for the views in Colorado, Utah and Nevada. There are also several ski resorts along the train route.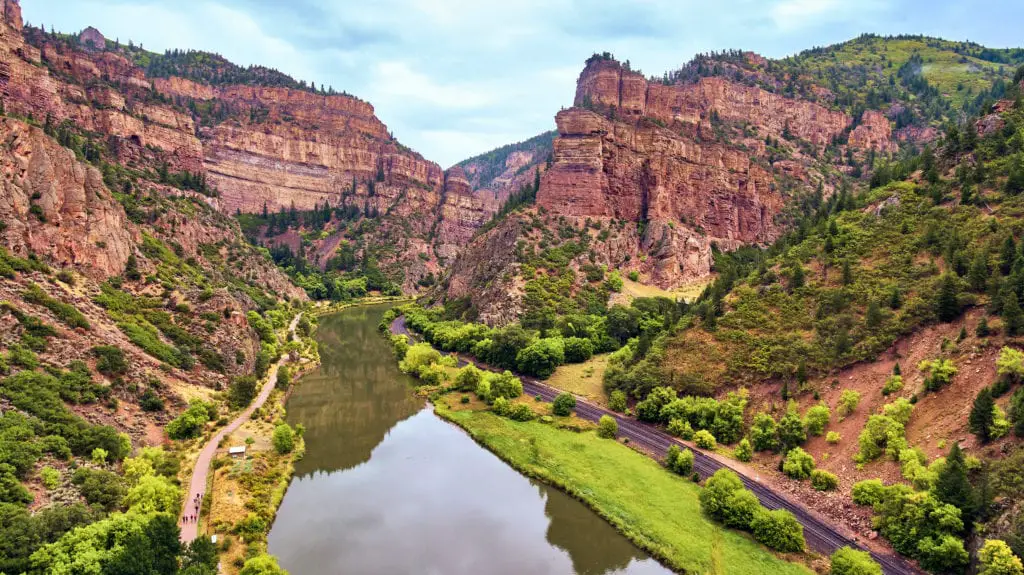 Major Stations
The major and notable stations on the Amtrak California Zephyr are Chicago, Omaha, Denver, Salt Lake City, Reno and San Francisco (Emeryville).
States Visited
The Amtrak California Zephyr travels into several states from Illinois, Iowa, Nebraska, Colorado, Utah, Nevada and finally arriving into California. There are at least 3 stops in each state.
Station Reviews
The California Zephyr route has terminus stations of Chicago on one end and Emeryville (San Francisco) on the other. Chicago has a Metropolitan Lounge to make your wait before boarding more enjoyable.
Both stations also offer free checked baggage, up to 2 bags per person of 50lbs.
Union Station – Chicago
Union Station in Chicago is perhaps the finest Amtrak station in the country. It offers easy access in the heart of Downtown Chicago and features the best Metropolitan Lounge you will find. There are plenty of fast food restaurants within the station where you can get food to bring back to the new 2 level Metropolitan Lounge. The entire station has a nice decor that makes you feel like you are about to take a special trip.
If you'd like to stay close to Union Station before or after your visit we recommend the Hyatt Place Chicago Downtown – The Loop, which is about a 5 minute walk from the station. We have also stayed at the La Quinta near the station. This is a generally safe area for Chicago, as we've walked to the La Quinta from the station at 2am with our bags and had no problems at all.
Emeryville Station
The Emeryville Station is a small station. There is minimal food available inside the station but there are several restaurants within walking distance. The station is the connection point to San Francisco via motor coach bus. There is also no Metropolitan Lounge at this station.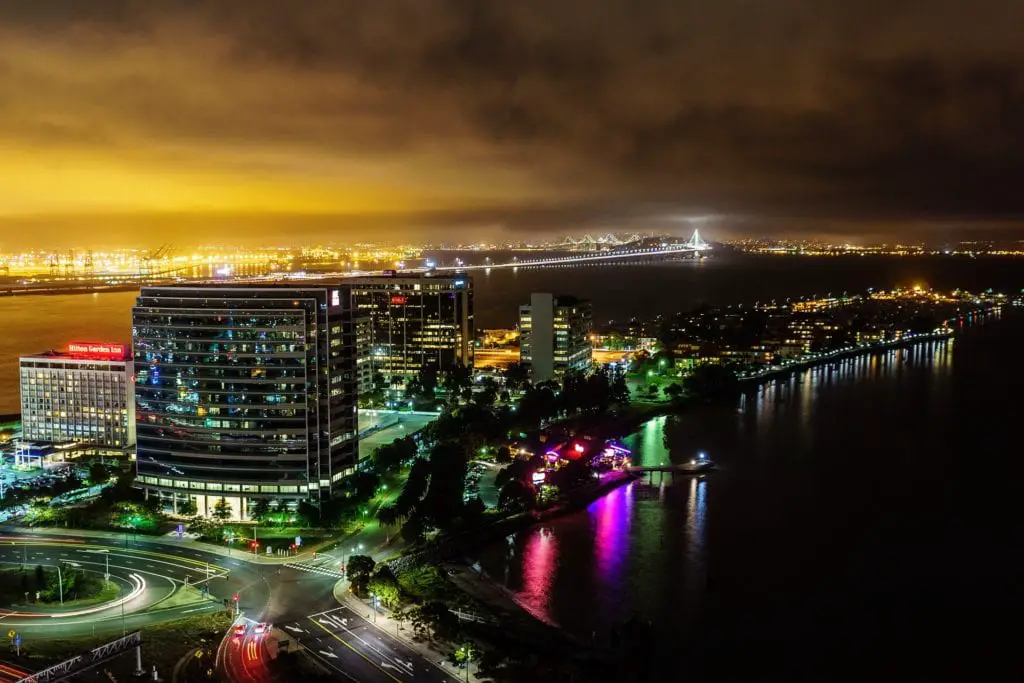 Emeryville has several hotels within walking distance of the train station. We stayed at the Four Points by Sheraton San Francisco Bay Bridge, and can recommend it. We walked there with our luggage after getting off the California Zephyr. A few others nearby are:
Trip Planning
The California Zephyr is a great train trip to link with a few other trains. If you are looking for a longer vacation, consider something like our 14 day Amtrak trip. On this trip we took the Coast Starlight from Los Angeles to Seattle, the Empire Builder from Seattle to Chicago, and the California Zephyr from Chicago back to San Francisco.
You could also link the California Zephyr with the Lakeshore Limited and do a true coast to coast trip from California to New York and then fly back.
Note that the Amtrak stations in Emeryville (San Francisco) and Chicago are not near the airports, so if you are flying into those cities to start this route you'll need to get a cab or Uber to the Amtrak station.
Booking Tickets
Tickets for Amtrak can be booked at Amtrak.com or using their app on your phone. Reservations can also be made by calling 1-800-USA-RAIL.