What It's Like In An Amtrak Superliner Bedroom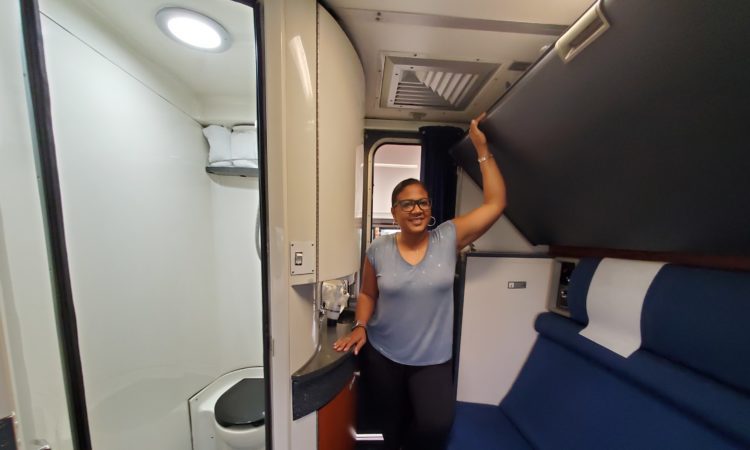 Grounded Life Travel is supported by its audience. When you purchase through links on our site, we may earn an affiliate commission.As an Amazon Associate I earn from qualifying purchases. List of everything we use in our travels.
We were fortunate to ride in an Amtrak Superliner Bedroom on the Texas Eagle. A Superliner Bedroom is designed for two people, it has an upper and lower bunk (berth). An Amtrak Superliner Bedroom is a sleeper car accommodation. It can only be found on long haul train routes and specialty routes. While riding during the day the seats are up and at night the seats become the bottom bunk while the top bunk is simply folded down.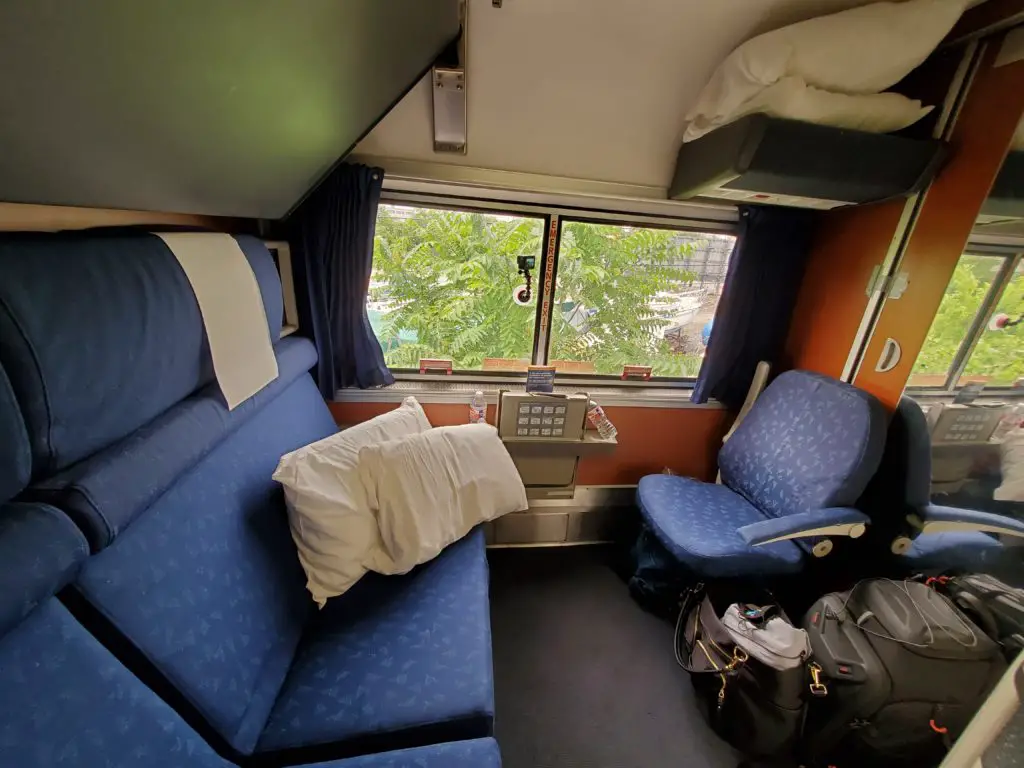 What Does A Bedroom Look Like On A Train?
The Amtrak Superliner Bedroom is a bit more spacious than the roomette. It is certainly one of the best accommodations on the train. The bedroom consists of a long couch and one seat on the main level. This couch folds out into a bed at night. There is a sink in the room by the door and you will also have your own shower and toilet. The shower and toilet are all in one, it's a small space but at least you don't have to share with any other passengers and have access whenever you please. It is very nice.
Is An Amtrak Bedroom Comfortable?
The bedroom is the best accommodation on the whole train for a long haul trip. It is private and very spacious for 2 people. You can even lay on the long couch if you just want to rest and watch the world go by out the window during the day. It is great to be able to sit and enjoy the view in your bedroom with no interruptions from those boarding or leaving the train. The same goes for your night journey, it's a lot quieter than trying to sleep in coach on an overnight trip. You'd be surprised at how loud it can get in the middle of the night with those boarding the train or getting off. Overall, I would certainly recommend booking the bedroom on an Amtrak Superliner.
What Do You Get With A Bedroom On Amtrak?
Your meals are included with your sleeper car accommodations, as well as your drinks and even one alcoholic beverage. Most routes with Superliner Bedrooms are currently serving traditional dining. A few routes like the Capitol Limited and City of New Orleans are still offering flexible dining. If you want additional meals you can always purchase meals or snacks at the cafe. You also get an attendant for your car to help you with anything you may need during your journey. They will also make the beds for you if you have trouble doing it on your own.
The other great perk of the Amtrak Superliner Bedroom is having your own bathroom, shower and sink. The bathroom stall is an all in one shower/toilet. The sink is located in the bedroom just outside the bathroom stall. You will not have to share a bathroom or shower stall with the rest of the passengers in the sleeper car. Although there are usually 3-4 bathrooms and one shower to share, it's nice to have one to yourself.
What Is The Difference Between A Roomette And A Bedroom?
Most people want to know what the difference is between a bedroom and a roomette. As you look at the prices, you want to know if it is worth the money for the upgrade. The answer is yes. The bedroom is more spacious than a roomette. You get the in room shower, toilet and sink. There is also a comfortable couch in the bedroom if you want to lay down during the day. A roomette is nearly half the size of the bedroom. You share a bathroom and shower with the rest of the car passengers too. You get meals included with both of these accommodations and you also get an attendant with both.
Tips For Riding In An Amtrak Bedroom
There are several things to consider when riding in an Amtrak Bedroom. You want to be sure you don' t bring too much on board for your carry on items. There is some storage under the couch in the Superliner bedroom, a bit more than you might expect but remember you will need to haul your bags up the narrow stairs. You don't need to bring a towel with you if you plan to shower, those are provided. The attendant provides a great service, you should consider tipping them. We usually tip at least $5 per person per night, sometimes more if warranted. Your meals are provided but you can bring snacks with you if you like to snack in between meals or late at night when the dining car and cafe are closed. We also encourage you to tip your dining car attendant, at least $5 per day.