Amtrak Pacific Surfliner Route Guide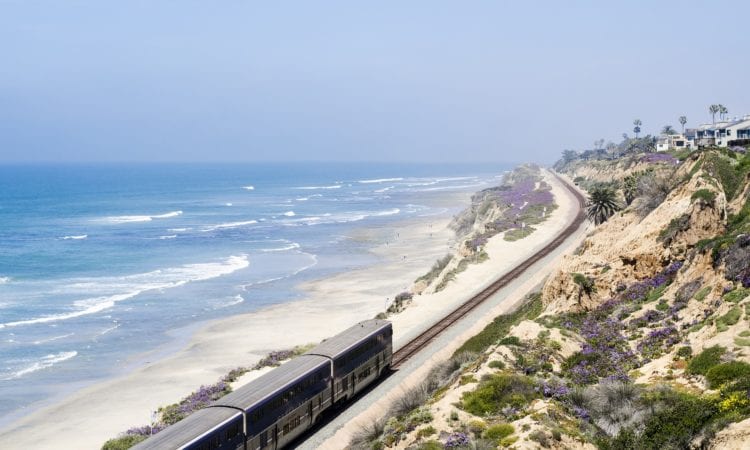 Grounded Life Travel is supported by its audience. When you purchase through links on our site, we may earn an affiliate commission.As an Amazon Associate I earn from qualifying purchases. List of everything we use in our travels.
The Amtrak Pacific Surfliner is a beautiful Amtrak adventure. It offers a unique view of the Southern California seascape. It has adventurers in mind as it offers special racks to accommodate surf boards as well as bikes.
The Pacific Surfliner will take you from San Diego to San Luis Obispo via Solana Beach, Carlsbad, Oceanside, Irvine, Anaheim, Los Angeles, Burbank and Santa Barbara.
Train Info
| | | |
| --- | --- | --- |
| | Wifi | Yes |
| | Observation Car | No |
| | Dining Car | No |
| | Cafe | Yes |
| | Distance | 350 Miles |
| | Time | 8 Hours |
| | Top Speed | 90 Mph |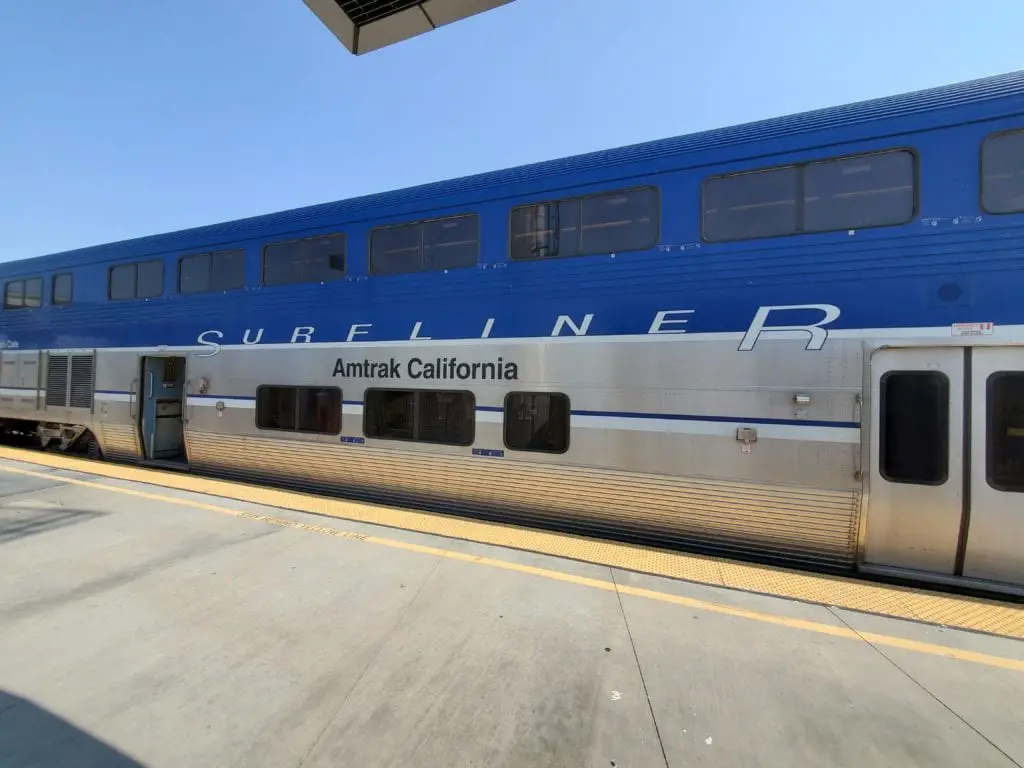 Ticket Options
On the Pacific Surfliner you can purchase tickets in these categories (sample summer fares for 2 people shown):
Coach ($122)
Business ($184)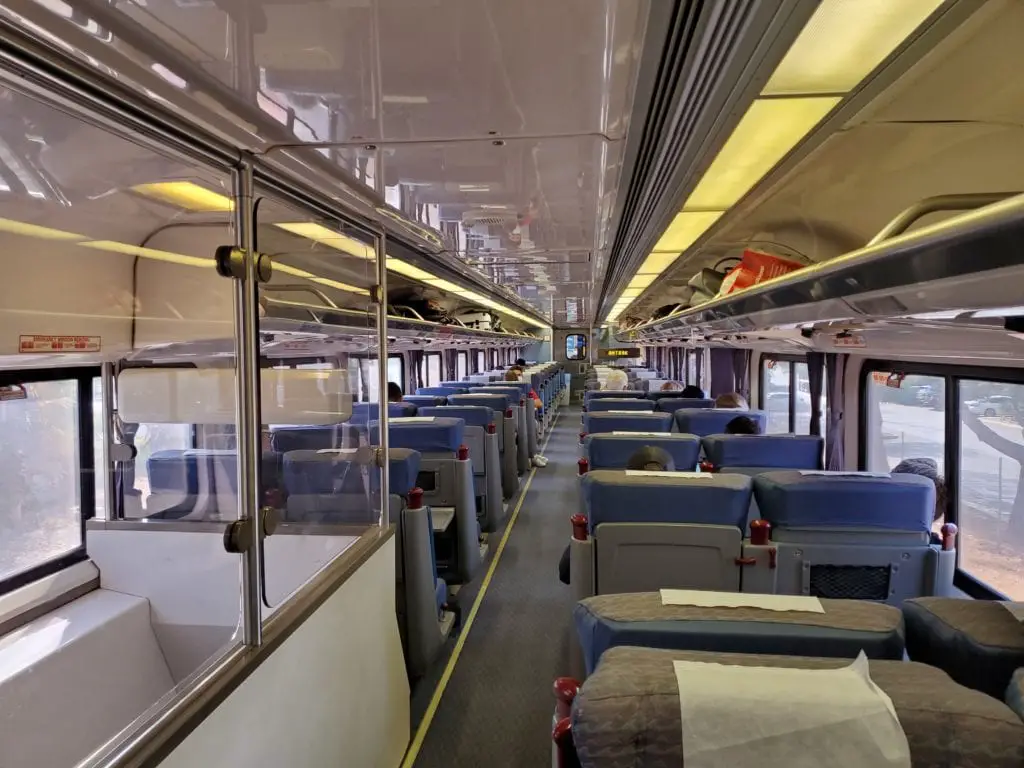 Scenic Views
The Pacific Surfliner will show you a beautiful view of what Southern California has to offer. You will take in the gorgeous seaside views as well as enjoy the views of the big city in Los Angeles. It is certainly one of the most scenic routes on Amtrak. They keep outdoor lovers in mind with special bike and surf board racks to accommodate your equipment. You can get a little bit of everything California has to offer. The beauty of this train route is that you can connect with several great train routes which makes for a great vacation.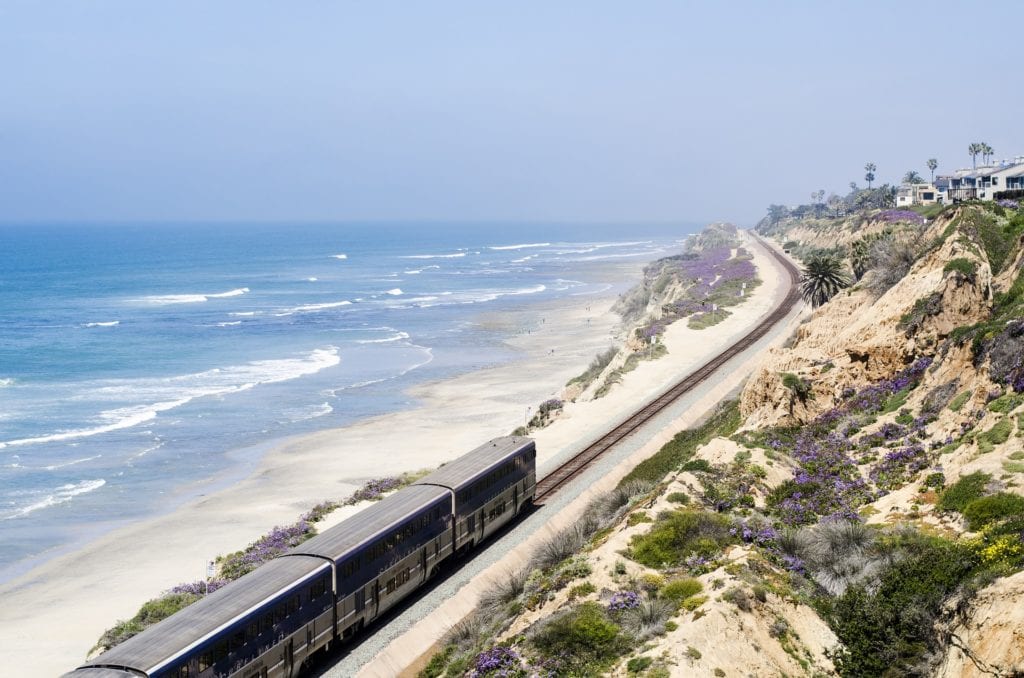 Major Stations
The major and notable stations on the Amtrak Pacific Surfliner are San Diego, Solana Beach, Carlsbad, Oceanside, Irvine, Anaheim, Los Angeles, Burbank and Santa Barbara.
States Visited
The Amtrak Pacific Surfliner only travels in California. You will not leave the state but you will have access to some great cities on this train.
Station Reviews
The Pacific Surfliner has terminus stations of San Diego on one end and San Luis Obispo on the other. Both stations have have minimal services, there is no food or ATM available at either. They are nice small stations suitable for waiting for your train to arrive. The seating is comfortable but there aren't Metropolitan Lounges at either.
Both stations also offer free checked baggage, up to 2 bags per person of 50lbs.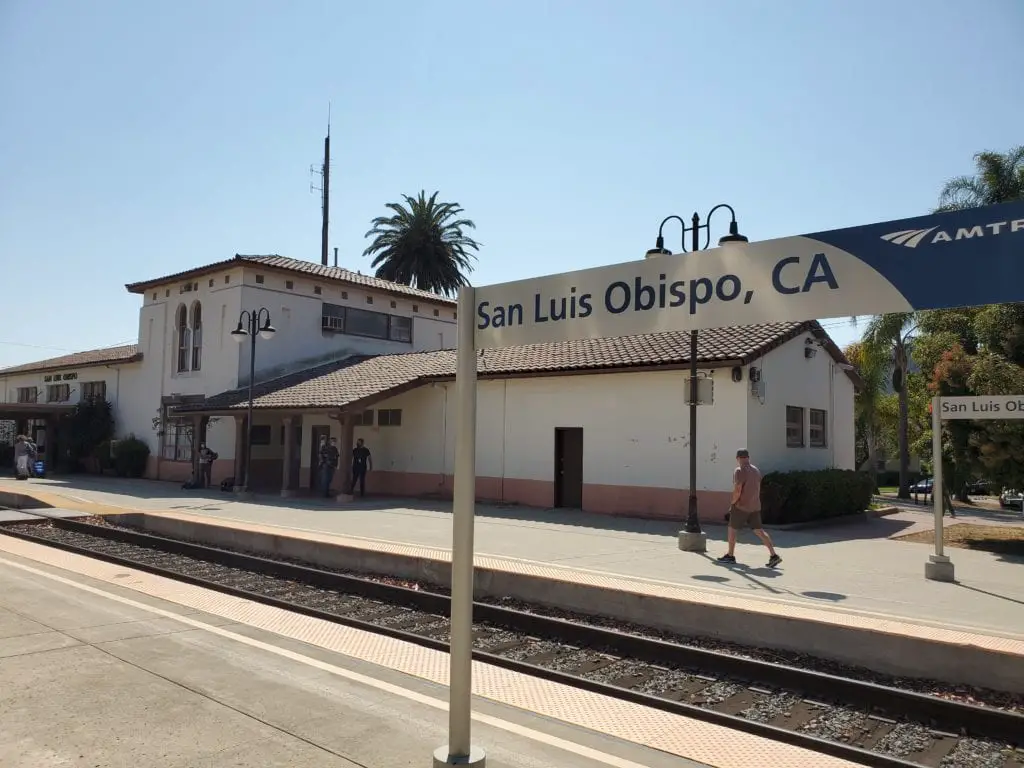 Santa Fe Depot – San Diego
This cute station is a small Victorian style structure. It was built in 1887 for the California Southern Railroad Company. It is listed on the National Register of Historic Places. The Museum of Contemporay Art San Diego is housed in a new wing. There are few services available at this station, but there is no Metropolitan Lounge at the Santa Fe Depot.
Two hotels we recommend near the Amtrak Santa Fe Station in San Diego are the Springhill Suites San Diego Downtown Bayfront and the Residence Inn San Diego Downtown Bayfront. Both hotels are an easy walk to the train station.
San Luis Obispo Rail Station
This small station services the Coast Starlight as well as the Pacific Surfliner. It was built in 1941 and is in the spirit of Spanish Revival architecture that you see much of in Southern California. The red tile roof and exposed rafters give way to colorful decorative tiles that are pleasing to the eye. There are minimal services available at this station. You can check your bags at this station as well as enjoy a nice quiet place to wait for your train. There is no Metropolitan Lounge at this station.
There are no recommended hotels within walking distance of this station.
Trip Planning
You'll pass through the Los Angeles station on this route and from there could link up with either the Coast Starlight to Seattle, the Southwest Chief to Chicago or the Texas Eagle to San Antonio or Chicago.
Booking Tickets
Tickets for Amtrak can be booked at Amtrak.com or using their app on your phone. Reservations can also be made by calling 1-800-USA-RAIL.
Tags :
Amtrak
amtrak routes
pacific surfliner