Best Luxury Trains of India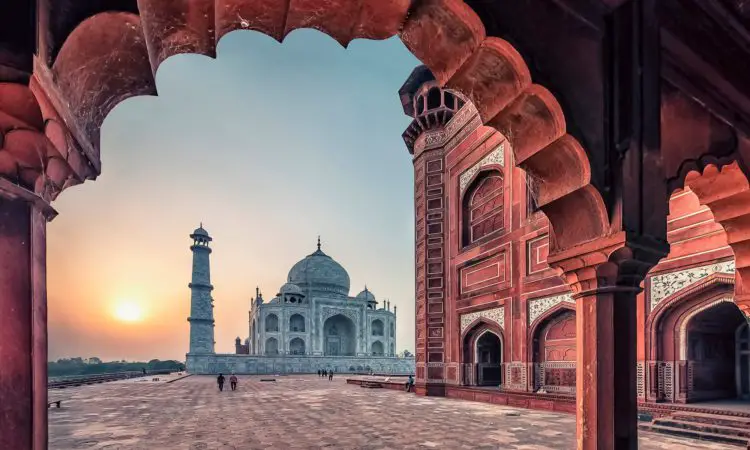 Grounded Life Travel is supported by its audience. When you purchase through links on our site, we may earn an affiliate commission.As an Amazon Associate I earn from qualifying purchases. List of everything we use in our travels.
If you are ever lucky enough to be able to explore the riveting country of India, you are in for a spellbinding and captivating experience. From India's palatial architecture, to its unique customs and culture, there is so much to learn about this part of the world.
Taking the time to tour the country can be daunting by car or bus. India has a very condensed population and knowing the ropes of how to travel here has its learning curve. That is why taking a train, and not just any train, but a luxury train can give you the best of all worlds. Convenience, comfort and the luxury of not having to think about your next meal or how you will get from one place to another is a highly underrated notion.
Choosing one of India's luxury trains in order to see the country will be one of the best vacation choices you can make. This way, you can sit back, relax and watch the beautiful countryside pass as you sip your favorite cold beverage, conversing with fellow travelers about upcoming adventures!
You can start with a simple one night trip and get a taste of what there is to see and do, or you can go all in and enjoy an 8 night trip that will really immerse you in all things India. Whatever you choose. There is no better way to travel.
The Maharaja Express
The Maharaja Express is considered to be one of the most luxurious trains in the world. In fact, it has won seven years in a row for the World's Leading Luxury Train between 2012 and 2018. It is aptly named the Maharaja Express because you will definitely feel like royalty as you glide through the Indian landscape outside your expansive panoramic window.
Equipped with the finest of furniture, linens and decor, the Maharaja Express is built to accommodate 84 passengers in its self-indulgent carriages that have an immaculate experience in mind for you.
There are a total of 14 guest carriages on the Maharaja Express, all with names from precious stones such as "The Blue Sapphire" and "The Topaz". This nearly half-mile train has the capacity to transport 88 passengers. There are four separate room types to choose from depending on your needs and budget. Choose from a Deluxe, Junior Suite, Suite or the palatial Presidential Suite.
Food is another reason you will want to choose this journey aboard the Maharaja Express. In addition to a wide array of Chinese, Continental and Western cuisine you can experience Indian flavors that come from professionally curated Indian cuisine that might consist of phirni, milk desserts, steamed keems, mewari lauki and many more.
There are four separate itineraries to choose from that range from four day to seven day trips. Enjoy excursions to the Taj Mahal, historical palaces and forts and stunning landscapes and national parks.
Prices for these trips vary but range from $6,700 per person to just under $25,000 per person. Quite a hefty amount, but you can't put a price tag on memories!
Palace on Wheels
Starting in Delhi, you will really enjoy exploring the city and its offerings before your trip. Once on this amazing train, the sky is the limit in what is offered to the excited traveler. This train will expose you to the heart of India and the Rajasthan region on the 8-night trek through some of the best parts of India.
Traveling on this luxury train which contains 14 passenger carriages full of all the luxuries you expect on your vacation will be a dream come true. There are 41 passenger cabins on the Palace on Wheels, with the Deluxe and the Super Deluxe being the two levels to choose from.
Getting a good night's sleep is essential as the trip is jammed packed with things to do. On your route you will encounter elephant rides in the jungle, tiger spotting in a national park, fabulous historic forts, boat rides on gorgeous lakes, bird sanctuaries, palaces, forts and of course the Taj Mahal.
Cuisine is top-notch on this journey where everything is included. Five star meals on the train, as well as in some of your destinations, are some of the many things to look forward to on this journey.
The cost for a ticket to experience the Palace on wheels and its 8-night journey will vary with seasons and occupancy. If you are a lone traveler in the low season occupying a Deluxe Cabin you will pay a little over $4,000 per person. In the high season with a Super Deluxe Cabin you will pay $14,550 per person.
The Deccan Odyssey
With its jaw-dropping architecture and the history that goes with it along with all the modern marvels engineering has instilled over the years, Mumbai has become a world class city.
With such a city comes tourism, and what a better way to start your exploration of India than by taking the Deccan Odyssey.
The Deccan Odyssey traverses from the coast of Mumbai to the interior of the country. On this 8 day, 7 night trek, passengers will enjoy stops in places such as Nashik , Vadodara, New Delhi, Sawai Madhopur, Agra, Jaipur, Udaipur, Kolhapur, Goq and Ratnagiri, just to name a few.
In homage to those of this grand era, the interior of this lavish vessel is made for kings where 12 carriages containing rooms for 88 guest will keep you cool, comfortable and in the lap of luxury with the Deluxe and Presidential Suite cabins.
This trip is not among the cheapest but you will definitely feel every penny is worth it. To travel as a Deluxe cabin customer, prices start at $8,330 per cabin. The Presidential Suite starts at $17,850 per cabin. Prices are subject to vary as seasons change.
The Golden Chariot
If you are going to explore Southern India, then The Golden Chariot is the luxury train you should consider taking to see incredible places in this part of the world.
From the opulent turrets of Bangalore Palace, to the tigers and elephants of Bannerghatta National Park, you will find that this is an optimal place for kicking off your Indian vacation.
Hop on the Golden Chariot and experience one of three itineraries that will travel through the Western Ghats and their majestic mountain peaks on the Western coast of India. The train will also show you the Deccan Plateau, which includes grasslands and deserts. You will find beaches and mangrove forest on the Bay of Bengal. Likewise, the Malabar Coast's beaches and estuaries house a variety of animals.
The Deluxe Cabins are at their finest and include enough space for 44 separate cabins that include bathrooms, modern technology and those ever-changing views.
The various itineraries range from just over $2,200 to almost $3,900, depending on which trip you choose. However, the price is worth all that you get from this all-inclusive trip.
The Fairy Queen
If you love locomotive history The Fairy Queen will certainly be your style. This is a short trip but is perfect for those short on time or on a budget.
This train not only is the oldest continually running steam locomotive in the world, but this designation helped gained its spot in the Guinness Book of World Records.
The Fairy Queen runs between October and March on the second and fourth weekends, so tickets can go fast. Although there aren't sleeping quarters on the train, the ride will be unbelievably luxurious and your night spent in Alwar will be comfortable and relaxing.
On this quick getaway you will get a lot of activities in with a visit to the Alwar Fort, the City Palace and the Birla Mandir. However, the main excursion is the Sariska Tiger Fort. On this safari you will see pigs, deer and of course their predator, the tiger! Your ride back to Delhi that evening will be a whirlwind of exciting conversation amongst fellow travelers.
Taking one of these fantastic luxury train trips is a shoo in for one of the best things you can do to see the country of India. Go through all your options, look at your desired itinerary and pick one of these great excursions. You really can't go wrong!