Amtrak Coach Class: A Complete Guide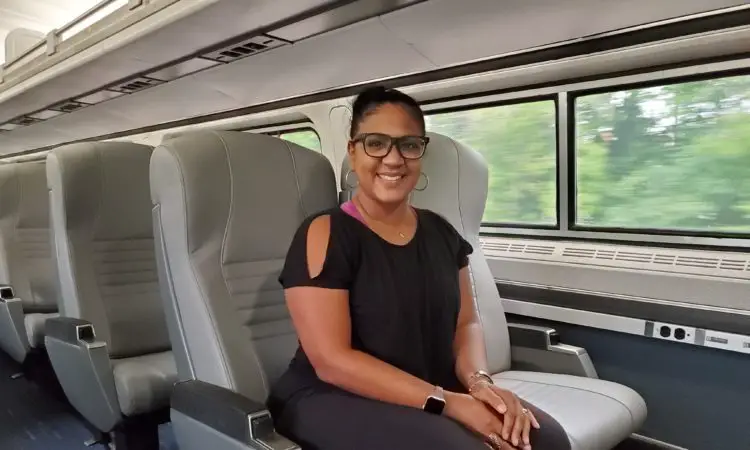 Grounded Life Travel is supported by its audience. When you purchase through links on our site, we may earn an affiliate commission.As an Amazon Associate I earn from qualifying purchases. List of everything we use in our travels.
Amtrak Coach Class is the most economical way to get around the country. With low priced direct tickets and 2 free checked bags per person, Amtrak coach class is cheaper than flying. There are several thing you'll need to take into account to make your trip more enjoyable, and get the best price. We will cover everything you need to know about riding the rails in coach.
Buying Your Coach Class Tickets
Amtrak Coach Class tickets are available to purchase online at Amtrak.com, in the Amtrak app, and by calling 1-800-USA-RAIL. It is best to purchase your tickets online or through the app with an Amtrak Guest Rewards account number. You'll not only earn Amtrak points for the purchase, but your tickets will show up in the app, which makes it easy to travel with. Just show the ticket on your phone in the app when you get ready to board. You can also ask for a paper ticket at the station.
Coach class tickets do go on sale, with sales being as high as 50% off. There are also special regional or passenger specific sales that happen from time to time. For more information, see our guide to getting discounted Amtrak tickets.
Where Can You Go
Amtrak travels to most states in the United States, with especially high coverage in the Northeast. The main Amtrak hub is in Chicago, which connects the East and West coast routes. There are several major cross country routes that leave from Chicago to the West Coast, including the California Zephyr, Texas Eagle, Southwest Chief and Empire Builder.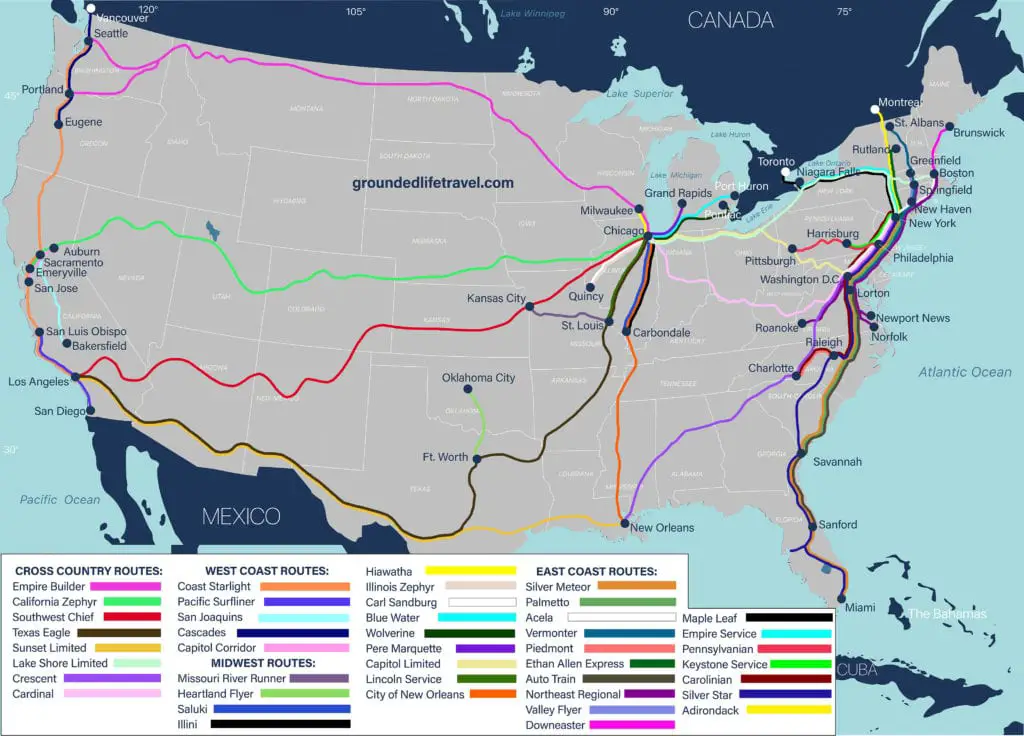 To see all of our Amtrak maps in greater detail go to the Amtrak Maps page.
What Is It Like In Coach Class
Amtrak Coach Class is more spacious than coach class on an airplane. The seats recline much further, allowing for a spacious amount of leg room. Seats are also configured with 2 seats per side of the aisle instead of three. There are tray tables that fold down for your computer, and foot rests that raise from the bottom of the seat. Even if your train is full, Coach Class will seem spacious compared to a bus or a plane.
There are two types of coach class cars, one is for shorter commuter trains, where the seats don't recline quite as much and the other is for overnight trains, which have bigger seats.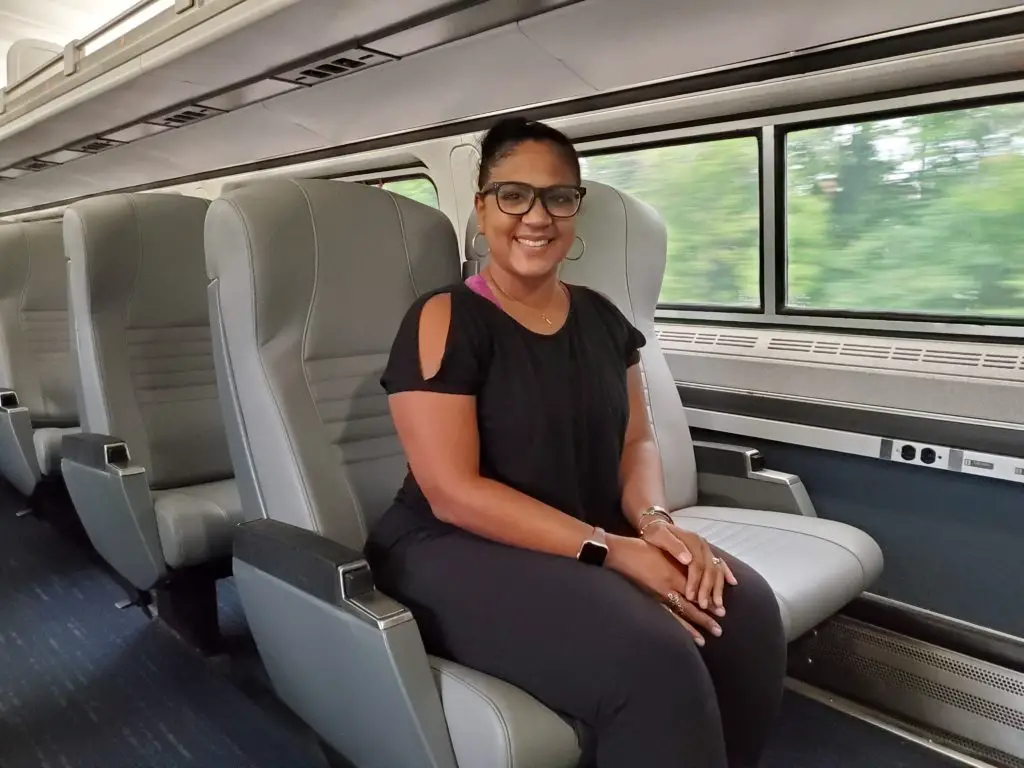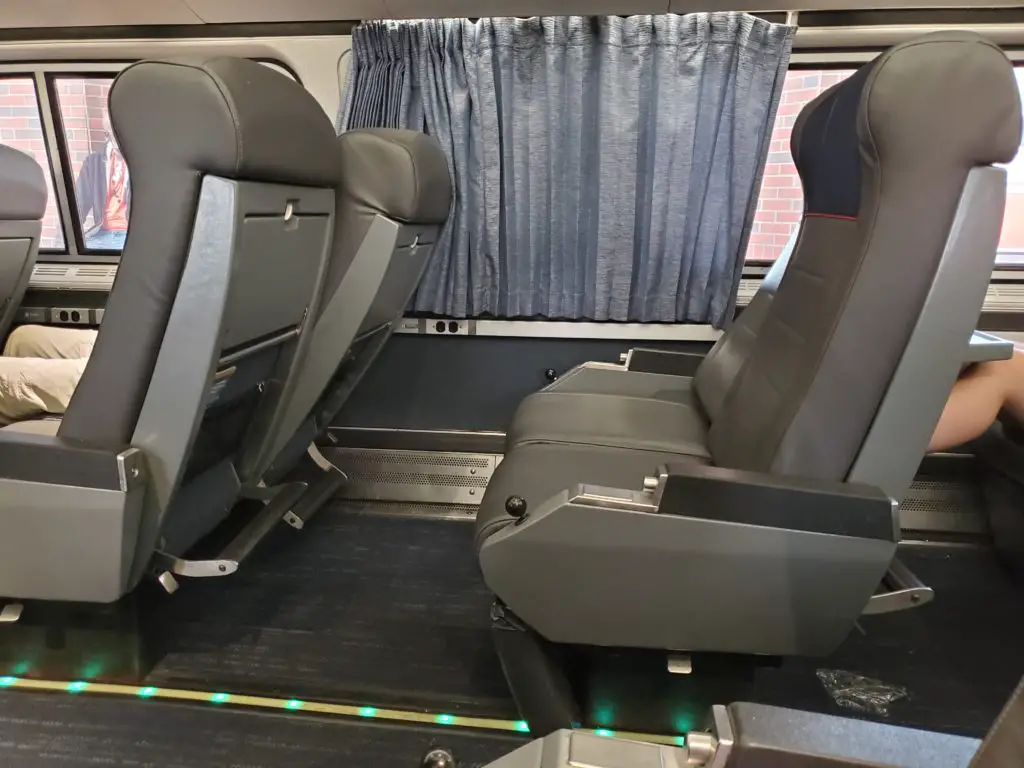 Is It Easy To Sleep In Coach Class
It is easy to sleep in Coach Class on an Amtrak train. The seats recline further than expected, and give plenty of leg room. The only things that will wake you up in Coach Class is noise from other passengers and the stopping and starting of the train. If there are people getting on the train in the middle of the night, they could wake you up. We use noise canceling headphones to help us sleep in coach.
Is There WiFi
Most Amtrak trains have WiFi, so you will likely have WiFi in coach. See our Amtrak WiFi guide for a full list. The WiFi is not great though, so it won't be any faster than your phone. If you don't have unlimited data though, this can be a big help as you don't have to use your data while on the train.
What Should You Bring
When riding in Coach you should bring some food and drinks with you. We usually bring enough to eat a meal or two, and then buy the rest from the cafe on board. We bring a dedicated small duffle bag to carry the food and drinks and then put our other items in a backpack. To help you not forget anything, we've written a post of 20 must have items for your next Amtrak trip.
There are power outlets at your seat, so it is easy to bring a tablet or phone to watch movies or play games on. Don't forget your charger and headphones. Some passengers get cold on Amtrak, so bring a jacket or sweatshirt if that is your case.
Are Seats Assigned
Some routes have assigned seats while others do not. They'll tell you at the station if it is open or assigned seating. In either case, once you pick a seat, it is yours for the entire trip. The conductor will place a piece of paper with the stop you are getting off at above your seat. Any seat without this piece of paper is open. It is important to leave the paper up so others know the seat is taken, and so the conductor can wake you up if your stop is coming up and you've fallen asleep.
Can You Get Off The Train
There are 3 types of Amtrak stops, 2 of which you can get off the train at. The first is just a passenger boarding stop. These are usually 3 minutes long, and you cannot get off the train. The 2nd type of stop is a fresh air break. They can range from 7-10 minutes and you are allowed off the train. The last type of stop is a crew change stop. These can last from 15-30 minutes and you are also allowed off the train.
No matter the type of stop, don't leave the platform and listen for the all aboard call. The train does not wait for people that are not ready to get back on.
What Food Is Available
For Amtrak Coach Class passengers food is available in the cafe car. The cafe car serves an assortment of hot and cold food as well as drinks. For hot food they have items like pizza, hot dogs, hamburgers, and mac and cheese. The cafe usually closes around 10pm, so bring snacks if you'd like to eat after that.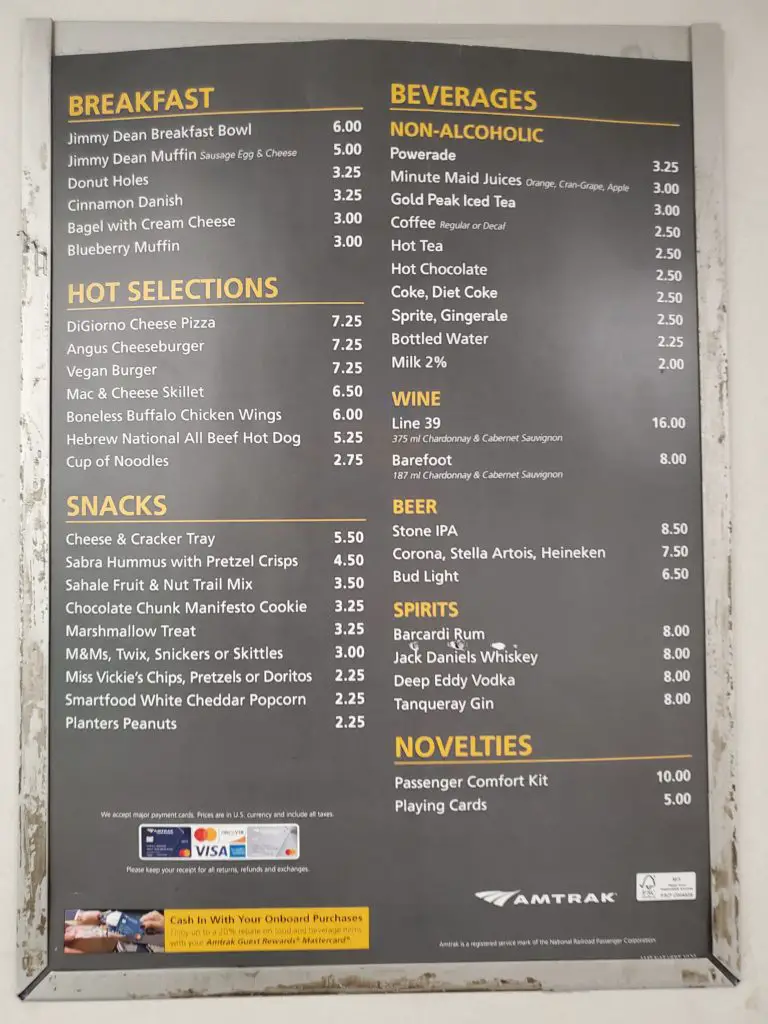 Should I Check My Bags
We recommend checking your large bags if you are on a longer trip. You won't have to keep track of them or worry if anyone has taken your bag, or anything out of your bag while you weren't there. There are over head racks to store bags, but don't try to put a large suitcase up there. A small suitcase would be fine.
There have been times where in an emergency, we were running late, we have just kept our large suitcases in front of us at our seat. This is not recommended though. There really is a lot of room in coach.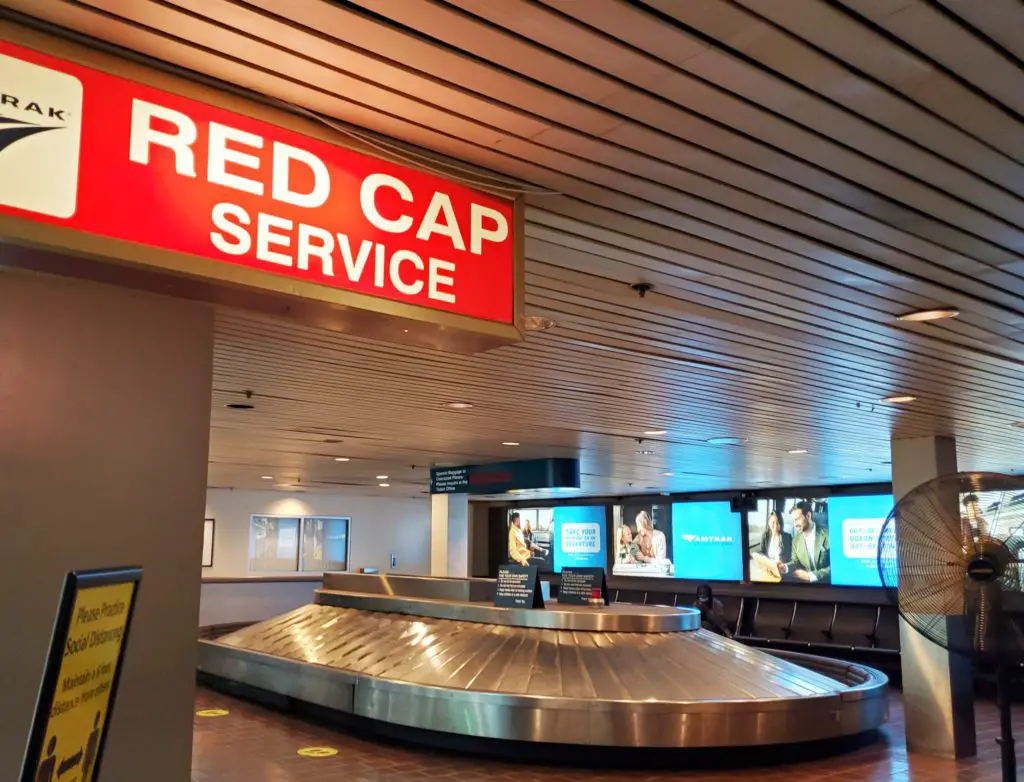 Is It Safe
Amtrak is very safe to ride. The conductors on board do a great job of keeping everyone safe and happy, and resolving conflicts quickly. If someone is being a problem they will escort that passenger off the train at the next stop. We've seen several people get kicked off the train in the middle of the ride. Unlike an airplane, where there is nowhere to put them, Amtrak just gets rid of any unruly passengers.
We do not recommend leaving your valuables out in Coach Class. Just like any other place, secure your valuables when you are away from your seat.
Can I Use The Observation Car
If your train has an observation car, it is open to all passengers. You are free to go up there to eat your meal or just look out the windows. There are power outlets at the seats there too, so go up and get a better view!