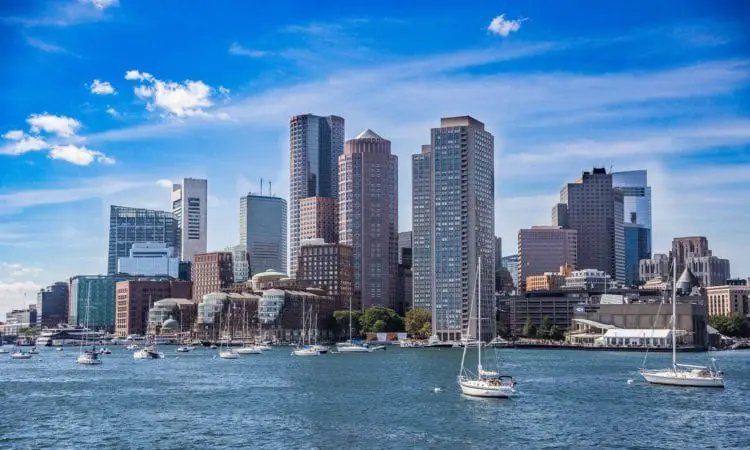 Grounded Life Travel is supported by its audience. When you purchase through links on our site, we may earn an affiliate commission.As an Amazon Associate I earn from qualifying purchases. List of everything we use in our travels.
The Amtrak Acela provides service from Boston to Washington D.C. numerous times per day. It is Amtrak's flagship high speed service along the Northeast Corridor. The train has 16 intermediate stops along the way. The Acela trains are the fastest in the Americas, topping at 150 mph.
The Acela will take you from Boston to Washington D. C. via Providence, Baltimore, Philadeliphia and New York City. You can also ride from Washington D. C. to Boston.
Train Info
| | | |
| --- | --- | --- |
| | Wifi | Yes |
| | Observation Car | No |
| | Dining Car | No |
| | Cafe | Yes |
| | Distance | 457 Miles |
| | Time | 7 Hours |
150 mph fast/70mph avg
Ticket Options
On the Acela you can purchase tickets in these categories (sample summer fares for 2 people shown):
Business ($200)
First Class ($250)
Read our review of riding first class on the Acela.
Metropolitan Lounge access and meals are include for all first class passengers.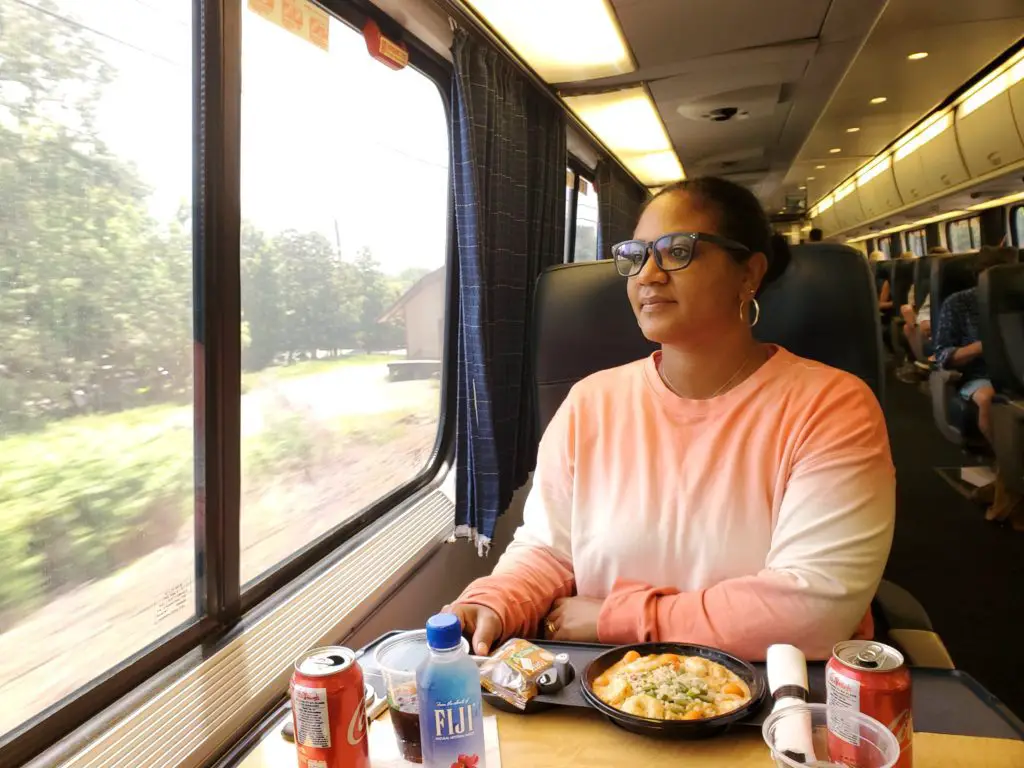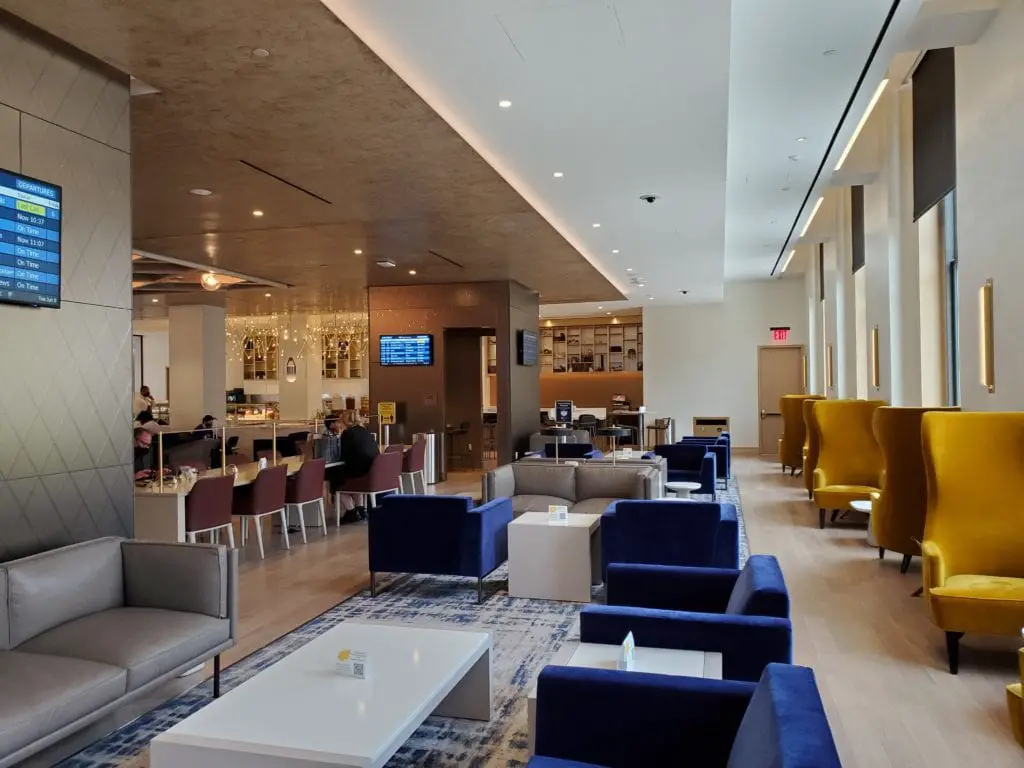 Scenic Views
The Acela offers a comfortable ride as you travel from downtown to downtown between Boston, New York, Philadelphia, Baltimore and Washington D. C. Catch a bit of colonial fever as you zip past Boston, Massachusetts. Enjoy the views of the city that never sleeps as you ride into New York City and take in the beauty of the city of brotherly love, Philadelphia.
Major Sites
Most people vacationing on the Acela are traveling between the Boston and the nations capitol, Washington D. C. . Along the way you will get a view of downtown Boston where you can tour the Old State House and the Old North Church. In New York you can hop off and take a walk on the High Line or stroll the Brooklyn Bridge. In Philadelphia you can take in all the art, history and enjoy a gastronomic experience in the City of Brotherly Love. You'll finish your journey in the nations capitol where you can enjoy all the historic monuments, museums as well as catch a glimpse of the nations most prominent government buildings.

Major Stations
The major and notable stations on the Amtrak Acela are Boston, New York, Philadelphia, Baltimore and Washington D. C.
States Visited
The Amtrak Acela starts in Massachusetts and heads straight into Rhode Island, Connecticut, New York, New Jersey, Pennsylvania, Delaware, Maryland and Washington D.C. There are many notable stops along this route.
Station Reviews
The Acela has terminus stations of Boston (South) on one end and Washington D. C. on the other. Both stations have Metropolitan Lounges, they are available for first class passengers on the Acela. You will find restaurants at both stations as well as convenience stores and shops.
South Station – Boston
South Station, officially known as the Governor Michael S. Dukakis Transportation Center at South Station is the largest railroad station and intercity bus terminal in the greater Boston area. This station was built in 1899 and rebuilt in 1985. You will also find a few restaurants to purchase food as well as a convenience store for drinks and snacks. There are also shops to grab a souvenir or you can even pick up some flowers.
There are lots of options of places to stay near the South Station in Boston. The Intercontinental Boston is a good choice that is close to the station.
Washington Union Station
Washington Union Station is not just a major train station and transportation hub but it is also a tourist destination. It opened in 1907, it is the headquarters for Amtrak and the second busiest railroad station with over 5 million passengers going through here. The station rebuild was completed in 1989. Ten of Amtrak's train routes run through this station. The station is visited by over 40 million people each year. You will find lots of great shops, cafes and restaurants.
There are lots of options for hotels near this Washington Union Station. We recommend the Hyatt Regency Capitol Hill or the Kimpton George Hotel if you want to be within walking distance. Update: We recently stayed at the Phoenix Park Hotel, which is the closest hotel to Union Station in Washington D.C, and it is our new favorite. They gave us a late checkout at 2pm and an upgraded room due to our Hotels.com status, and the staff was great.
Trip Planning
The Acela can be paired with several other trains for a longer vacation. You can take any major train from New York City including the Lake Shore Limited and the Cardinal, which both go to Chicago.
Booking Tickets
Tickets for Amtrak can be booked at Amtrak.com or by using their app on your phone. Reservations can also be made by calling 1-800-USA-RAIL.
Tags :
Acela
Amtrak