A Complete Guide To Chicago Union Station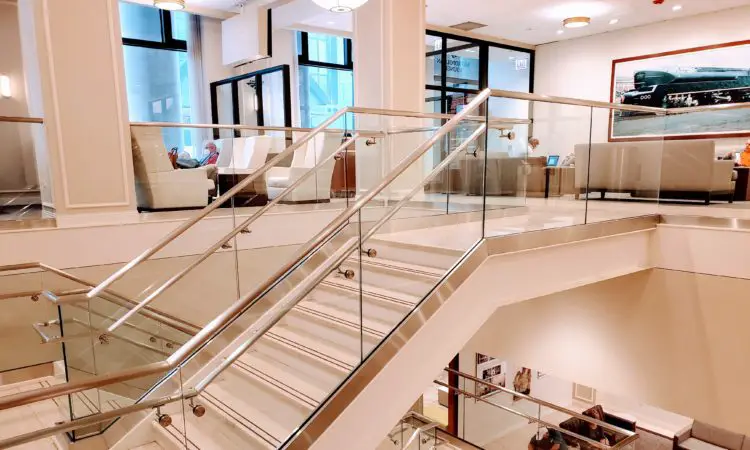 Grounded Life Travel is supported by its audience. When you purchase through links on our site, we may earn an affiliate commission.As an Amazon Associate I earn from qualifying purchases. List of everything we use in our travels.
In this complete guide to Chicago Union Station, we will share an overview of our experience there as well as answer many questions we get about Chicago Union Station. This grand, iconic building sits in the middle of downtown Chicago. It's easily accessible from the city. It serves as a station for Metra as well as Amtrak.
Station Overview
Chicago Union Station is the hub of all train activity in Chicago and the largest train station in the state of Ilinois. You can catch Amtrak and Metra trains at this station. It has a spacious Metropolitan Lounge as well as some shops and many restaurants. The station opened in 1925 and it is a destination on it's own. You will want to arrive a bit early just to have a look around.
Chicago Union Station is easy to access from many points of the city. You can arrive to the station by car, taxi, or uber. If you drive there you need to know there is no parking at this station. You must reserve a parking spot at a nearby parking garage. There are many hotels in walking distance from the station, and we recommend staying at one of those for an easier travel day. See our recommendations below.
Metropolitan Lounge At Chicago Union Station
The metropolitan lounge at Chicago Union Station is one of the biggest you'll find. It is a two story large space. When you arrive to the lounge you will be checked in by the attendant who will give you a pass to come and go. Once you check in, you have the option to store you bags in the Storage Room next to the attendants desk. From there you can enter the lounge and choose where you want to sit.
As I mentioned above, the lounge is large. There is always room to sit. The lounge is completely accessible to all. It is equipped with accessible bathrooms as well as an elevator to go up to the upper level if you choose. Although there are doors located at street level on the upper floor, you can not leave or enter through these doors.
The metropolitan lounge in Chicago Union Station provides a few snack foods like chips, crackers, small pastries as well as fresh fruit. You can also get water, coffee, tea and soft drinks at the snack station. If you are looking for more food, the food court in the station has many options. You can have anything from fast food like Chick Fil A and McDonald's to a sit down restaurant.
Overall, the Metropolitan Lounge at Chicago Union Station is one of our favorites. You can easily store your bags for free while you wait for your train, you can grab a quick snack or you can even catch some zzz's on one of their comfortable couches. When transitioning to another train at Chicago Union Station, keep in mind you can take a shower at the station, just ask the attendant for the key. If you have Select Plus or above status with Guest Rewards on Amtrak you can gain access to the lounge as long as you have a valid ticket for that day. You can also gain access to this lounge with a First Class or Sleeper Car ticket for that day.
Dining Options At Chicago Union Station
There are lots of dining option at Chicago Union Station. If you are in the Metropolitan Lounge you will have access to some complimentary snacks and drinks. The lounge provides you with water, coffee, tea and soft drinks as well as chips, crackers, pastries and fresh fruit.
If you are looking for something a bit more hearty, you can head upstairs in the main part of the station to the food court. The food court in Chicago Union Station has many food options for you. You will find several fast food options like McDonald's, Dunkin Donuts, Starbucks, Jersey Mikes and one of our favorites, Chick Fil A. There are also some sit down restaurants where you can sit and enjoy a meal. If you are looking for a fun snack or a souvenir to take away, you can go to one of several gift shops in the food court area or even grab some last minute Garrett's Popcorn for the road.
How To Get To Chicago Union Station
There are several ways to get to Chicago Union Station. You can take a taxi or any ride service app to get you there. You can drive yourself there but there is no parking at this station, you would need to find parking at a nearby garage. If you live or are staying outside the city, you can use CTA (the L) to the station. The nearest CTA station to Chicago Union Station would be LaSalle on the Blue Line. It is about a two block walk from there. If you don't live in the area, we recommend staying in a hotel near the station and walking there.
Hotels Near Chicago Union Station
There are lots of places to stay near Chicago Union Station. We have tried many of them like La Quinta Chicago Downtown and Club Quarters Chicago, Central Loop. If you'd like to stay close to Union Station before or after your visit we recommend the Hyatt Place Chicago Downtown – The Loop, which is about a 5 minute walk from the station. There are lots of places to eat near this hotel as well as being able to walk back to the station food court.
How Safe Is Chicago Train Station
The area around Chicago Union Station and the station itself are safe areas. This part of the city is sparsely populated as the day goes on. By about midnight, you will find very few people around. We have arrived to Chicago Union Station as late at 2am and walked to our hotel a couple blocks away with no issues. You will see Amtrak Police in and around the station.
What Amtrak Trains Leave From Chicago Union Station
Chicago Union Station is a hub for many Amtrak train routes. You can start many of the routes at this station or even hop on in the middle on a couple. These are the trains that originate in Chicago Union Station:
California Zephyr
Lake Shore Limited
Southwest Chief
Empire Builder
Texas Eagle
City of New Orleans
Hiawatha
Wolverine
Saluki
Pere Marquette
Lincoln Service
Illinois Zephyr
Illini
Carl Sandburg
Cardinal
Capitol Limited
Blue Water
Review Of Chicago Union Station
Chicago Union Station has a lot to offer. It is easily accessible from almost anywhere in the city. You can catch a train to anywhere in the country. Chicago Union Station is in a safe area of the city so you don't have to worry about safety. The Metropolitan Lounge has a lot to offer, from luggage storage to showers and a nice place to rest. Chicago Union station is not just a utilitarian option it is a destination on it's own.