Plan An Amtrak Vacation: Everything You Need To Know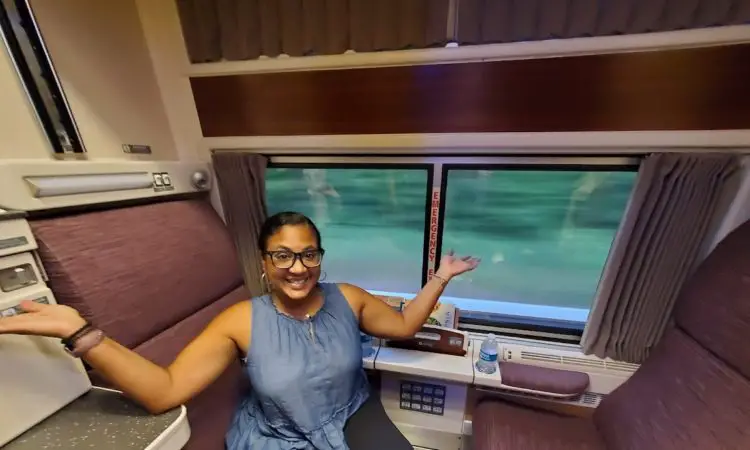 Grounded Life Travel is supported by its audience. When you purchase through links on our site, we may earn an affiliate commission.As an Amazon Associate I earn from qualifying purchases. List of everything we use in our travels.
There are several pitfalls we want to help you avoid when you plan an Amtrak vacation. We've planned over 30 of them for our family, and have learned many hard lessons along the way! In this guide we will plan a sample vacation to show you exactly how we do it.
Deciding Where To Go On An Amtrak Vacation
The first obstacle you'll face when planning an Amtrak vacation is deciding where to go. The Amtrak map can be confusing since all of the routes are the same color on the map. We recommend planning your trip using named trains and using as few as possible. Each time you switch routes you'll need to board a new train and possibly stay overnight.
On our custom Amtrak system map, each route is color coded so you'll know exactly where they start and stop. To see more in depth maps of each region go to our maps page.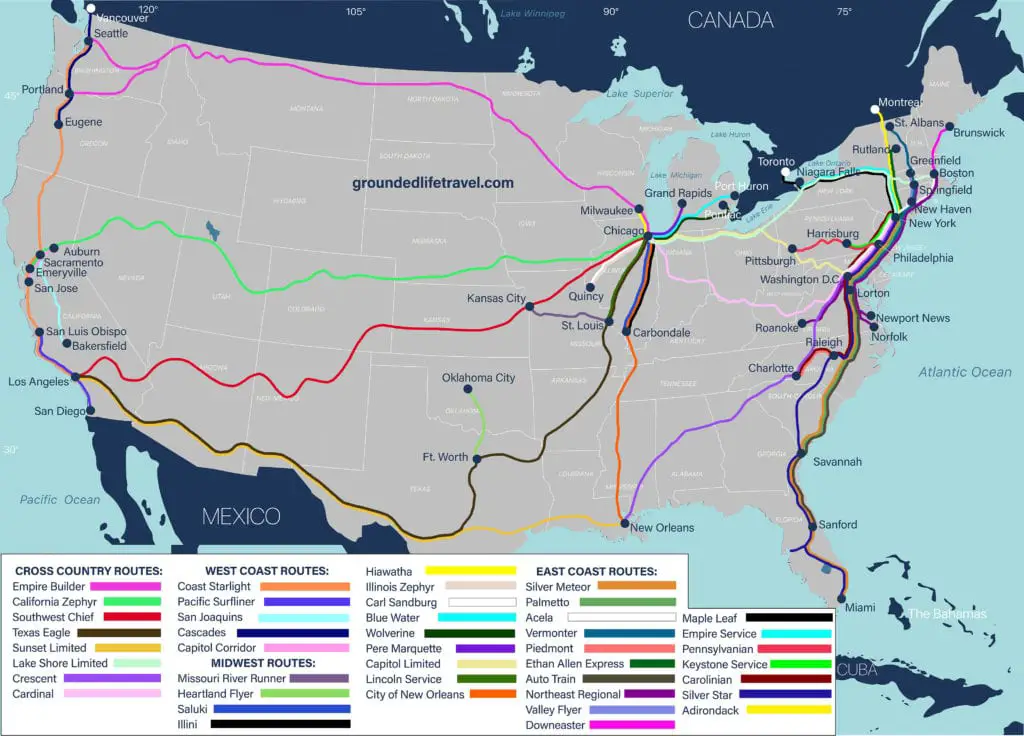 The easiest way to plan a trip is to locate a station nearest to your home and see what routes are available.
For instance, if you live in New Orleans, you could take the Sunset Limited (Yellow), City of New Orleans (Orange) or Crescent (Purple). Our map shows you how far you could go before switching trains.
Once you've reached the end of the route you can simply fly home, or take a few other routes to get back.
In this example we'll take the Sunset Limited (Yellow) from New Orleans to Los Angeles, then the Southwest Chief (Red) from Los Angeles to Chicago, and the City of New Orleans (Orange) from Chicago back to New Orleans.
If you aren't sure which station is closest to you, check out our Amtrak Stations by state pages in the Menu.
What Type of Train Will You Be On
After you determine your route, you should look at what type of train it will be, and what services are offered on that train. Most overnight routes west of Chicago are Superliner trains, and routes that go to New York are Viewliner trains.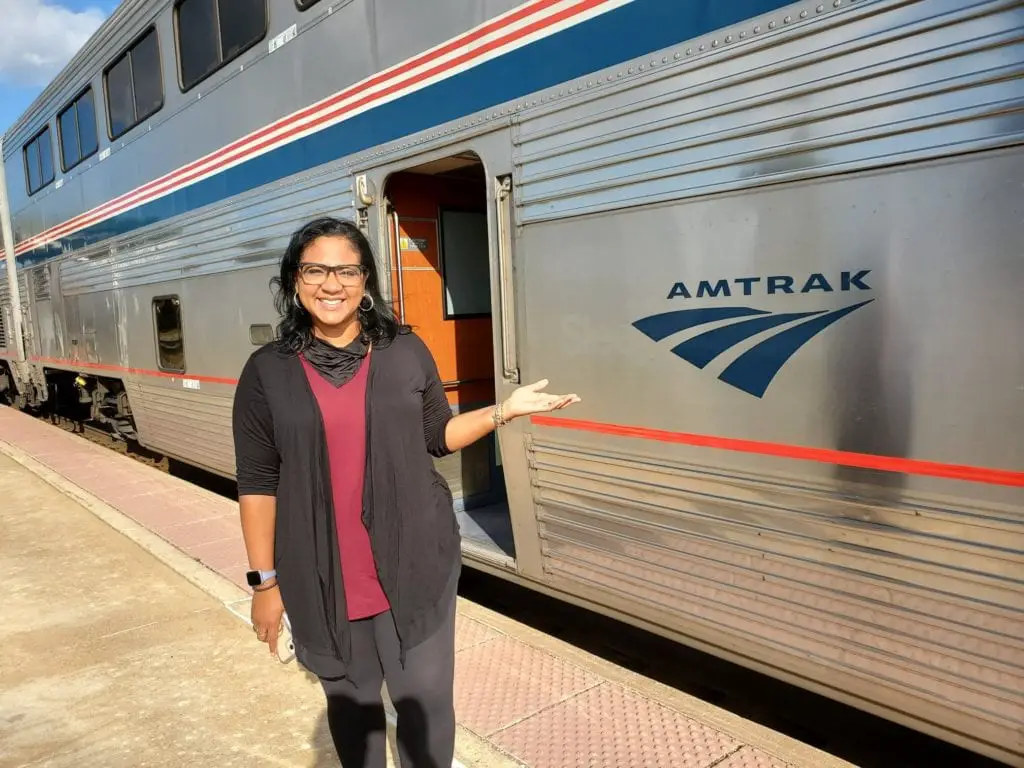 Superliner trains are double decker where Viewliner trains are a single level. You'll have more headroom on a Viewliner as the cabins are taller, but Superlier trains are the only ones with observation cars.
Each route only has one type of train, so if you prefer a different type of train, you'll need to pick a different route.
You can check the train type of any route on our complete guide to sleeper cars post.
Which Type of Ticket Should You Buy
No matter which type of Amtrak ticket you buy, the goal should be to purchase it as early as possible. Unless you get lucky and they run a sale right as you are about to purchase, you'll always save money by buying your ticket as early as possible.
The first tickets sold on each train are the cheapest. As the train fills the price goes up. Once the train is almost full, the tickets are usually more than double the cost of the first ticket sold.
If you can plan your trip out months in advance you'll save a considerable amount of money.
If you opt to ride in coach class, you'll have a comfortable seat to ride and sleep in. You won't sleep quite as well as in a sleeper cabin though, as other passenger getting on and off may wake you up. Your seat won't lie completely flat either. See our Amtrak Coach Class guide if you are considering this option.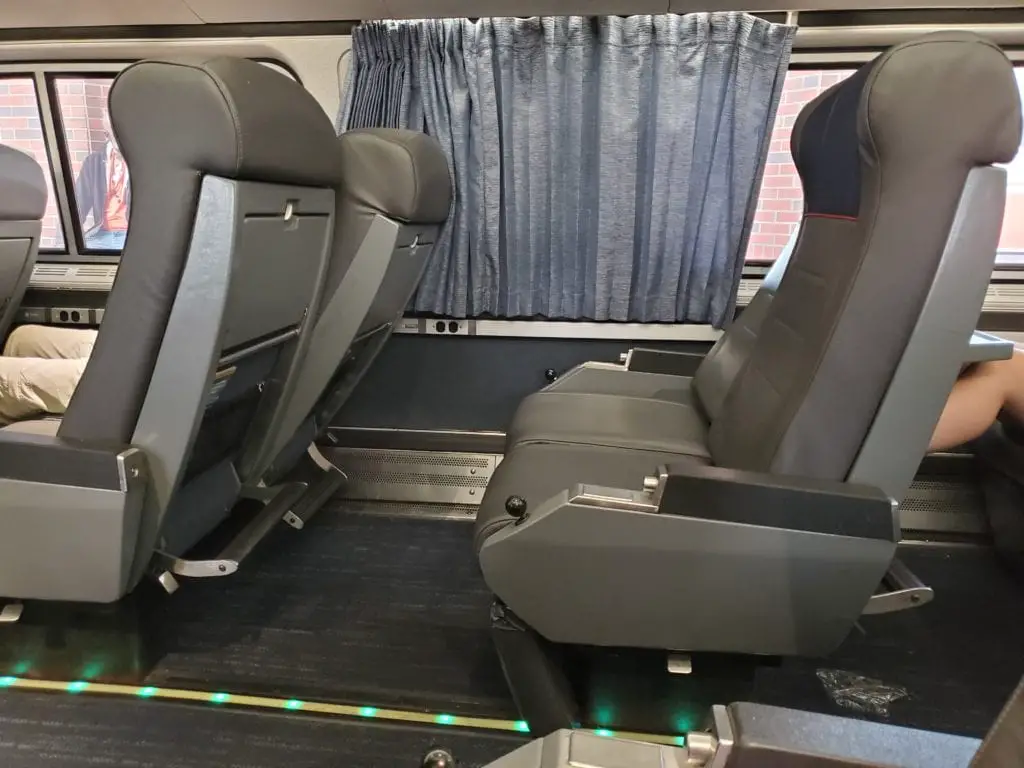 If you are choosing to ride in a sleeper car, you be picking either a roomette, or a bedroom, unless you are traveling with children, or need an accessible room.
Families of four should opt for the family bedroom, as it will save money over 2 roomettes, and you can be together. The children's beds are short in this cabin so it is not recommended for teenagers.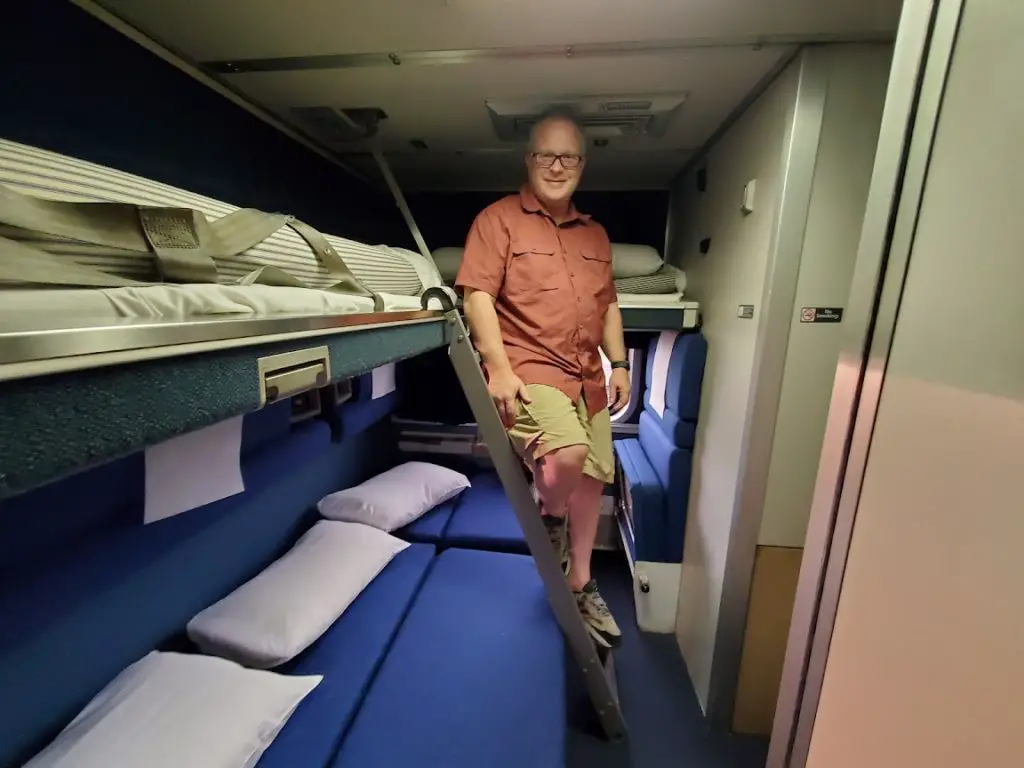 If you need an accessible room, both types of trains have them available, but they are the most in demand room on Amtrak and are hard to find. They will show up in an online search if available, but they rarely do.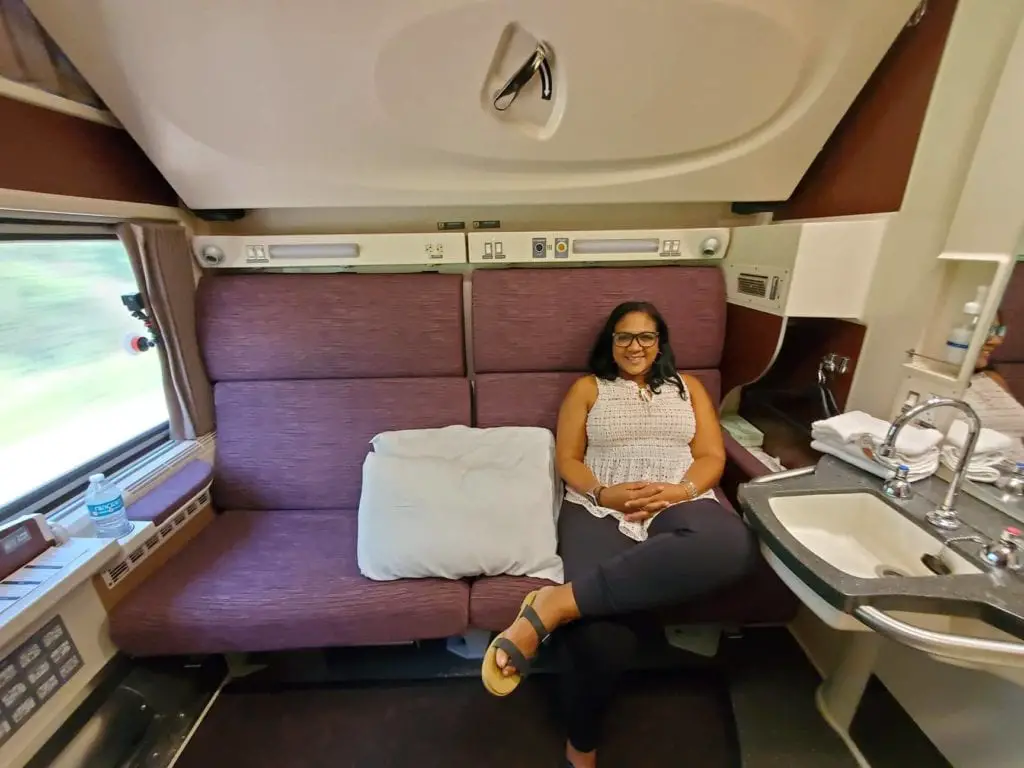 The choice between a Roomette and a Bedroom comes down to cost. Without question, the Bedroom is the better way to go if cost is not a consideration, but for most people, including us, it is. We usually book a roomette when riding overnight.
Roomettes are half the size of a bedroom, but are comfortable and private. If you don't mind a tighter space, this is a big savings. You'll still have the same meal choices as a Bedroom.
In our sample trip we'll book Roomettes for all three legs or our trip.
How To Book Your Amtrak Tickets
The first thing you should do when booking for an Amtrak vacation is log into your Amtrak Guest Rewards account on Amtrak.com. If you don't have one yet, sign up for one so you'll start earning points.
In our sample vacation we want to spend 3 nights in both Los Angeles and Chicago before returning to New Orleans. It is important when purchasing your tickets that you take into account the nights you'll be sleeping on the train.
For reference, I'm booking this trip for 2 people 4 months in advance. We'll leave from New Orleans on January 29.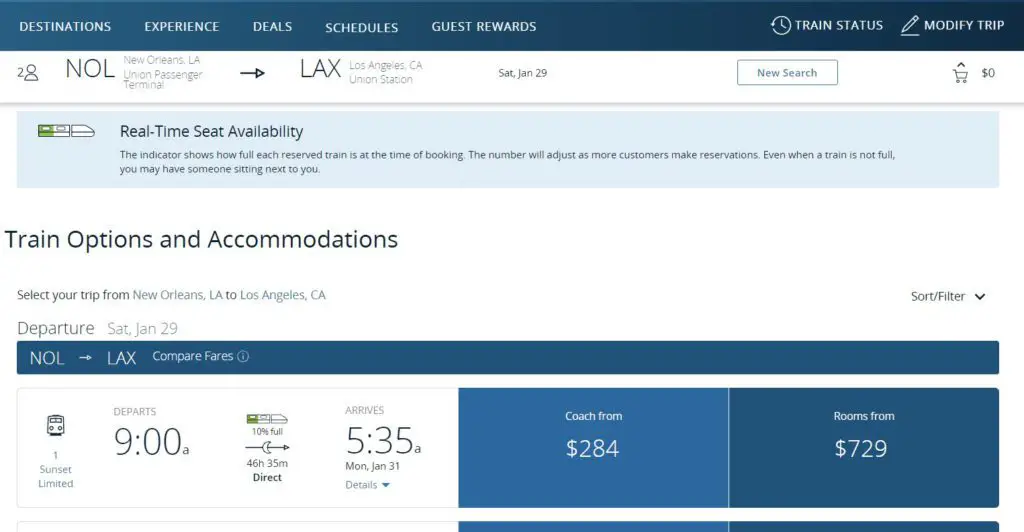 Once you've found a date with a good price, in this case $729, click the Rooms From tab and you'll see your choices.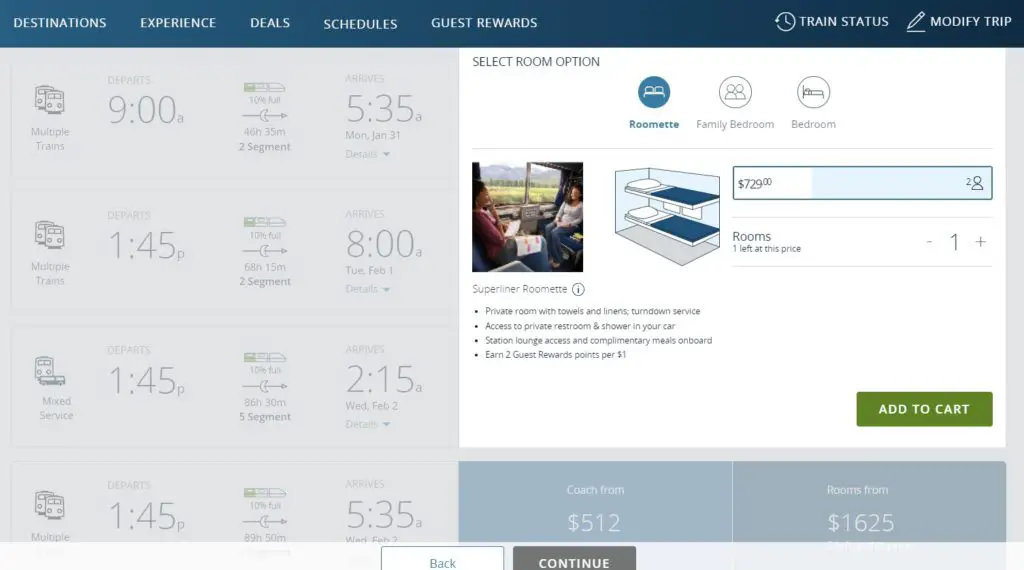 We will book the Roomette, since the Bedroom was over $1,400. It is usually around double the price.
We usually book all the trains before getting the hotels, because there is more choice in hotels, and it is easier to move dates on those.
Next up is the Southwest Chief.
Always pick the named train, even if mixed service is cheaper. Mixed service means you'll be on a bus and have extra connections.
Booking this trip from Rob's account we get the following choices: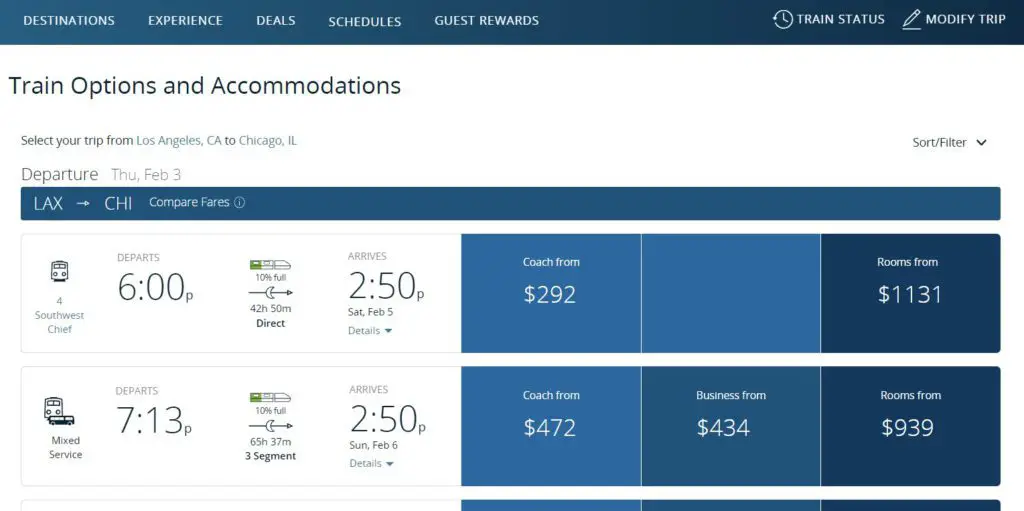 But, Allie has Select Executive status in the Amtrak Guest Rewards program. This gives her coupons she can use on train travel. So when we apply those coupons, we see totally different prices. We will use one of our coupons on this leg since it is expensive.
To see if you have coupons and apply them click advanced search.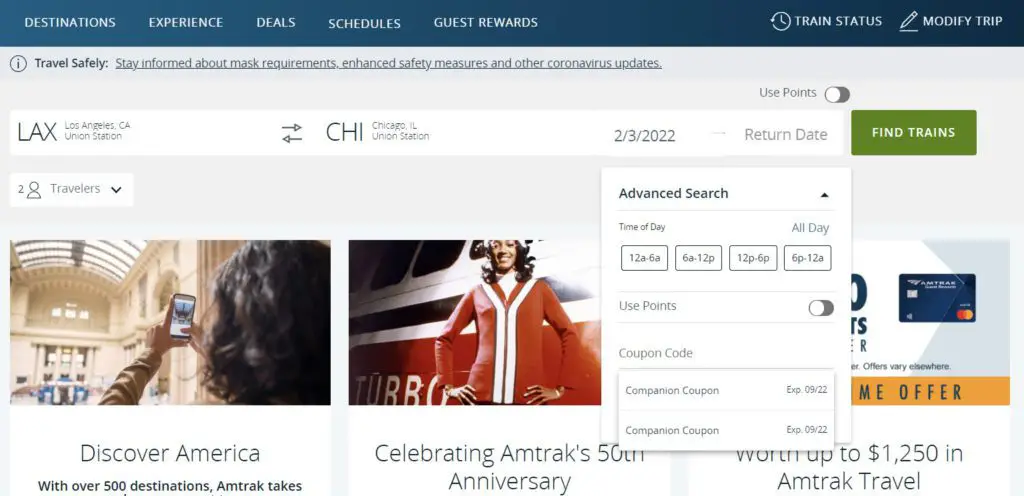 After applying one of our Amtrak Companion Coupons we see the following prices: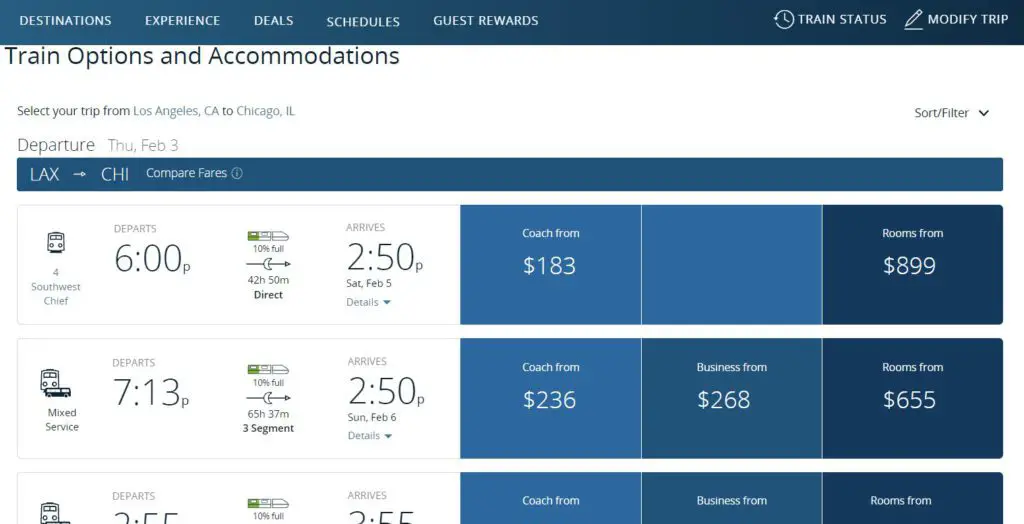 That coupon saved us $232 for this leg, so it is totally worth using. Another way you can get coupons is by signing up for the Amtrak Guest Rewards Credit Card.
Our last train on this Amtrak vacation is from Chicago back to New Orleans.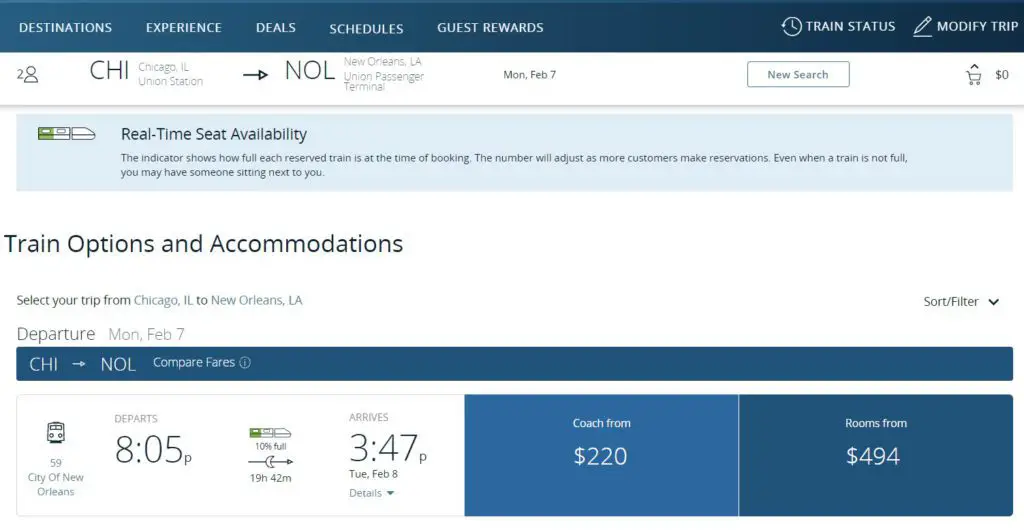 That price looks good without the coupon, so I'll save my other coupon for a longer trip like the California Zephyr next year.
Book all three trips from the same account, logged into your Amtrak Guest Rewards profile and you'll accrue points faster towards a higher level.
What Hotels To Use While Riding Amtrak
Now that we have the trains booked we can move on the hotels. To find our recommendations for each city, you can visit the route guide for the specific train you are on, or see our favorite hotels near major Amtrak Stations.
We've selected these hotels because they are close to the station, and avoid using cabs and Uber as much as possible.
Will Food Be Included In Your Ticket
If you are riding in a sleeper car on your Amtrak vacation, your meals will be included. We still recommend you bring a few snacks. Depending on your route you'll either get traditional dining or flexible dining. Most overnight cross country routes now have the more desirable traditional dining.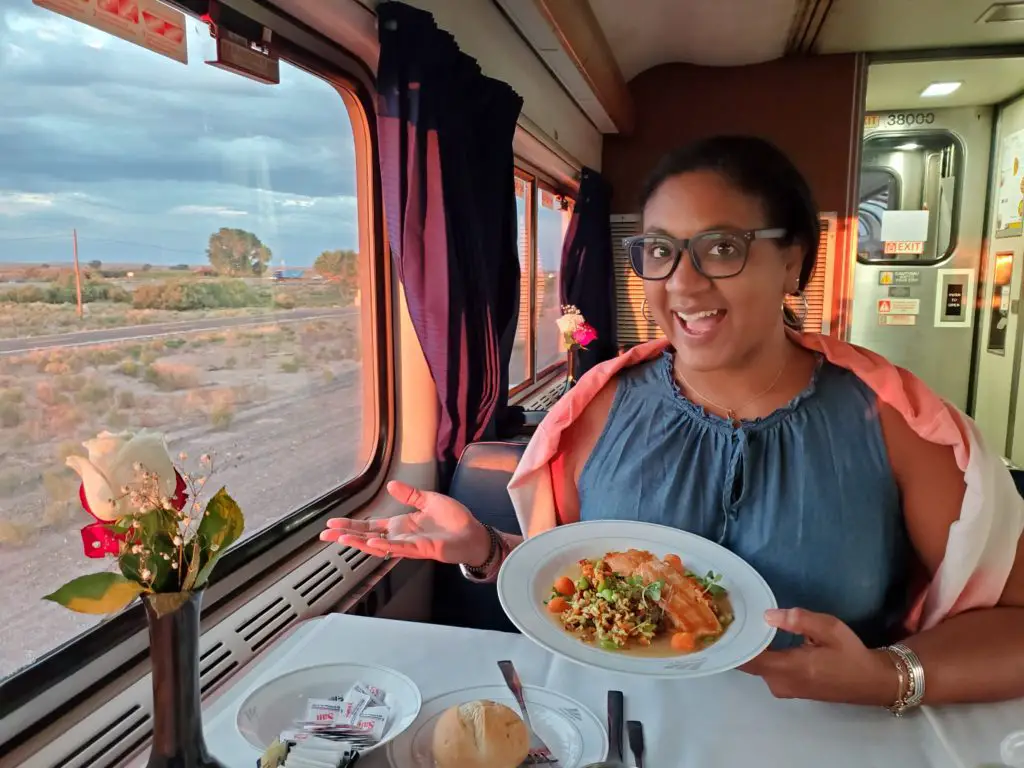 Getting To The Amtrak Station
Amtrak Stations are not generally near the airport. We usually end up taking an Uber to the station if we have flown into town or if our hotel is not near the station. The other reason we do this is to avoid parking a car at the station long term.