Amtrak Traditional Dining Menu and Guide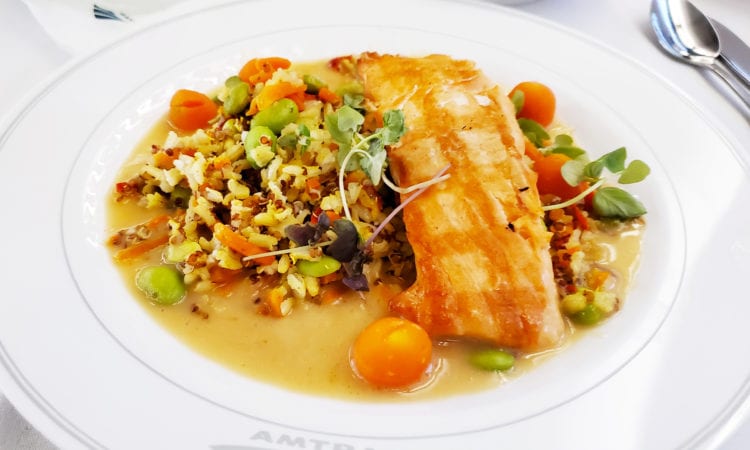 Grounded Life Travel is supported by its audience. When you purchase through links on our site, we may earn an affiliate commission.As an Amazon Associate I earn from qualifying purchases. List of everything we use in our travels.
Amtrak traditional dining is back and we were able to experience it recently on the Southwest Chief. Here is a breakdown of everything on the menu. Amtrak traditional dining applies to breakfast, lunch, and dinner with dinner having white tablecloth service. We really enjoyed the Amtrak food on our trips.
Amtrak traditional dining is available on the following routes:
Auto Train
California Zephyr
Coast Starlight
Empire Builder
Southwest Chief
Sunset Limited
Texas Eagle (West of San Antonio)
There is no charge for Amtrak Traditional Dining for sleeper car passengers as it is included with the price of the room. Coach passengers are not allowed to purchase traditional dining and must either eat in the cafe or bring their own food on board. You may be seated with others not in your party while eating in the dining room. Sleeper car passengers can opt to have their meals delivered to their room.
There is no need to make a dining reservation before boarding the train. Breakfast is a first come first served basis, so you'll be seated whatever time you show up. Lunch and dinner do require reservations, which can be made with your room attendant or dining car attendant after you board the train.
Amtrak Traditional Dining Breakfast
There are four main choices for breakfast and 3 side choices as well.
Breakfast Main Choices
Continental Breakfast
Amtrak Signature Railroad French Toast
Three Egg Omelet
Scrambled Eggs
Breakfast Side Choices
Hardwood Smoked Bacon
Breakfast Pork Sausage Links
Chicken Sausage Links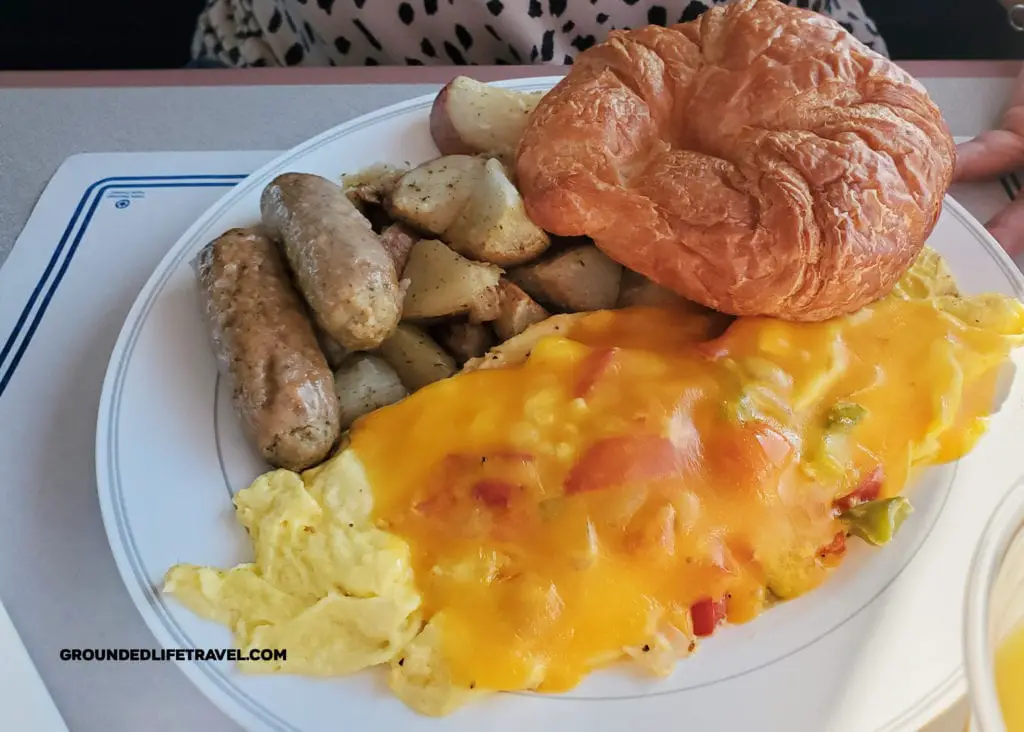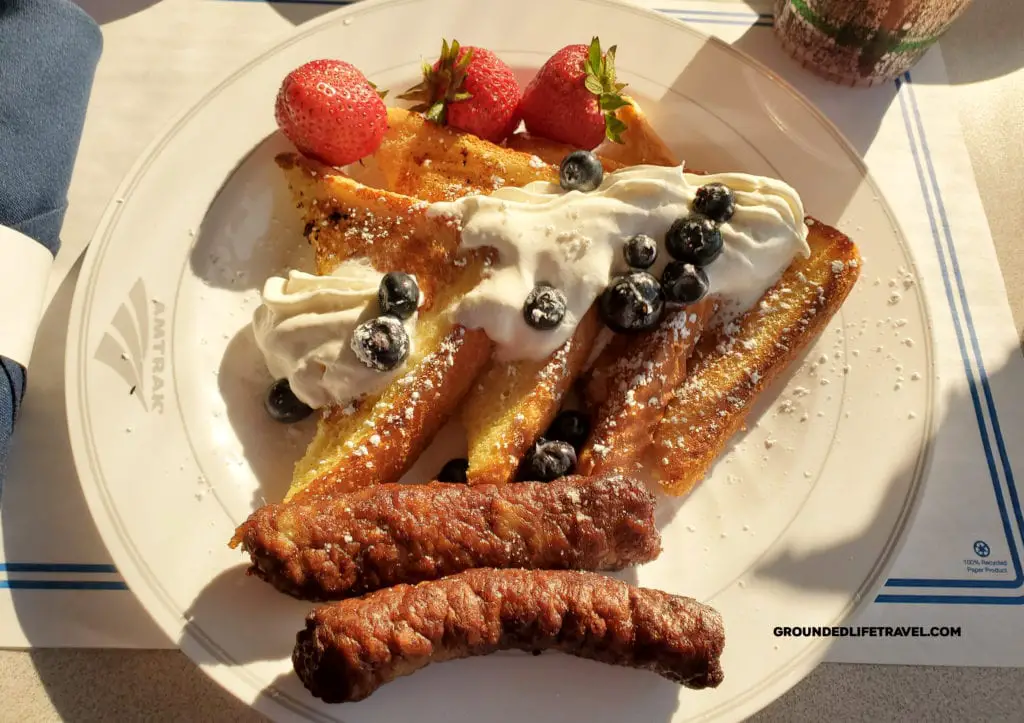 Breakfast was a lot of food, too much to eat right after waking up. We started going later in the breakfast time slot so we could be a little bit hungrier when we showed up to breakfast!
Amtrak Traditional Dining Lunch
There are four choices available for lunch with Amtrak traditional dining.
Caesar Salad
Artisan Grilled Cheese
Natural Angus Burger
Savory Chili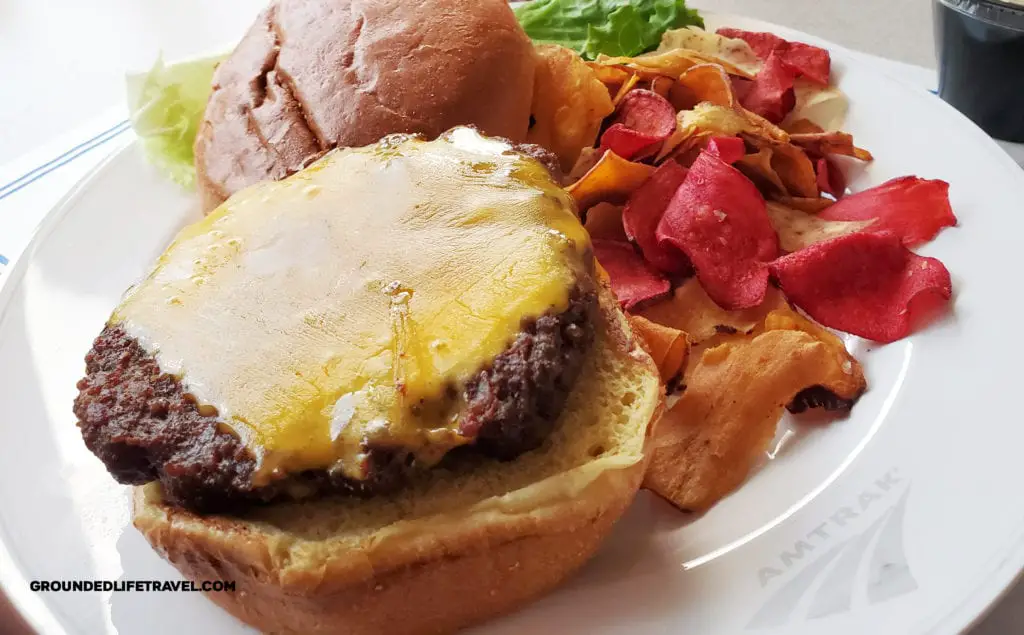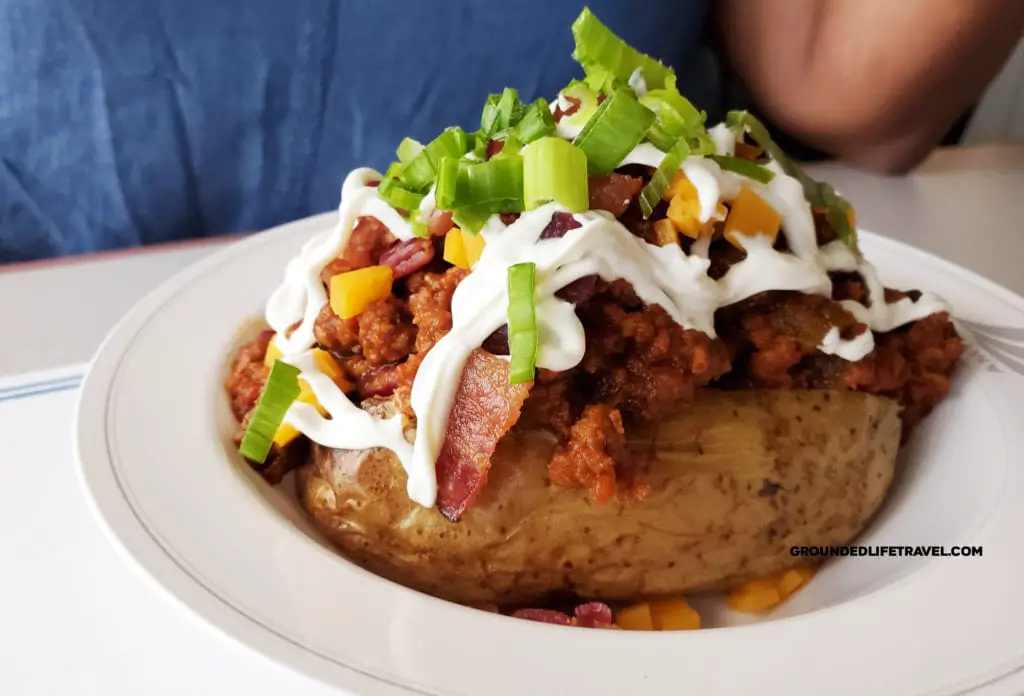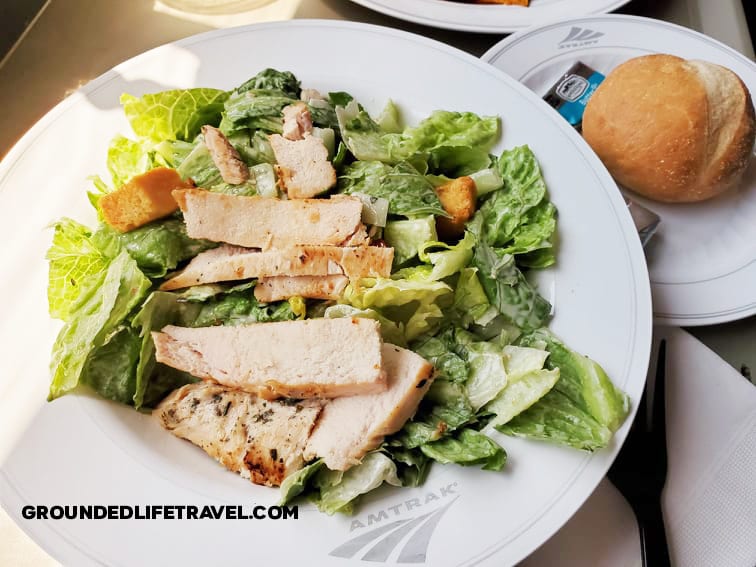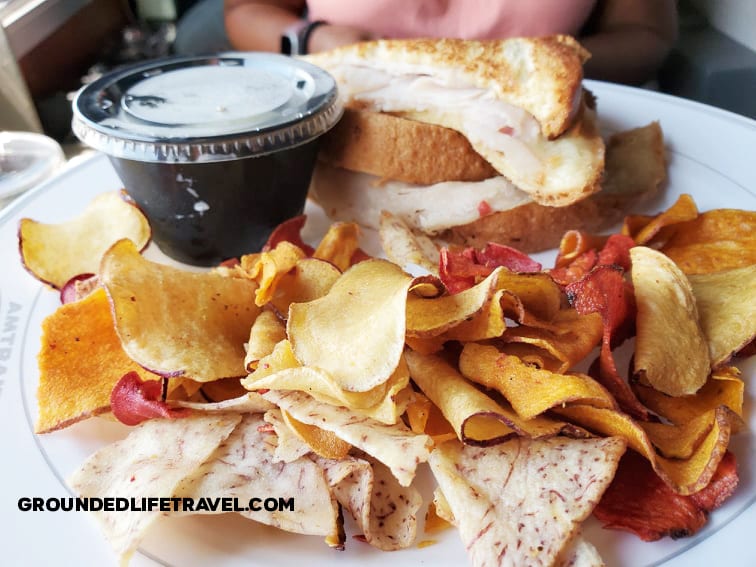 The chili can be served in a potato or a bowl. We choose to have it in a potato with some toppings. The burger is really good, not even a comparison to the burgers served in the cafe.
Amtrak Traditional Dining Dinner
For dinner, passengers can choose from three appetizers and four entrees.
Dinner Appetizers
Lobster Crab Cake
Green Chile Cheese Tamale
Mixed Green Salad with Baby Brie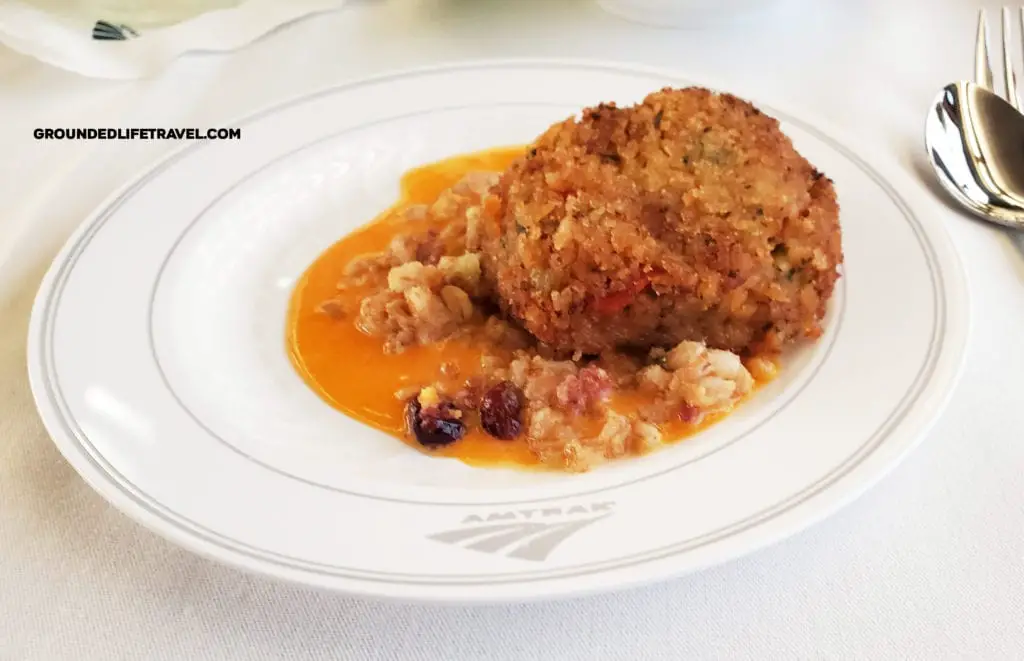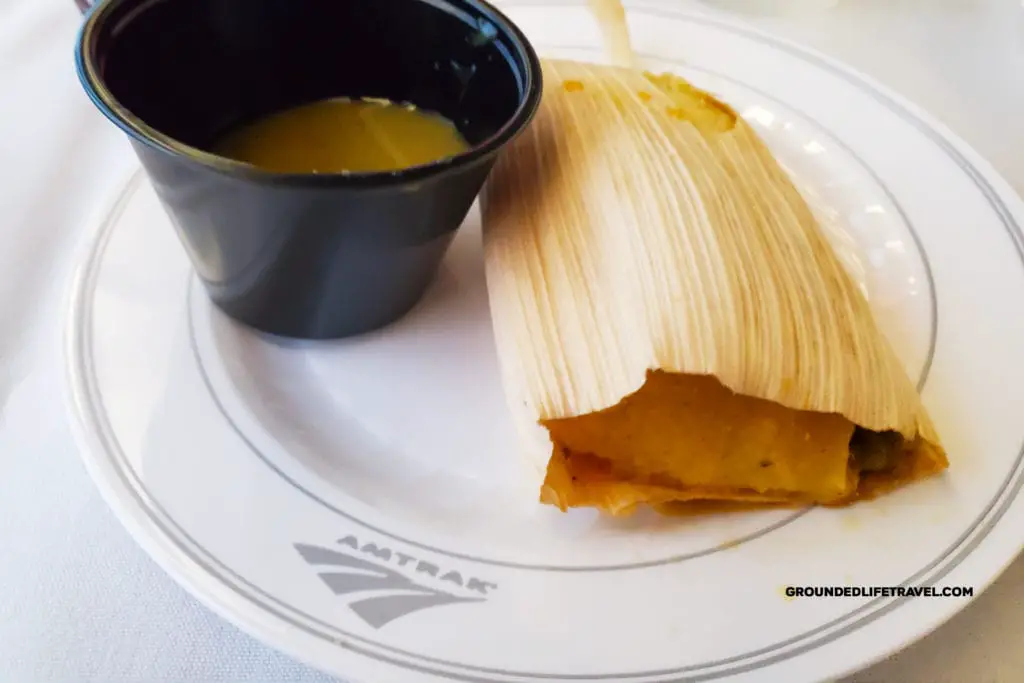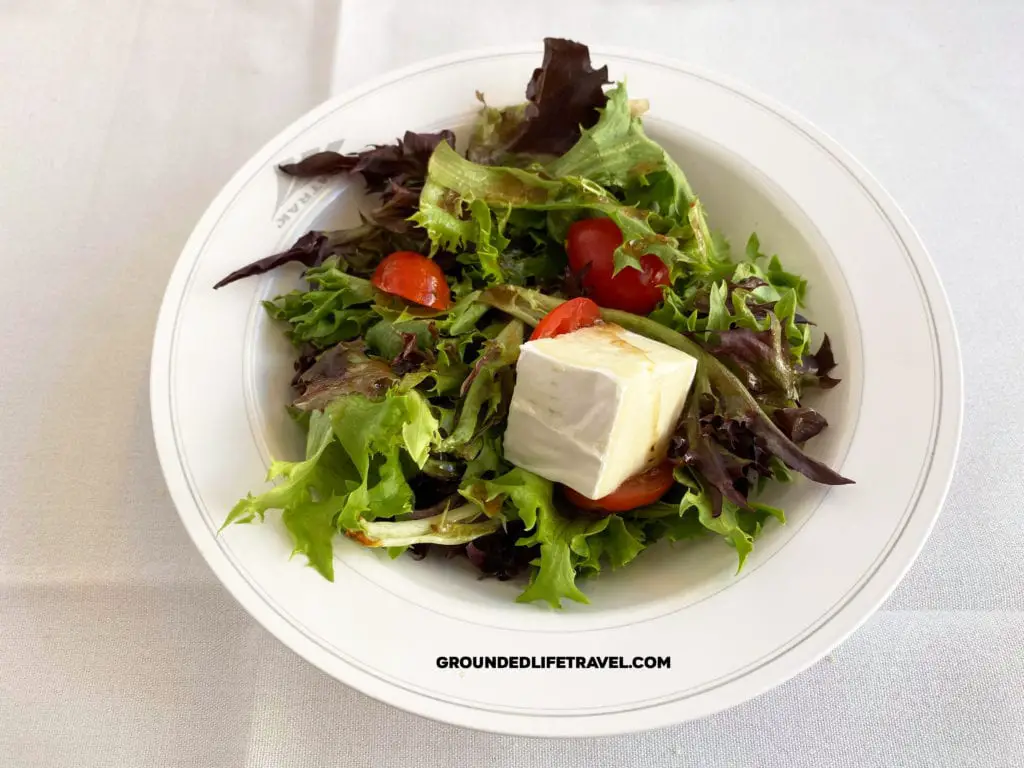 Dinner Entrees
Amtrak's Signature Flat Iron Steak
Pan-Roasted Chicken Breast
Grilled Atlantic Salmon
Tortellini With Pesto Cream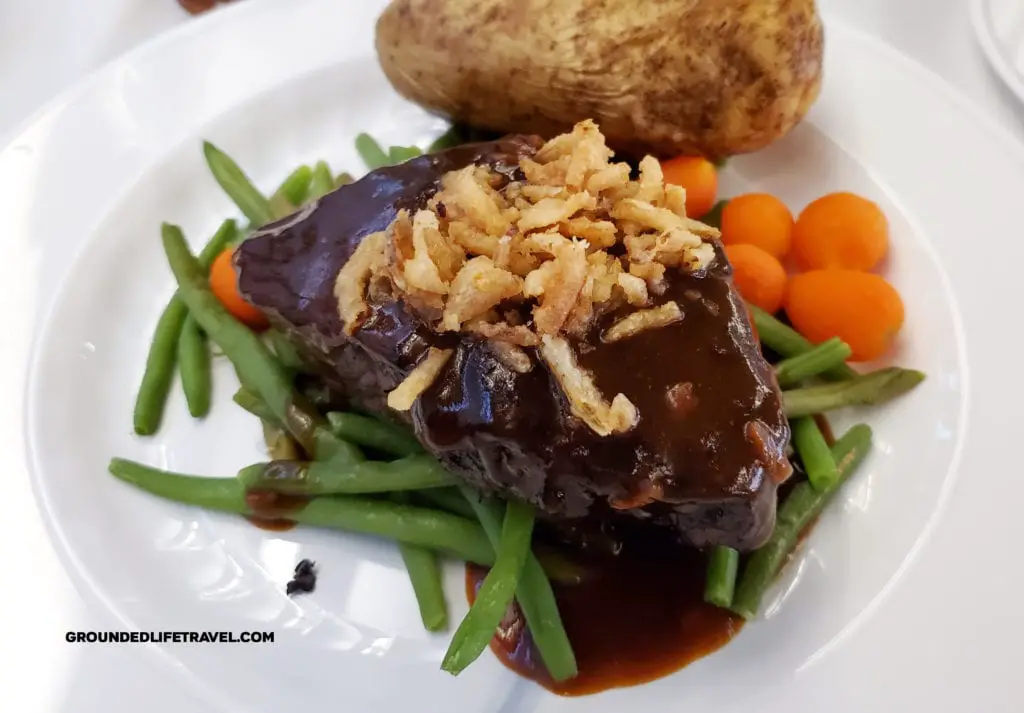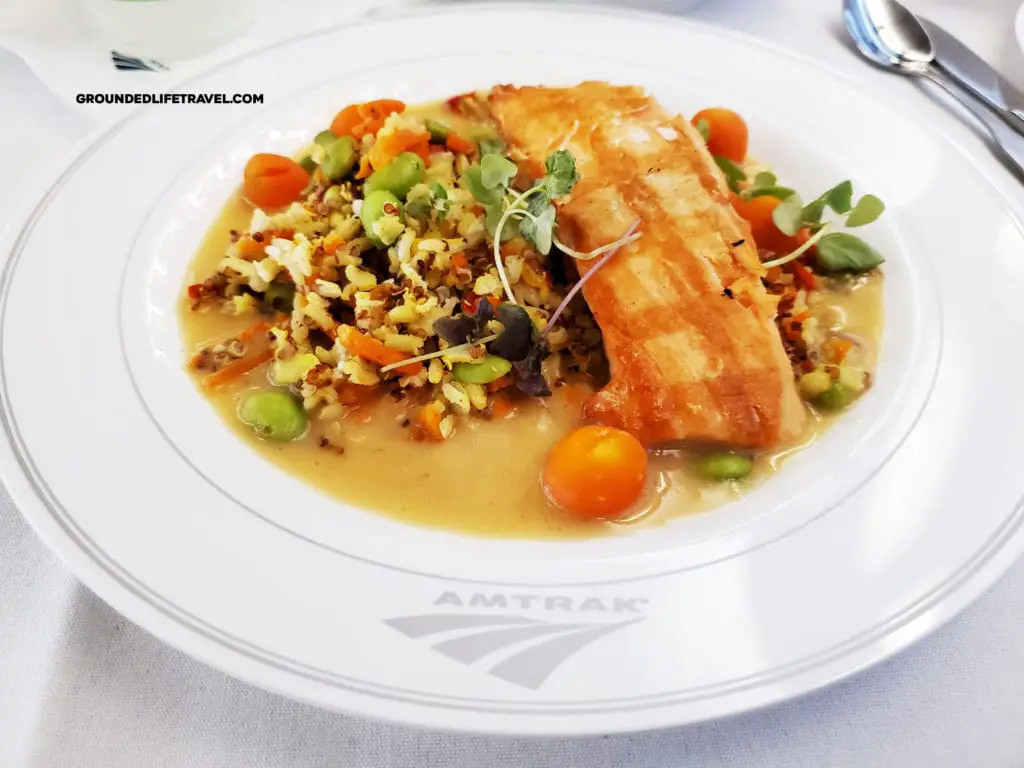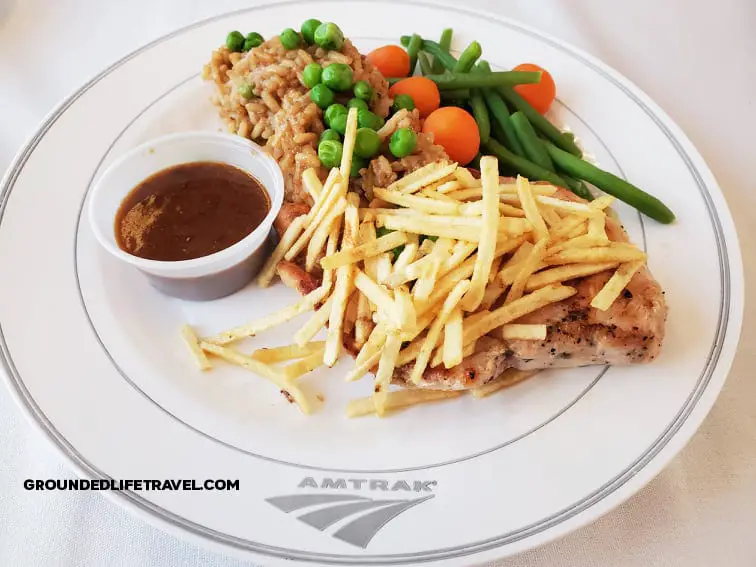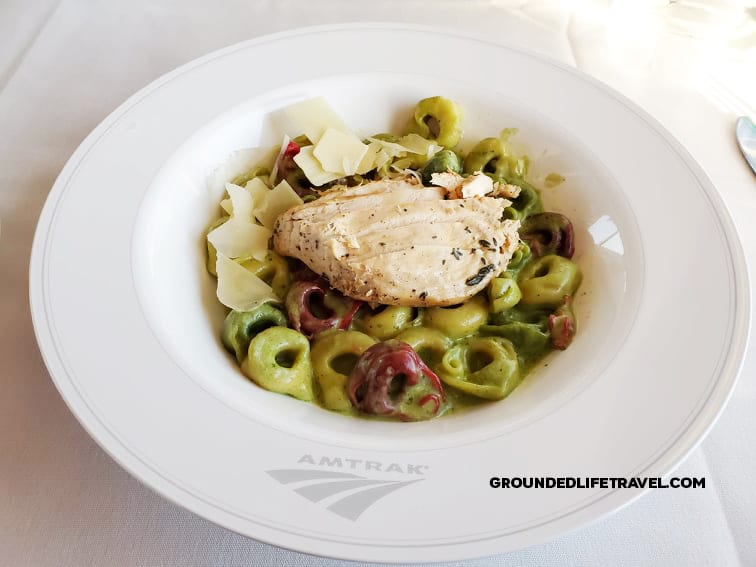 Dinner Desserts
Flourless Chocolate Torte
Philadelphia Cheesecake
Carrot Cake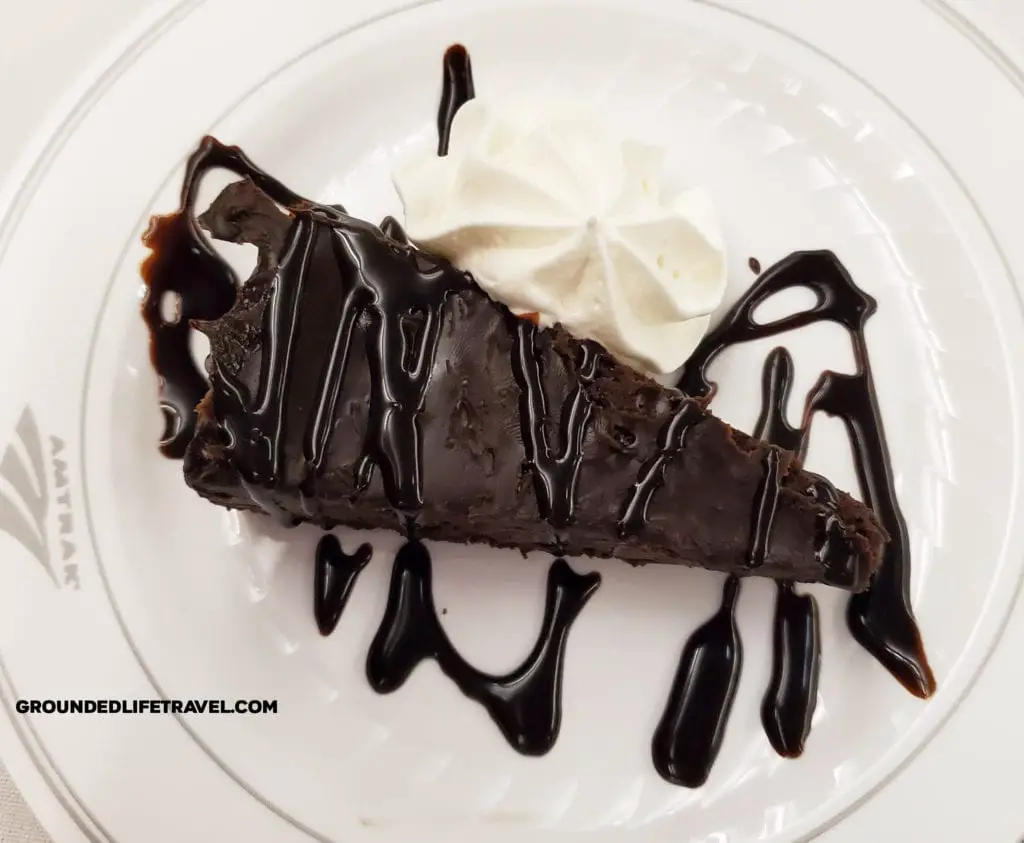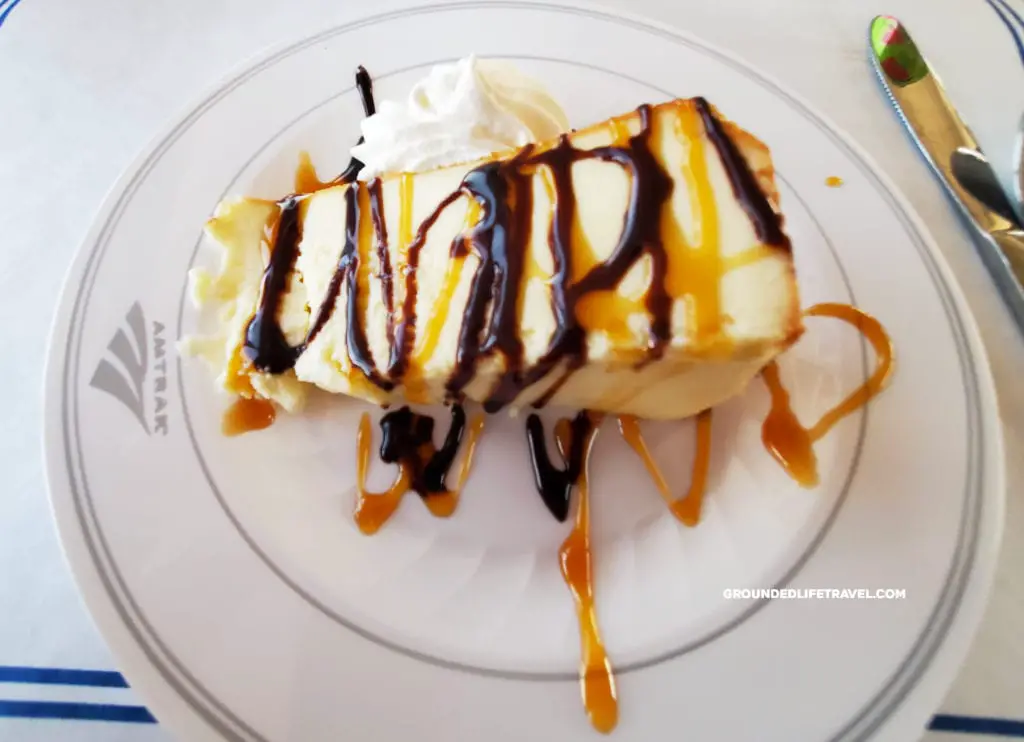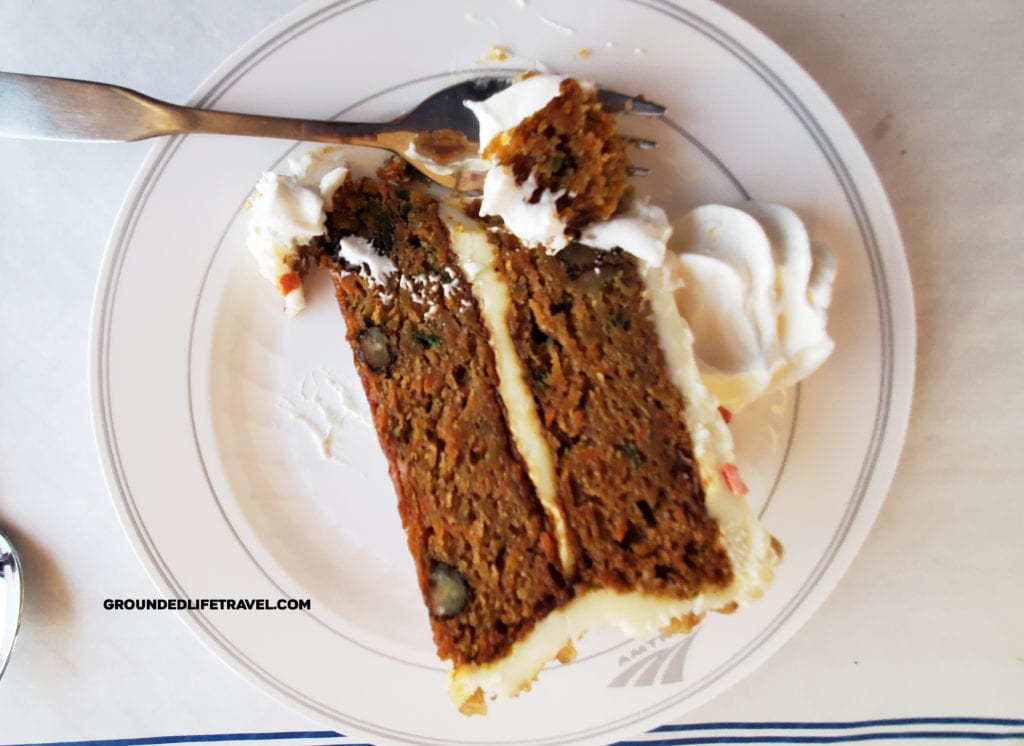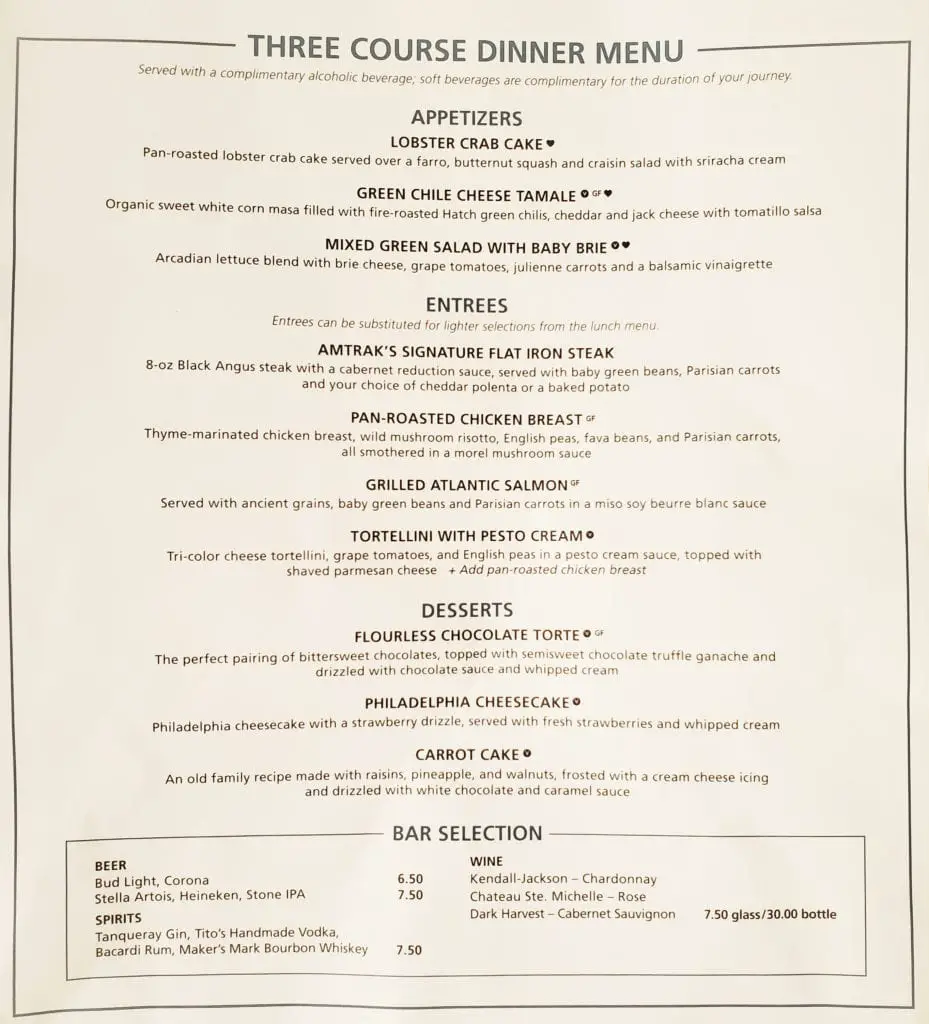 We loved the salmon and flat iron steak options. The steak is cooked to order and was quite tender. Options from the lunch menu are also available at dinner time if none of the dinner selections are what you want.
Kids Menu
Classic Grilled Cheese
Roasted Chicken Breast
Homestyle White Cheddar Mac & Cheese
Hebrew National All-Beef Hot Dog
Amtrak Gluten Free Options
Three Egg Omelet
Scrambled Eggs
Savory Chili
Roasted Chicken Breast
Green Chili Cheese Tamale
Pan-Roasted Chicken Breast
Grilled Atlantic Salmon
Flourless Chocolate Torte
Amtrak Vegetarian Options
Continental Breakfast
Amtrak Signature Railroad French Toast
Three Egg Omelet
Scrambled Eggs
Savory Chili
Classic Grilled Cheese
Homestyle White Cheddar Mac & Cheese
Green Chili Cheese Tamale
Mixed Green Salad with Baby Brie
Tortellini with Pesto Cream
Flourless Chocolate Torte
Philadelphia Cheesecake
Carrot Cake
Amtrak Traditional Dining Menu