Amtrak Dining Car Menu Review: All Of Your Food Options Explained
Grounded Life Travel is supported by its audience. When you purchase through links on our site, we may earn an affiliate commission.As an Amazon Associate I earn from qualifying purchases. List of everything we use in our travels.
We get a lot of questions about the Amtrak dining car menu and cafe food options on Amtrak. Trains on Amtrak offer a dining car on most major routes as well as a cafe car that serves quick hot meals.
UPDATE: Traditional Dining is back on select routes. To see the new traditional dining menu and routes it serves see our post on Amtrak traditional dining. This post covers Flexible Dining which is mostly used on the east coast and shorter routes. The cafe food in this post is available on all trains.
What Food Is Served On Amtrak Trains?
The new dining car dining menu offers hot, ready to serve meal choices for breakfast, lunch and dinner. There is also a selection of wine, beer and spirits as well as soft drinks throughout the journey.
The breakfast, lunch and dinner options on the Amtrak dining car menu are the same each day. The menu consists of a variety of pasta, meat and vegan options. The menu was changed after budget cuts. Amtrak used to serve more traditional made to order meals before the cuts. The traditional dining service has been suspended until further notice.
There are also more food options available in the cafe for all passengers.
How Much Do Meals Cost On Amtrak?
Meals in the dining car on Amtrak are included for sleeper car passengers. You are provided with breakfast lunch and dinner, whichever apply to your journey as well as water, soft drinks, juice and coffee. Other meal and snack options are available in the cafe, prices range from $3 to about $10 per meal. Hot meals from the cafe include mac & cheese, hot dogs, burgers, and pizza. The cafe also has snacks, chips, fresh fruit and drinks available.
Can You Bring Food On Amtrak?
You are permitted to bring your own food on Amtrak. You can bring food in a bag or bring a cooler to keep your food fresh. You can also bring drinks including alcoholic beverages. The alcoholic beverages can only be consumed in a roomette, they are not permitted in coach. You can not consume your own alcoholic beverages in the lounge car. You are free to eat your food in your seat in coach, the lounge car or in your roomette.
Breakfast Menu
At breakfast there are two types of oatmeal available as well as a breakfast bar. You can also choose from cold cereals, yogurts and muffins. There is one hot option available, it's a breakfast sandwich. The sandwich is made with sausage, cheese and egg in an english muffin. There's not much to say about the breakfast menu. It's a bit limited and it would be nice to have more hot options, but what is provided is suitable.
Lunch and Dinner Entrees
Red Wine Braised Beef
The Red Wine Braised Beef was a favorite for both of us. The only issue is how long each attendant warmed the meal. On one train the attendant overcooked it and it was very tough but on the other rides the attendants did a much better job and it was tender.
Enchiladas
I (Allie) was very surprised at how much I liked this vegan choice. Although I am not vegan, I enjoy the food options. This one was flavorful and not over seasoned. It was filling, it's a great option to add to the ready to go meals.
Chicken Marsala
This was probably my least favorite meal on the menu. It was a over seasoned and the chicken was a bit tough. It is served with rice as opposed to pasta.
Shrimp In Lobster Sauce
This one was a big surprise to me. It is a bit risky to order seafood from a ready to go menu but this one fit the bill. I enjoyed this one and it was very filling and flavorful.
Asian Noodle Bowl
Asian Noodles are my favorite. This is likely my favorite meal on the new menu for Amtrak. There are lots of vegetables mixed in with the noodles and there is just the right amount of sauce to go with it.
Chicken Fettuccini
This one was not my favorite meal from the dining car. Pasta can be tricky when reheating, so it is understandable. The vegetables seemed to be added after the fact because they did not have much flavor to them. The chicken was all dark meat and a bit grisly.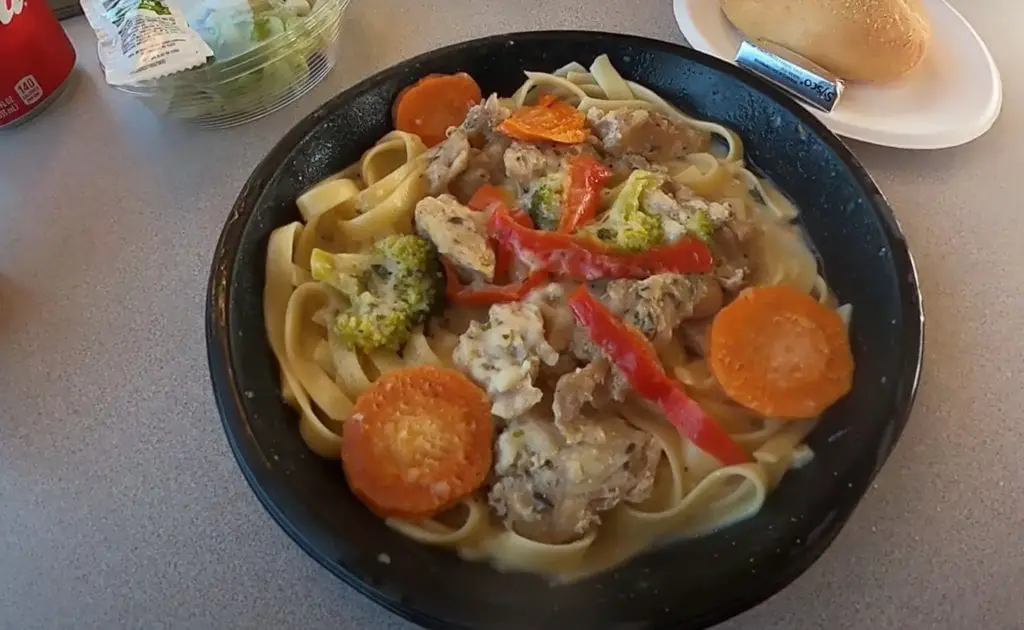 Creole Shrimp & Andouille
This was a fun meal. It was Amtrak's take on the traditional creole dish, jambalaya. I would have liked to have some more vegetables in there. I was surprised by how much sausage and shrimp there was, I even shared some with Rob.
Pasta & Meatballs
This was Rob's favorite go to meal. Whenever he can't make up his mind, he just orders this. It's consistent and tasty. The pasta doesn't seem to get too sticky like with the fettucine. This is an good overall meal.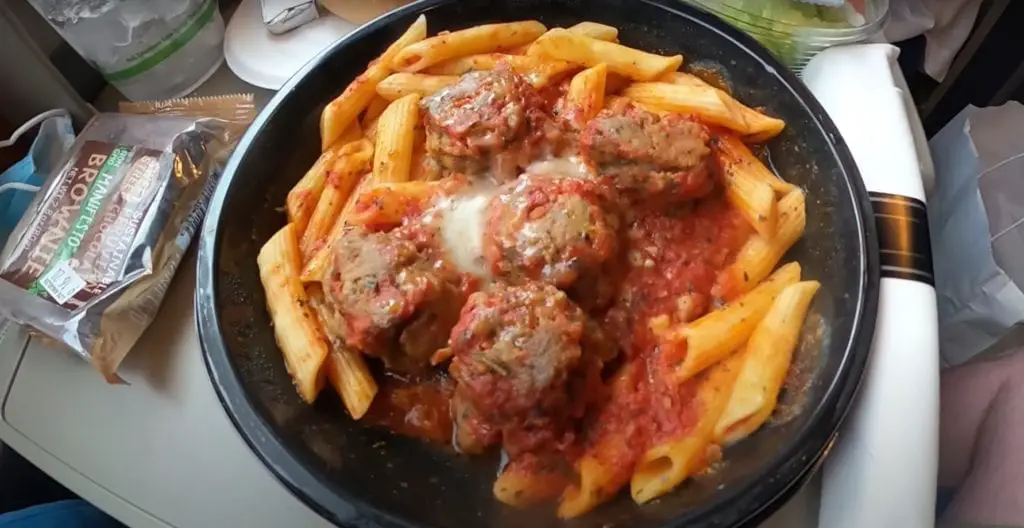 Sides and Dessert
The meals come with a side salad, roll and dessert as well as a drink of choice. The dessert choices are a chocolate brownie and a toffee crunch blondie brownie. On a few trains we did also have the option of some cookies, but that seems to be more available from time to time.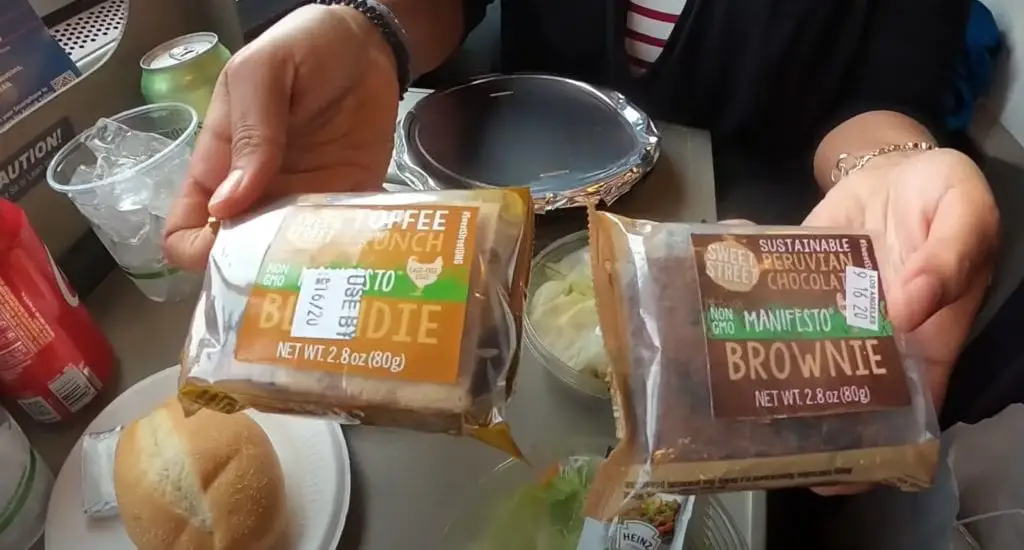 Overall Review Of Changes
While the new meals are all ready to serve meals that are warmed, we found them to be more enjoyable than airplane food. The service provided by the dining car attendant is still great. You meals are not prepared to order and the selection is a lot smaller, especially for breakfast. The new dining car service schedule does not permit coach passengers to purchase meals in the dining car. Coach passengers are restricted to the meals available in the cafe. We, along with many others hope the traditional dining car style will return in the near future, but found the current dining car to be a really enjoyable experience.
Tags :
Amtrak
amtrak dining car