Best Amtrak Trips From Los Angeles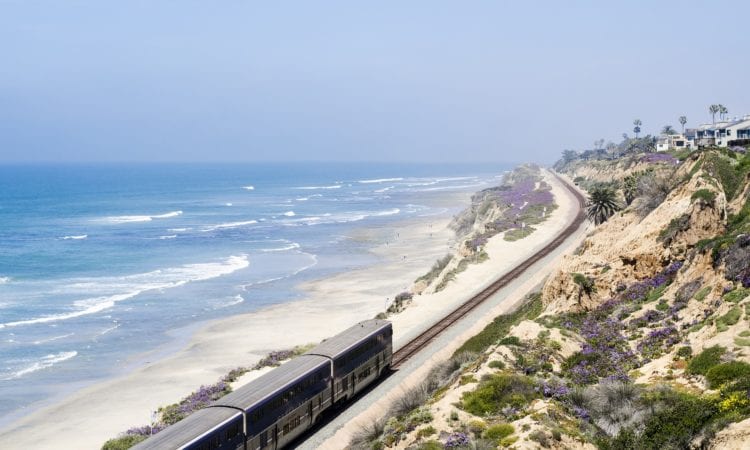 Grounded Life Travel is supported by its audience. When you purchase through links on our site, we may earn an affiliate commission.As an Amazon Associate I earn from qualifying purchases. List of everything we use in our travels.
Taking an Amtrak trip from Los Angeles can be one of those things you do that will spur your excitement for more exciting train trips. Los Angeles in itself is mesmerizing and full of all the glitz and glamour you may imagine. From Rodeo Drive to the Hollywood hills, there is so much to see and do in "Tinsel Town".
Start with a walk down the Hollywood Walk of Fame. Find all of your favorite stars and don't forget that selfie. Then ride up into the Hollywood Hills to get a glimpse of the famous Hollywood sign. From here, you can make your way down to the Santa Monica Pier. The energy here is inspiring and be sure to get a ride on the Ferris wheel before you leave.
When you and your crew have seen what you want to see in L.A., then head to the Amtrak station for one of these amazing trips to see some of the best parts of America. See the Golden Gate Bridge in San Francisco or go south and watch for whales in San Diego. Catch a tour of the Alamo in San Antonio, or get a bird's eye view in Seattle. Any of these Amtrak trips are sure to be one of your all time favorite vacation memories.
San Francisco
How to get from Los Angeles to San Francisco
Start your trip on Amtrak in Los Angeles at Union Station. Here you can enjoy the complimentary beverages and snacks as you wait for your train in comfort in the Metropolitan Lounge if you are in a sleeper car. Once your train arrives you will have comfort knowing you will arrive in San Francisco in 9.5 hours. However, the journey is the destination on this trip. Traveling along the coast with spectacular views of the Pacific, this trip is considered one of the finest in train travel. Make sure you have your good camera for this trip!
Hop aboard the Coast Starlight and enjoy your ride down the coast on the double decker style train that has everything that is available today in train travel. From Coach to Family Bedrooms to the Observation Car, train travel here is difficult to beat. Make sure you get a good window seat because you'll be gazing at whitecaps and searching for Grey Whale spouts across the horizon. Coach is comfortable in its own right, but if you want to really live it up, get a roomette or a bedroom. You have privacy when you need it and can have your meals, which are included with your ticket, delivered to you as you enjoy the ride.
The Amtrak trains stop in Emeryville, CA and you'll need to board an Amtrak bus to get into San Francisco.
What to do in San Francisco
San Francisco is a magical city. The scenery is fantastic, the people are friendly and the architecture is as unique to this city as it's weather. When you arrive in San Francisco it will tough to figure out what to do first. Start at one of the most iconic symbols in America. The Golden Gate Bridge is visited by over 10 million people a year for a reason. The shear magnitude of its stature and the overload to the senses is something everyone should experience once. After you get your fill, take your crew to Alcatraz Island. Have fun on the ferry to the island and then tour what is one of the most infamous prisons in human history. Its beauty and the horrors encapsulated within are a contradiction in terms but it is titillating to say the least. Have dinner in Chinatown and have some of the most amazing Chinese food on the planet!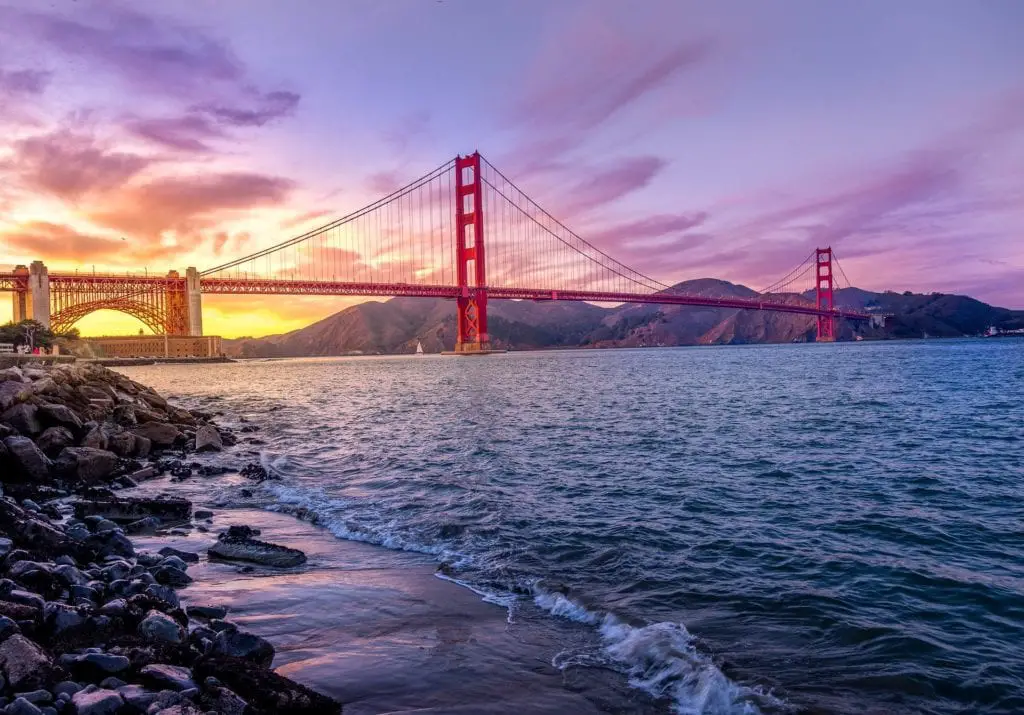 San Diego
How to get from Los Angeles to San Diego
San Diego is amazing however you get there, but making the trip from L.A. to San Diego is a great day trip. In under three hours you can be in a different city with a whole difference feel. Amtrak can get you from the mansions of Hollywood to the missions of Old Town San Diego in no time.
The Pacific Surfliner is the busiest Amtrak train in the West. You can choose between Business class and Coach seating on this train. Large seats and tray tables are available as well as WiFi. If you get hungry, there's also a cafe car that has snacks and sweets for you to enjoy. The scenery is what steals the show on this train ride as nearly the entire ride will be on the ocean. Look for sea lions and other marine life as you gaze out your window on this spectacular ride.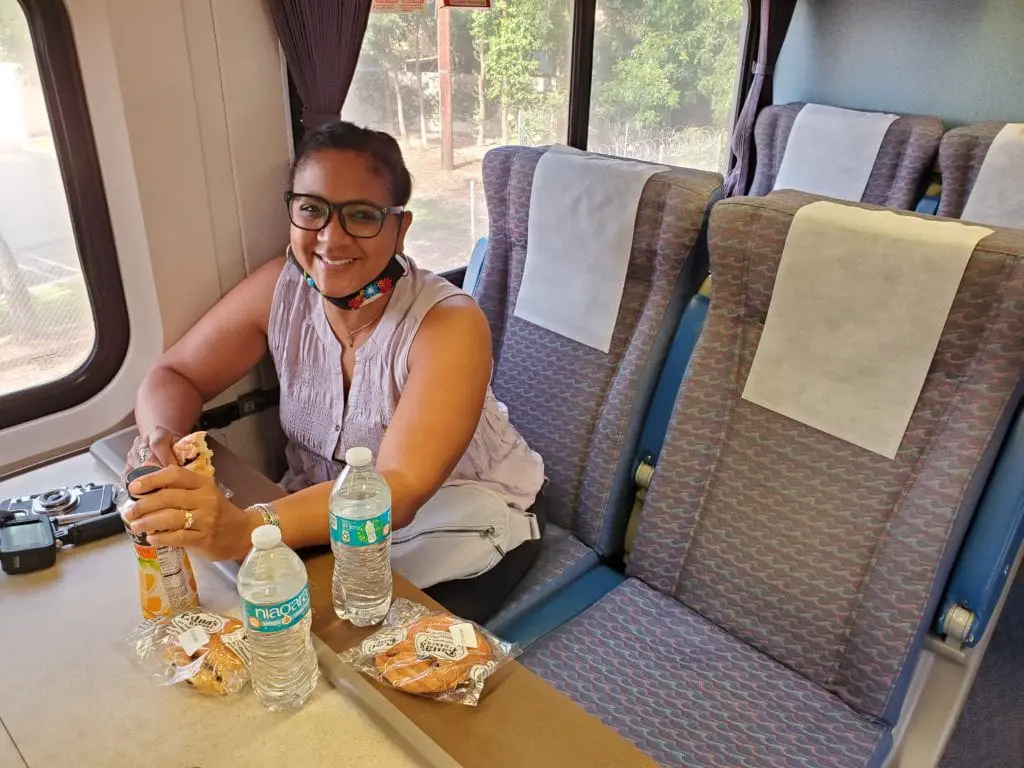 What to do in San Diego
San Diego has it all. You can rest and relax on the beach or go visit some of the many historical sites around town. Start at Balboa park and visit the Japanese Garden or the world famous San Diego Zoo. Then head to the waterfront and tour the U.S.S. Midway for an experience like no other. Take some time to surf at the beach or see the sea lions in La Jolla. While you're there, grab a bite to eat at the Cove House and enjoy the stunning view from their patio.
San Antonio
How to get from Los Angeles to San Antonio
This unforgettable journey will take you almost halfway across the country in a 1,400 mile 29 hour trek that will have you wanting for more. You will start at L.A.'s Union Station and end up in San Antonio's station ready for some sight seeing. If you were to drive this route, it would take you over 22 hours. However, that does not include any stopping for food, gas or sleep. So, taking the train is actually faster.
The Texas Eagle is a stylish train that has all the comforts of home. You will definitely need somewhere to lay your head on this journey. Pick a roomette and have some privacy or opt for a bedroom which comes with a private toilet and a little more room. On this trip you will see the southwest at its finest. From mountains to deserts, the landscape will change before your eyes.
What to do in San Antonio
San Antonio has a lot to offer and the River Walk is a great place to start. This 15-mile path that hugs the San Antonio River is a great place to shop, have a great meal or enjoy an adult beverage. The ambiance is captivating and you'll find that it's difficult to peel yourself away from the oasis of Texas. The Alamo is also a place you must stop before moving on. We all learned about it in school, now you can go on a free tour to see the architecture, relics and get information from knowledgeable docents.
Seattle
How to get from Los Angeles to Seattle
Riding Amtrak from Los Angeles to Seattle is a unique experience. Go from sunny southern California, to the chill of the Pacific Northwest in about 35 hours. You will see the scenery change from sunny and bright to fog laden in a matter of hours. Leave L.A.'s Union Station and arrive in the astonishingly beautiful, yet very different city of Seattle and King Street Station. Taking a car along this route would take you 18 hours, but you would be leaving all the fun behind!
The Coast Starlight will travel down the the coast, through wine country and small town communities, passed foggy, barren beaches and finally through the evergreen laden forest of the Pacific Northwest. If you are lucky you'll see the landscape change from summer to winter in mere hours. Pretty fabulous! Make sure you get a roomette or bedroom for this trip as you will need to rest at night when the view is hidden. Take advantage of the meals that come with your ticket. Dine-in or have your meal delivered and eat alone, only with your thoughts.
What to do in Seattle
Seattle is a gorgeous place to explore any time of year. Just dress warmly with a coat and hat, because you will need it even in the summer. However, the weather can't spoil the fantastic vibe that is Seattle. You can start at the Space Needle and see the view of the city and the topography beyond in the form of Mount Rainier, Puget Sound and the Olympic Range all the way to the ocean.
Now that you see what awaits you, opt to visit Pike's Place Market and see what fresh catch is on special. If you want to do something silly, head to the world renowned Gum Wall. Get yourself a pack of Hubba Bubba and decorate the wall with your own flare. Of course, you have to visit 1912 Pike Place and have a coffee. This 45 year old Starbucks was the first to brew your favorite mug of joe and continues to do so to this day.
Check out our guide to the National Parks in Washington if you plan to rent a car a go a little further.
A trip from Los Angeles to any place in America by train is bound to be exciting. From the palms and ocean you will see contrasting scenery wherever you choose to go. Pick one of these destinations and make some amazing memories on the rails of America.