Amtrak Business Class Review and Guide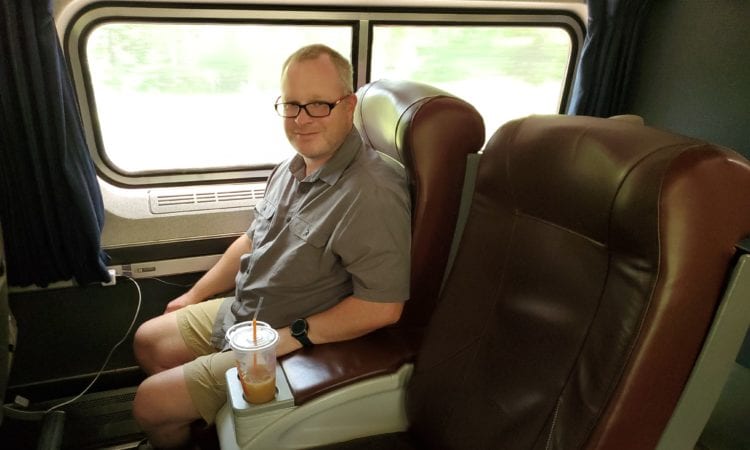 Grounded Life Travel is supported by its audience. When you purchase through links on our site, we may earn an affiliate commission.As an Amazon Associate I earn from qualifying purchases. List of everything we use in our travels.
Amtrak Business Class offers many amenities over coach class including extra legroom, complimentary non-alcoholic drinks and a 25% point bonus through Amtrak Guest Rewards. If you are trying to decide if you should upgrade to Business Class our pictures below should help you make up your mind.
What Was Our Business Class Experience Like
Our first Amtrak Business class experience was on the Northeast Regional and it could be described accurately as just coach class with free drinks. In fact, the train car is exactly the same as coach class, just with the name Business Class written on the outside.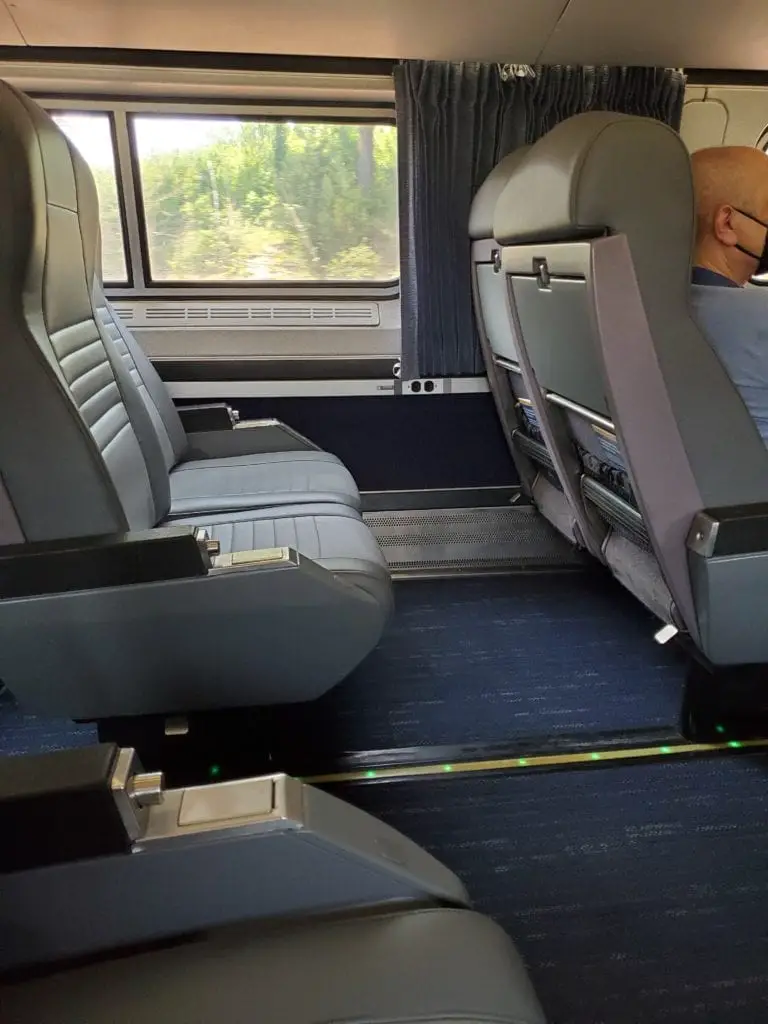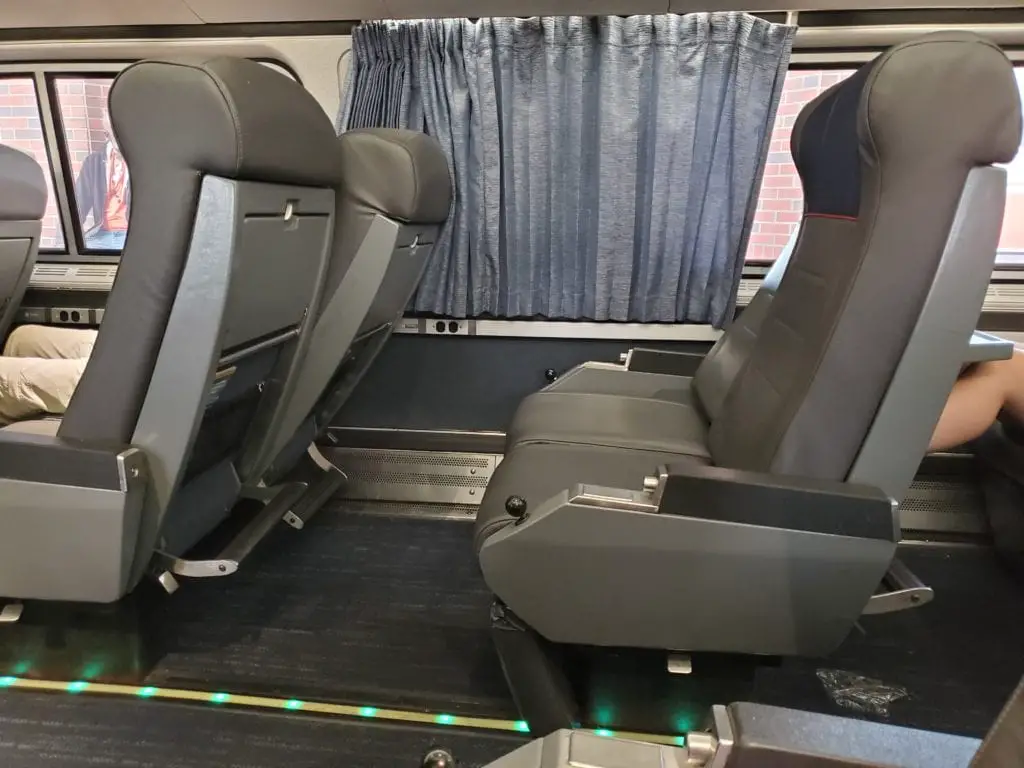 Our second experience in Business Class was on the Downeaster. This felt better as there was a difference between Coach and Business Class. The train had large red seats and was situated right next to the cafe. Although after walking through Coach Class I noticed they had the new Horizon Cars with nice seats that actually seemed newer and more comfortable. So again, not much of an upgrade.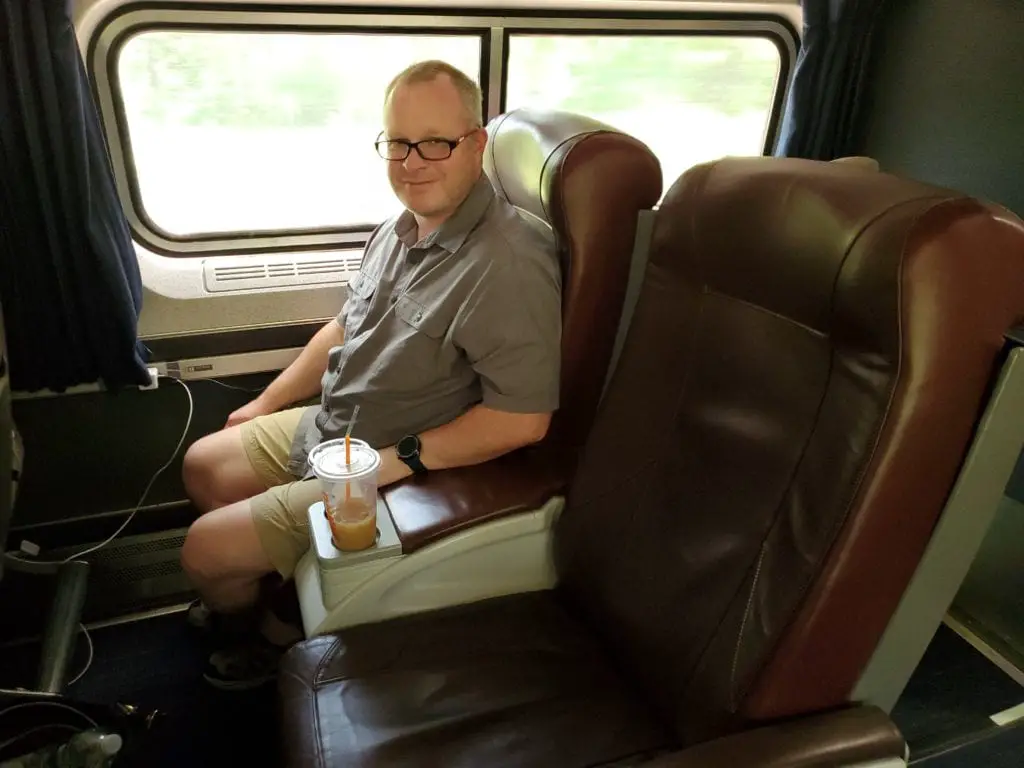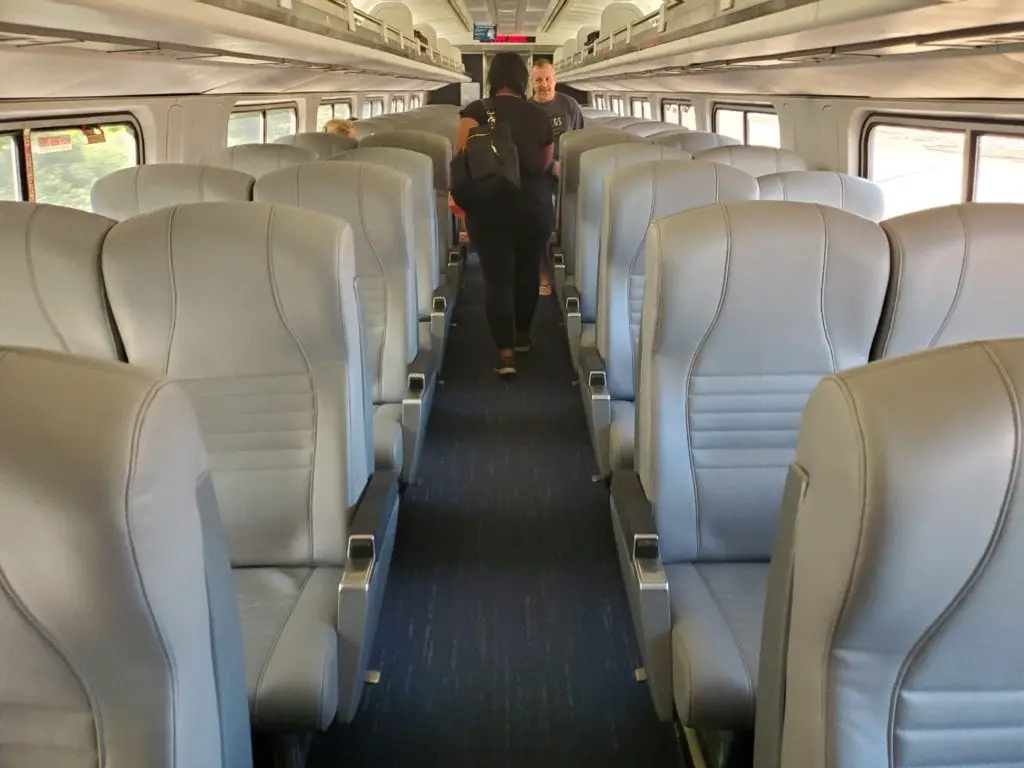 Business Class on the Acela
We then rode Business Class on the Acela, which is actually the lowest class ticket you can get on that train. So it compares more to Coach Class on other trains. The upgrade on the Acela is to get to First Class. In First Class you are served a meal on the Acela.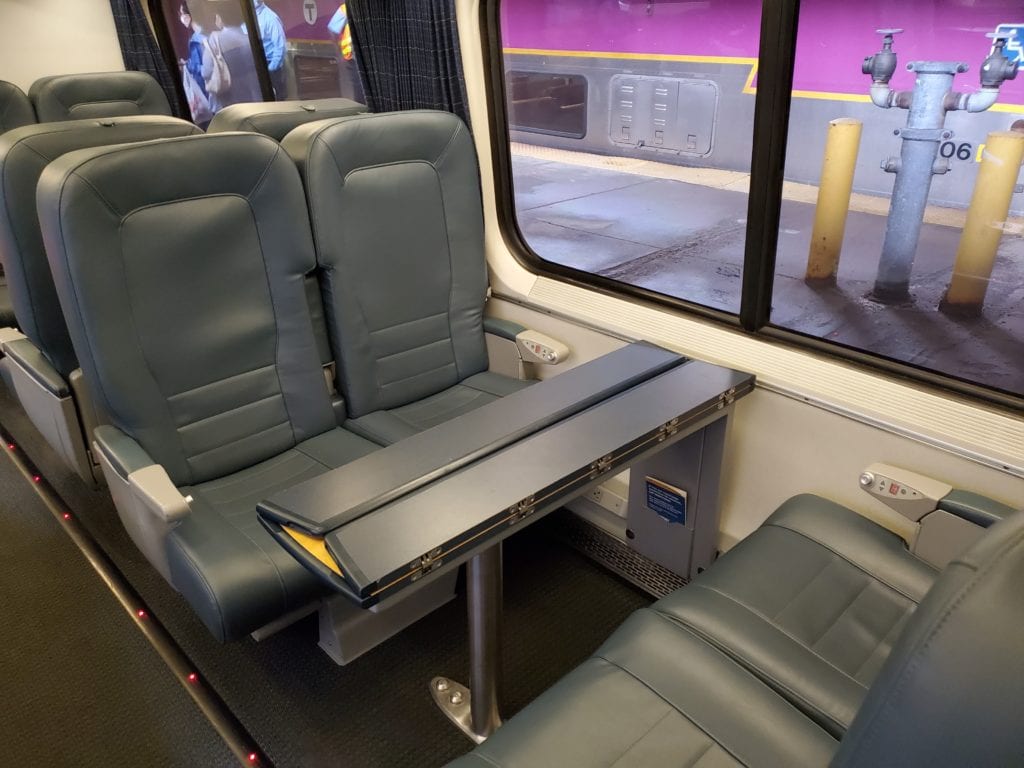 Business Class on the Acela will let you sit in either a pod of four seats with a table as pictured above or a row of two seats facing forwards. Both sides of the aisle will have two seats. In First Class on the Acela there are two seats on one side and only one seat on the other, allowing all the seats to be a little bigger.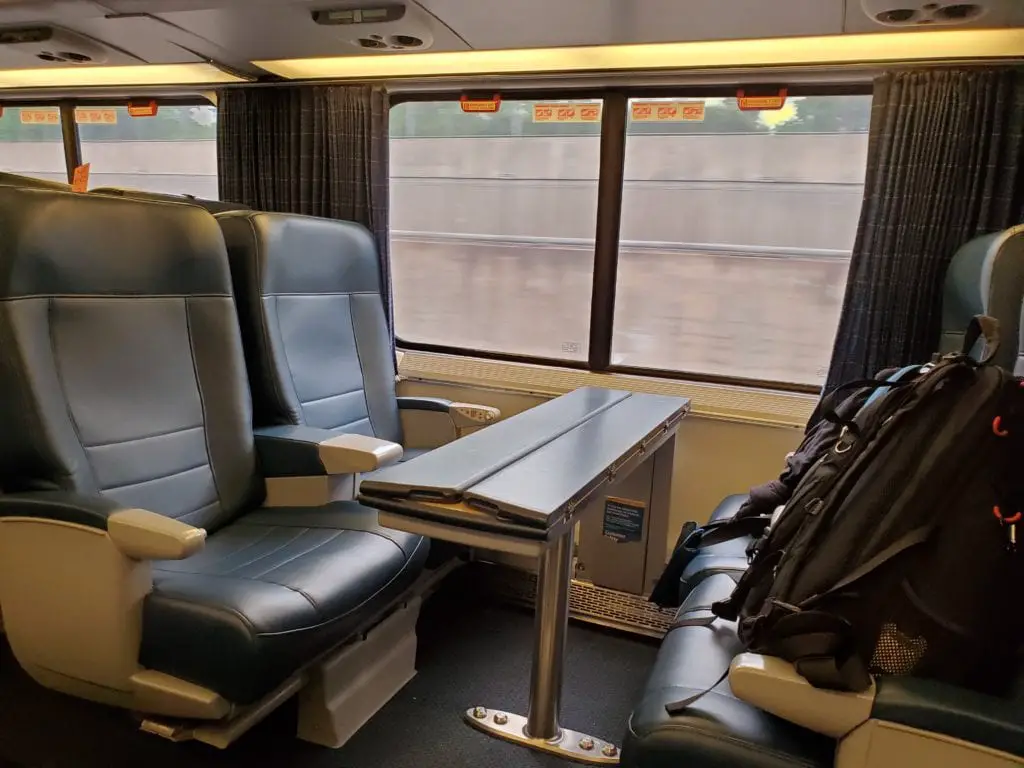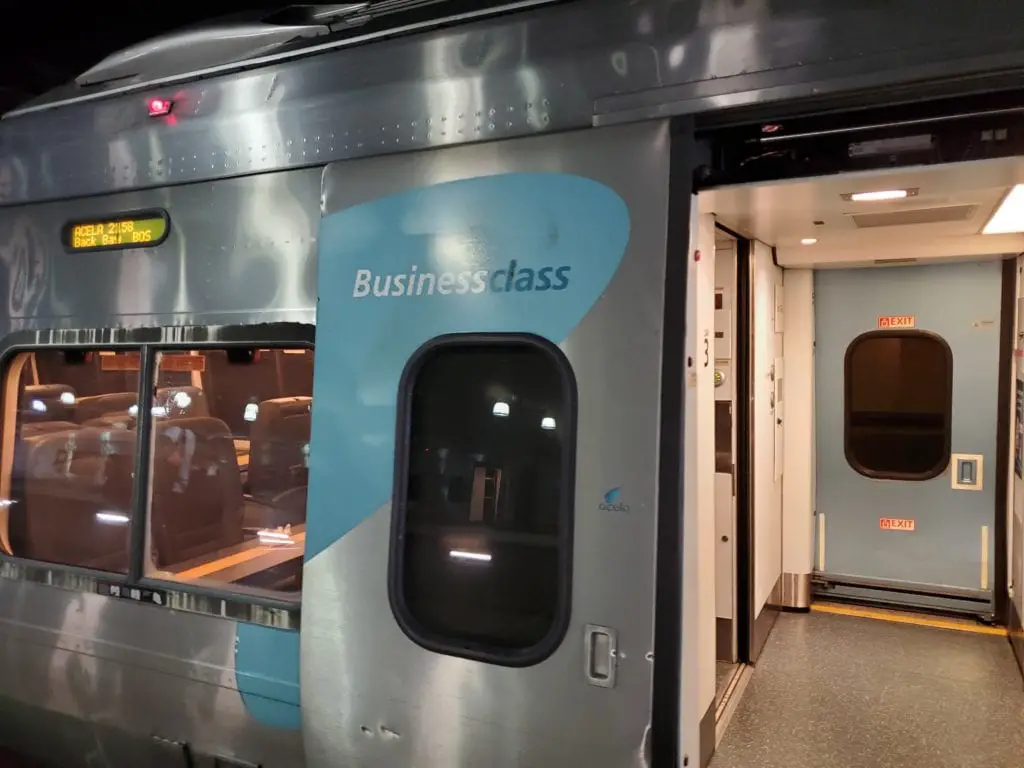 Business Class on the Coast Starlight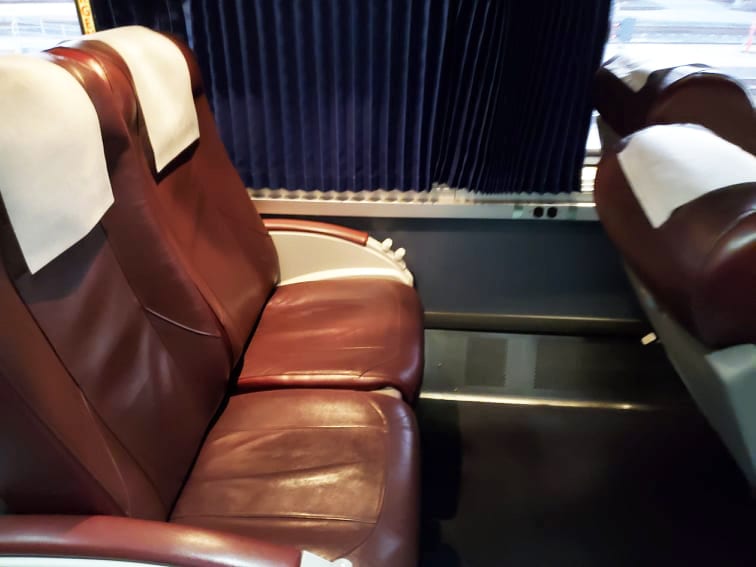 The Coast Starlight business class is exactly like Coach, except the seats have been finished differently. The outside of the car still says Coach even, which can be confusing. Our attendant told us there is usually an extra observation car attached to the Business Class car, but on our ride it was missing.
Business Class On The Pacific Surfliner
On the Pacific Surfliner, business class includes and upgraded car with tables. Free drinks and snacks are also provided. Business class here is a unique experience and is not just an updated coach car.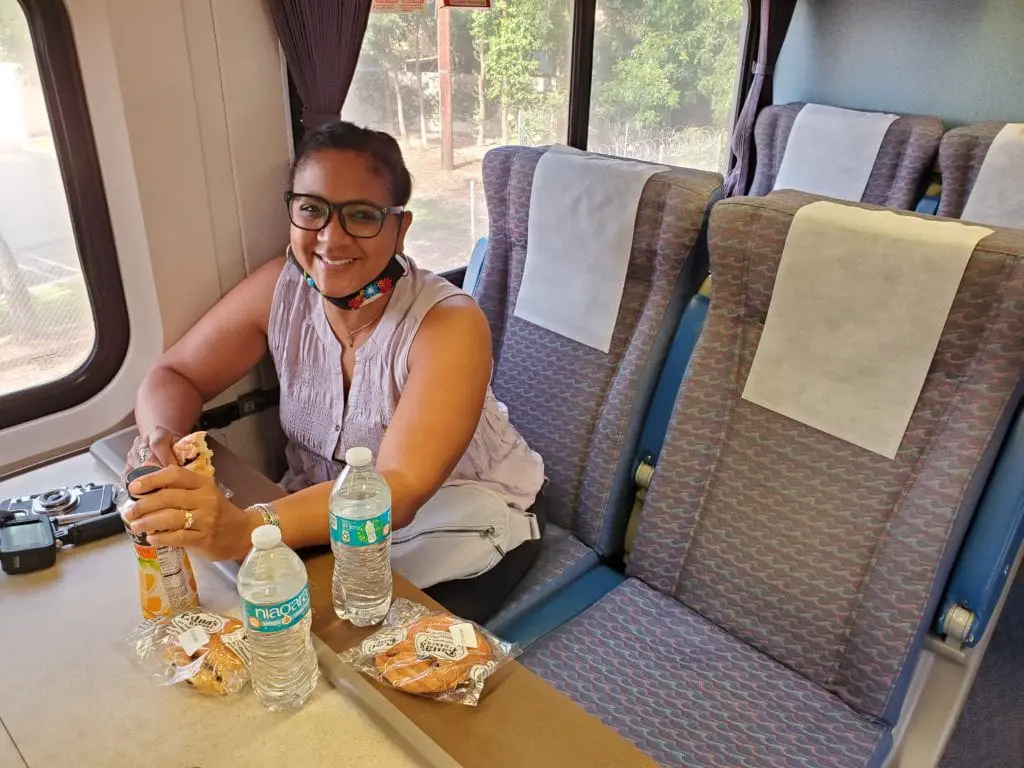 Does Amtrak Business Class Include Food?
Riding business class on Amtrak does not include food. Only sleeper car passengers and Acela First Class passengers get free meals on Amtrak. Business class passengers are able to buy food at the cafe.
Is It Worth It To Upgrade To Business Class?
From a price standpoint the upgrade to Amtrak Business Class from Coach Class is not worth the cost. While you do get free drinks, the extra legroom is really meaningless as there is plenty of legroom already in Coach Class. Additionally, often times there is not extra legroom, it is just the same as Coach Class. The real benefit to Business Class is that it will often be less crowded and therefore quieter if you need to get some work done.
Amtrak Routes With Business Class
Tags :
Business Class