Amtrak Vs. Megabus: Which One Should You Ride
Grounded Life Travel is supported by its audience. When you purchase through links on our site, we may earn an affiliate commission.As an Amazon Associate I earn from qualifying purchases. List of everything we use in our travels.
Transportation is something we all have to think about when taking a trip. Whether it be across the country or across the state, the way you get there is a factor that has the potential to effect your vacation.
Therefore, when you are making the choice you need to know the various factors that can effect you when booking travel. Planes are always a great option, but with jet fuel prices passed along to the consumer and cancelled flights, alternatives are great to have in your back pocket.
Train travel is a great option when thinking of alternative ways to get to your destination. In America, Amtrak is the major form of train travel for commercial passengers. Amtrak is a federally chartered corporation that operates for profit. It has remained a viable option for travel since 1971.
Alternatively, Megabus is also an option when thinking outside the box about how you will make it to your destination. Megabus is a relatively new company having started in 2006. However, it has become a major force in the travel industry branding themselves as economical and luxurious. Their $1 bus fares became their tagline and this promotion has served the company well.
However, when it comes to comparing Amtrak and Megabus, what are the differences? Is one more comfortable? How does the reliability of the two companies compare? Do they go to the same destinations? Exploring questions such as these will help you make the right choice for your next trip.
Amtrak is a better option than Megabus for getting to your destination due to advantages in comfort, speed, and reliability. Although you will pay a little more with Amtrak, it will be totally worth the price.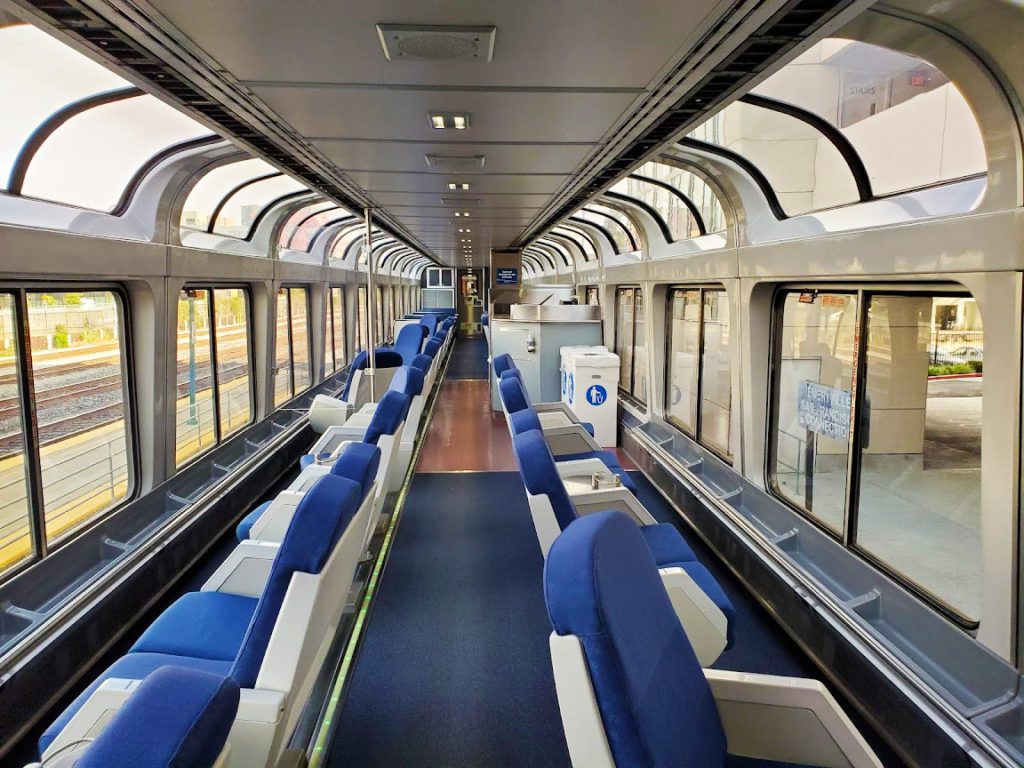 Which is more convenient, Amtrak or Megabus?
Amtrak operates on over 21,000 miles of track, and delivers to over 500 destinations in 46 states. This means that Amtrak can get you to a multitude of destinations in the U.S. and Canada. Most major cities are served by Amtrak and if you don't have a major city on your train route, Amtrak features Thruway Services. These services can include bus, train, ferry, van or taxi services through a variety of operators. Therefore, getting to your destination is easier and more convenient. You can also check up to two bags on Amtrak for free, whereas Megabus has restrictions for luggage check in and carry-ons.
Megabus has regional pockets in which it operates. In all, Megabus serves 104 cities, but is still expanding. You will find many cities served in the Northeast such as New York, Washington, D.C., Boston and Toronto. The Midwest is also served by way of Philadelphia and Chicago. There are destinations in the West represented such as San Francisco and Los Angeles. However, traveling across the country will be very tricky as you will have to carefully piece together your trip by connecting bus routes. It's not impossible but can be a major hassle. Megabus also has restrictions when it comes to luggage. You are allowed one carry-on and one checked bag.
Which is more comfortable, Amtrak or Megabus?
Amtrak has a major upper hand in this department. Seats are ample size with comfortable legroom in business class all the way to its coach class. Bathrooms are in every car and feature ample stalls. Because it is a continuous connection of train cars, getting up and moving around is easy and interesting. You can move around from car to car and can visit the dining car, cafe and can even enjoy an observation car on some routes that features huge windows to watch America pass by your window. There are also quiet cars if you need to get some work done or just need to meditate. Cross-country routes also include sleeper cars that have all of the amenities of a hotel room.
Megabus also has comfortable seating on its entry level as well as the second floor of its double decker buses. There are charging stations for your electronic equipment and UBS ports near every seat. However, your movement is restricted due to the small size of the bus. If you sit in the lower level, the ceiling will be taller and won't feel as restricting. In contrast, the upper deck, although scenic with its huge windows, has a low ceiling which could feel confining for some passengers.
Which is more reliable, Amtrak or Megabus?
Amtrak runs on the rails. Trains don't have to deal with traffic, accidents or weather as often as a bus. However, because Amtrak does not own the majority of the rails it runs on, they do have to yield to commercial trains. This can result in delays. Weather can also sometimes be a factor. If it is raining or snowing, this may slow down the train a bit. The rule of thumb is to build in ample time to get to your destination so that there aren't any surprises.
Megabus is at the mercy of traffic and accidents far more than Amtrak. A snowstorm can stop a bus trip completely, where a train can run on the rails as long as the tracks aren't in deep snow. Accidents can stall a trip on a bus for hours, where trains don't have to worry about traffic accidents.
Furthermore, Megabus does not have dedicated stations to stop at. There will be a point on a map in which you will be dropped off. If the bus is late, you will miss your connection and have to make other plans. Amtrak has stations in which they will stop, making this part of your trip more reliable.
Which is more economical, Amtrak or Megabus?
On Amtrak, more often than not you will pay more than Megabus. The comfort, reliability and convenience that you experience will be superior to that of Megabus and that comes at a price. For example, if you were to book a trip from New York City to Philadelphia on Megabus, two weeks in advance, it would be $14.99. This same trip on Amtrak is $26 in coach. This is a significant difference in price.
However, Amtrak will get you there faster with an overall trip time of an hour and twenty minutes compared to Megabus's two hour and ten minutes. You know what they say. "Time is money"!
Another variable that you must look at is whether or not you will get to your destination on time. If you are late to a connecting bus through Megabus, you may have to purchase another ticket in order to get to your final destination. This makes the problem of being a late a headache. Amtrak, on the other hand, will guarantee your connection. If the train is late because of a delay, Amtrak will provide accommodations if need be so you can take the next train that will take you to your destination.
One major advantage that Megabus has over Amtrak when it concerns price is that Megabus will run $1 specials. You will never find this with Amtrak. A few times a year Megabus will release a batch of tickets for the upcoming next few months. Megabus's social media accounts will announce when a new round of tickets will be released. If you are flexible on travel dates and one of the first ones to book, you will likely get the $1 fair. It definitely pays to be flexible when taking a vacation!
Taking a bus or a train is a great alternative to air travel. Not only can it be cost effective but a great adventure. Take some of these tips and plan your next travel holiday over land and see what you think. It may just be your favorite way to travel.