Do Trains Run In The Rain and Snow
Grounded Life Travel is supported by its audience. When you purchase through links on our site, we may earn an affiliate commission.As an Amazon Associate I earn from qualifying purchases. List of everything we use in our travels.
Weather can bring travel to a halt. Heavy rain and snow storms are common at certain times of the year and this fact can have you scrambling to change plans to get to your destination. Planes and automobiles are definitely effected by the weather, but what about trains? If you have a trip booked to travel out west or to get to your mother's birthday celebration, can your trip be foiled by weather? Do trains even run in the rain and snow?
Trains are able to run in the rain and snow. Inclement weather is not something you should worry about when looking at a train schedule. Unlike planes that cannot takeoff in some instances, a train will run in bad weather. The biggest danger to trains are downed trees and power lines from a storm that would block the tracks.
However there are instances when your Amtrak trip may be delayed and in rare cases even cancelled.
Can rain and associated weather effect train travel?
Something as simple as a quick rain shower isn't going to effect whether you make it to your niece's graduation. However, heavy downpours, flooding and hurricanes can definitely effect whether you get to your destination on time or at all.
Rain
Light rain won't cancel your trip, but it could lead to delays. When it rains, the tracks become slippery and the train must slow down in order to accommodate for the extra time the train will need to brake. The lack of friction that water causes will cause the conductor to slow the train so that braking won't take so long. The slower moving train and the extra time it takes to brake will add time to trips. Make sure you build on extra time to your destination especially if there is rain in the forecast. However, a rainy day will not cancel your plans, nor will it be dangerous to ride a train.
Flooding
Amtrak railways in America operate on a total of over 21,000 miles of track. That leaves a lot of track that can flood, especially in rainy seasons such as spring and early fall. When there are heavy rains, tropical storms and hurricanes there can be flooding that occurs near or on the tracks. Trains are not designed to run on tracks that are flooded. In addition, flooding can wash out stone, sand and other structures under train tracks leaving the track itself vulnerable to weaknesses is the track line. Weaknesses can cause train derailment if a train runs over a track that can't handle the load due to poor structure. Flooding can also damage motors that are not meant to be submerged underwater.
Even though there are teams of people whose specific job is to respond to flooding problems, delays for hours and even sometimes days can occur if there is ongoing flooding in an area near or on the tracks. Ensure that you keep abreast of weather situations in your area and along the route that you will be traveling, so that you can make alternate travel plans if the need arises.
Electrical Storms
Electrical storms can often accompany flooding. You may be wondering if it is safe to travel during a storm that brings lightning. After all, a train is made of metal. Metal and electricity can be dangerous.
Fear not, because the train you are riding has a secret weapon. The "Farraday Cage" is a steal cage in which the modern railcar is built around. Lightning that strikes the train is captured by this cage and the current will be directed to the outside, away from the interior and its passengers effectively grounding the train.
However, problems can occur with electrical systems on trains if a direct strike occurs. Relay switches may be tripped as well as other electrical components. There are technicians that are specially trained for such outages, but passengers can still experience delays.
Wind
Wind itself is not often a problem with train travel. Gale force winds would have to be strong enough to level homes or uplift cars in order to effect something as heavy as a train. However, the wind from a hurricane or tornado can do just this. If strong storms are forecasted train travel may be temporarily delayed to allow a strong storm containing tornados to pass. Furthermore, if high winds are in the forecast, you may see significant delays, depending on your route.
Another problem with wind lies in debris that can hinder train travel on the track. High winds cause leaf piles, downed trees and other debris to accumulate on tracks, making it dangerous for train travel. This can especially be a problem in autumn when the leaves are falling and storms in certain areas are more prevalent. Teams are trained to clear the tracks after such storms to keep you moving to your destination.
Can snow and ice effect train travel?
Snow
At certain times of the year, snow can be a problem for places where Amtrak runs, such as the Northeast and the Pacific Northwest. A couple of inches of accumulation won't delay a train. However, feet of snow can be a problem for trains. Trains can be fitted with a snowplow to take care of a foot of snow that has fallen overnight. But, if the snow is higher, special snow plows and, in some case, snow blowers can help clear the tracks. These machines can work up to the train's height in order to clear the track. After the track is cleared of high snow, the track can also be brushed to further clear the way for the train. This can take some time, which can effect your arrival or departure plans.
There have been instances of trains getting stuck on tracks en route, while passengers waited to be able to move on. In these cases, Amtrak made sure the passengers were taken care of with plenty of food and provisions until the track was passable.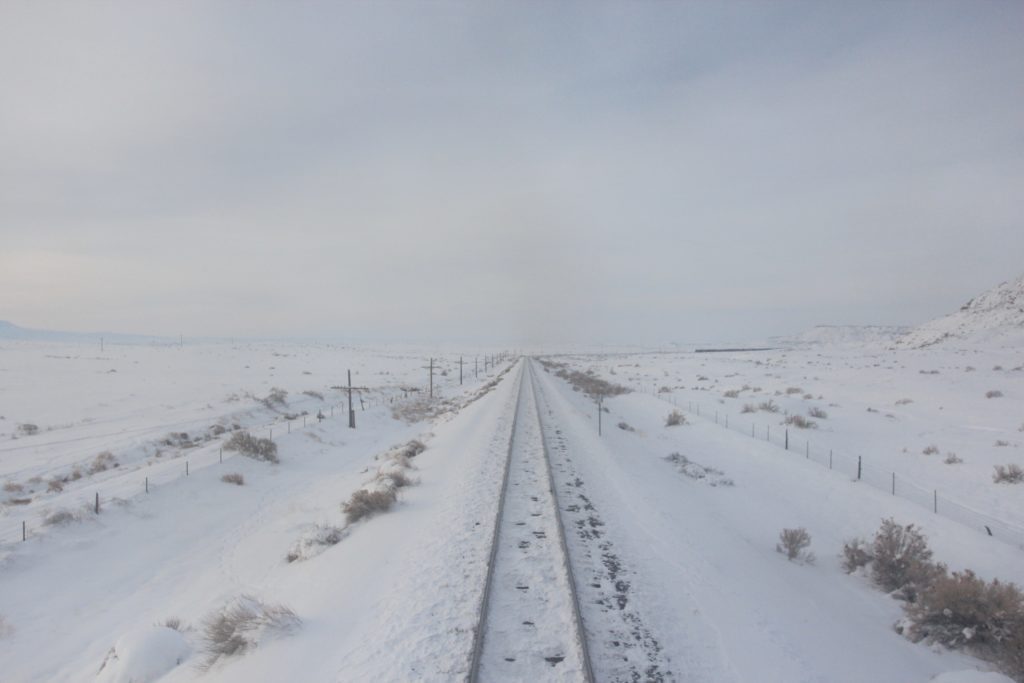 Ice
Ice can be the worst problem for a train to have to deal with. With icy wheels and train tracks, trains may not be able to stop properly at stations and red signals making it very dangerous. Railways are also subject to weaknesses at the welded joints when ice is present which may cause the railway to break at the joint causing further delays. Trains deal with this by slowing the speed, which can hinder your arrival or departure. However, safety is of utmost concern for the railway. Slow and steady always wins the race.
Mechanical switches can jam during icy conditions which can also halt train travel. Circuits may get blocked with ice that stops contact with switches. These blockages must be cleared manually so that the train can be on its way. Some companies around the world have install heaters so that the switches won't freeze over, helping with problems with delays. Snow and ice can also get stuck in the engine's major inner workings also causing delays.
Rain and snow can cause problems for passengers traveling the country by train in the winter time. However, many issues can be resolved by slowing the train down and having crews to deploy in the event there is flooding, a blizzard or major snowstorm. It's rare that a train might cancel a trip altogether due to weather, but it does happen. In winter, ensure that you keep your eye on the weather in order to keep surprises and unknowns at bay.