How To Purchase Discounted Amtrak Tickets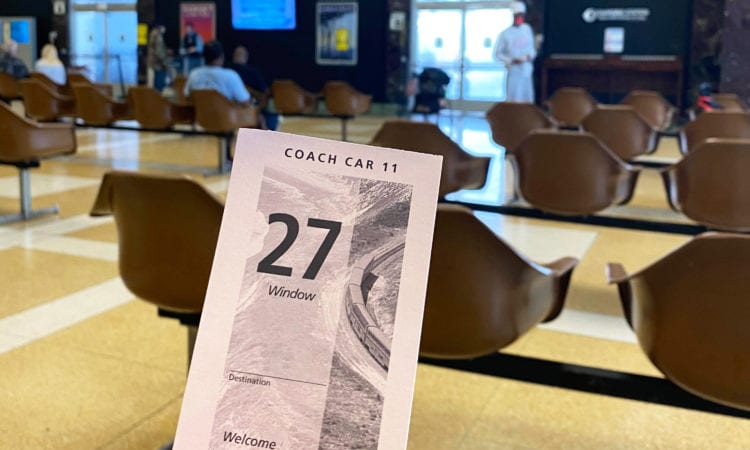 Grounded Life Travel is supported by its audience. When you purchase through links on our site, we may earn an affiliate commission.As an Amazon Associate I earn from qualifying purchases. List of everything we use in our travels.
We love using Amtrak to get around the country, but it can be confusing to purchase tickets from their website. We break down everything you need to know to get the tickets you want at the best possible price.
Does Amtrak Run BOGO Sales
Amtrak routinely runs BOGO sales, usually once or twice per year. In the last year we've seen BOGO sales on both coach and sleeper car accommodations. This type of sale, buy one get one free, allows two people to travel for the price of one. If two people are traveling, it makes the total cost close to half price.
We booked 3 roomettes during the last Amtrak BOGO roomette sale and while we didn't pay exactly half price, the savings was substantial on a roomette. We paid around $550 for roomettes that should have cost over $1,000.
Riding on Amtrak in a roomette gives you not only your transportation and lodging, but also your meals in the dining car for your entire trip. We think getting the 2 for 1 makes the roomettes a good value, on what would otherwise be an expensive trip.
How Can I Get Discounted Amtrak Tickets
Discounted Amtrak tickets can be found on the Amtrak website under their deals section. In this section of their website they advertise discounted tickets for children, seniors, military, those who book early and passengers with disabilities. Before booking a full price ticket you should check the current specials to see if you can save money.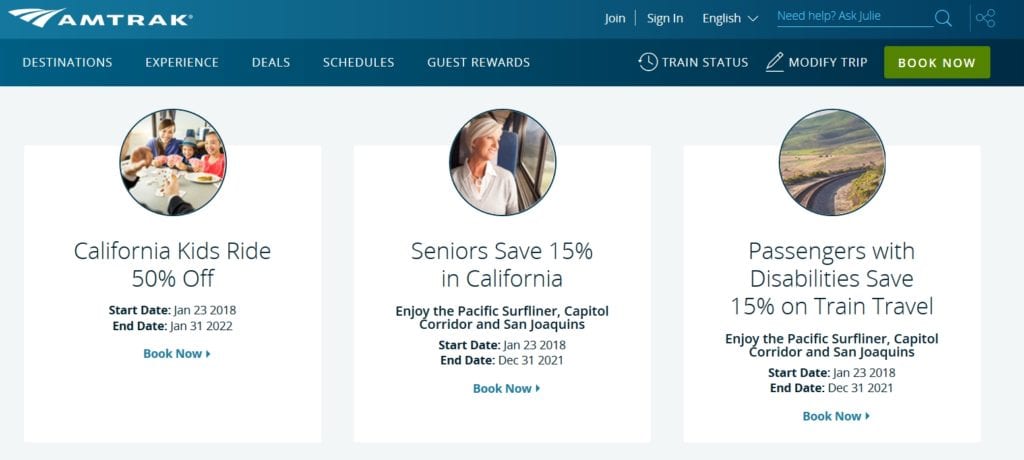 Is There A Senior Discount On Amtrak
Seniors who are age 65 or older are eligible for a 10% discount except on the Auto train. When riding a train into Canada on a route jointly operated by VIA Rail Canada, the minimum age is 60. The discount is not valid with Saver or Flexible fares. This discount cannot be combined with other discounts so when Amtrak is running a BOGO sale it is cheaper to not use the senior discount. To get the senior discount click the Travelers drop down box and select Senior under Discounts.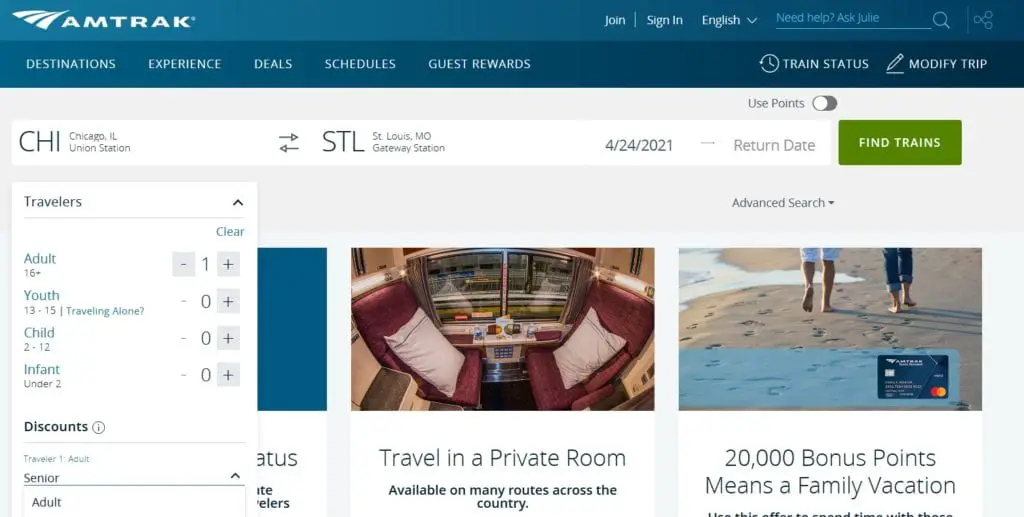 Does Amtrak Have AAA Discount
Amtrak ended its discount for AAA members in 2018. In previous years AAA members were able to get a 10% discount on fares, but that is no longer the case. AAA members should check the deals page to see what other deals or discounts they might qualify for.
Do Train Tickets Get Cheaper Closer To Departure
Amtrak train tickets do not get cheaper closer to departure. Amtrak uses a pricing system that raises the price of tickets as more seats are sold. Tickets on Amtrak will get more expensive as time goes on and more tickets are purchased on for the trip. Passengers should consider purchasing as soon as they can if their schedule doesn't allow flexibility. If a passenger has flexibility of dates, they may want to wait and see if Amtrak runs a BOGO sale during their dates.
Is Amtrak Cheaper Than Flying
Amtrak is cheaper than flying once you factor in checked baggage costs on airlines. On Amtrak 2 checked bags and 2 carry on bags are free for each passenger which results in a substantial savings. Amtrak routes are also cheaper than their airline rivals, especially when covering short distances.
Is It Cheaper To Buy Amtrak Tickets Online or At the Station
It is cheaper to buy Amtrak tickets online before your departure. Waiting until you get to the station to buy Amtrak tickets means paying the highest price as Amtrak tickets go up in price as seats are booked on a particular train. There is also a risk of missing out altogether if you wait to buy your tickets at the station.
What Day Are Amtrak Tickets The Cheapest
Amtrak tickets do not fluctuate in price like airline tickets. Once you have determined which date you'd like to travel you can buy those tickets with confidence. As time goes on, the price of the tickets will go up, so the cheapest day to buy your tickets is the first day you are sure of your plans.
The Best Way To Find Out About New Amtrak Sales
Amtrak Guest Rewards is the Amtrak loyalty program where passengers accrue points for money spent on train travel and partner offers. When enough points are earned, passengers can redeem them for free travel. Signing up for Amtrak Guest Rewards is also the best way to learn about new sales. Guest Rewards members get an email alerting them to new buy one get one free sales. Signing up is free and highly recommended.
Tags :
Amtrak
Amtrak Tickets