Amtrak Empire Builder Review: 46 Hours On The Northern Route
Grounded Life Travel is supported by its audience. When you purchase through links on our site, we may earn an affiliate commission.As an Amazon Associate I earn from qualifying purchases. List of everything we use in our travels.
In this Amtrak Empire Builder review we will explain why the Empire Builder is the most underrated route in the entire system. If you ride the whole route, it will take you from Chicago to either Seattle or Portland, or you could do the trip in reverse.
For our trip we started out in Chicago and rode all the way to Seattle, as we had already done it from Seattle to Chicago the year before. What would be the difference we wondered, and would we like one direction better than the other?
What We Paid
We paid $651 for 2 people to ride in a roomette from Chicago to Seattle. We booked the trip in December for May and also used a companion coupon, from the Amtrak Guest Rewards Program that got us an additional discount.
Getting Started in the Metropolitan Lounge
As always when we ride in a roomette we arrived at Chicago Union Station a few hours early to check out the Metropolitan Lounge. This particular lounge is the 2nd best in the country, only after the Moynihan Train Hall Lounge in New York.
In this two level lounge we always go sit upstairs, which is less crowded. There is an elevator in the back corner of the lounge to take you up there.
The staff will tell you that you can store your bags as you enter, but we've found that getting them out once the train is called can be busy, so we just keep ours with us and head upstairs.
One the way up of course we picked up a few complimentary snacks from the food bar in the lounge. They have cold bagged snacks, not hot food like in New York.
This is easily the most crowded lounge in the system, so you have to pay attention for when your train is called, as many trains leave within minutes of each other.
Unfortunately ours was a little over 2 hours late, and we didn't get to board until 5:00pm for our 3:05pm departure. Amtrak trains are usually a little late, but we'd never had one start this late!
Our Roomette
We knew we had a roomette on the upper level, because it was a single digit number (anything over 10 is downstairs), but we didn't know which way we'd be facing. On this route you want to face north, as most of the best views are that direction. As we got on we realized we were facing south, so to see a few things we would have to move around the train at the right times.
Our room attendant was great, she had put extra touches like flowers in the hallway, so we knew this would be a great trip from a staff perspective.
When you reach your room it is made up for daytime travel. There isn't much extra room for bags on a Superliner Roomette, so we stored our two large suitcases downstairs on the baggage racks. We never check bags on a Superliner due to these racks being so handy.
The Roomette has two lower chairs that face each other in the day and at night these chairs slide down and together to form the lower bed. The upper bed folds down from the ceiling and stores both mattresses during the day.
There is only one charging port in the roomette, so we bring an adapter with us so we can charge multiple things. We've got that and everything else we brought listed on our 20 must have items for your next Amtrak trip article.
Tip: We've found that the upper bed is much harder than the lower, so we usually leave both mattresses up top to sleep with, that way they are about equal in firmness. If you make your own bed up at night you can arrange it this way.
Amtrak Empire Builder Traditional Dining
Since we were late boarding, dinner started almost immediately after we got going. We picked an early seating and headed down to the dining car, which is on the upper level. There are times you'll get a private table at dinner and times when you'll be seated with others. It really depends on the staff, how full the train is, what time you go to dinner, and how many people decide to eat in their room. There are employees we've noticed that want to have as few tables as possible, to they open up less times and seat everyone together, and then there are some that open up all the tables and add extra times so everyone can spread out. On this occasion we got a private table. It isn't a big deal to us either way, but we do like to film our meals for our YouTube Channel, which could be awkward with others at the table.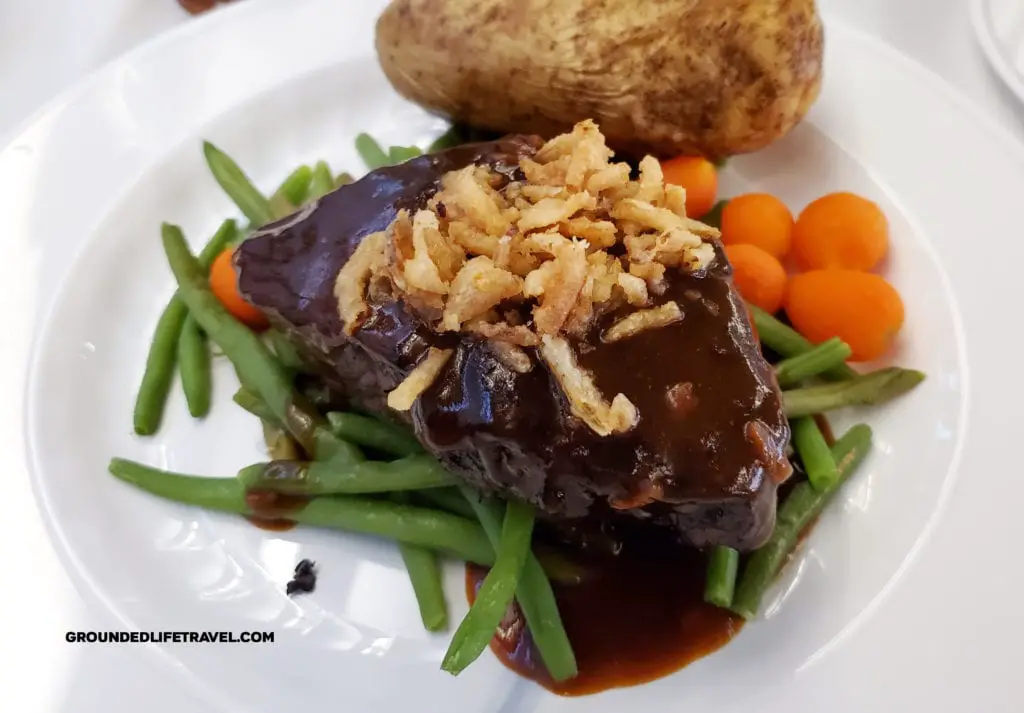 The menu was a standard traditional dining menu, so Allie got the Crab Cake and I got the Tamale to start. I also got the flat iron steak, which shockingly they brought with A1 sauce! I've never had them do that on any train ride before. Our dining car attendant told us they all have it though if you ask for it.
For dessert I got the cheese cake and Allie go the carrot cake.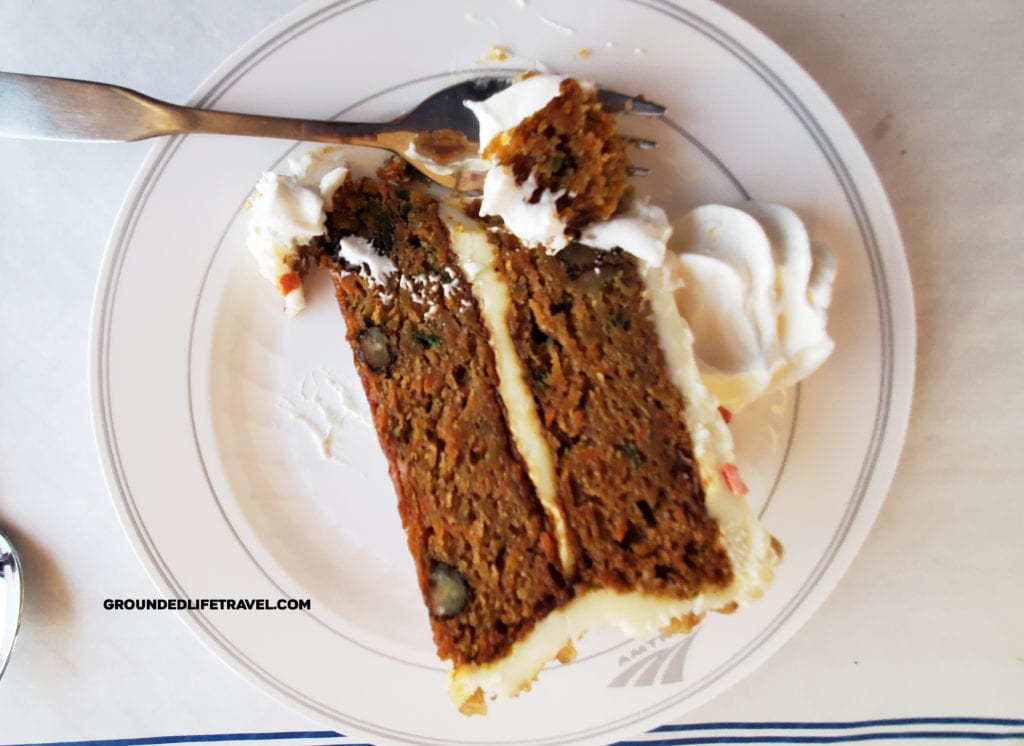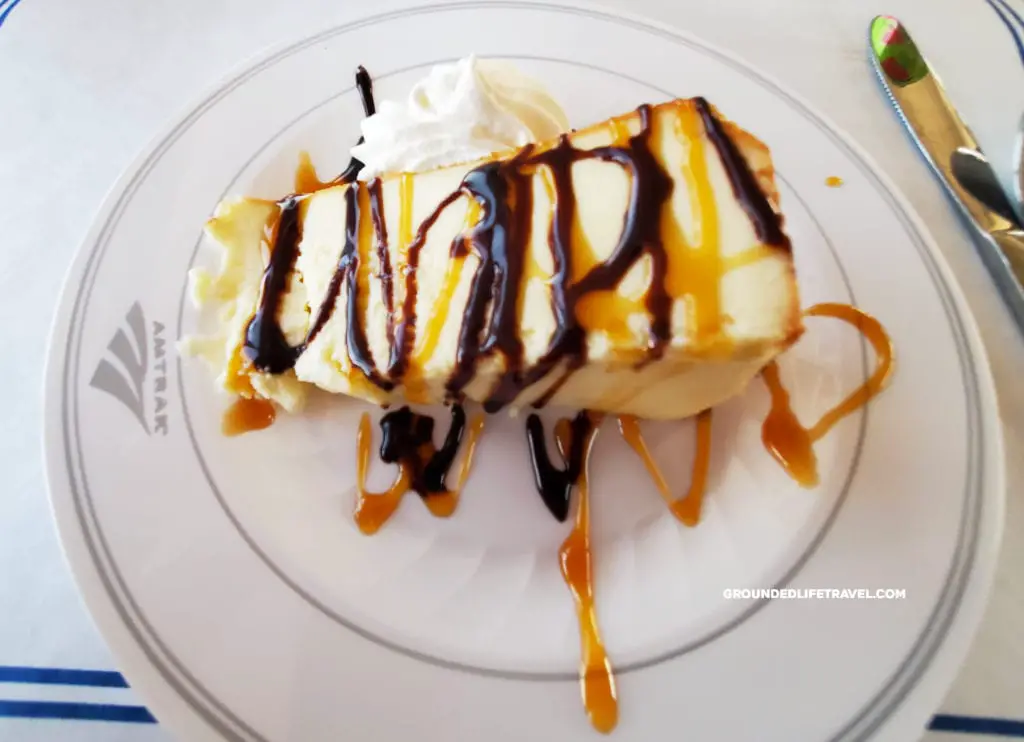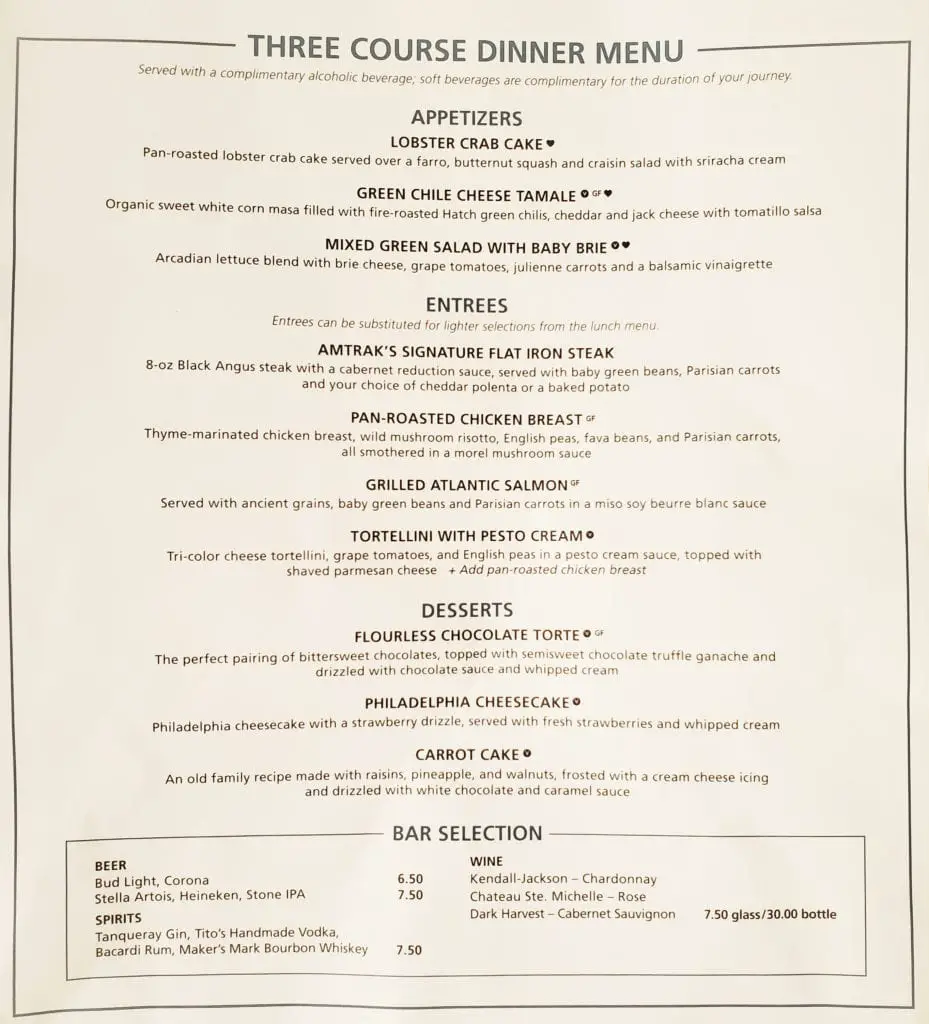 Rails and Trails Program
To our surprise the Rails and Trails National Park Service program was back in operation and we had 2 people on board to help us spot wildlife. They also stamped our National Park Service Passport books. It was a great touch to this trip. One of the rangers told us about "Oreo cows" that looked like Oreo cookies. We did look for these and finally spotted some towards the end of the trip.
On the way back from the observation car, the staff in the dining car gave us an extra glass of wine to take back to the room, that they had "accidentally poured". This was one of the better dining car staff teams we've ever had, they were very nice to us.
Crossing the Mississippi River
Just before the Winona, MN stop you'll cross the Mississippi River! We were afraid since our train was a few hours late that we would miss it due to darkness. We were lucky and got there just after sunset, and we could still see the river. Views are great from both sides of the train here.
The Locomotive
Our first fresh air break, where passengers can get off the train, was in Winona, MN. It was already dark when we got there, as it is quite a few hours from Chicago to this stop. We did notice however that it looked like we had a special locomotive on the front of the train, one of the anniversary editions, and to us it looked like the Phase 1. We were excited about that and decided to try to see it at a daytime stop the next day.
Tornado Warning on the Train
As we were getting ready for bed we all got tornado warning alert messages on our phones, and shortly after we started hearing large hail hitting the train. It only lasted about 15 minutes though so after that we made up our beds and went to sleep. Your room attendant will make your bed for you, but we like to keep our in daytime mode a little later, so we make it up ourselves whenever we want.
Breakfast
Breakfast on Amtrak is one of our favorite meals, and we both got the eggs, but Allie got bacon and I got sausage to go with mine. There weren't many people at breakfast so again we had our own table. I think most people got up early and we slept in so it wasn't crowded at all.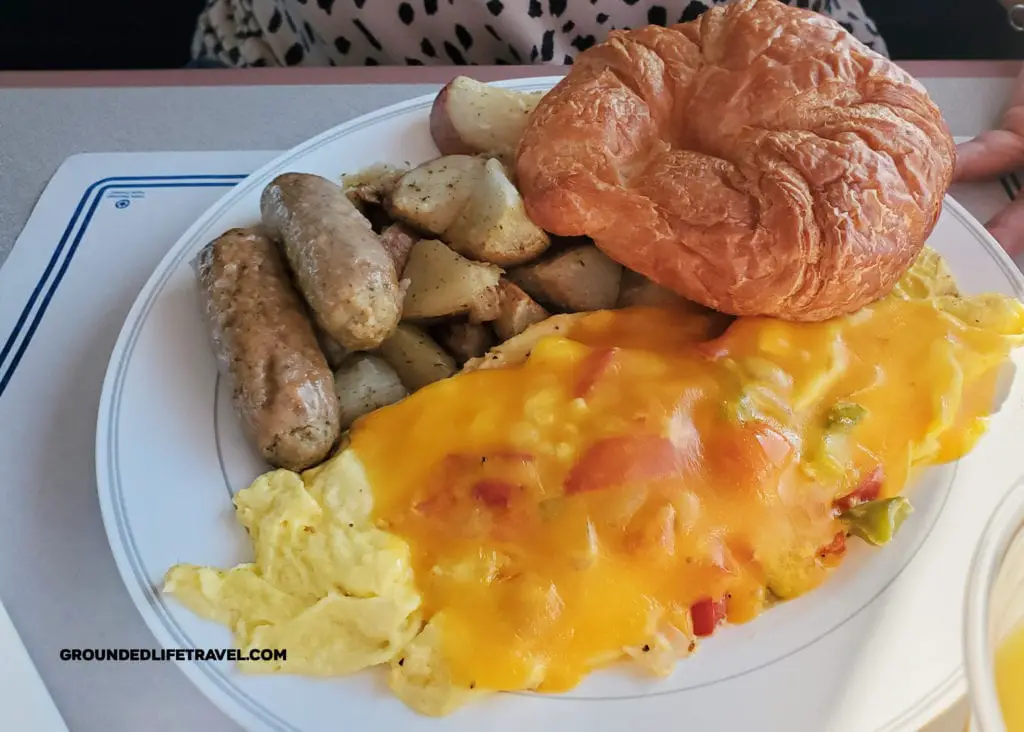 Minot, ND Crew Change Stop
The crew changes in Minot, ND, so we had extra time there to get off the train. We'd been having trouble getting up to see the 50th anniversary locomotive, but we were able to do it here. It was a little rainy in North Dakota, but the air felt great after being in the train for quite a while. Crew change stops can last for about 30 minutes, so almost everyone in our sleeper car eventually came up to take a picture with the locomotive.
Lunch in North Dakota
We decided to eat lunch in the dining room, which for some reason we usually eat lunch in our roomette. I think the staff was so good that we just decided to go down there. We both got the cheeseburger, and they put bacon on it for us, which we had never seen before!
The Observation Car
After lunch we usually head down to the observation car to stretch out and spend some time outside of our roomette. It wasn't crowded, so we sat at one of the tables and enjoyed the scenery of North Dakota as it passed by. The observation car is open to both sleeper car and coach passengers. If you've ever been to Badlands National Park, the scenery looks much like that.
After leaving North Dakota you'll enter the big sky country of Montana! Wow, you can really see for miles when you get to Montana.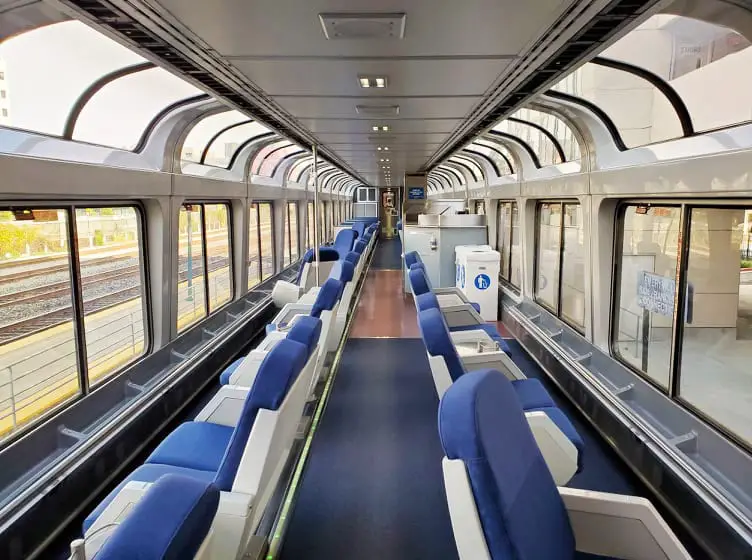 Dinner on Day 2
Dinner on the 2nd night of the trip was also not very crowded, we again had our own table. I got the steak and Allie got the Salmon, which is her favorite. Overall, we would rate the food on this route as excellent.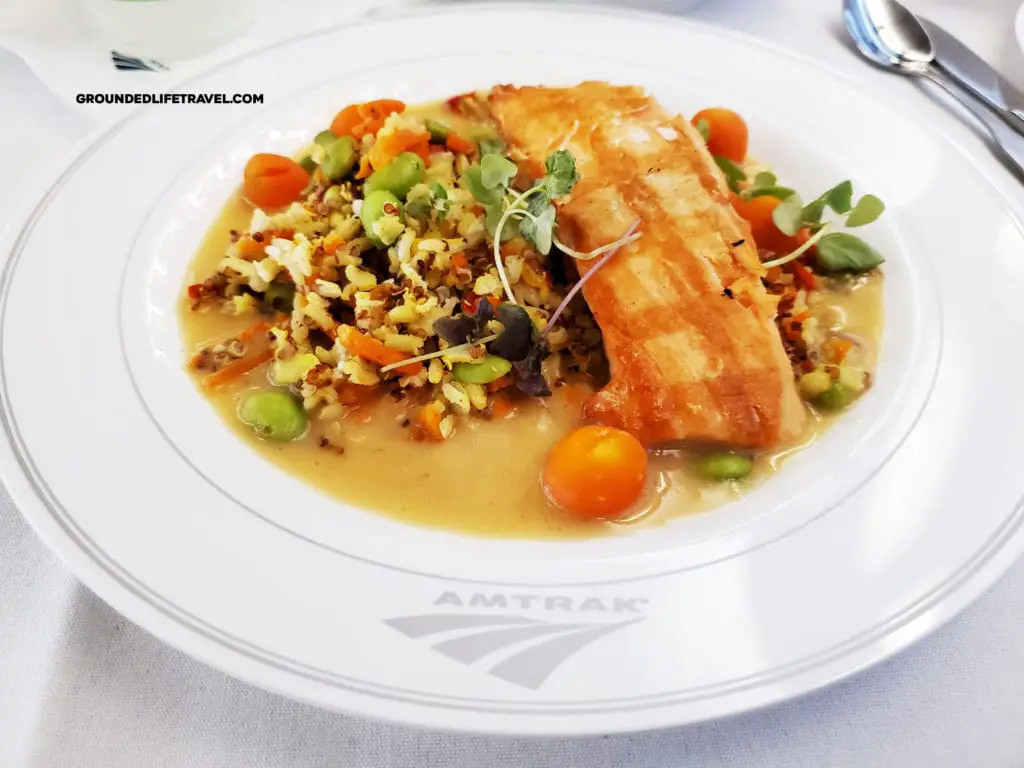 Glacier National Park
The train was still running 2 hours late as we approached Glacier National Park. We were concerned we wouldn't get there until after sunset, but we were fortunate that the sunset lasted forever as we were heading west. When we arrived at the south edge of the park, the sun was setting and we had beautiful views.
From our roomette on the south side we couldn't see it, so we found a spot in the hallway by the bedrooms that faced north and watched from there. There are places at the end of the hallway where you won't disturb others if you want to look.
It was breathtaking and one of the cooler things we've seen on Amtrak. The delay worked in our favor this time! Once you reach the East Glacier Park, MT stop you'll see some great sights.
Day 3
Day 3 on the Empire Builder is highlighted by Columbia River Gorge views and Puget Sound. We've been on this train in both directions now and we think the views are slightly better going east to west. They are great both directions, but we think they timing of the views is better heading towards Seattle, if you aren't more than 2 hours late.
The Columbia River Gorge was spectacular, with incredible views. As we got closer to Seattle it started snowing! To cap off our trip we got to see Puget Sounds and had clear weather on our approach to Seattle!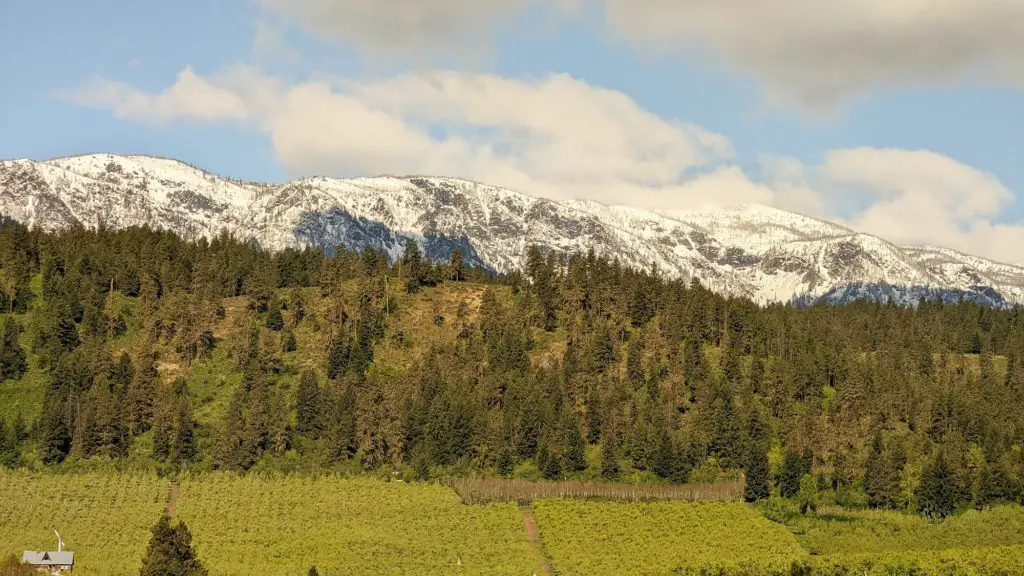 In Seattle we stayed at the Hyatt Olive 8. It is not located near the station, but we were going to explore the city for a few days this time. The best hotel near the station is the Embassy Suites Seattle Downtown Pioneer Square. This hotel is almost attached to the Amtrak station.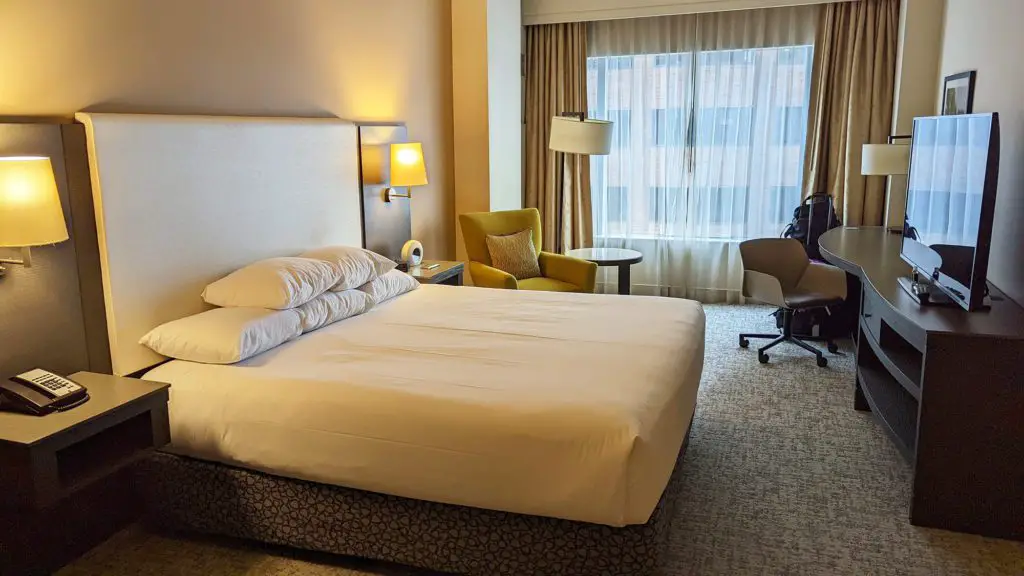 Our Impressions
This was one of our favorite Amtrak trips of all time! The staff on our train is really what pushed it over the top for us. We also got lucky with the timing of seeing the Mississippi River, Glacier National Park, the Columbia River Gorge and Puget Sound. On top of that we had a special 50th anniversary locomotive, the Rails and Trails program was active, and our fellow passengers were a delight to travel with.