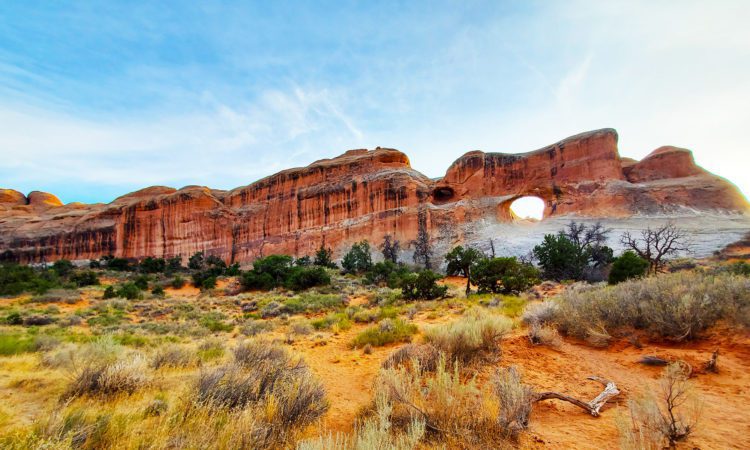 Grounded Life Travel is supported by its audience. When you purchase through links on our site, we may earn an affiliate commission.As an Amazon Associate I earn from qualifying purchases. List of everything we use in our travels.
Visiting Arches National Park in October may seem like a foreign concept to many. When planning a national park visit, you may think of going at the more popular times like spring break or on your summer vacation. But, Visiting Arches National Park In October can be the best time to visit.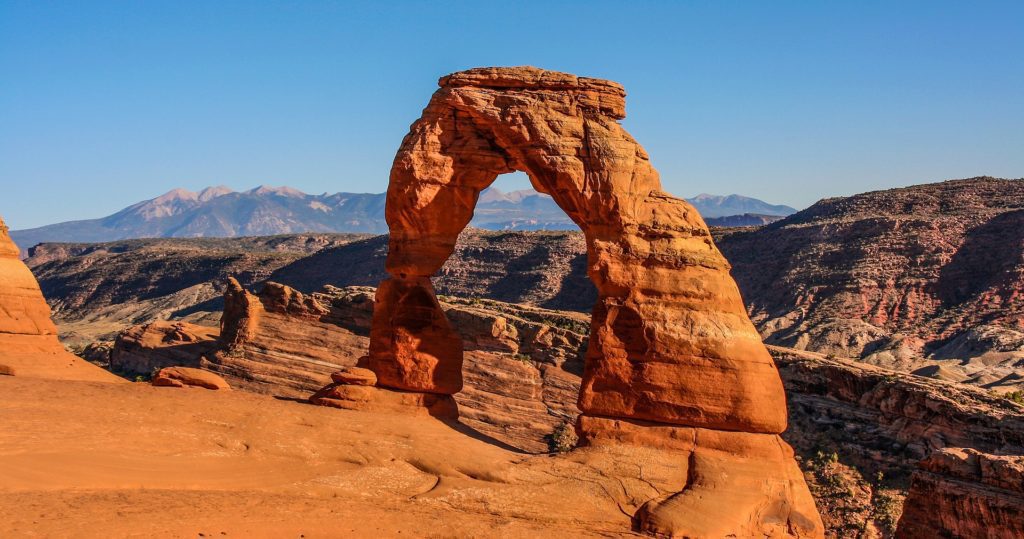 What Is The Weather Like In Arches National Park In October?
If you're thinking of Visiting Arches National Park In October, you must plan for the weather. You've probably experienced autumn days when you step outside and there is frost on your pumpkin and you need a toboggan. Then you leave work and you're stripping off every piece of clothing as fast as you can trying to stay decent because it's summer again. Arches National Park is the opposite of this in the month of October.
The weather is usually superb with an average high of 74 degrees Fahrenheit and an average low of 42 degrees. These averages are the norm and that is why October is such a glorious month to visit.
Is Arches National Park crowded in October?
There's crowded and then there's Arches crowded. The reports of the park having to close by 10am are not fictional. It happens. The cat is out of the bag about national parks. The masses have seen how beautiful they are on Facebook and Instagram. They want a piece of that feeling you get when seeing something extraordinary.
Fortunately, the kids are back in school. You will still see families, but most have returned to the hustle and bustle of daily life in the burbs. Additionally, most people have already taken their vacations for the year. Many keep that remaining week for the end of the year holidays, but those other four have been long spent.
The fact that this is the best time of year to spend Visiting Arches National Park is still a secret. On average there are only four months that get less visitors and they are in the dead of winter. The shoulder season has not quite gone into full swing. But, you get the benefit of waning crowds and lighter traveled trails.
Is October a good month to visit Moab?
If Arches National Park is the father of Utah, Moab is the mother. She cares for all its patrons as a mother would her children. Feeding them, clothing them and keeping them happy. In the month of October, all of the restaurants, shops and excursion companies are all still operating at full capacity. There won't be as much competition for that restaurant reservation or tour. In fact, you may not even need reservations.
Dinosaur Tracks
Moab is also a great place to see other sites in the area such as fossil beds and dinosaur tracks. Moab has often been called the "Dinosaur Mecca" because it has so many viewing areas and museums to see the remnants of the giants. Sites such as the Potash Road Dinosaur tracks or the Mill Canyon Dinosaur Trail are very accessible to Arches National Park and Moab.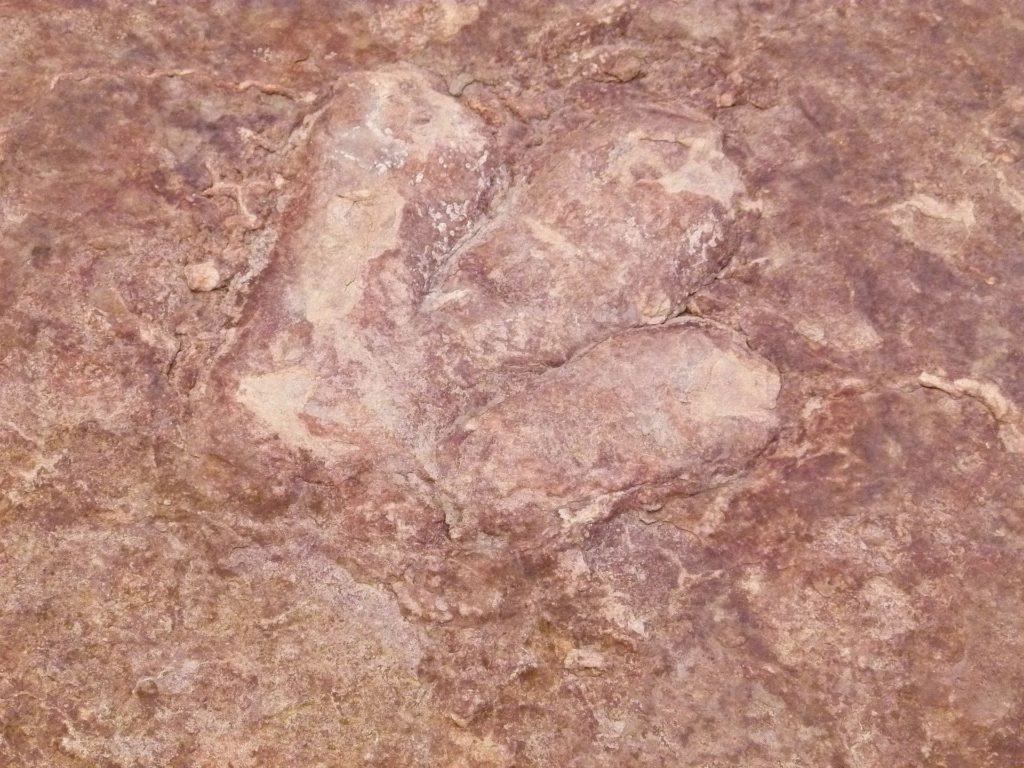 Biking in Moab
October is an exceptional month to bike around Moab as well. With the cooler temperatures, Slickrock Trail or Bartlett Wash would be a nice choice to spend your day biking and enjoying the picturesque terrain.
Other Adventures Around Moab
Canyonlands National Park and Dead Horse Point State Park are also in the area. These are great choices for a day or even a week spent outside the park. Although the terrain and topography is a bit different than Arches National Park, it is just as photogenic. For hobby and professional photographers alike, these are great choices to add to your itinerary.
An added bonus that you may not realize is the fact that the best fall leaf peeping areas are not far. The La Sal Mountain loop can be completed in a day. You could also take your camping gear and make a weekend of it. You can see the most beautiful alpine foliage along with bright orange mesas and buttes. Moab is also only 2.5 hours away from the foothills of the San Juan Mountains, which include Montrose, Ouray and Telluride, Colorado. The aspens along these routes are unlike anything you've seen with their golden groves of shivering beauty.
Is October a good time for hiking in Arches?
Because of the pleasant weather in Moab, hiking is the most sought out activity when Visiting Arches National Park In October. There are some hikes that are even better in the fall than in any other time.
Fiery Furnace
Fiery Furnace is a hike that can be taxing for even the most physically fit patron. This hike is definitely one that is better during the cooler months. Because of its twists, turns and boulder scrambling, it is more pleasurable to do the hike in the fall when it's brisker outside. You won't be working up such a sweat, therefore you will need less water which means less to carry. A lighter load is always welcomed by a hiker scurrying over boulders.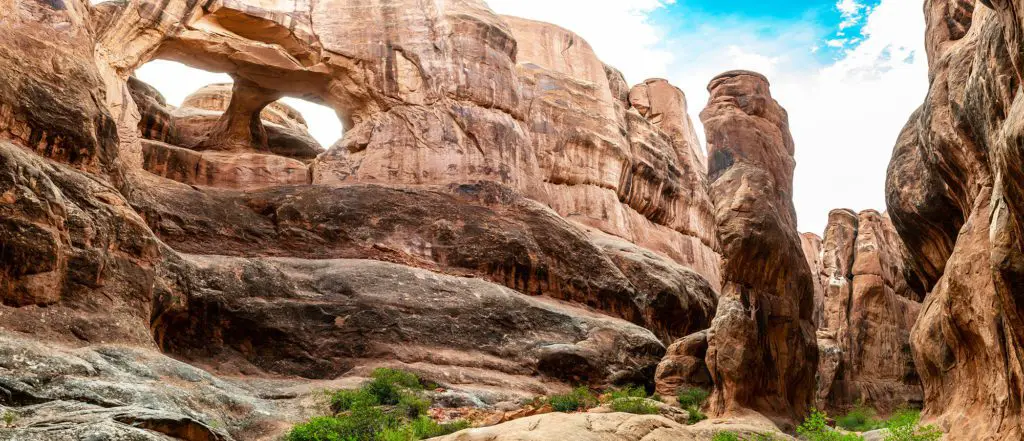 Delicate Arch
Delicate Arch is one of the most sought out hikes in Arches National Park. In the summer months, it is a brutal 1.5 mile hike to the top of the ridge in the blistering, dry heat. It's totally doable with the gallon of water that you'll need to make it to the crest and back down. But, it's so much more enjoyable if you can carry less water, it's a perfect 70 degrees and there's less people on the trail. No line at the top for a picture under the arch is also a welcomed reward.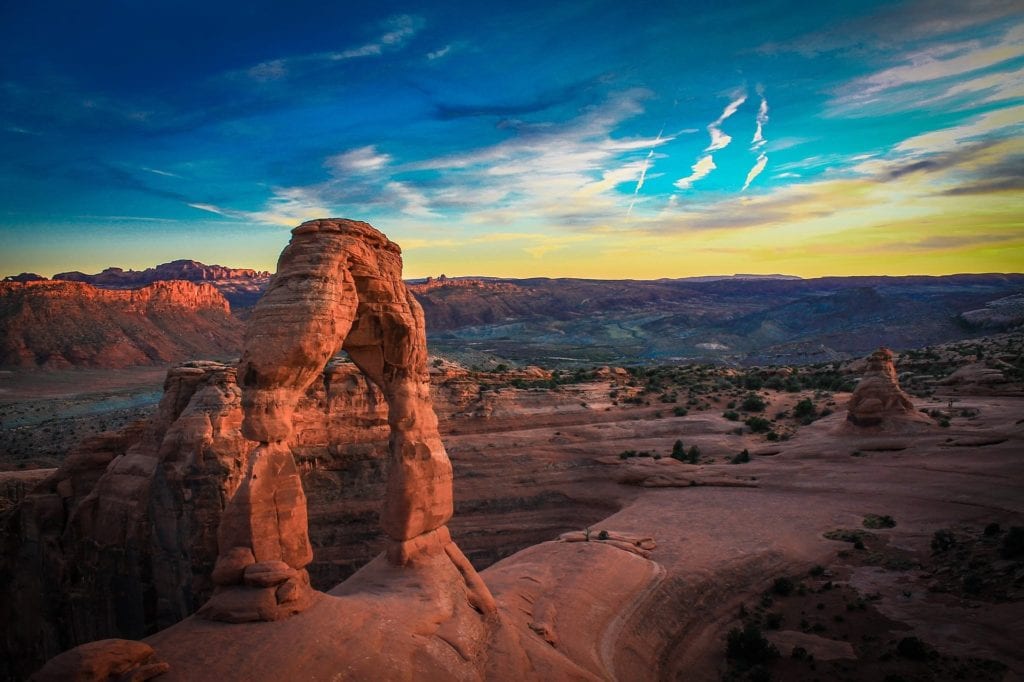 Devil's Garden Loop Trail
The most adventurous hike in Arches National Park also happens to be the longest. At 7.2 miles, Devil's Garden Loop Trail has everything an enterprising hiker would require. Gorgeous scenery, rock formations, boulder scrambling and a concentration of the most picturesque scenery in the park. Long hikes are always better when it's cooler. You can start early and leisurely hike through the day, stopping and lounging at viewpoints. The worry of getting back before it gets too hot is sapped and you can take pictures and unhurriedly be in the moment of such an experience. All because it's fall ya'll!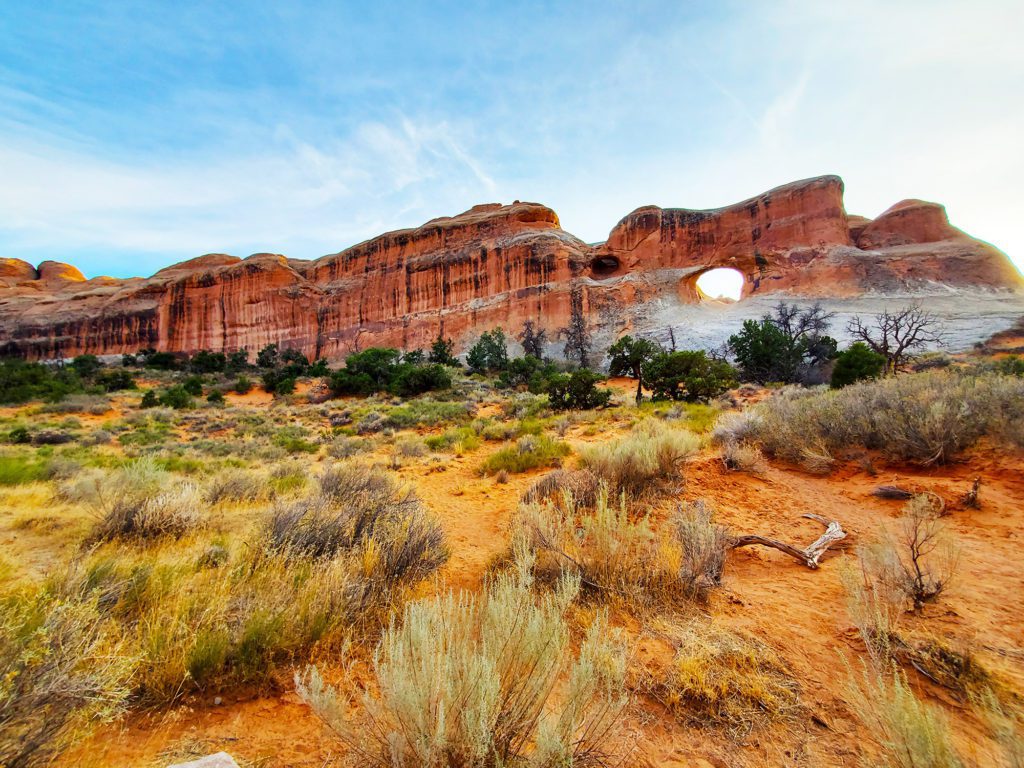 Is October a good time to camp in Arches National Park?
October is the best time to camp in Arches National Park. It's dry, the temperatures are superb, and it's easier to snag a coveted spot in Devils's Garden if you made reservations. The nip in the air is perfect for your evening campfire. You can also gaze at the Milky Way until your eyes grow heavy. Being in Devil's Garden makes it convenient to take a short hike to see a few formations. Or you can wake up at the crack of dawn and do the whole loop trail.
There are also a multitude of campgrounds surrounding the park if Devil's Garden it full. You could choose from many of the paid private campgrounds or stay on BLM (Bureau of Land Management) land for free. There is so much great camping in the desert surrounding the park in October. The question then will be, how do I choose?
Wherever you decide to stay and whatever you decide to do, it's a sure bet that Visiting Arches National Park in October will be one of your favorite vacation memories.