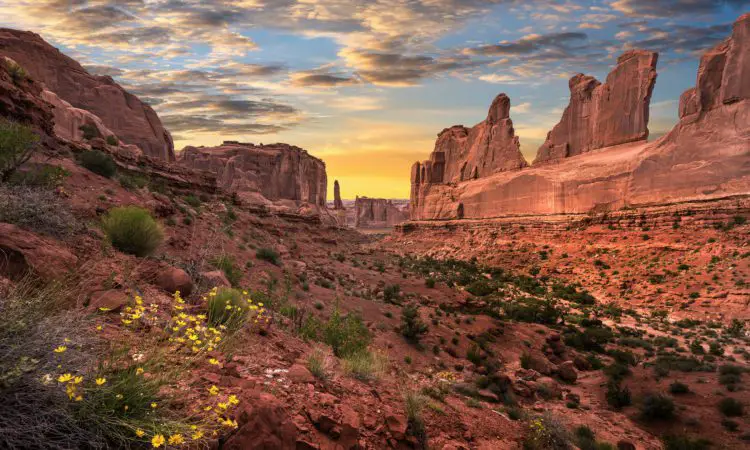 Grounded Life Travel is supported by its audience. When you purchase through links on our site, we may earn an affiliate commission.As an Amazon Associate I earn from qualifying purchases. List of everything we use in our travels.
Many wonder when the best time of year is to visit Arches National Park. Is it the fall when things have cooled down a bit and there is a chill in the air? Can it be spring when the desert flowers are at full glory? Will the hard freeze of winter bring as much adventure to your trip? In summer, there's the hustle and bustle of crowds but can this be the time of year to go?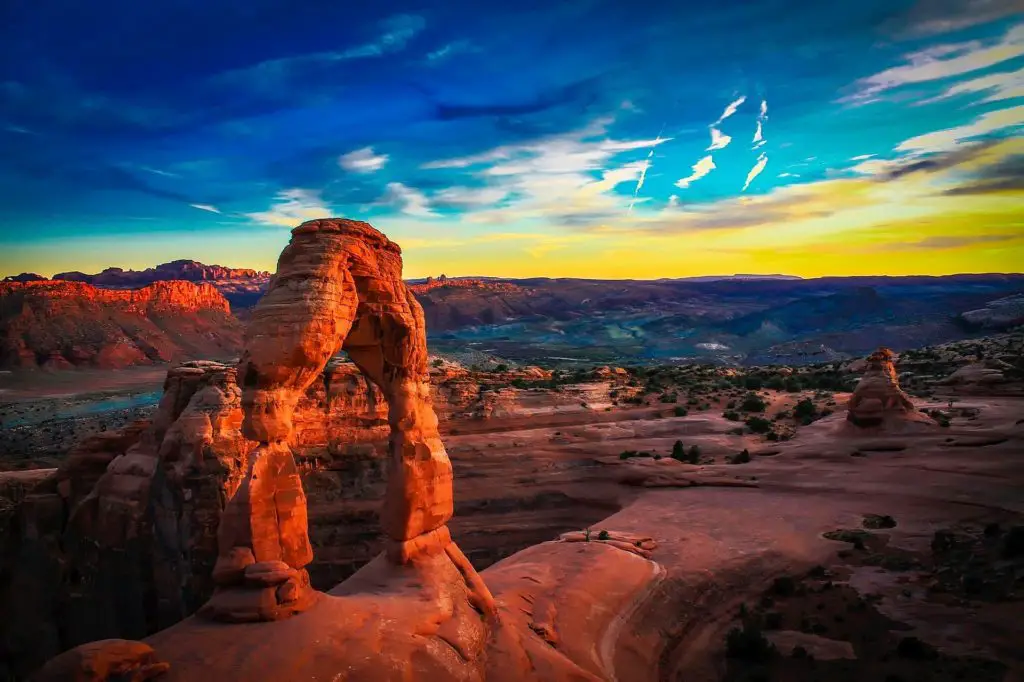 You may be spending thousands on the trip of a lifetime, so you'll want to plan a time that fits itineraries and personalities. Arches National Park generally has a dry climate that most would enjoy anytime, but there are some times that have extremes in weather.
There are also busier times that depending on your preference you may choose to avoid the park or enjoy it with other nature lovers. Let's dissect this question and see what the best time of year is to visit Arches National Park.
What Type Of Climate Does Arches National Park Have?
In order to figure out the best time to visit Arches National Park, you must get to know the climate. Arches National Park is considered to be in a tropical steppe climate within the Colorado Plateau. Situated at 4,000-5,600 ft in elevation the park is in a part of America that can see extremes in temperature. With that being said, there are many times of the year that are very pleasant.
For example, in May the average high is 79 degrees Fahrenheit. Additionally, October is also lovely at a comfortable 71 degrees. If you like hiking, biking and camping, these are great times of the year to see the wonders of this park.
However, if you are more of a car sightseer, you may not mind the average high temperature in July. The temperature in July can top out at 100 degrees or more. But even in July you will get a reprieve in the evening with a relaxing 66 degrees.
Do you prefer cold weather? Some enjoy the stark contrast of the burnt orange of the sandstone against the alabaster snow. In this case you may want to visit in December or January. You might get lucky and get a snowstorm to photograph the weather beaten giants. It isn't uncommon for the lows to be in the teens and the highs to stay in the low 40's.
Arches National Park Weather
Source: NOAA
| Month | High | Low |
| --- | --- | --- |
| January | 40 | 18 |
| February | 49 | 25 |
| March | 60 | 34 |
| April | 69 | 40 |
| May | 79 | 49 |
| June | 92 | 59 |
| July | 97 | 66 |
| August | 94 | 64 |
| September | 85 | 54 |
| October | 71 | 41 |
| November | 55 | 29 |
| December | 41 | 20 |
When Do MOST People Visit Arches National Park?
This is a question that must be answered so that you can plan accordingly. In America, the school year runs from August until the end of May. This leaves two months for people to cram in as much traveling as their little families can handle. Arches National Park, as well as the other parks in the system will be flooded with families and tour buses. The atmosphere is jovial and most people are wanting to have the time of their lives. So, although the crowds can be numerous, everyone is there for the right reason, to have a good time. The largest crowds in Arches National Park are from June to August.
There is also a pop in patronage during Spring Break which generally runs from mid March to late April. Although crowds are not as plentiful as in summertime, there can still be more visitors than at other times.
There will also be a convergence of patrons at Arches National Park during the federal Holiday weekends. Holidays such as Christmas week, President's Day weekend, Labor Day and Memorial Day weekends will see more people than average. It's important to factor this when planning your trip.
If you are going during this time watch for potential long lines, wait times and packed reservations. Keep in mind though that the park may have closures on the actual observance of the holiday. For example, Arches is closed on Memorial Day . Therefore, you will have to plan an outing outside the park for that day. There is plenty to do without entering the gates of the park so that should not be a problem.
So, When Is The BEST Time To Visit Arches National Park?
In my seven years of traveling, I have been to Arches National Park three times. I have visited in the summertime when it was a sweltering 101 degrees. We drove through the park to Devils Garden in our Class A motorhome. We were just in time to make it for sunset where we dined on fish sticks and tater tots. All the while, squatting on sandstone formations. It was my first time in the park. Even though it was hotter than the business end of a pistol, nothing could take away that magical moment.
I've also visited in the springtime when the park was lucky enough to get enough precipitation. This caused the desert wildflowers to bloom in a rainbow of colors. We were so fortunate to see this because this doesn't always happen. The potential for significant drought during the winter months can keep flowering at bay. But when they are in bloom, it is magnificent. The yellow mule ears steel the show next to the red Desert Paintbrush, that dot the landscape. The newly sprouted ornamental grasses also stand tall as they awaken from deep beneath their soil laden bed.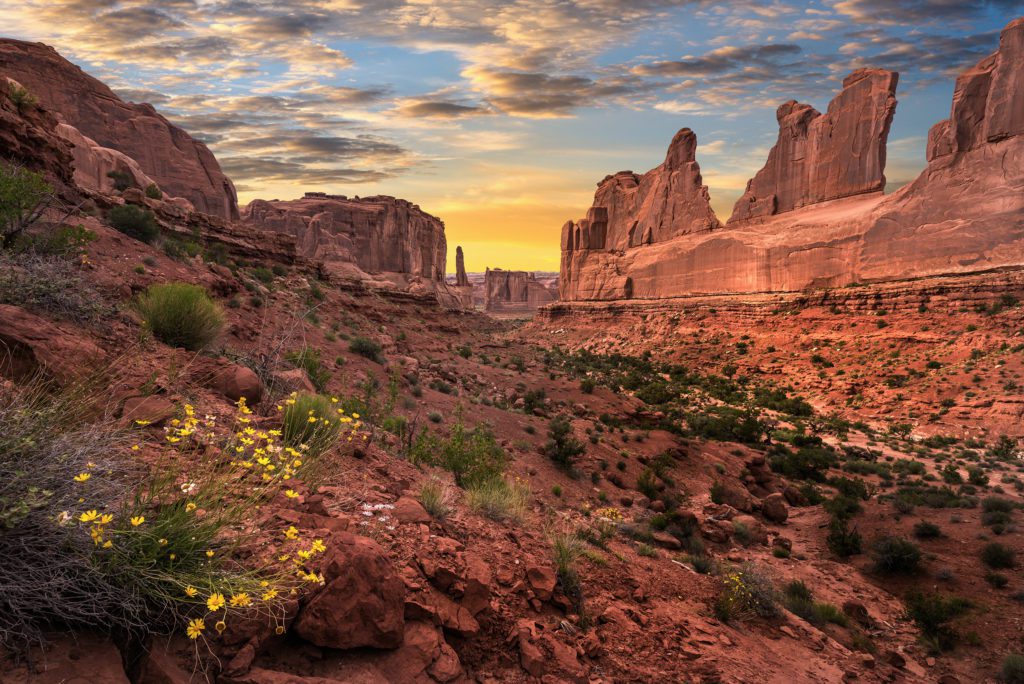 All of this is reason enough to visit in their respective seasons, but there is one time of year that stands out more than the rest. Fall is the best time to visit Arches National Park. You get the the best of every season rolled into one. To be very specific, I would urge you to plan a trip in the first few weeks of October. There are a few reasons why you should shoot for this time.
When Is The Best Time To Visit Moab, Utah?
Moab is the city in which Arches National Park is located and fall is a great time to visit. The shops and restaurants are still fully open. You can also rent mountain bikes and hire guides for various tours and excursions in the area. The weather is superb with an average high of 74 degrees and an average low of 42 degrees.
The crowds still exist, but children have returned back to school and the shoulder season tends to bring less people. Hiking is more pleasant due to the tilt of the Earth so the sun is not beating on you. The Milky Way is visible and the nights are not too cool to enjoy sitting outside gazing for hours.
You may also hit it right and be at the park when spring decides to make an encore performance. If the area has received enough precipitation in the summer, the flowers will pop again! Can you imagine seeing the fall leaves combined with the color of spring flora? Stunning!
However, nature may pivot and decide to give you a slight dusting of snow that will be gone before lunch. So, if you get up early enough you can snap an image that few visitors might see.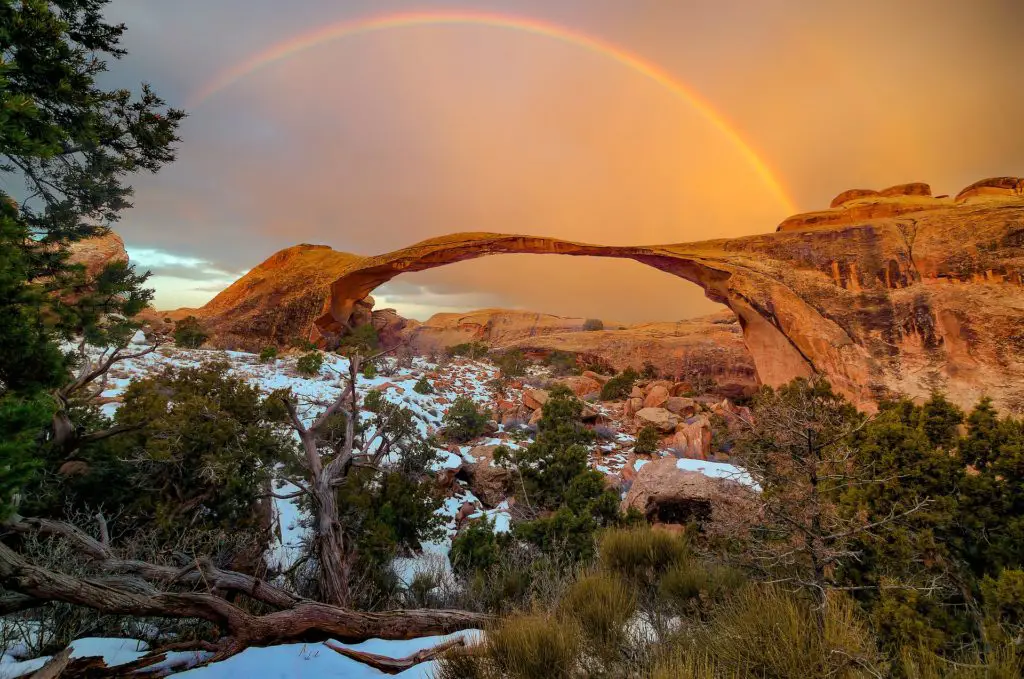 An added bonus that you may not realize is the fact that the best fall leaf peeping areas are not far. The La Sal Mountain loop is a perfect day trip. You can see the most beautiful alpine foliage in all its splendor. Moab is also only 2.5 hours away from the foothills of the San Juan Mountains, which include Montrose, Ouray and Telluride, Colorado. These three mountains towns have old growth groves of golden Aspens. Some date back 40,000 years that should not be missed if you have the opportunity.
So now that you know that fall is the best time of year to visit Arches National Park, let's make some plans! Get your calendar and mark it for the first week in October. You'll never regret it!