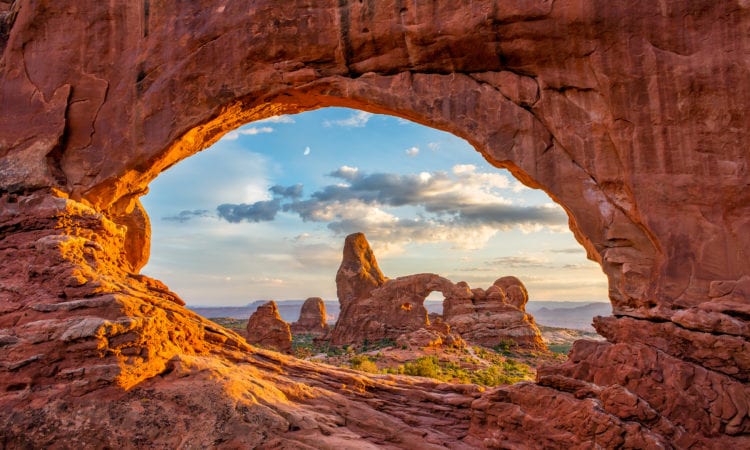 Grounded Life Travel is supported by its audience. When you purchase through links on our site, we may earn an affiliate commission.As an Amazon Associate I earn from qualifying purchases. List of everything we use in our travels.
If you are planning a trip, there are 12 things you need to know before visiting Arches National Park. Many liken Arches National Park to what it might be like to be on Mars. The topography, the red sandstone, the feeling that somehow you've been transported to a place that is so unlike Earth, you find yourself looking for your land roving space craft.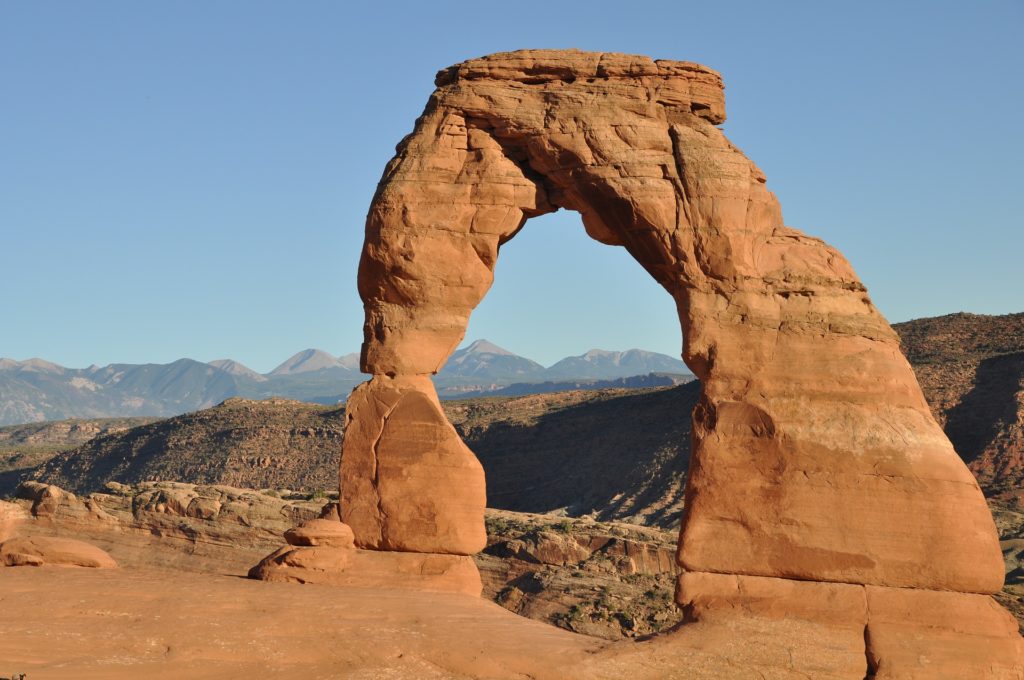 Ok, maybe that last one was a stretch.
But, you will find that Arches National Park is unlike any of the other national parks. Therefore, there are 12 things you need to know before visiting Arches National Park, so that you can be as prepared as possible.
Is It Hot In Arches National Park?
Arches National Park can get REALLY hot in the summertime. But, it can also get REALLY cold.
The best bet when visiting any time of year is to pack for all four seasons. In June it can be 101 degrees Fahrenheit for the high, but the low can also be chilly. Occasionally, the temps can get down into the forties, even in summer.
Likewise, in December it's usually chilly, but there may be that wild day of temps in the sixties or seventies. So, if you really want to be prepared, especially if you will be camping, you should pack shorts and t-shirts and a heavy coat and wool socks. It never hurts to be extra ready for anything Mother Nature throws at you.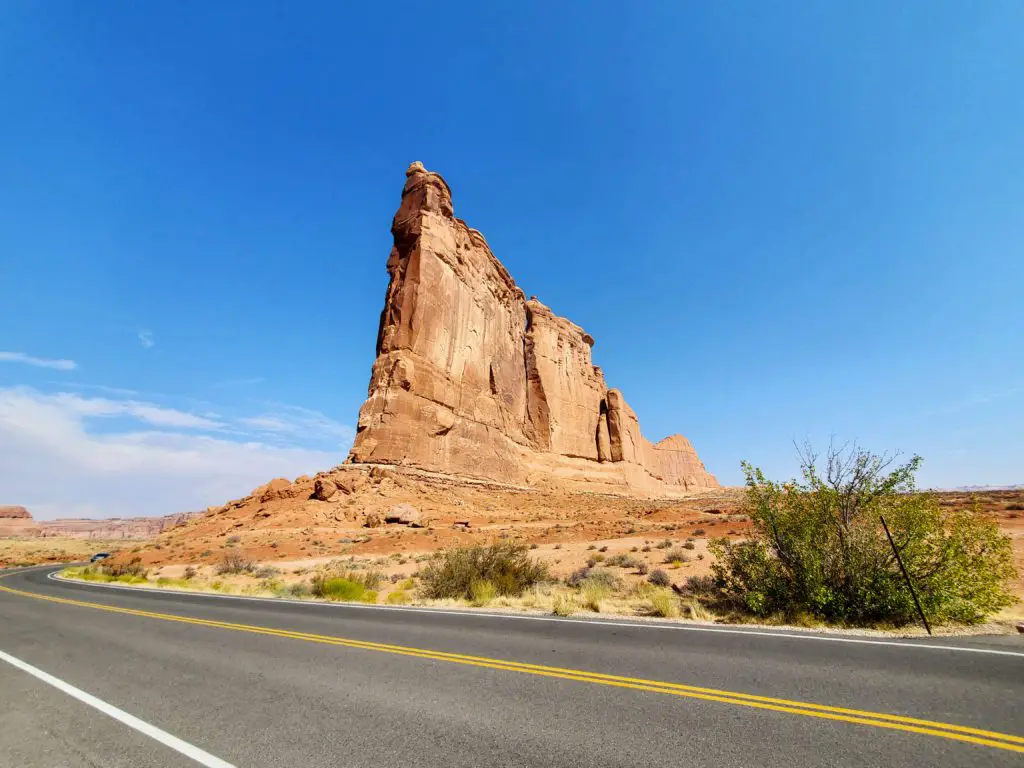 Can I Camp Wherever I Want In Arches National Park?
Arches is open 24 hours a day and 365 days a year. Although it might seem like you could pull off the Main Park Road and pitch a tent at 1am in the morning, there really is only one place in the park where you can camp.
Devil's Garden is conveniently located 18 miles into the park, at the end of the Main Park Road. If you're looking to camp from November to March, you'll probably be able to pull up at a moments notice and get a prime spot under the stars.
But if it's any other time, you have to plan and make reservations. Ideally, you would need to make reservation six month in advance. Camping reservations can be made on a rolling six month advanced schedule. So if you know you want to go in June, make reservations on December 1st.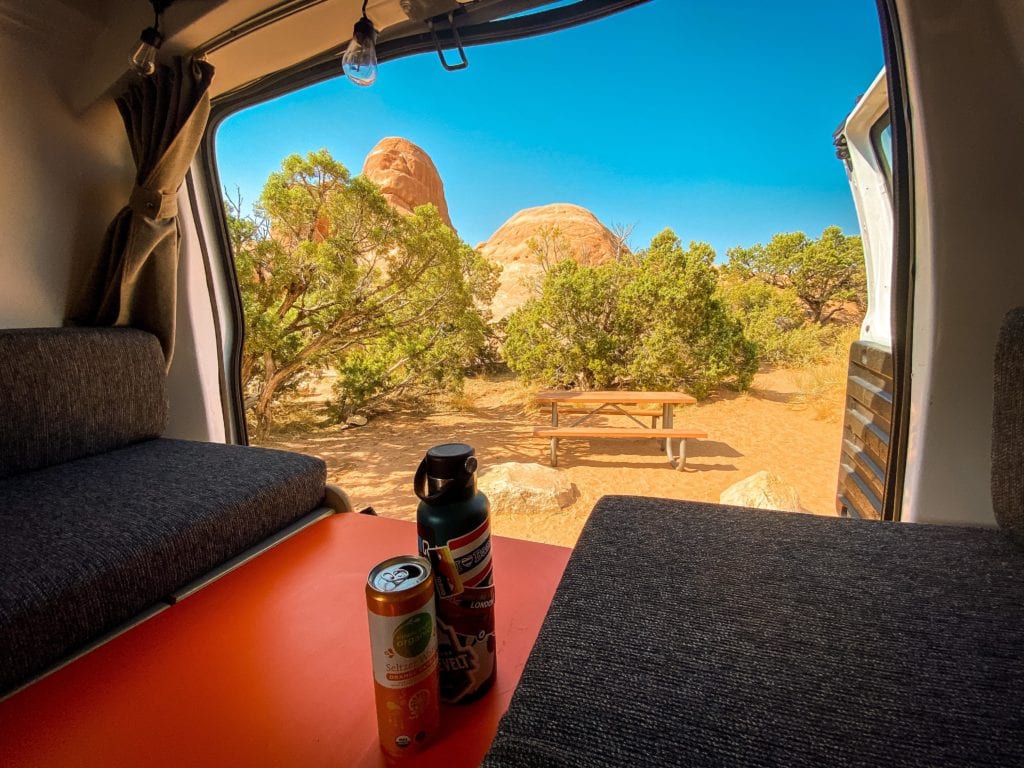 Can I Hike Wherever I Want In Arches?
Contrary to what I have seen in many national parks, some people think it is alright to make a trail wherever they fancy. This mindset is especially detrimental in Arches National Park.
If you go off the trail, there is a high chance you will be trampling an entire ecosystem right under your feet. Cyanobacteria, is one of the oldest living things on the planet. It had the largest contribution in converting carbon dioxide to oxygen billions of years ago. It can take thousands of years for this bacteria to grow, so if you step on it, you're killing something ancient and of utmost importance to the planet. So, stay on those trails, you cannot hike wherever you want in Arches National Park.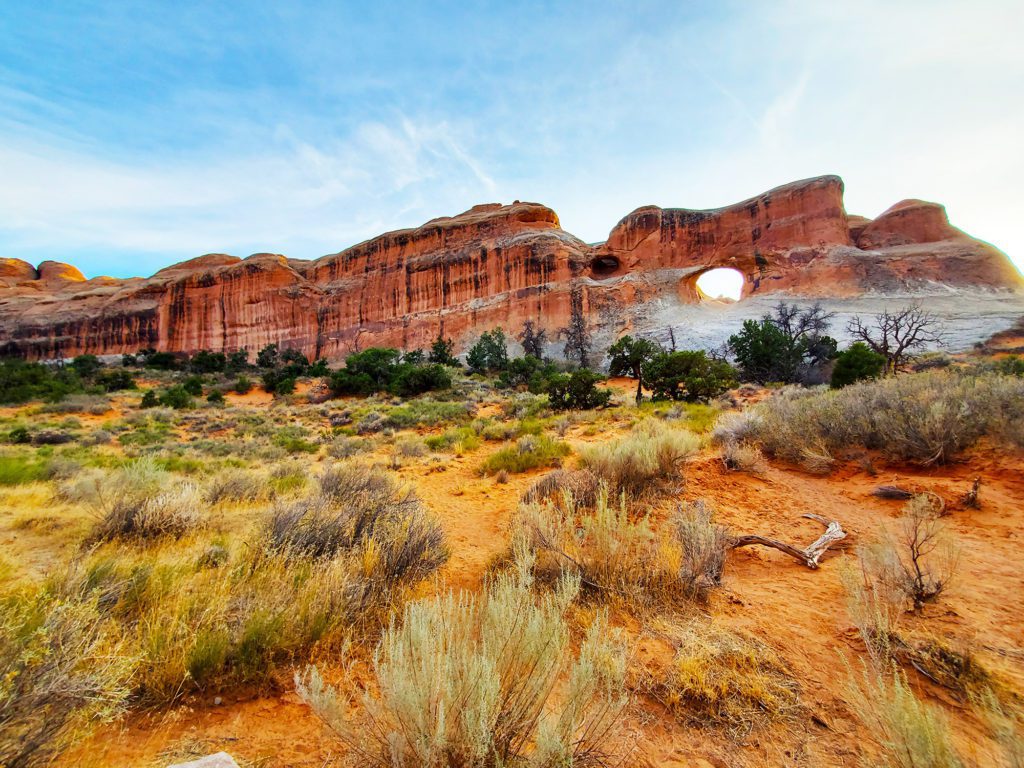 Do I Need To Be Physically Fit To See The Arches In Arches National Park?
Arches is one of the best national parks to see if you aren't a big hiker. You can drive the main park drive and see many rock formations and sites right from your car. But, if you're willing to park and walk at least a half a mile, you can see a multitude of sites in the park.
Balanced Rock , Double Arch, Sand Dune Arch and Skyline Arch can all be seen in a half mile or less. Delicate Arch also has two viewpoints that you can see without walking far. One viewpoint is only 100 yards from the parking lot, whereas the other is a short half-mile walk. Arches National Park can be seen even if you are not physically fit.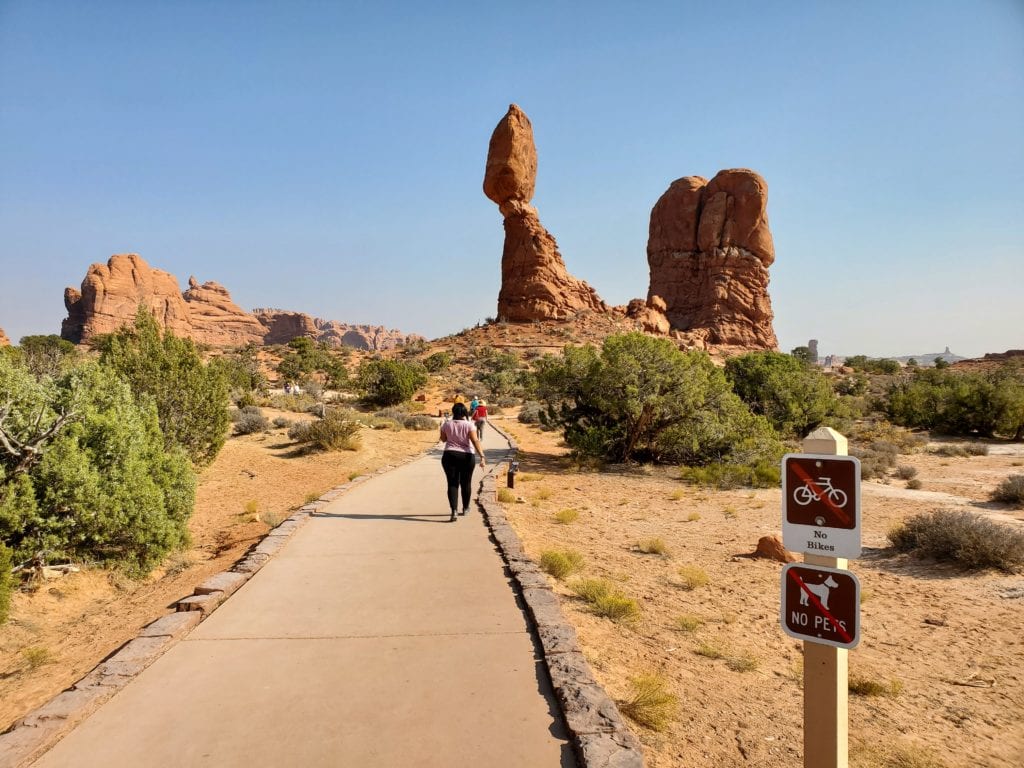 Are There A Lot Of Snakes In Arches National Park?
Arches is hot and dry. Reptiles love living there. You're more likely to see one of the cute little lizards that dot the landscape of the desert than you are a snake. Fortunately, if you do see a snake it is more likely to be a non-venomous gopher snake and he will be trying to get away from you as fast as possible.
There aren't a huge variety of snakes that live in Arches, but there is one snake of concern. The midget-faced rattlesnake has extremely poisonous venom, however they only inject their venom one-third of the time they bite a host, so that drastically cuts down on your chances of a horrible death.
Does Arches Have Good Sunrise Locations?
If you're looking for a magical Arches sunrise, head to the the Windows Section. Get up insanely early, and arrive at the North Window to try to steal a coveted spot to see or photograph the sun coming through the windows making a shadow on the Turret Arch. You can also set up at Turret Arch and see an incredible sunrise from there.
But, if you are real die hard and can't leave the park before you get your Delicate Arch shot, you need to get up REALLY early in the morning. The hike is 1.5 miles up the hill to the arch so you need to allow time for that. But, you will get a shot of a lifetime if you put in the effort.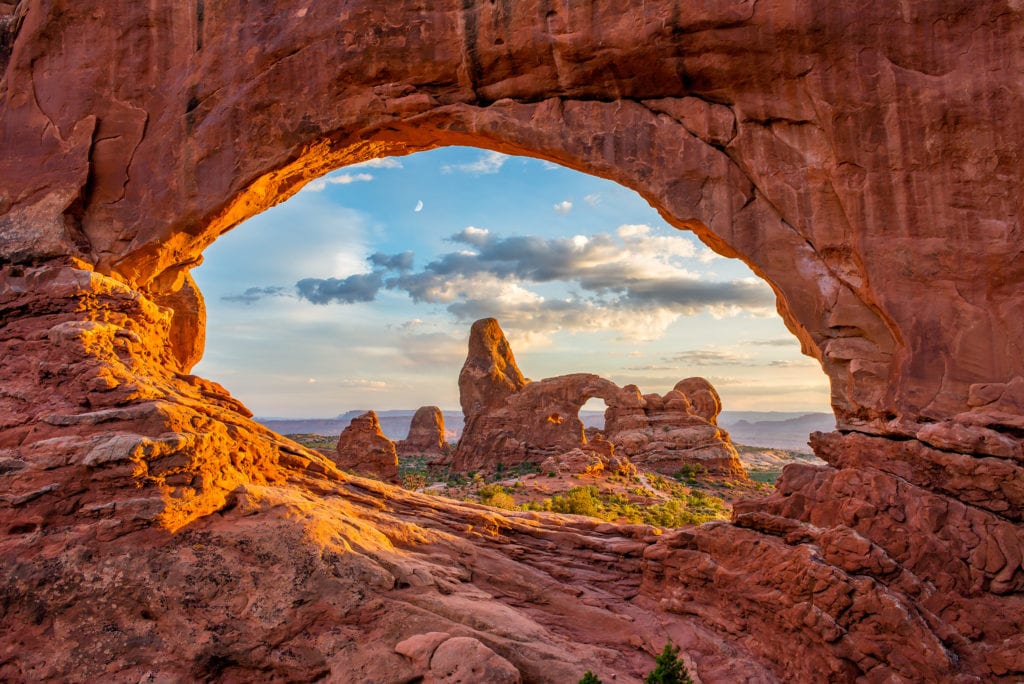 Will I Need Special Gear If I Want To Hike In Arches National Park?
You don't have to have special gear to hike in Arches. You'll want good comfortable boots with good gripping soles and a hat to keep the sun off of your face. Make sure you have a good SPF sunscreen and a water bottle that contains enough water for the hike.
If you are a bit more of an extreme hiker, you may need to beef up your gear a little. You may want to exchange a water bottle for a hydration pack that you wear as a backpack. This frees your hands to scramble over boulders if you need to.
If you are hiking in winter and there are icy conditions you may want a pair of Yaktrax or Microspikes so that you will have extra grip on the ice if you encounter it. You may also find that a good pair of hiking poles helps with balance and stamina.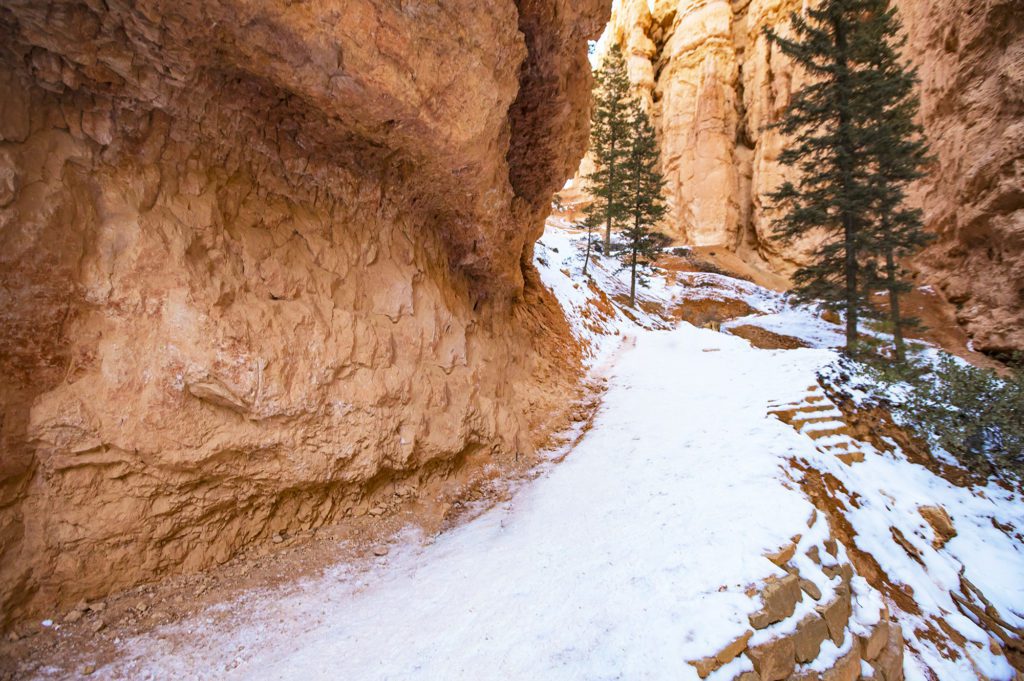 How Many Days Do I Need To See Arches National Park?
If you are one of the lucky people who gets to tour Arches National Park, you should plan for ample time to see it. You can see Arches in a day, or you could take an entire month to see the park and the incredible other sites around Arches.
But a week is a generous amount of time to see the park. This will also give you a day or two to rest and relax. You are on vacation, make sure you get some time to be lazy!
What Can I Not Miss At Arches National Park?
This is really a personal thing, but in my opinion the show stoppers are Delicate Arch, Landscape Arch, Double Arch, Fiery Furnace, Park Avenue and Courthouse Towers and all of the arches on the Devil's Garden Trail. If you have a week you should easily be able to complete this list.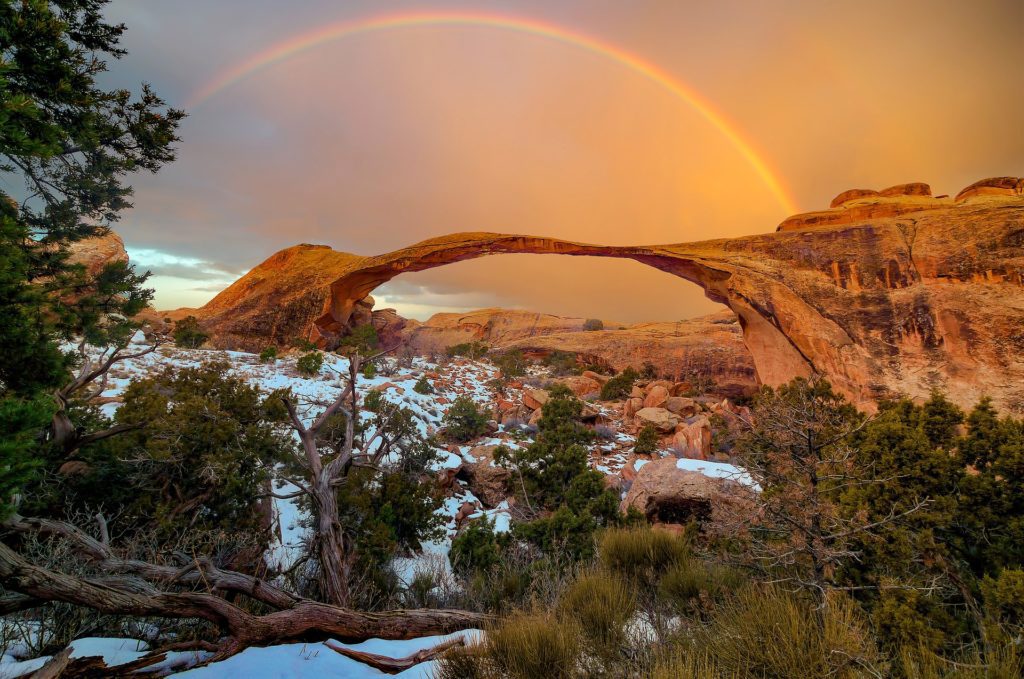 Will It Be Crowded At Arches National Park?
Unless you are going in the dead of winter, there is one thing for sure, there will be people. How many you will see, is the question.
In the heat of summer vacation, the park has been known to close their gates at 10am to avoid overfilling the park. But if you are going in early spring or mid autumn, your chances of having an experience without throngs of people are better. You can also go into the park at non-peak hours and avoid the masses.
Does Moab Have Restaurants and Shops?
Moab is the mother city of Arches National Park. There you will find any kind of food that you are craving. Mexican, Thai, Greek and even Lebanese food can be found down Main Street in Moab. There are also shops of all varieties as well as places to rent bikes, dune buggies or Jeeps. Whatever, floats your boat, you'll find it in Moab.
Are There Other Things To Do Outside Arches National Park?
I wasn't kidding when I said you could take a month to see the area. In addition to Arches National Park, Moab is also home to Canyonlands National Park, which is only 30 minutes away. You will also pass Dead Horse Point State Park, which has the all the views and activities that most national parks have. In addition, there are also petroglyphs, dinosaur prints and fossils to see at multiple sites within short driving distance of the park.
Visiting Arches National Park is one of those things that I hear just about everyone say they want to do. It's on every travelers to do list. Now that you've learned the 12 things you need to know before visiting Arches National Park, you will be well equipped to have the vacation of a lifetime.