Complete Guide To Camping At Arches National Park In Devils Garden Campground
Grounded Life Travel is supported by its audience. When you purchase through links on our site, we may earn an affiliate commission.As an Amazon Associate I earn from qualifying purchases. List of everything we use in our travels.
Devils Garden campground is the only campground within Arches National Park and is small by NPS standards, so booking well in advance is critical to getting a good site.
We weren't sure what to expect at Devils Campground in Arches National Park after having spent several great days in the nearby Dead Horse Point State Park. Spots were limited and we could only secure 2 nights, in different sites, when we booked about a month before our trip.
To our surprise, Devils Garden was one of our favorite campgrounds of the entire year.
Location of Devils Garden Is Key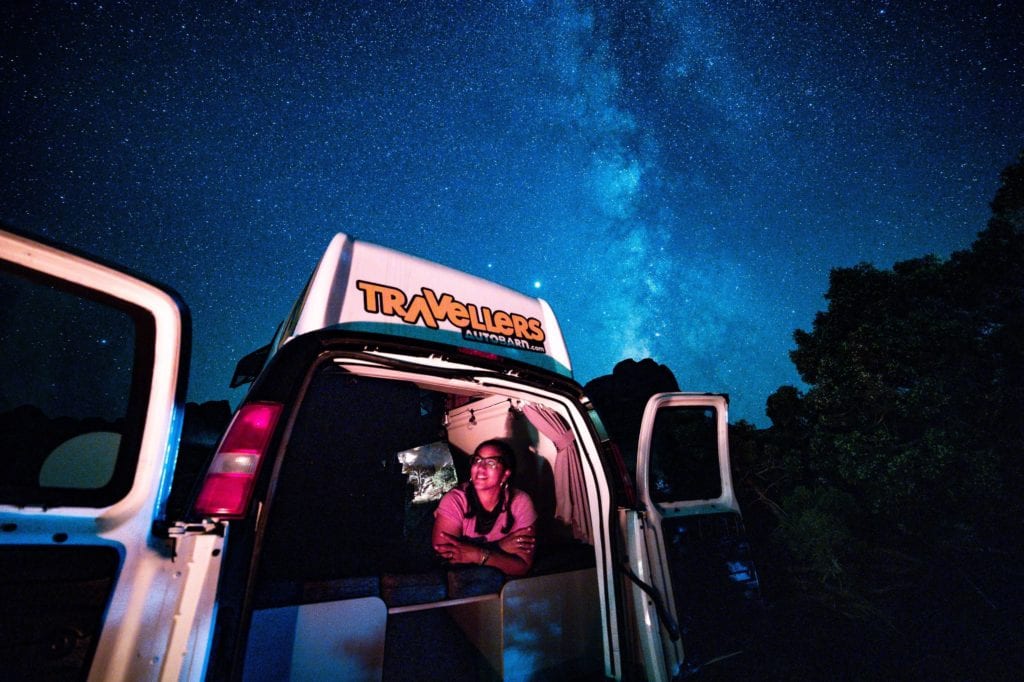 Devils Garden campground is located in the very back of Arches National Park, some 18 miles by car from the front entrance. This puts you a leg up on getting a spot and good start at the ever popular Devils Garden Trailhead, which gets full early in the morning. You could also use this extra time to get a head start on a hike to Delicate Arch.
Secondly, since you are already in the park, you won't have to worry about the park closing to new visitors around 10am as it often does during summer and fall months. (Note: on our first day in Arches, the park closed to new arrivals at 10am and we couldn't get in even with our campground reservation. You just have to wait it out on arrival day even with a reservation).
The campground is also well away from the light sources of Moab so astrophotography is quite easy to do at night.
Campground Specifics
Devils Garden campground is small with only 51 sites and 2 group sites. There are no hookups for electricity and there is no wifi or cell reception in the campground. Firewood can be purchased if there are staff on site (not always the case). Sites can and should be reserved online from March 1st to October31st. From November 1st to February 28th sites are first come first served.
The sites at Devils Garden are very sporadic in size and placement. Some are complete pull in that will fit large RV's and some look more like roadside pullouts that you can barely park a camper van in.
It's important to pay attention to site size in this campground when booking your site online. If you are trying to get a site first come first served with a large RV you should have a backup plan in place as there aren't many sites to hold a vehicle that large.
Standard sites cost $25 per night and can be reserved at the Recreation.gov website.
Site Privacy
There is just one road entering the park and it makes a loop at the back of the park. Sites on the back loop are more private than sites in the front as everyone entering the park will pass the front sites.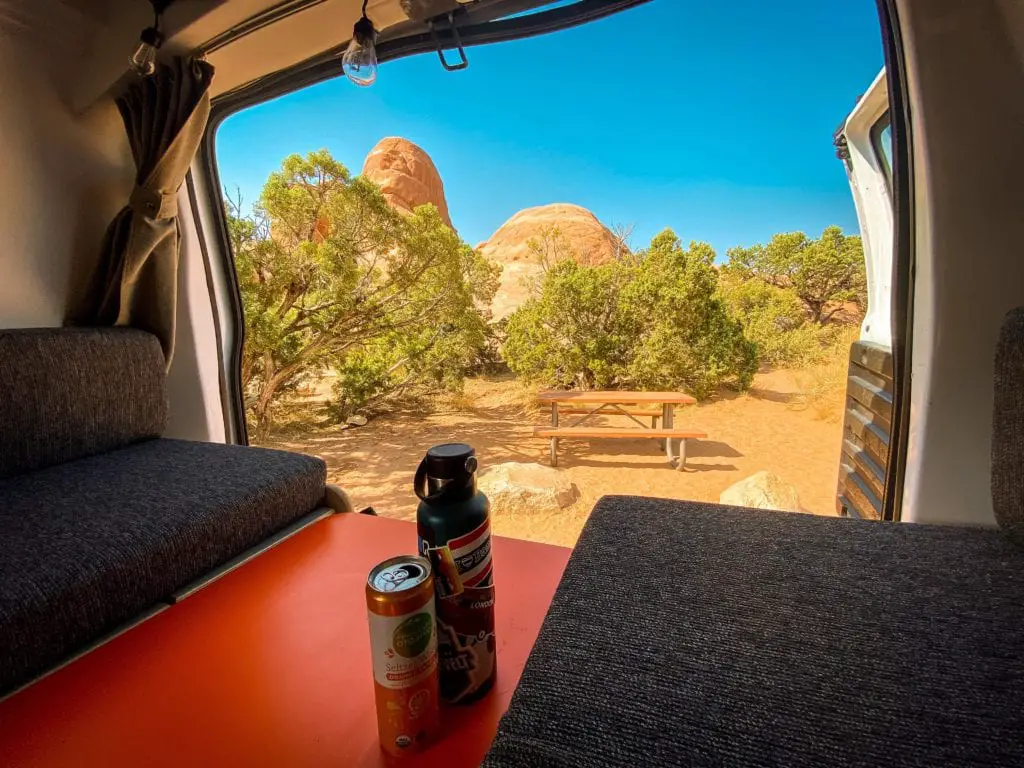 Picking Your Site
The sites all have pictures on the Recreation.gov website so pay close attention when selecting. If you don't have a large vehicle our favorite site was #46. It had incredible privacy, a great picnic area and backed right up to some amazing rock features!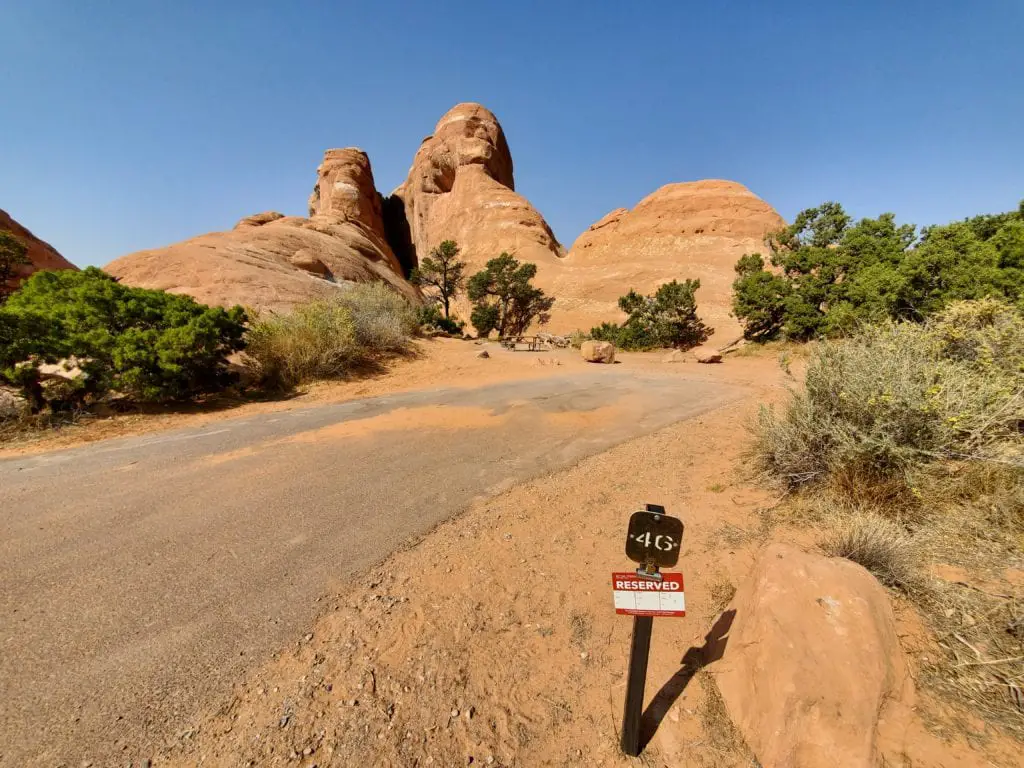 We were located right next to it in site #45, which was also pretty good.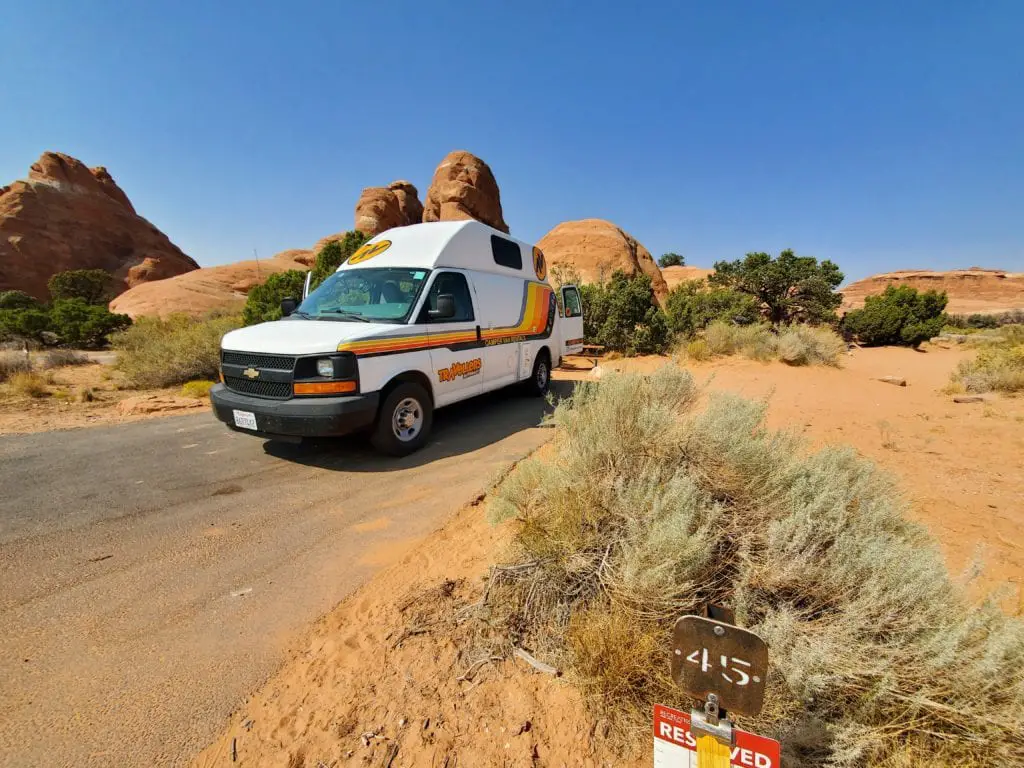 Both of these sites are on the quiet back loop.
For tips on when to visit, see our guide on the best time to visit Arches National Park, or our month specific guide for June.
Tags :
arches national park
devils garden campground
utah