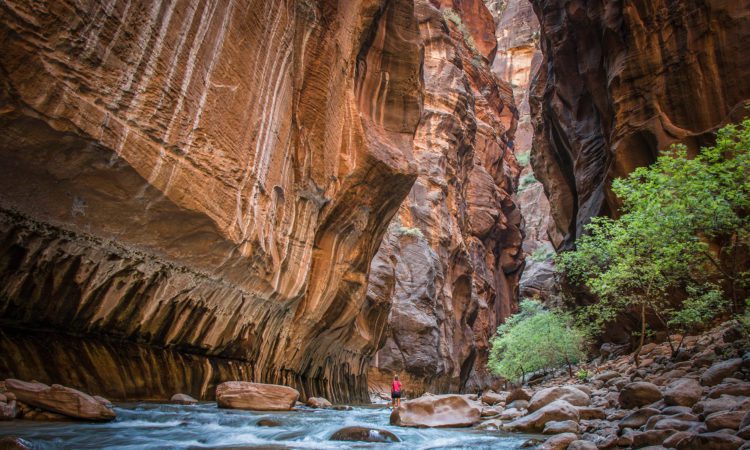 Grounded Life Travel is supported by its audience. When you purchase through links on our site, we may earn an affiliate commission.As an Amazon Associate I earn from qualifying purchases. List of everything we use in our travels.
Zion National Park is one of the best things about America. I know that is a tall statement. But, it exemplifies the wild, untamed beauty that dots the great landscape of this country and makes it not only intriguing to visit, but will whet your appetite to see more.
Rock face ledges overlooking stunning canyons, river narrows and summits that will make you swear you can see to the Atlantic are just some of the things that make this park a show stopper.
From the lows of its forever springtime valleys to its snowcapped peaks in winter, this park should be in your top five, if you have just started on your national park journey. It's that dazzling and will make you a national park junkie like me!
If you are visiting for the first time, you might want to know what the highlights of the park are. This is a tough bill to fill, but if you are here for a week these spots can't be missed!
Zion-Mount Carmel Scenic Highway
I always recommend taking any scenic drive through any national park as one of the first things you do on your visit. It orients you, informs you and helps you plan the rest of your stay.
The Zion-Mount Carmel Scenic Highway will wind you through some of the most exquisite areas of the park with stops that are a must along the way. Over its 40 mile terrain, you will enter tunnels built into cliff faces, you will see gorges with spine tingling drops and scenery that is some of the best in the world.
Don't miss stops such as Checkerboard Mesa. This interesting and beautiful freak of nature resembles a checkerboard in the way the rock has cracked in a grid-like pattern. The two tunnels that you will encounter on your drive are an amazing feat in their own right. At 1.1 miles and having taken three years to build, you will want to slow down when you encounter the "windows" that give you a stunning view to the mountains, mesas and hoodoos along the way.
Take note of all that you see and of some of the popular trailheads where you can hike to some of the best scenery in the park. Then, you can formulate a plan for the next day and tackle the list of things to do that you made.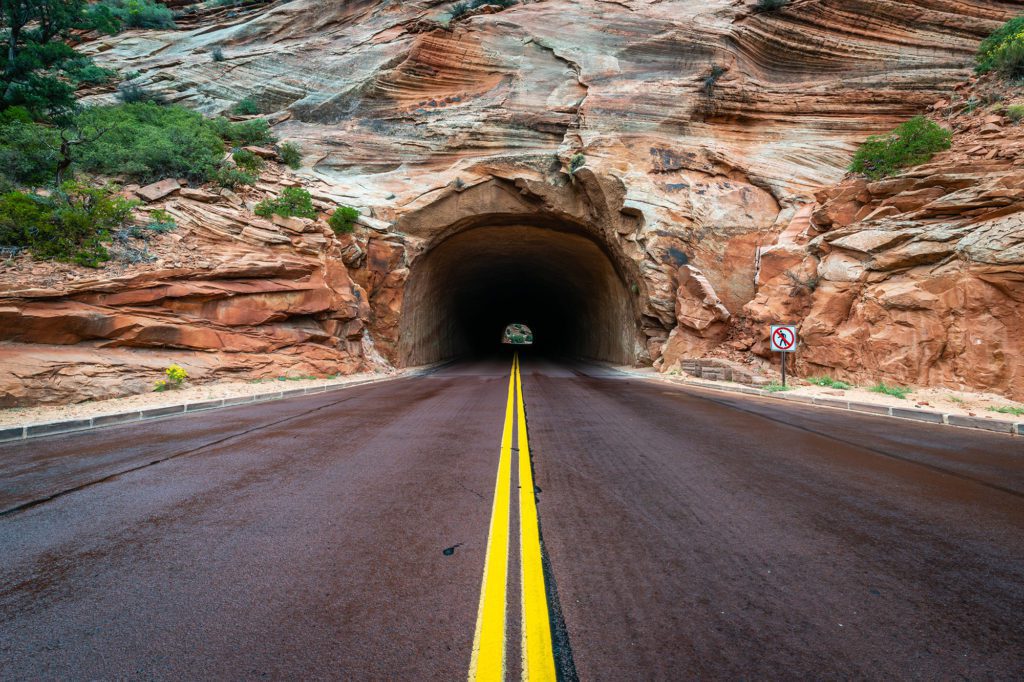 The Narrows
Imagine a hike that requires rented equipment and warnings of death if it rains. Well, it exists in Zion National Park and it is one of the most popular hikes in America. Are people crazy? No, they're just adventurous and want to experience something that not many people on earth get to do.
Hiking the Narrows, a 15 mile stretch of the Virgin River, where you can hike in the river through a huge slot canyon, is a bucket list item that many National Park visitors have on their list. But, it isn't a saunter down an easy trail. To conquer this hike you will need shoes with good traction, a walking stick and a willingness to get wet and stay wet while you hike some or all of this 16 mile hike.
Of course, you can turn back at any time, but the best sections of The Narrows can be reached by hiking about 4 miles up the river. You will see waterfalls from cliffsides, towering walls that are up to 1500 feet tall, and walk in waist-deep frigid water while you traverse on what feels like greasy bowling balls. Does that sound exciting?
What an experience! This hike is not for anyone that is not moderately fit and it does come with warnings. You should never attempt this hike if the weather calls for rain or thunderstorms. Flash floods are deadly and the weather can turn on a dime. So, make sure you look at the forecast and heed the warnings. Otherwise, this hike will be one that you will never forget.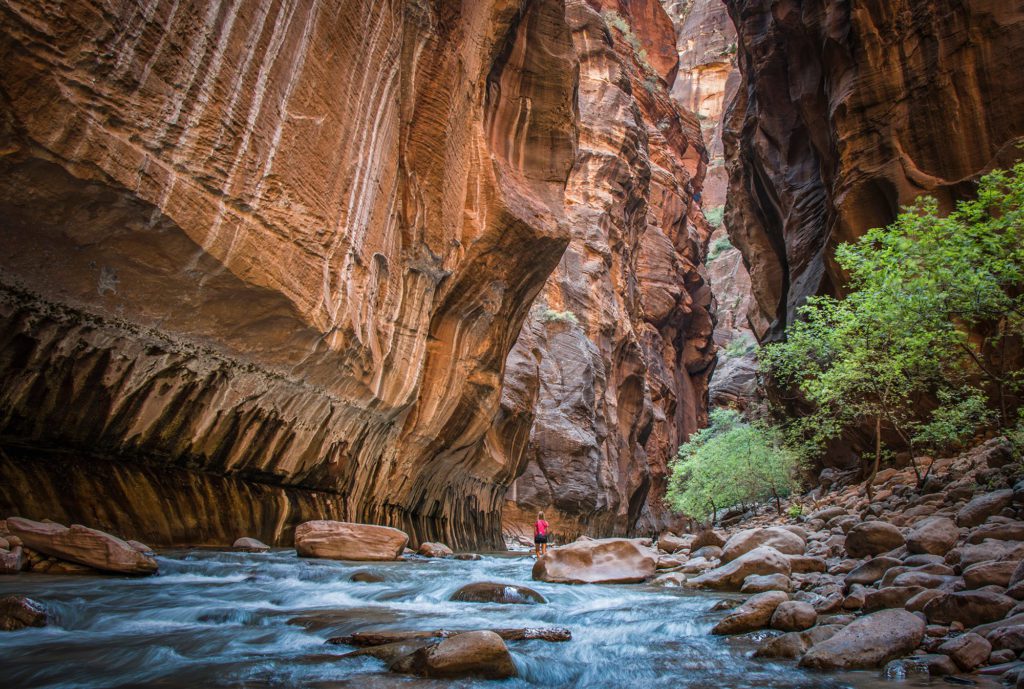 The Hoodoos
Hoodoos are a funny word for rock formations that are found in this part of the American Southwest, predominantly in Zion and Bryce National Parks. The hoodoos found in Zion are a little different from the ones found in Bryce but are, nevertheless, just as interesting.
Hoodoos in Zion are made of sandstone, but the top is a harder mixture of iron and manganese that doesn't erode like the sandstone. Therefore, the shaft erodes at a faster rate, revealing a hoodoo formation. You can see these on the Hop Valley Trailhead. Walk an easy 15 minutes down the trail and see them appear before you. If you are visiting Bryce Canyon, it is interesting to see the difference in the hoodoos in each park. Like Bryce Canyon, the hoodoos are definitely photo worthy.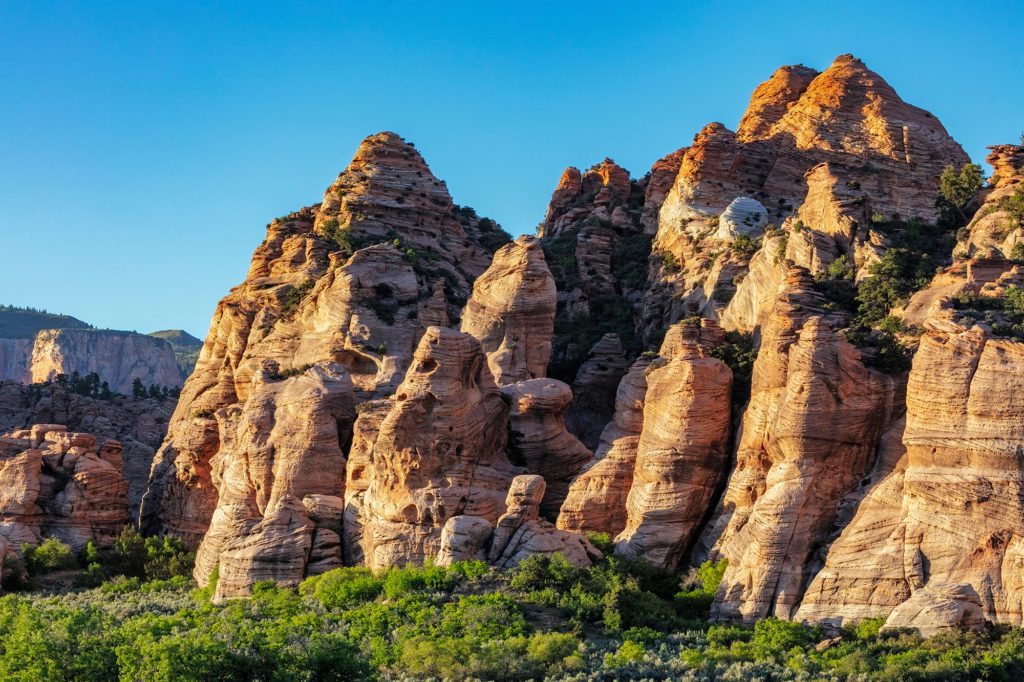 Angel's Landing
There are usually two top reasons people want to visit Zion. The Narrows and Angel's Landing. Angel's Landing is a 5.4 mile 1,488 foot gain in elevation hike that will literally take your breath away. It is a strenuous hike that is narrow and has drops of 1,000 feet at some points. Traverse a thin bead of rock as you hold onto a chain that is embedded in the stone to get to the summit.
If this sounds like a death wish, well it's for good reason. Since 2004, seventeen people have fallen to their death from the hike on Angel's Landing. So, you should follow directions when they say use good traction shoes, gloves and a good dose of courage. But, considering up to 1,000 people a day brave this hike in the height of the season, I'd say your odds are good. It is thrilling and terrifying but will make you feel more alive than you have ever felt.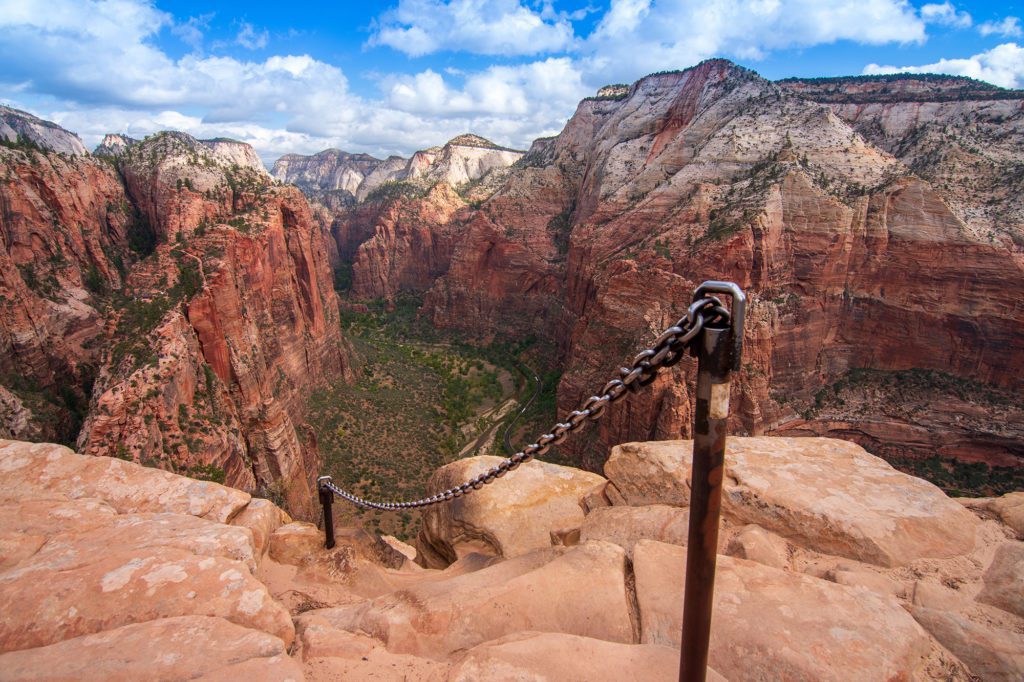 Canyon Overlook
This is a great alternative to Angel's Landing for visitors that might not have the physicality or the gumption to make the trek. At right around one mile, this is a short hike, but packs a huge punch in scenery. In fact, it is just about the same view you will get from the top of Angel's Landing, so you won't get a fear of missing out on this hike. You can easily fit this walk into your travels if you are just visiting for a day. You can complete this hike in under an hour and get those prized Zion photos you've been wanting.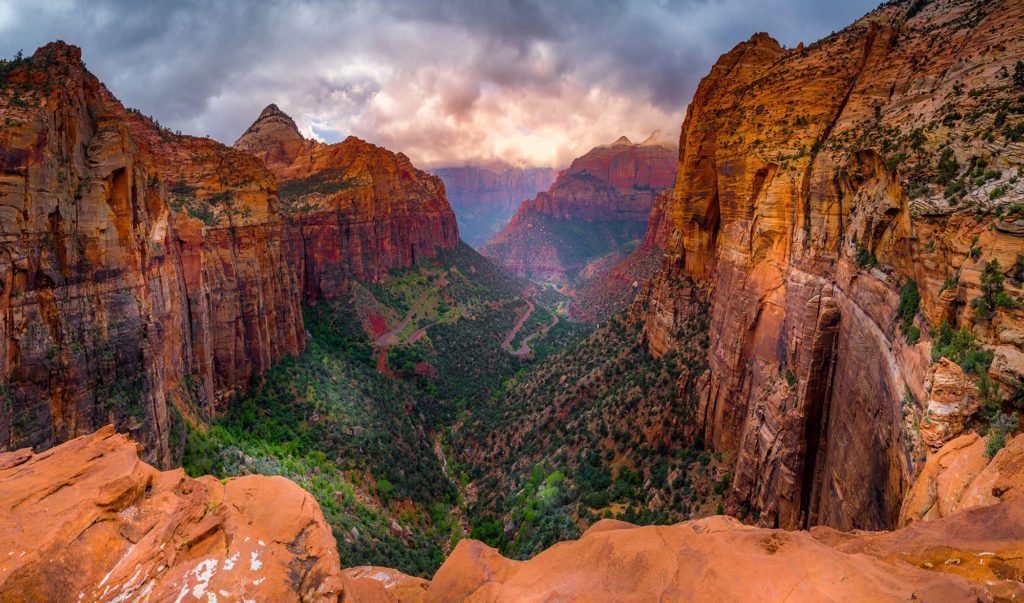 Court of the Patriarchs
This quick little jaunt is for those that aren't hiking fans but still love gorgeous scenery. This is a good point to stop and stretch your legs and see some beautiful rock formation with interesting history. View The Court of the Patriarchs by walking 40 feet to a viewing point where you will see Abraham, Issac and Jacob Peaks.The highest peak being Abraham's at 6,890 feet.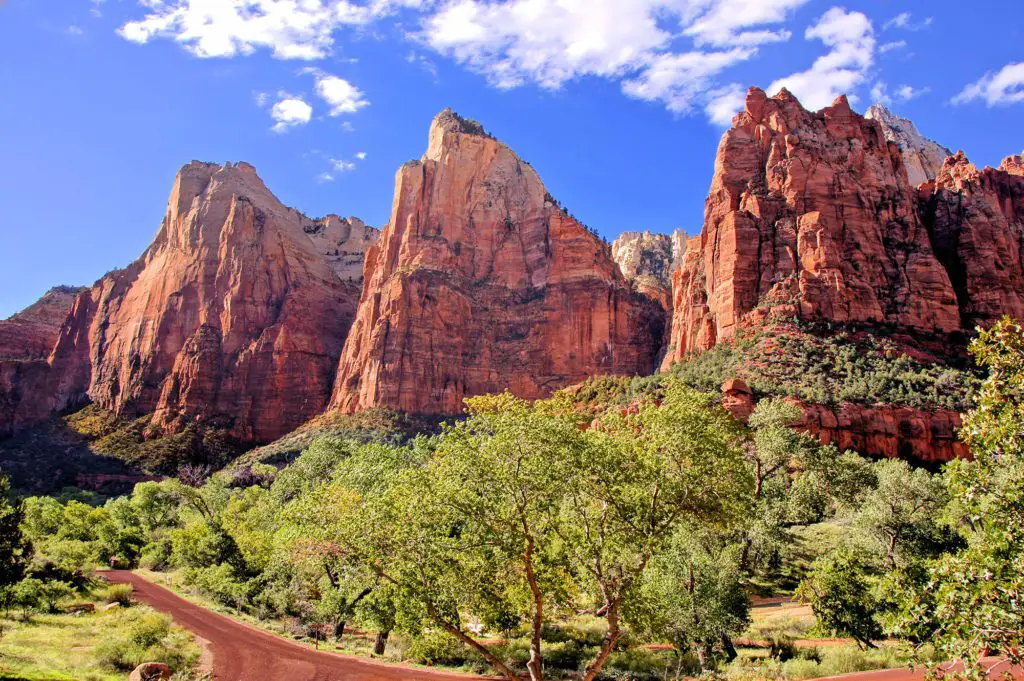 Emerald Pools
If you are looking for a waterfall hike, they are difficult to come by in Zion. But, if you are there is the spring, Emerald Pools is a must on your list. Emerald Pools is made up of three pools and is actually three separate hikes, with the pools themselves not being the attraction, but the stunning waterfalls that fall into them.
The first pool is wheelchair accessible and relatively short at 1.2 miles. Each pool then gets incrementally more challenging as the ascent is steeper and longer.
The Middle Emerald Pool is 1.7 miles long and gives you an incredible view of the canyon and the falls that feed the lower pool. Be careful, as it can be very slippery.
The Upper Emerald Pool is the creme de la creme of waterfalls in the park and is well worth the effort. At full tilt in spring, it is a site to behold. Water rushes from a sheer cliff 400 feet, plummeting into the Upper Emerald Pool to give you that sensational national park memory that we all search for on our vacations.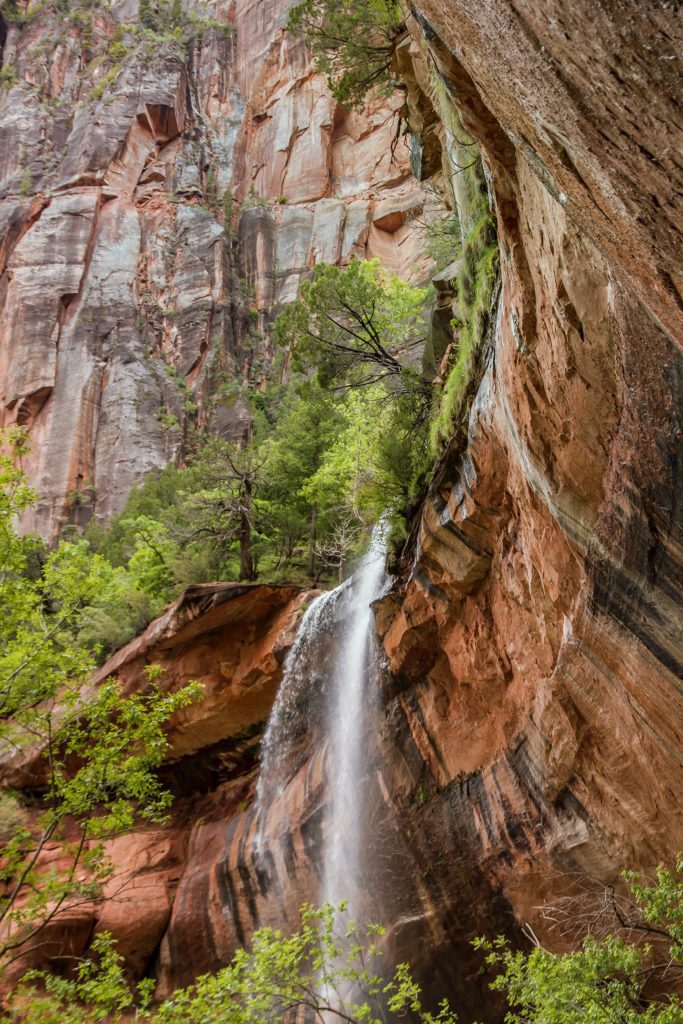 The Watchman
The Watchman Trail is a great trail if you are just getting to Zion and starting in Springdale. At 3 miles, this trail is an easy trail to an amazing overlook that will get you excited for the scenery for the rest of your trip. Perfect for families and not overly challenging this hike is good for most patrons.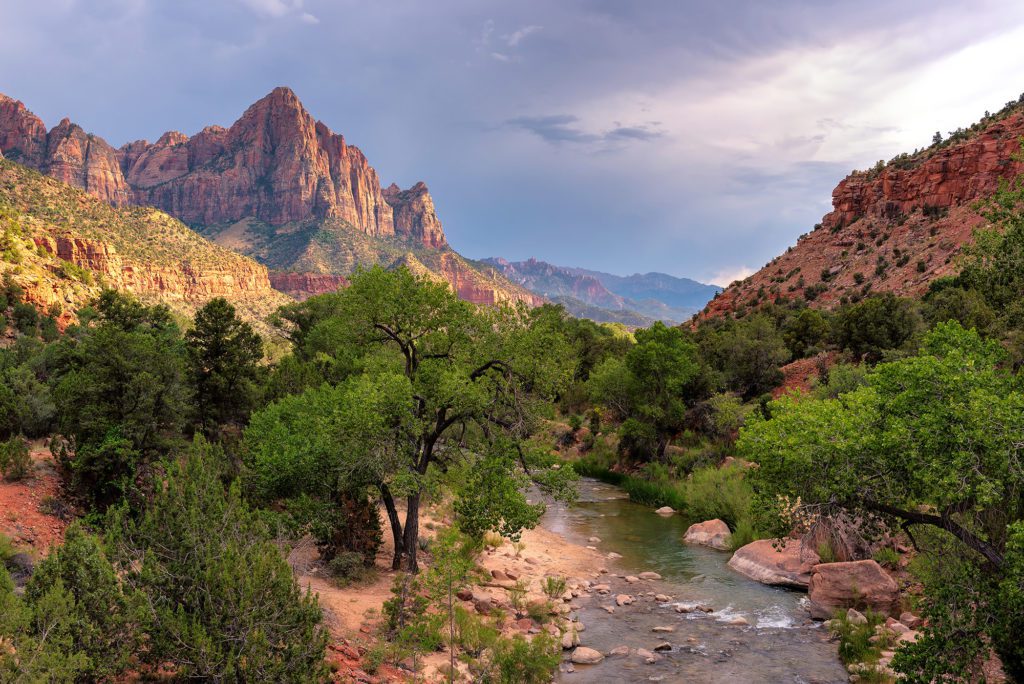 Springdale
Springdale is a beautifully charming city at the south entrance to the park and can be your launching point for exploration everyday. There is no better place to stay that has the amazing views, world class accommodations and mouthwatering cuisine than in Springdale. You can choose to stay in a five star hotel or camp in one of the many campgrounds including those that are in the national park. So, you can get the convenience of staying in the park, while enjoying Springdale as well!
Visiting Zion will be one of those trips you take that you won't be able to shake. It gets into the fiber of your being and draws you back for more. As humans, we yearn for the wilds of this country to bring us back to our roots and there's no better place to satisfy this craving than in Zion National Park.