Arches National Park Itinerary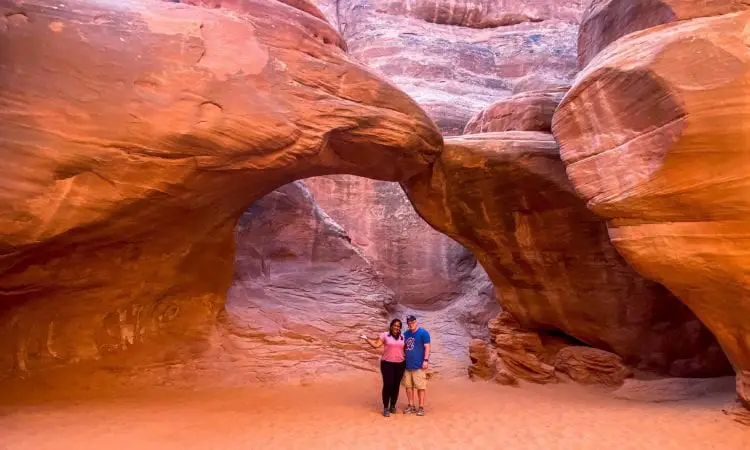 Sand Dune Arch
Grounded Life Travel is supported by its audience. When you purchase through links on our site, we may earn an affiliate commission.As an Amazon Associate I earn from qualifying purchases. List of everything we use in our travels.
An Arches National Park itinerary will come in handy as you plan your next trip to Utah. Utah is brimming with outdoor activities and possibilities. It is home to the "Mighty 5" national parks. Arches National Park is one of the most popular parks in this beautiful state. You can either stay in nearby Moab, UT or you can camp in the park. As I mentioned this park is very popular, book your lodging well in advance for better options.
Arches National Park Itinerary: Scenic Drive
Scenic drives are one of my favorite things to do in national parks. It really gives you the lay of the land. In many cases it takes you to all the best viewpoints and hikes. In Arches the scenic drive is 19 miles long, measured from Highway 191 to Devils Garden. I suggest doing the drive first then going back and stopping at the viewpoints you prefer.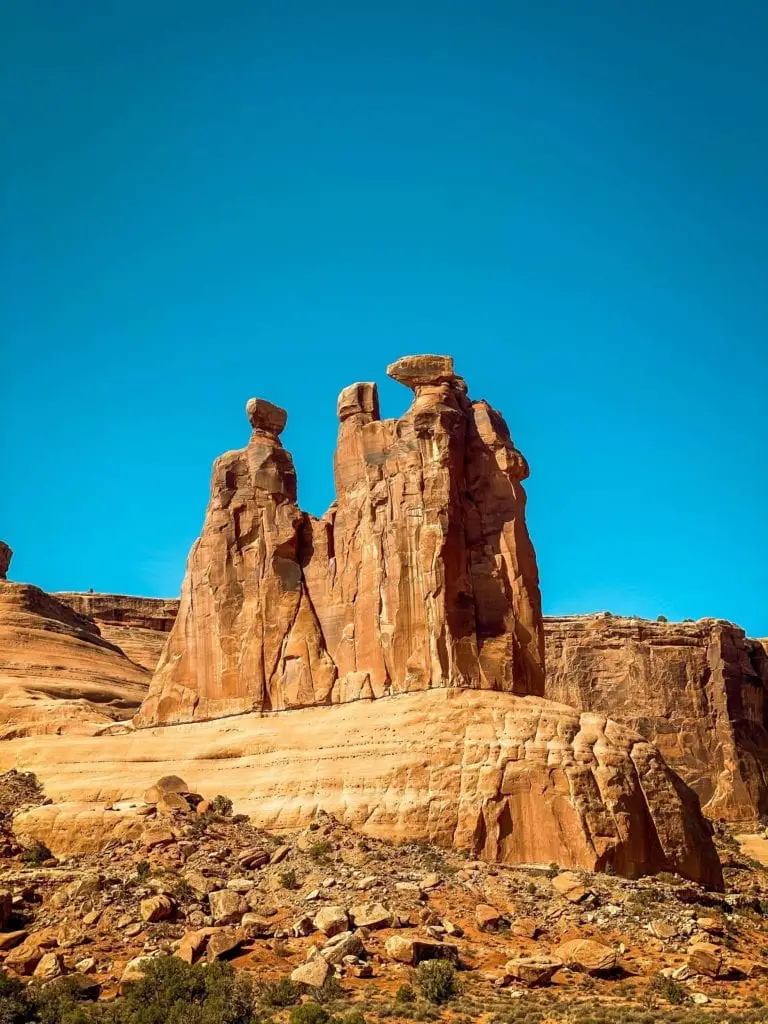 Park Avenue
Park Avenue is a nice hike that will treat you to views of the Three Gossips and the Courthouse Towers. This is one of the few areas that does not feature an arch but it is certainly worth the hike. This is a one way hike, meaning it does not circle back to where you started. You will need to have someone pick you up or just double back to return to where you started. This hike is only about a mile and will take you about 30 to 45 minutes to complete, depending on your pace and how often you stop to admire the formations. Keep in mind, it's a downhill walk from Courthouse Towers and will be an uphill walk with an elevation gain of about 300 ft on the way back.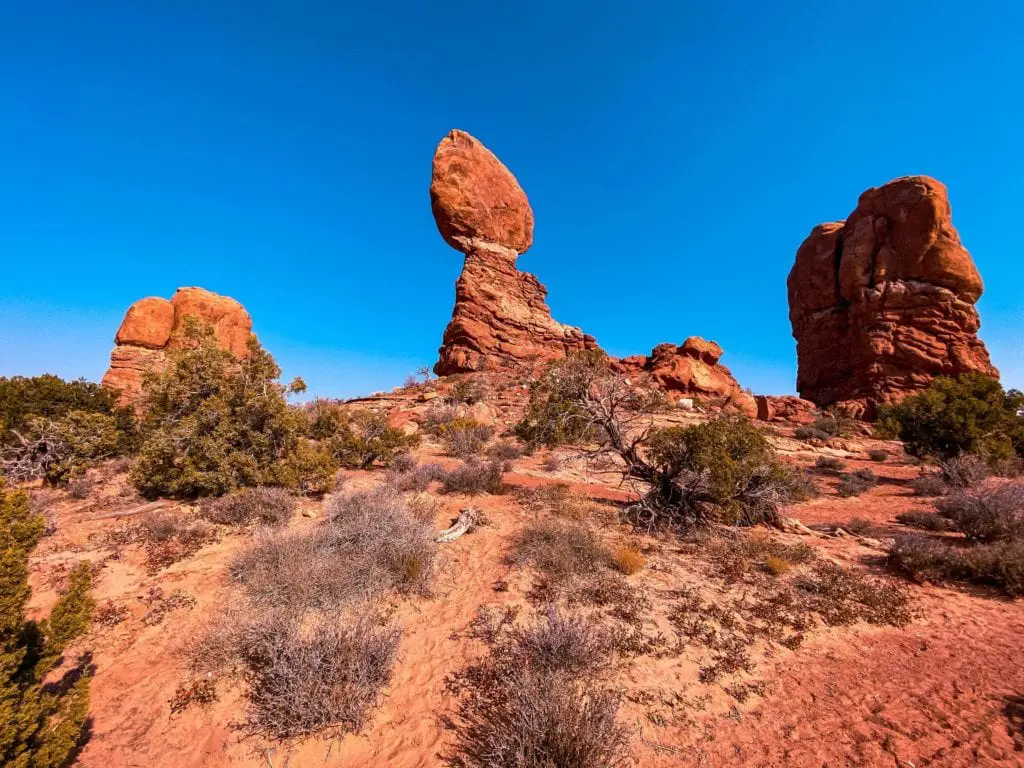 Balanced Rock
This famous rock formation is one of the easiest things to see on your Arches National Park itinerary. You will see it from the road on your scenic drive. If you want a closer look (and you should), you can pull into the parking lot and go for a short walk. It is only about a quarter of a mile and will only take about 15 minutes of your time. As you stand below you hope this will not be the day it falls! Most of this walkway is paved but there is a walkway with hard packed dirt and gravel that you can also take.
The Windows
Next up on our Arches National Park itinerary is the Windows, this hike will include the North Window, South Window and the Turret Arch. This is a relatively short hike at 0.7 miles (under a mile). If you choose to hike up to Turret Arch you will add about a half mile to your total hike time. You can see all three arches from the parking lot if you choose not to hike or have mobility issues, the path is hard packed dirt with some loose rocks along the way.
Double Arch
As you work your way down the Arches National Park itinerary you will run right into Double Arch from the Windows. You can actually park in the same parking lot (car park) or you can move your car to the lower lot (not a great idea). There is a short marked path directing you to Double Arch from the Windows. This hike is only a half mile, at the end you will easily identify the Double Arch.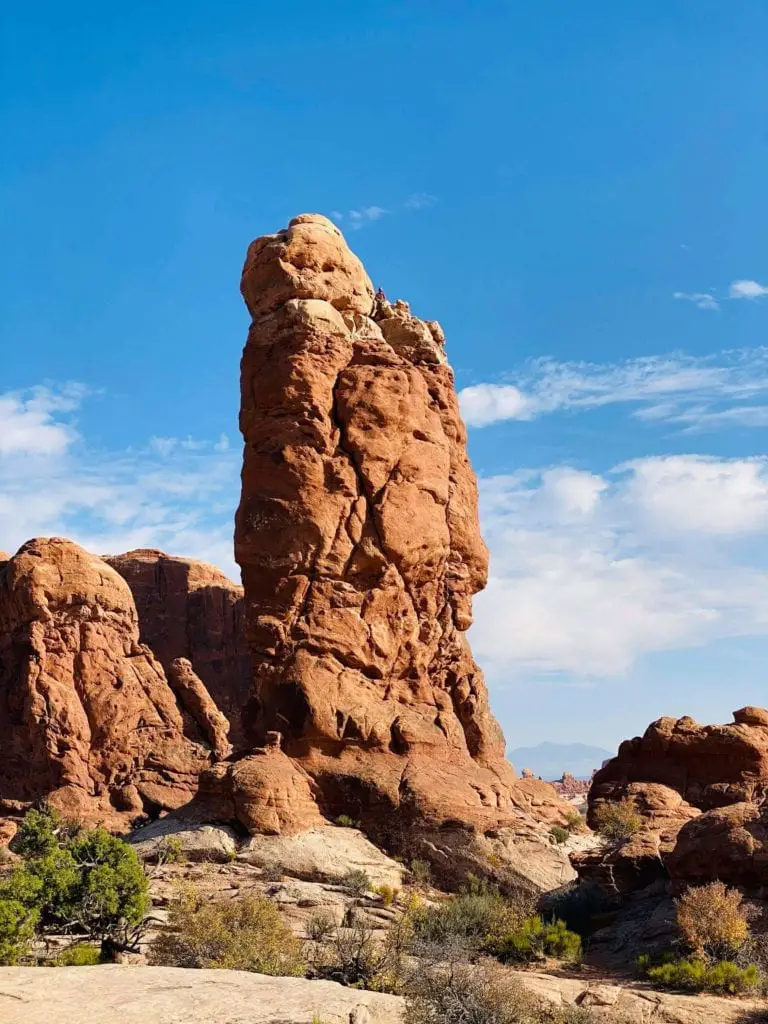 Garden Of Eden
Upon leaving the Windows and Double Arch, you will see the pull in for parking at the Garden of Eden. There will likely be rock climbers there climbing the centerpiece in the Garden of Eden. This is a unique stop, you will get to see some hoodoos and sandstone rock formations in this area. You will see why we have added Garden of Eden to the Arches National Park itinerary.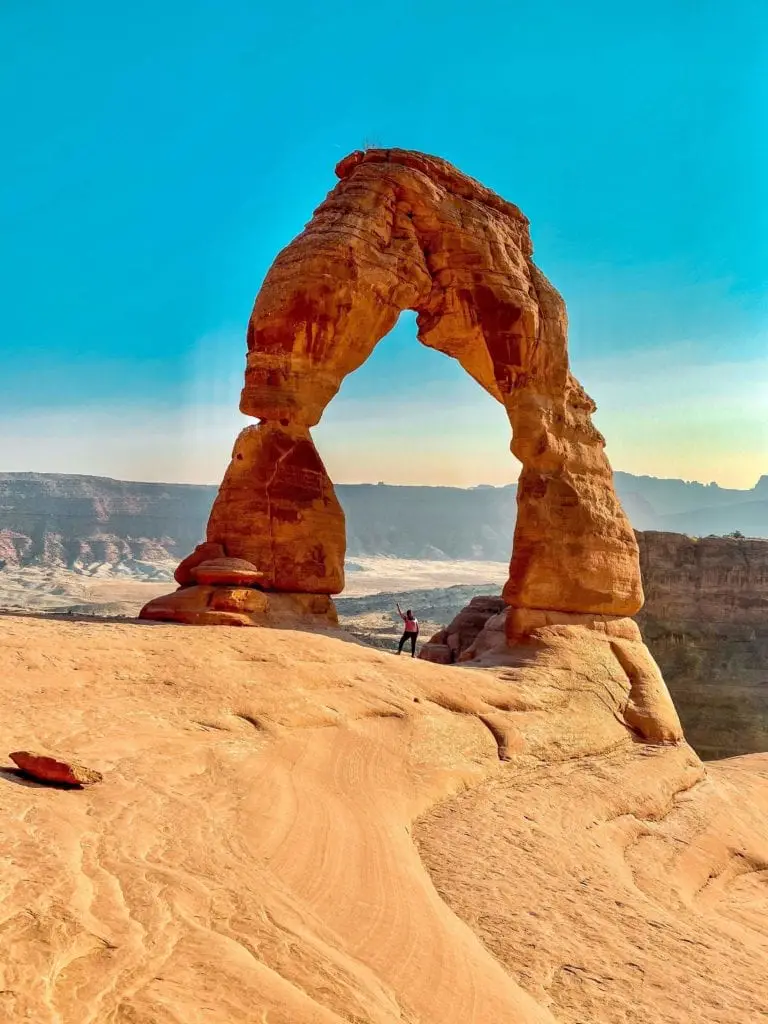 Delicate Arch
Delicate Arch is the main attraction at Arches National Park. This arch is so famous, Utah put it on their state license plate. There are two way to see this lovely arch. The first way is the easiest but not as lovely. You can observe the arch from the lower viewpoint. This option is best for those with mobility issues and those who are tight for time and can't fit the hike into their schedule. The other option is to hike up to the arch. This is a 3 mile round trip hike up sandy trails and slick rock. It is uphill nearly all the way up to the arch. There is also a section of the trail that has a steep drop off (imagine how I felt at this point). If you bring little ones with you, you will need to keep an eye for them, there are several dangers to consider up there but worth the hike.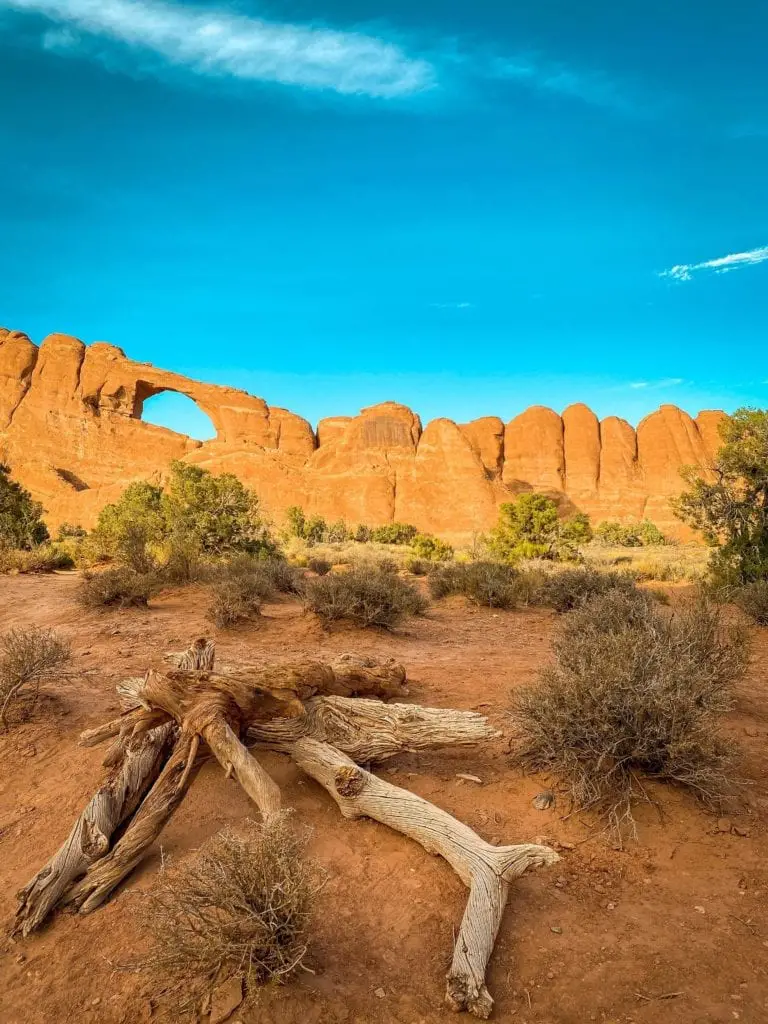 Skyline Arch
This arch made it to our Arches National Park itinerary because of it's beauty and ease to view. You can see it from the parking lot (car park) but it's a short 0.2 mile hike. If you have the time, it's best to hike up to the arch for the best view. If you have more time, you can walk all the way up to the arch and enjoy the views from up there.
Sand Dune Arch
This one was a lot of fun but a bit of a challenge. As the name intimates, this hike involved sand. I am no fan of hiking in the sand but it's a fairly easy hike. Most of the hike will be shaded due to the large rock formations. Kids seemed to really enjoy this short hike, we ran into several playing in the sand and running around having fun. If feels almost futuristic when you arrive at the arch.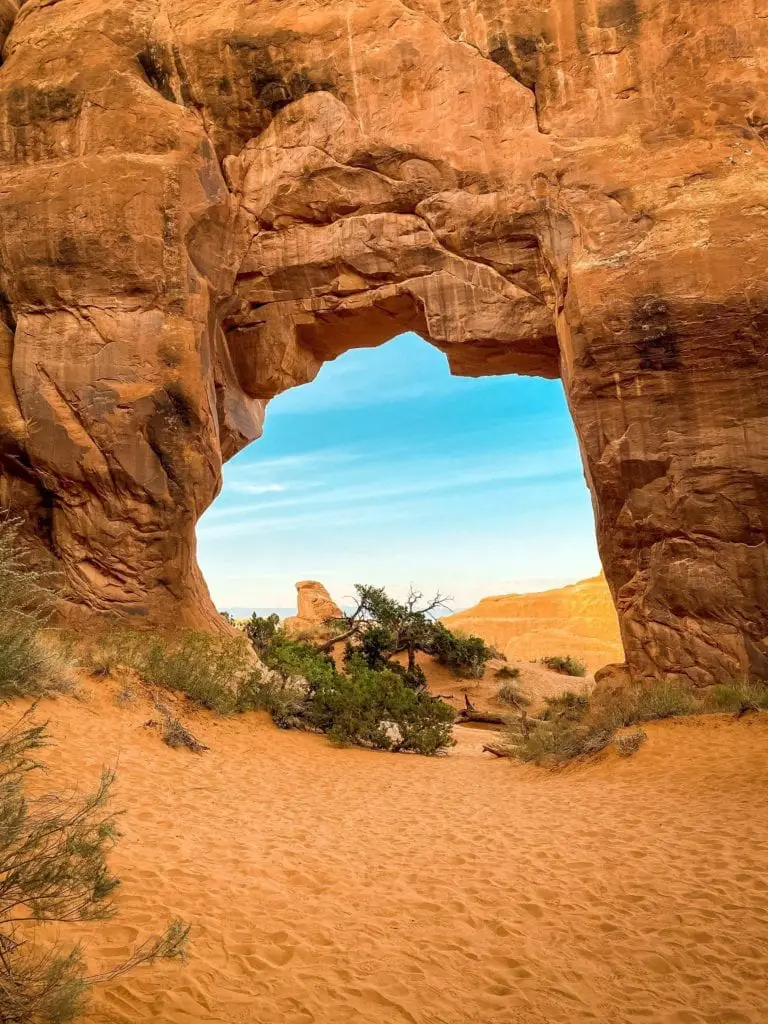 Devil's Garden
Devils Garden is the end of the road in Arches National Park. It is also the trailhead to several arch hikes. The parking lot is massive to accommodate the large groups of people who visit each day. The campground is also located in this area. We chose to camp in this campground and we found it advantageous to be here first thing in the morning. Among the most popular arches in Devils Garden are Landscape Arch, Pine Tree Arch and Tunnel Arch. The most of the trail is paved or hard packed dirt along the way.
For tips on when to visit, see our guide on the best time to visit Arches National Park, or our month specific guide for June.
Tags :
arches national park