Taking Amtrak To Los Angeles: All Your Options
Los Angeles Union Station
Grounded Life Travel is supported by its audience. When you purchase through links on our site, we may earn an affiliate commission.As an Amazon Associate I earn from qualifying purchases. List of everything we use in our travels.
Amtrak trains arriving in Los Angeles will use the beautiful Union Station in downtown Los Angeles. There is no shortage of trains arriving at the station each day. To get to Los Angeles you'll be able to choose from a variety of day trains and long distance overnight trains complete with sleeper cars and observation lounges.
Amtrak to Los Angeles Trains
There are 5 Amtrak trains that arrive in Los Angeles.
Coast Starlight
Pacific Surfliner
Southwest Chief
Sunset Limited
Texas Eagle
The Southwest Chief and Texas Eagle arrive to Los Angeles from Chicago, while the Sunset Limited starts in New Orleans. The Coast Starlight travels south to Los Angeles from Seattle. These four trains are all long distance overnight Superliner trains with sleeper car cabins and an observation car. They also all feature Amtrak traditional dining, for sleeper car passengers.
The Pacific Surfliner is a day train that reaches Los Angeles from San Diego or San Luis Obispo. The Pacific Surfliner has business class, but no sleeper cars.
Amtrak To Los Angeles Map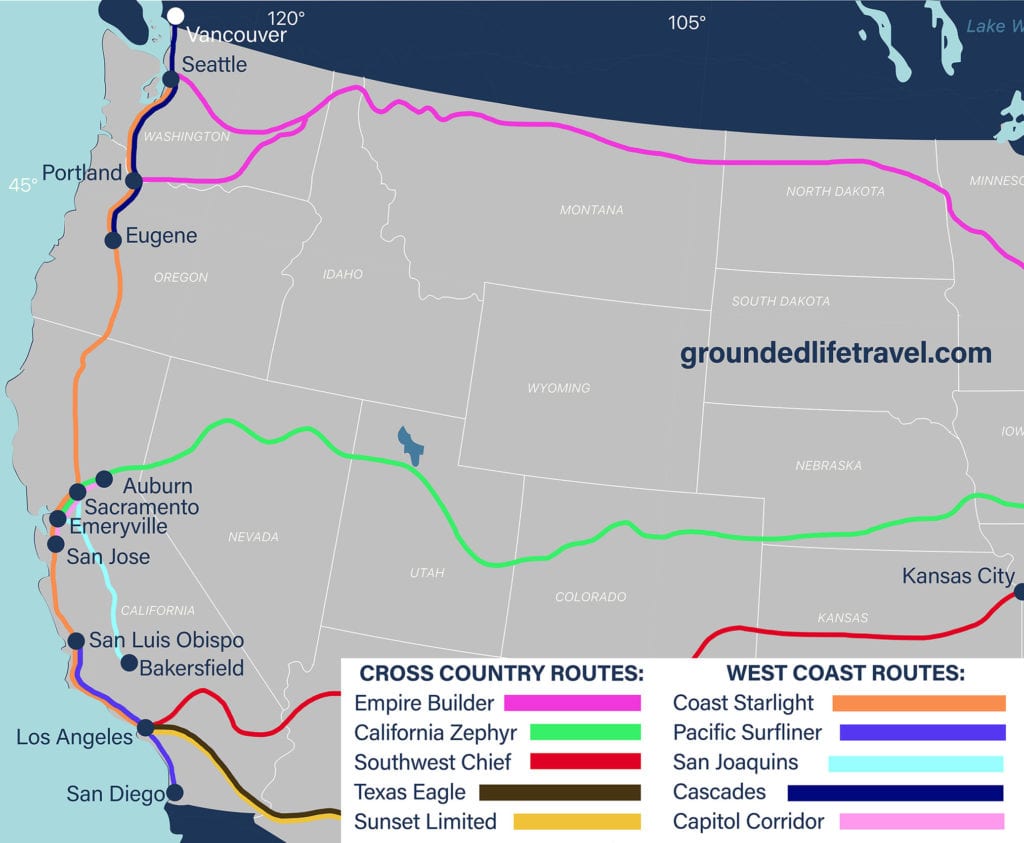 Which Amtrak Routes To Los Angeles Are The Most Scenic
The most scenic Amtrak route to Los Angeles is the Coast Starlight. It hugs the Pacific Ocean south of San Luis Obispo and gives wonderful views of the coast. It is one of the most scenic routes in the county. The Pacific Surfliner runs the same route between those cities, but is not equipped with an observation car. On the Pacific Surfliner there is a chance your seat will be facing the east, which is away from the coast.
Since you cannot guarantee which side of the train your seat will be on, the only way to guarantee you get to see the coast is in the observation car of the Coast Starlight. Observation cars are available to all passenger, whether they are in coach class, business class, or a sleeper cabin.
Which Amtrak Route Is Best From Chicago to Los Angeles
There are two routes from Chicago to Los Angeles, the Southwest Chief and the Texas Eagle. The Southwest Chief is the more scenic route, is the shorter route, and is usually cheaper. There isn't much reason to pick the Texas Eagle over the Southwest Chief unless you are getting off the train in Texas or somewhere near there.
Amtrak Stations Near Los Angeles
Not all Amtrak stations in California will serve trains that travel to Los Angeles. If your final destination is north of Los Angeles, you can get off at a local station such as the Burbank, CA station.
Cost of Coach Class Tickets To Los Angeles
The following prices are for a coach class ticket, when purchased well in advance, for the full length of the route. If you don't travel the full route, the ticket will be cheaper.
| | | |
| --- | --- | --- |
| Train | From | Coach Ticket Price |
| Coast Starlight | Seattle, WA | $101 |
| Pacific Surfliner | San Diego, CA | $36 |
| Southwest Chief | Chicago, IL | $146 |
| Sunset Limited | New Orleans, LA | $142 |
| Texas Eagle | Chicago, IL | $146 |
Alternate Routes to Los Angeles
If you'd like to take the most scenic route possible from Chicago to Los Angeles, you can take the California Zephyr from Chicago to Emeryville, CA and then the Coast Starlight from Emeryville, CA to Los Angeles.
This will involve taking two trains, which will raise the cost. These two trains however are the most scenic in the US. Doing it this way will also involve an overnight stay in Emeryville, but if you want the absolute most scenic route, this is it.