Rome Termini Train Station Guide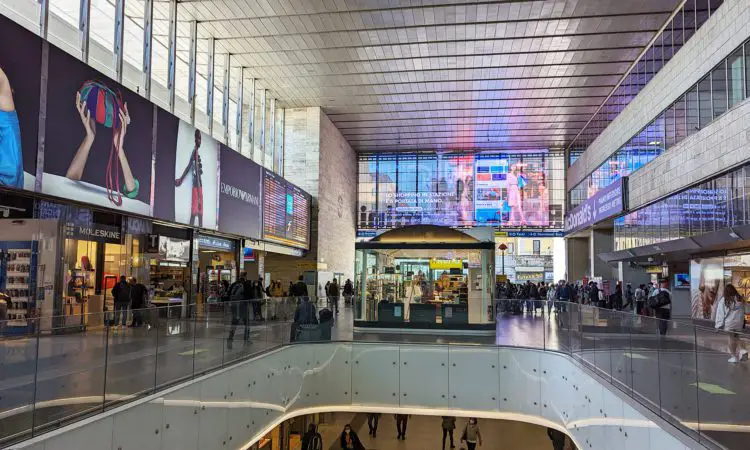 Grounded Life Travel is supported by its audience. When you purchase through links on our site, we may earn an affiliate commission.As an Amazon Associate I earn from qualifying purchases. List of everything we use in our travels.
Rome's Termini Station, or "Roma Termini" to locals, is the second largest rail station in Europe. Many residents of Rome consider this station a normal part of their daily lives, but visitors and tourists are often overwhelmed. Don't let the size and chaos of the station scare you away, though. While it is crowded and busy, you can successfully make your way by using this Roma Termini Train Station Guide.
Rome Termini Train Station Overview
Termini Station has routes to all major cities in Italy, as well as other locations in Europe. Located right in the middle of Rome, Termini is also a central location for travel within the city of Rome. Two metro lines, public busses, and taxis are available. The current station is the result of a design contest in 1947. The original station, built in 1863, received its name from the bath houses, or "thermae", located nearby. Of course, the primary purpose for being at Termini is to catch a train. However, you can also shop, eat, grab a drink, visit the chapel, people watch, and much more. A tourist information desk is located near Platform 24.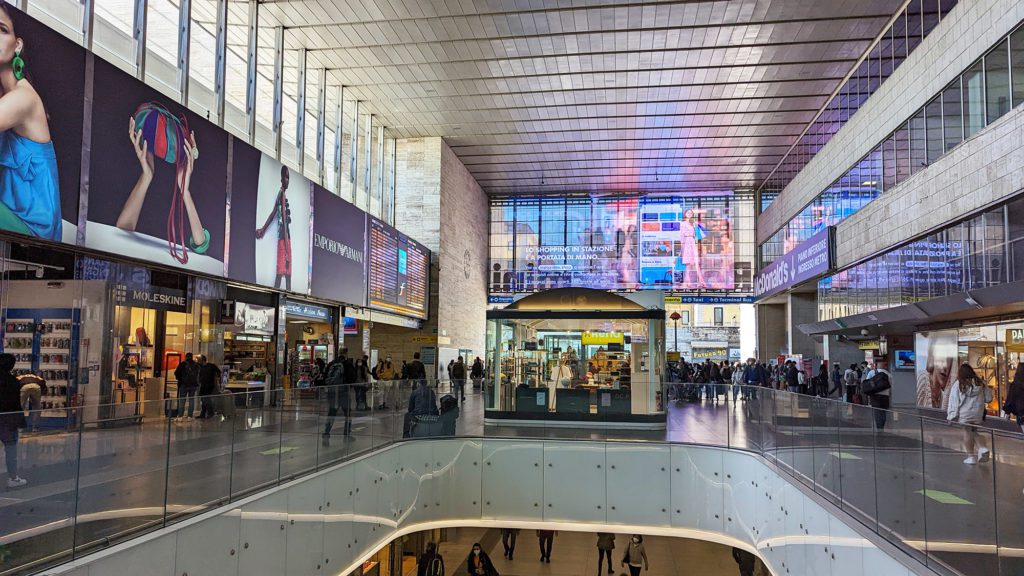 How To Navigate The Train Station In Rome
During your visit to Rome, you will likely need to go to Roma Termini for one or more of the following reasons: transportation to or from the airport, boarding a train for another city in Italy or somewhere else in Europe, and boarding the metro or a bus for your destination in Rome.
The Leonardo Express is a dedicated train line to and from Rome's Fiumicino Airport and Roma Termini Train Station. The ride lasts about 30 minutes, and trains leave every 15-30 minutes, depending on peak times. My husband and I were able to easily navigate buying tickets for the Leonardo Express and finding the platform after we landed and retrieved our bags.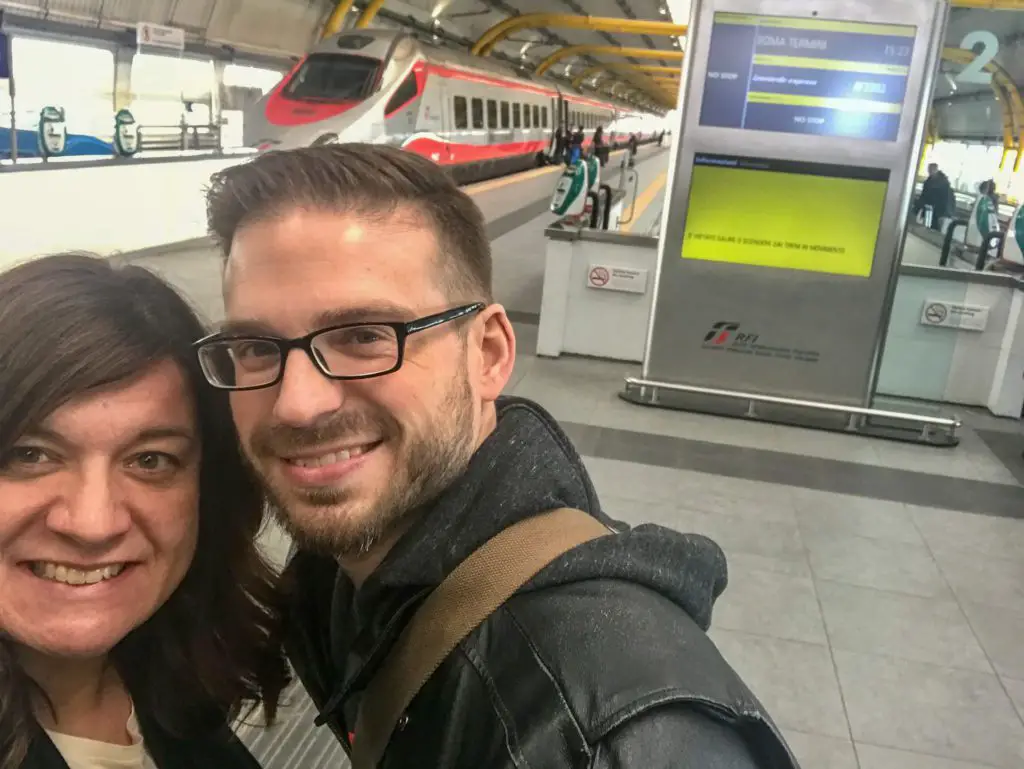 Travelers heading to another city should make their way to the platforms at Termini Station. Your route and platform number are designated by your final destination. We have complied some suggestions for train travel in Italy. If you need help planning your trip, check out our Northern Italy Train Itinerary, Most Scenic Train Rides in Italy, and Best Cities to Visit in Italy By Train posts.
For city transportation, you will find the metro lines downstairs in the Termini station. You can purchase tickets from machines close to the line entrance. The city busses are located just across the street from the main entrance to the station. Additionally, taxis are available at this main entrance. Many visitors prefer to take off walking from Termini Station. Even if your destination is not within walking distance, you can catch the metro or a bus somewhere along the way.
How To Buy Tickets At Rome Termini Train Station
If you are heading to another city, Trenitalia is the national rail company for all of Italy. Tickets can be purchased online in advance or at any train station. I recommend purchasing tickets in advance, particularly during busy seasons. However, many travelers choose to purchase a ticket upon arriving at Rome Termini or other stations. For online ticket purchases, Trenitalia has a website. Some travelers from the United States or other locations in North America prefer to use ItaliaRail, a partner of Trenitalia that is a bit more user-friendly for folks from North America. If you choose to use ItaliaRail to purchase your Trenitalia tickets, you will find non-European credit cards easier to use. Additionally, the Italian city names will be in English, making your purchase a little more simple.
At Termini Station, Trenitalia Customer Service is located just inside the main entrance should you need assistance with your ticket. Metro tickets are available at machines near the entrance to your line. The metro takes you to other areas of Rome. For a more detailed guide on purchasing train tickets, see our post on How To Buy Train Tickets in Italy. If you are unfamiliar with Trenitalia, you might also enjoy this post.
Where To Eat At Rome Termini Train Station
If you are looking to grab something quick, sandwich shops can be found on every level of Termini Station. You can even choose McDonalds! Another quick, cost-effective option is the supermarket downstairs. Head upstairs if you want several choices and a place to sit down. Here you will also notice a digital sign with train information. For a sit-down restaurant experience, The Roadhouse is your best choice. Should you prefer a more formal restaurant, I recommend heading just outside of Rome Termini Station where several fantastic options await you.
Located in an old train station dining hall, the Mercato Centrale is a destination unto itself. I recommend allowing some extra time at Termini Station for visiting this market. A combination of old-world Italy and modern convenience, the Mercato Centrale is a perfect place to get something to eat or drink while enjoying the hustle and bustle.
Shopping in Rome Termini Train Station
You can buy nearly anything at Termini Station. Borri Books is a good place to buy books, of course, and other souvenirs as well. Many name brand stores are also in the station, such as Nike, Footlocker, and Coin. One of my favorites is United Colors of Benetton. You can also purchase a cell phone or explore your temporary cell phone options right there in the station. Most of the cell phone stores are located on the bottom level. Should you need a pharmacy, there are two located in the station.
Where To Stay Near Rome Termini Train Station
You can find a number of hotels very close to the Termini Station. Relais Conte Di Cavour De Luxe is in a great location and provides a nice stay for your entire time in Rome. This hotel, like most others, will allow you to store your bags before or after checkout to make your first and last days in the city easier to navigate. We've also stayed at The Hive Hotel which is a short walk down the hill from the station. This is one of the most modern hotels in Rome. Alternatively, you might choose a house rental such as Airbnb or VRBO. Many choices for accommodations are within walking distance of the station. Those not within walking distance are easy to reach by taxi, bus, or the metro.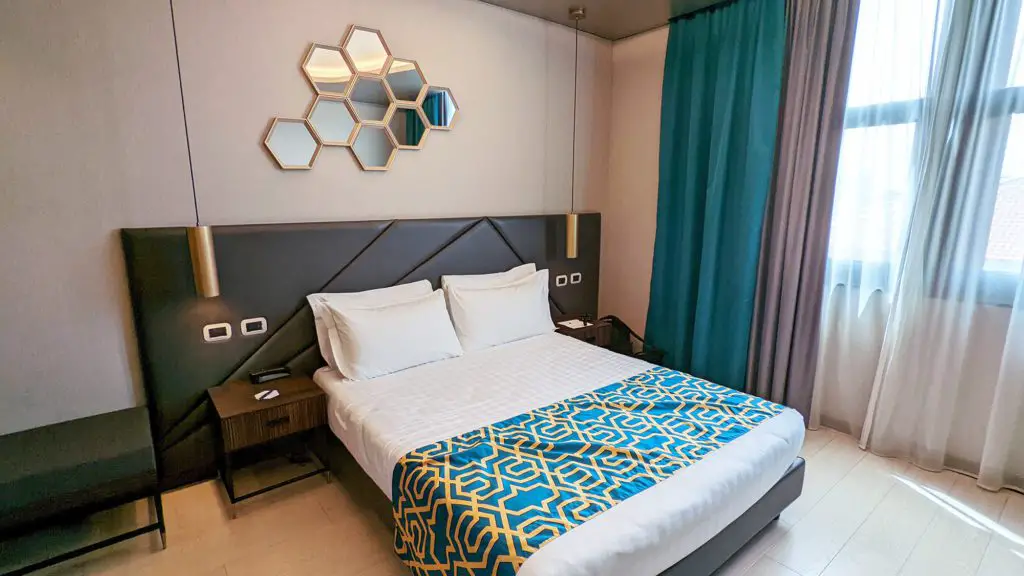 How Early Should I Arrive At Rome Termini?
Unlike air travel, train transportation does not require you to arrive hours early to board your train. I tend to like a little extra time at the station, so 30-40 minutes early is my personal preference. However, in reality arriving 20 minutes early gives you plenty of time to find your platform and even pick up a bite to eat or a last minute souvenir. Platform assignments will appear on digital boards about 15 minutes prior to each train's departure.