Milan Centrale Train Station Guide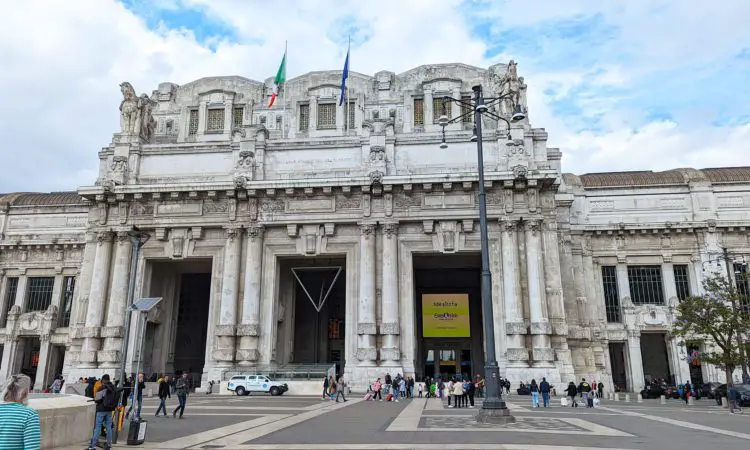 Grounded Life Travel is supported by its audience. When you purchase through links on our site, we may earn an affiliate commission.As an Amazon Associate I earn from qualifying purchases. List of everything we use in our travels.
You've made it to "The Fashion Capital of the World"! Milan is gorgeous and vibrant and so in the NOW!! Famous for setting the trends, this Italian city is home to those that invent and create what is cool and hip to wear on your body. However, there is so much more to this city than high end fabric and super models.
Take a walk around Milan and you will see it is brimming to the top with absolutely fantastic architecture and even more fabulous scenery. Spend a few days in this second most populous city in Italy and you will get a healthy dose of Italian culture through its beautiful cathedrals, dreamy canals and cobblestone streets that beckon you to explore the city markets that are aplenty.
Once you have toured around and gotten the flavor of this dynamic city, consider a trip to another part of Italy or one of the various parts of Europe reached by train. At the Milan Centrale Train Station you can begin or continue your adventure by rail and enjoy one of the best ways to see the world.
Milan Centrale Station Overview
Walk into the Milan Centrale Station and it is more reminiscent of a grand cathedral than a train station. The vaulted ceiling crafted of stone, steel and glass are mesmerizing to take in. During its conception, fascist dictator Mussolini decided the station's plans weren't grand enough and wanted a symbol of his power and authoritarian reign. Therefore, when you walk through the gates you will see monstrous archways that lead to sky high glass, adorned with animals from mythology and roman soldiers wielding their wrath.
Go further inside and you will enter the the even grander hall that houses the platforms to trains that can take you across the world. In contrast to the monochromatic ivory stone of the entrance, you will see more color and glass that is so magnificent, it deserves a visit even if you aren't going anywhere.
On the entrance level you will notice the tall ceilings, the departure boards and its grand scale. Don't let this fact intimidate you as there is adequate signage throughout the station to keep navigating simple. If you need to speak with someone regarding your trip there is a very helpful tourist office that can help you in many ways from booking train tickets to passes to cathedrals and historical buildings. From the entrance floor, you can descend by stairs or by escalator to a lower floor where you will find shopping, ticketing kiosks, left luggage, car rental and a post office.
If you go back up to the main entrance hall and take the stairs to the next level, you will find yourself on the platform level. Here, you will take your train, departing from one of the 24 platforms that terminate or begin from the station. Free WiFi is not always available at train stations aound Europe, but at Milan Centrale Station you can enjoy this amenity free of charge.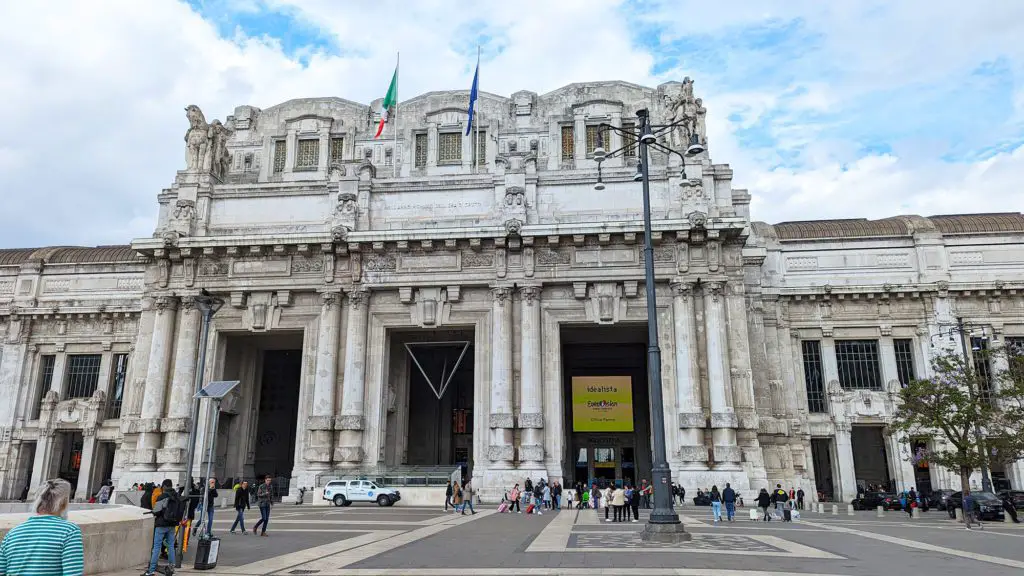 How to buy tickets at Milan Centrale Station
Buying tickets online always cuts time and stress out of travel. It is recommended to purchase before you get to the station if possible and reserve time to enjoy this monstrosity of a structure while you wait for your train.
The best way to book seats for a Trenitalia train is on ItaliaRail if you live outside of Italy. This website is designed to help English speakers easily book tickets on the Italian train system. You could also book directly with Trenitalia, but you'll need to know some Italian, and you'll also need to know each of the city names in Italian. For instance, on Trenitalia, Florence is called Firenze, so you'll have trouble booking the correct cities unless you know what they are all called in Italian.
The second benefit to booking on ItaliaRail is that you credit card will work if you are purchasing from the United States or other overseas countries. If you try to book on Trenitalia, there is a good chance your card will not work and the transaction won't go through.
However, if you wait to purchase at the station the ticket office is located on the main entrance level where you can speak with an English speaking agent. Ticketing kiosks are also located throughout the station. You will find different companies have various kiosks to serve you. You can choose whichever company you want as they are pretty much the same.
Where to eat at Milan Centrale Station
There are so many gastronomic choices in and around the vicinity of Milan Centrale Station that there is no danger of departing on your train hungry.
It doesn't get more convenient than Rossipomodoro Gare centrale de Milan, where you can grab a delicious italian style pizza smothered in mounds of cheese right in the middle of the station. If you want a quick and easy handheld sandwich while on the go, stop by Panino Giusto and order a Tartufo. With prosciutto and mouthwatering pomodoro, you can't go wrong.
However, if you are looking for a venue to relax and take your time in before you set out, Giglio Rosso is a refined and elegant restaurant that boasts classic Milanese dishes along with an extensive wine list. Do your plans call for leaving the property for a moment? Then you must eat at the Terrazza Gallia. Dine in high style with a veranda to a spectacular view of the city and the station. Taste the creation of the three Michelin Star Cerea brothers where their culinary take on food resemble more art than a means to nourishment.
Where to stay near Milan Centrale Station
Where else can you get some of the best food in Europe and lay your head down and dream of your next day's travels? At the Excelsior Hotel Gallia, you will be pampered and lovingly spoiled by their staff after you enjoy one of the best meals of your life at Terrazza Gallia. Milan's reputation for the fashion capital extends to this hotel in its refined furnishings and luxurious guest rooms. Pay extra and book the Katara Royal Suite, the largest suite in Italy and have a fantastic story to tell.
For those of you that need a place to stay that is easier on your wallet, try the UNAHOTELS Century Milano, which is only .2 miles from the station. Here, you will find comfortable accommodations that include great views, amenities for families and they will welcome pet parents with open arms for the night.
For the best value for your money, book at the Hotel Folen. A six minute walk can take you to the station to catch your train, while still having money to spend when you get to your destination. You will wake up in a clean and modern room equipped with everything you need for an enjoyable stay for the best rate in the city.
How early do you need to arrive at Milan Centrale Station
Milan Centrale Station is not only a means to your next destination, but a destination in itself. Every year millions of people visit the station without even buying a train ticket. It is the boastings of a dictator with full coffers that helped create the most beautiful train station in Europe, therefore you must take time to see it. Getting to the station at least 45 minutes ahead of your scheduled departure should give you enough time to enjoy the architecture that adds to the beauty of this part of Italy.
If you haven't bought a ticket yet, allow time for this and then go on a sightseeing adventure. You will add this trip to the station to the best of the best alongside the Colosseum and the Leaning Tower of Pisa.
It is very hard to get seating in the station so if you end up getting to the train station too early, you can check if they are selling day passes for the Freccia Lounge. We were able to buy day passes for 2 people for 25 euros. They were running a 2 for 1 special on that day. The lounge offers a comfortable place to sit and free beverages while you wait.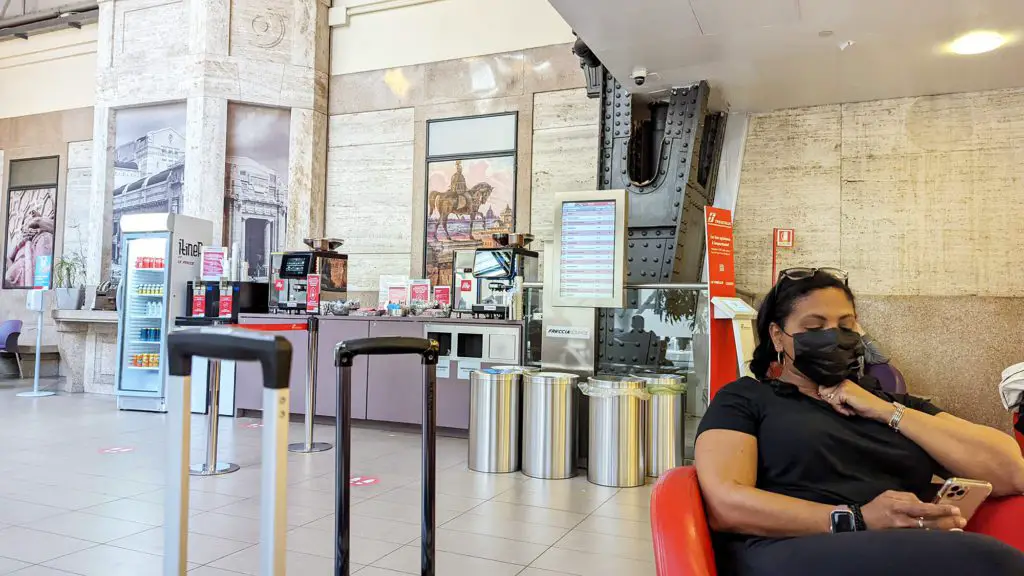 Best trips from Milan Centrale Station
Tirano
For this long day-trip, you will board in Milan and take the 2.5 hour train ride to Tirano. From here, you will board the Bernina Express and see some of the most stunning scenery that Italy and Switzerland offer. You will then arrive in St. Moritz, Switzerland, which overlooks the Engadin Alps. This is a once in a lifetime trip that can't be missed if you enjoy gorgeous snow-capped mountains, breathtaking gorges and photo opportunities that won't come along again.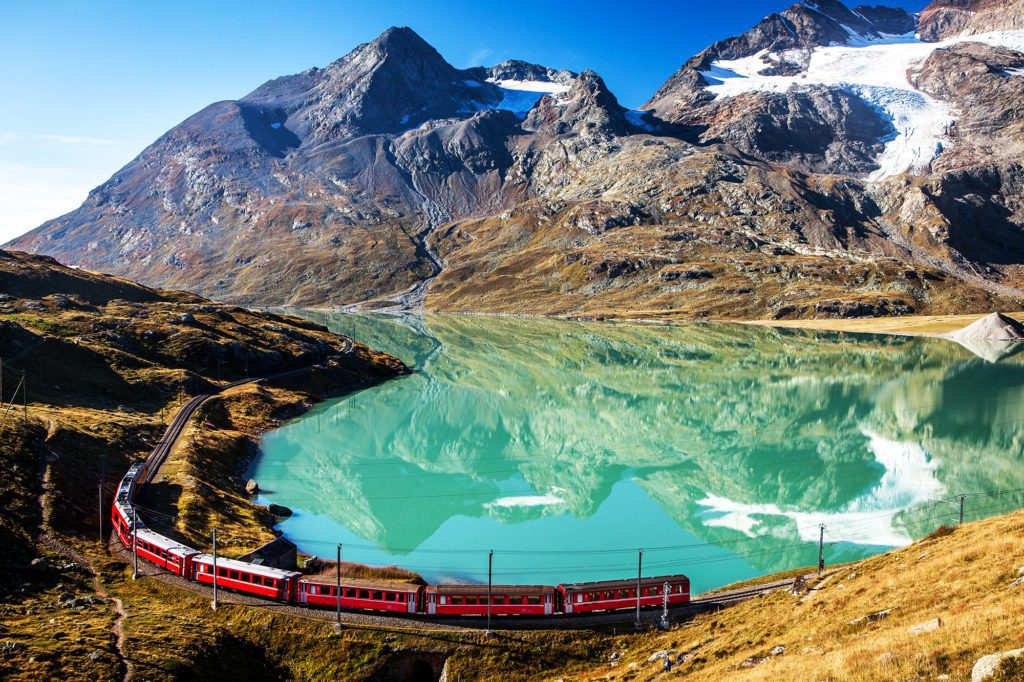 Venice
The fabled canals of Venice can be reached on an easy 2.5 hour train ride. When you arrive, be one of the first to take a gondola ride down the famous Grand Canal. After you day dream and relax while taking in the scenery, head to St. Mark's Basilica and see the precious artifacts that adorn the facade brought over by sea faring merchants from the far east. Lastly, you must see an opera at the famed Teatro La Fenice. Three fires could not bring this magnificent opera house down and it is a feast for eyes and ears as you experience Italian opera as it was intended.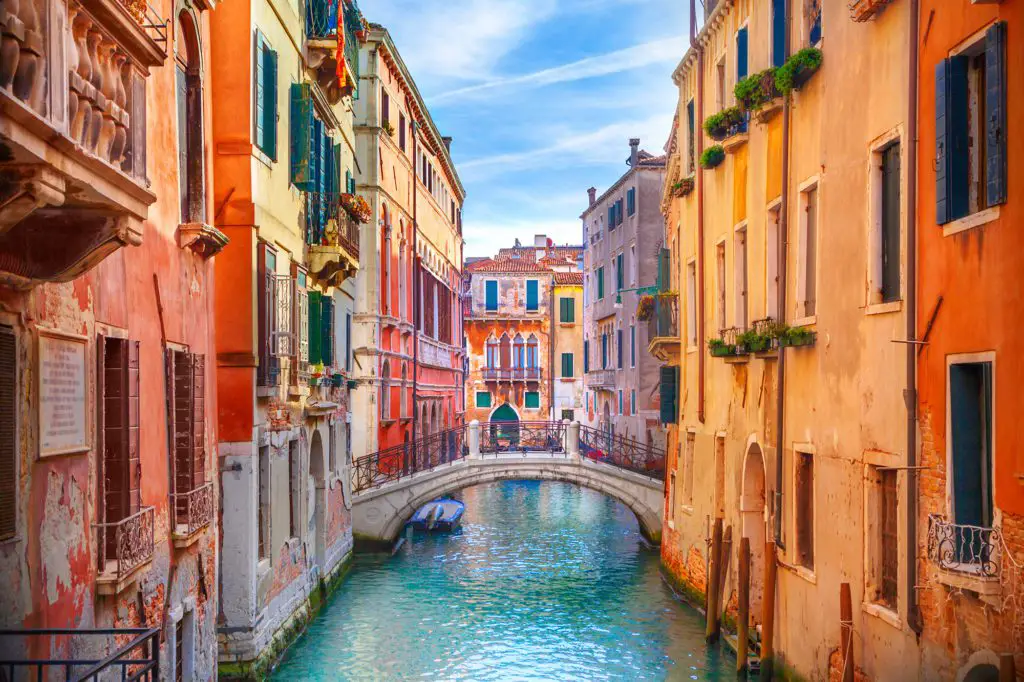 Lake Como
If time is not on your side, then a 30-minute trip by train to Lake Como might be a good choice to round out your time in Milan. Lake Como is stacked deep with the most enchanting Italian lake towns there ever was. Take time to stroll the charming streets of these lakeside towns that dot the shores of this spectacular lake. Experience Bellagio and her beautiful gardens and historic neighborhoods that have Lake Como as the scenery to enjoy. You could also explore Como itself and board a scenic cruise that will detail the history behind the town as well as the extraordinary views that Lake Como so famously produces.
Exploring Milan and the surrounding areas is an activity that you must add to your itinerary if you are planning a European tour. The best of Italy awaits you here and just a train ride from Milan Central Station to round out a perfect holiday for you and yours.