How To Buy Train Tickets In Italy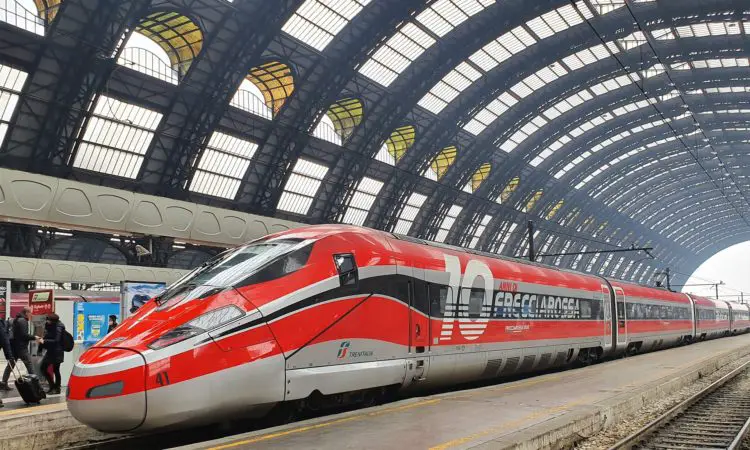 Grounded Life Travel is supported by its audience. When you purchase through links on our site, we may earn an affiliate commission.As an Amazon Associate I earn from qualifying purchases. List of everything we use in our travels.
Train travel in Italy is really the way to go. This is especially true if you plan to visit several different cities or areas of the country. My husband and I took the train from Rome to Florence and from Florence to Venice. We so enjoyed seeing the countryside as we traveled from each place to the next. The excitement of going to a new city made the train ride even more enjoyable. However, purchasing tickets can be challenging, especially if you have never done it before. Here I share my best suggestions for how to buy train tickets in Italy. Check out our Best Cities To Visit In Italy By Train and Northern Italy Train Itinerary posts as you plan your trip.
What Is The Best Way To Book Trains In Italy?
Once your travel plans are in place, the best way to book trains in Italy is ahead of time. The price of train tickets, for long distance and regional routes, goes up as your travel dates get closer. Trains will also fill up, especially during peak holiday seasons. You do have some options for booking ahead of time. Assuming you don't live in Italy, you can purchase the tickets online. Alternatively, if you are already in Italy, you can still purchase tickets ahead of time either online or at any train station. Tickets for any route are available, even if you are not at the station you will be leaving from. Both touch screen machines and manned ticket booths are located in most stations.
While it is a good idea to purchase train tickets ahead of time for much of train travel in Italy, there are situations, of course, that do not call for an advance purchase. When we arrived in Rome, at the airport, we were able to purchase tickets for the Leonardo Express, the train running from the airport to Rome's Termini Station. There is typically no danger of this train filling up, and even if it does, another one will leave in 30 minutes.
Where To Buy Train Tickets In Italy
The easiest and most efficient way to buy train tickets in Italy is online. The tickets are electronic and are accessible on your phone. You can, of course, go straight to the Trenitalia website for purchasing. To be honest, I used the Trenitalia website for purchasing our train tickets, and it worked out fine. Since that time, I have learned of Italiarail, a partner of Trenitalia offering tickets at the same price as the Trenitalia website. I will likely use Italiarail in the future to buy our Trenitalia tickets. I find it to be more user friendly for those who don't speak Italian and don't have a European credit card.
Should you choose to purchase tickets at a train station, you can still buy them in advance at any station. You will find automated touch screen machines which are easy to use. Although the lines may be longer, you can also speak with a ticket booth employee for purchasing. If you haven't already made the purchase online, I suggest buying all of the tickets you will need for the entirety of your trip as soon as you arrive in Italy.
Trenitalia is the railway company I have used and suggest here, and it has the most routes and the largest network. However, Italo and Thello also provide railway service in Italy and sometimes offer competitive prices.
Can You Buy A Ticket On The Train In Italy?
It is not possible to buy a ticket on the train in Italy. Tickets must be purchased online in advance or at a station from a ticket booth or automated touch screen machine.
How To Buy Train Tickets In Italy
When you know your travel plans, I suggest heading to the Italiarail website. Enter your date, locations, and number of travelers, and then click "Find tickets". Note: it is helpful to become familiar with the Italian names for cities (Rome: Roma, Florence: Firenze, Venice: Venezia, etc), as the routes are designated with these names. It is also a good idea, for bigger cities, to determine locations of different stations in the city to ensure you are choosing the one you want.
The next screen, for this particular Rome to Florence route, shows options for time of departure as well as other options on the right side of the screen. Other routes may have different or additional options. Continue to the next screen where you will enter traveler information and then pay for the tickets. Keep your digital tickets accessible on your phone until it is time to get on the train.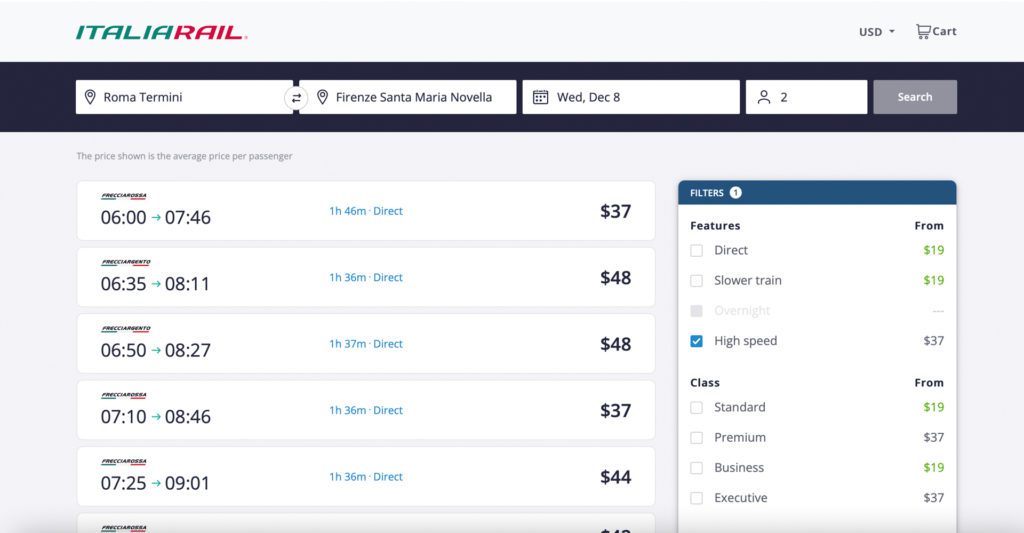 What Is The Difference Between A Ticket and A Reservation?
Perhaps one of the most confusing parts of train travel in Italy is the difference between a ticket and a reservation. In short, you always need a ticket to get on a train. Some routes will require a reservation in addition to your ticket. Some routes will have reservations optional in addition to your ticket. And some routes will not have reservations available at all.
The ticket you purchase in advance guarantees you the privilege of traveling between the two cities you choose. Depending on the route, it may not , however, specify the exact date, time, train, or seat. On the train schedule, you can find out whether a reservation is required, optional, or not available. Of course, if the reservation is required, you will want to purchase that in advance. You can do so online. If the reservation is optional, you can decide whether you want to guarantee yourself a spot on a specific train. If your travel is flexible and it's not a peak holiday time, you may choose to forego the reservation, even if it is an option.
High Speed and Long Distance Trains typically require reservations. However, Regional tickets you purchase online, such as the route from Rome to Florence shown above, will have a specific date and a window of time and do not require a reservation. When in doubt, go to a train station and speak with a ticket booth employee about the tickets you have purchased and whether or not a reservation is necessary.
How Do I Validate My Ticket?
Upon arriving at the station, if you have bought your ticket ahead of time, all you will need to do is validate the ticket and hop on the train. You will see machines near the entrance to the trains where you can validate your ticket. I would compare the validation to scanning your ticket as you board an airplane. At some very small stations, you may not see the validation machines. In this case, simply have your ticket handy, as you may need to give it to the conductor to be punched.
Validation, however, is not required for all trains and routes. Additionally, validation is generally not required for digital tickets or tickets you printed at home, only paper tickets you purchased from a train station. Should you have any questions, employees are quite helpful. Simply show your ticket, whether digital or printed, and ask if validation is necessary.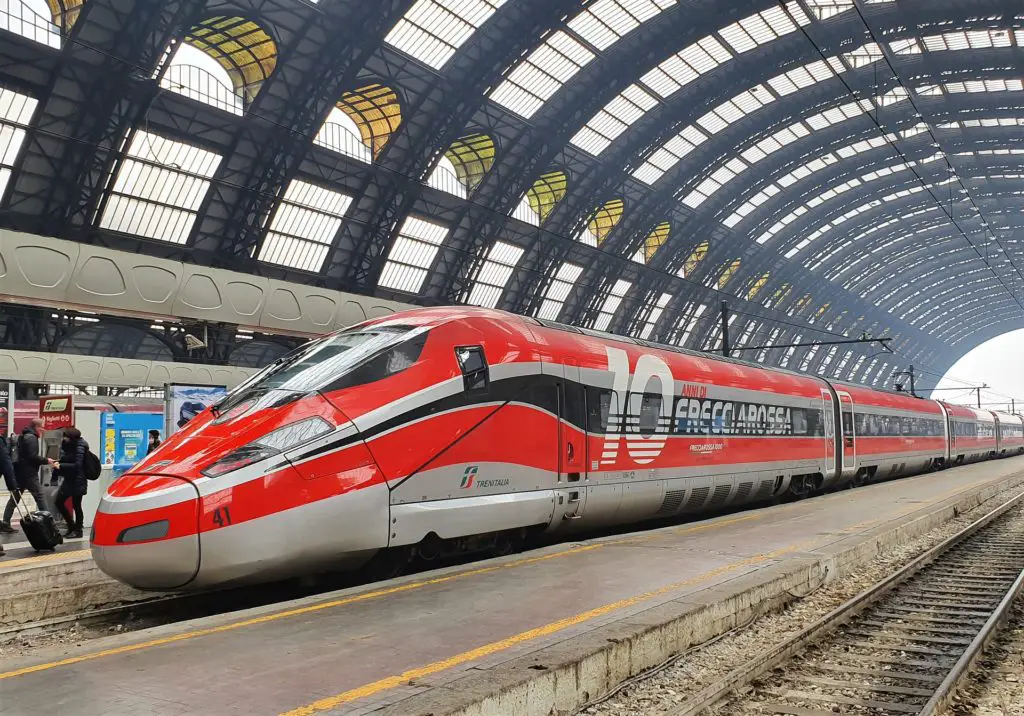 Should I Buy Italian Train Tickets In Advance?
As I plan and think about how to buy train tickets in Italy, one of the first things that comes to my mind is the importance of buying Italian train tickets in advance. However, even if you are not concerned about the availability of tickets, the cost will go up as your travel date approaches. I suggest buying your tickets as soon as you make your travel plans.