Firenze Santa Maria Novella Train Station: A Complete Guide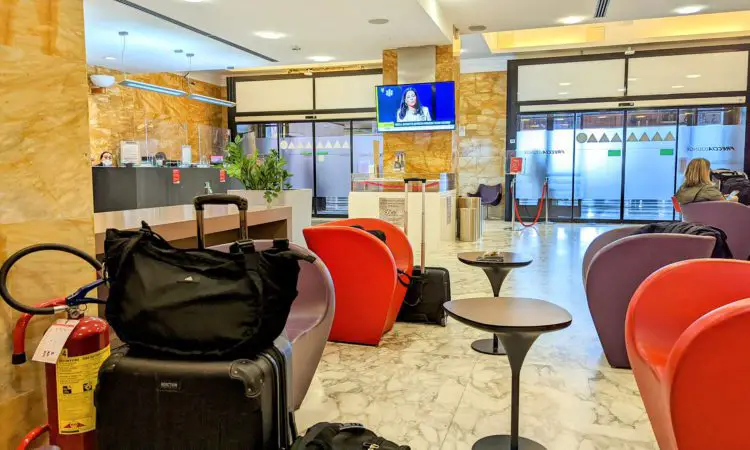 Grounded Life Travel is supported by its audience. When you purchase through links on our site, we may earn an affiliate commission.As an Amazon Associate I earn from qualifying purchases. List of everything we use in our travels.
Florence is one of the most beautiful cities in the world. Full of history and charm, one trip to this fabulous Italian city won't be enough to satisfy your craving for all things Tuscan. Home to Michaelangelo, Leonardo Da Vinci and Galileo Galilei, Florence is considered to be the art capital of Italy.
So, on your first trip, you must not miss the likes of the Piazzale Michelangelo or his masterpiece David. Take time to tour the Uffizi Gallery and take in some real Italian art. Additionally, you can venture to the Tuscan countryside and taste fantastic Italian wine, made lovingly for centuries. There is so much to do, you will have a difficult time narrowing down your itinerary while in Florence.
There is also a plethora of food to eat. The tantalizing Tuscan affair that is on every corner as you travel through the city will keep you delighted. It's only unfortunate that you have one stomach. Yet, when you have toured and shopped and eaten, there is still more exploring to do. Why not do it by train? The Firenze Santa Maria Novella Station is the best place to start your journey to explore more of Italy.
Firenze Santa Maria Novella Station Overview
The Firenze Santa Maria Novella Station is one of Italy's busiest stations with more than 160,000 people gracing its platforms everyday. In fact there are 59 million people a year that use this station as a starting point for more Italian adventures.
A throwback to 1930's modernism, the building was constructed by architects of the Gruppo Toscano. This collection of brilliant architects completed the construction of the station in only two years. It would become Italy's premier train station and where many would visit daily.
The location of the station is perfect for the sightseer as it is in the middle of many popular attractions. There are 19 platforms to get you to where you need to go and you can get to almost anywhere in Italy by starting at this highly vibrant and exciting train station in Florence. Trains run from very early in the morning until midnight, which brings over 400 trains to the platforms everyday. Both high speed and regional trains run from this station so you can get to a neighboring town or another country quickly.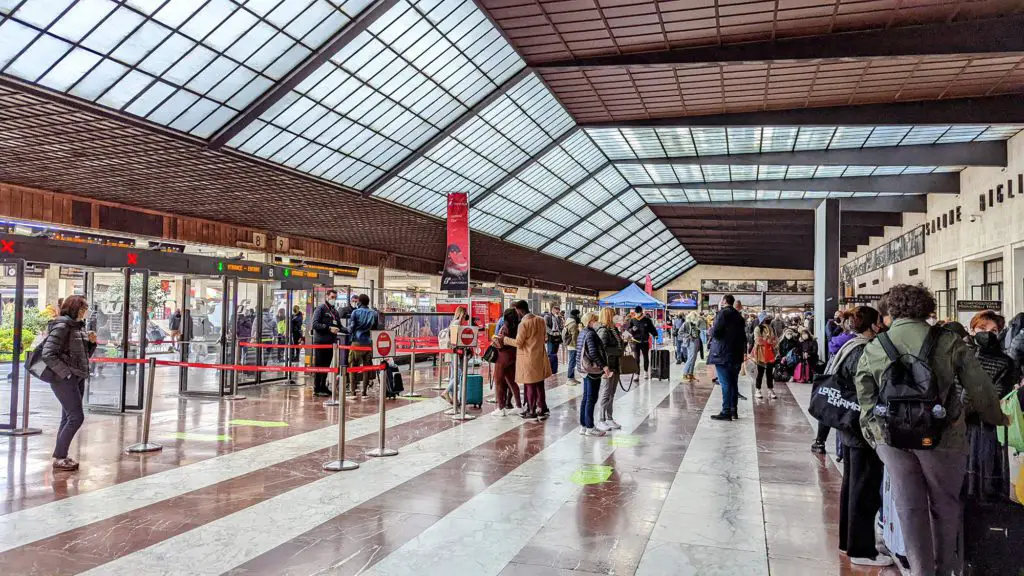 How To Navigate Firenze Santa Maria Novella
Firenze Santa Maria Novella was named after the church with the same name that is located across the piazza from the station. If you are visiting the church, keep walking to the underpass and you can pass under the road without worrying about traffic. This is about a two minute walk. You can also get here using a multitude of modes of transportation including bike, tram, car or taxi.
In the main hall, you will see the large arrival and departure screen that details the happenings of the station, so make sure you pay attention to the board so you know when you need to board.
In the main part of the station there are shops and restaurants to pass the time until your departure. If you take the escalator down to the terrace level you will find more shops and cafes.
The 19 platforms are found outside beyond the main hall. You will find platforms 5-19 as you enter and platforms 1-4 staggered to the left of the main platform. Pay toilets are also located here.
If you have time you can also visit The Italo Club Lounge. You are permitted here if you are in Club Executive class or you are Italo Più Privilege or Platinum member. The club is located to the left of the train station if you are facing the tracks. Upon entering you will be met with comfortable red leather couches. A snack bar with cookies, crackers and sparkling water and soft drinks is also available as you rest.
If you are riding on Trenitalia you'll have access to the Freccia Club if you are riding in Executive Class or Business Salottino. There are other ways to gain entry, but they are mostly for locals who ride trains frequently. You can check if a day pass is available.
We found the Freccia Lounge worth entering, but it wouldn't be worth upgrading your ticket just to do so. Some of the other lounges, like in Milan, are much bigger.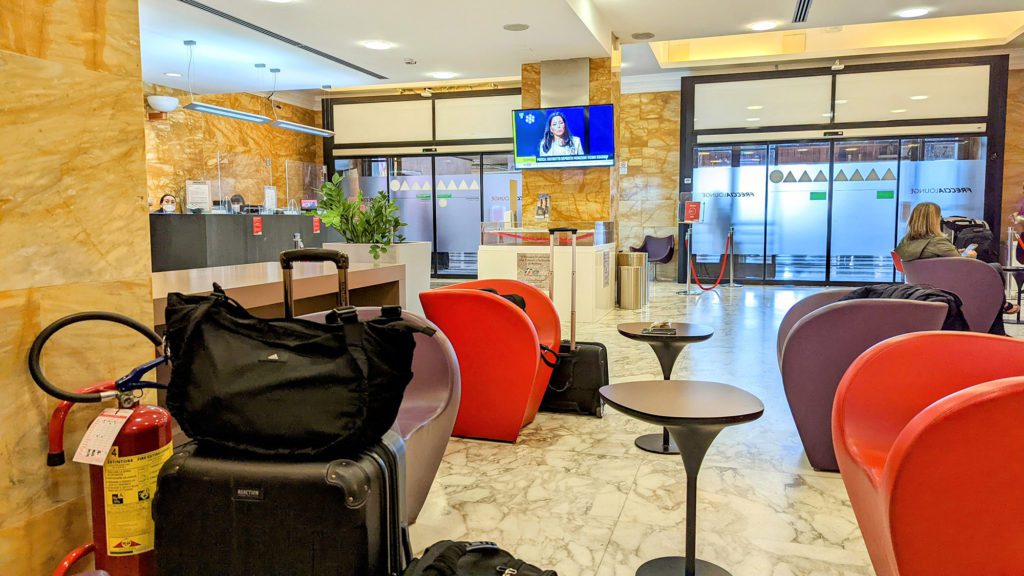 How To Buy Tickets At Firenze Santa Maria Novella
As soon as you enter you will notice all of the options for ticketing at ticket machines. You can also visit the ticket office and speak with an agent. We recommend buying tickets in advance from ItaliaRail if you don't speak Italian and are riding a high speed train. This website is designed to help English speakers easily book tickets on the Italian train system. You could also book directly with Trenitalia, but you'll need to know some Italian, and you'll also need to know each of the city names in Italian. For instance, on Trenitalia, Florence is called Firenze, so you'll have trouble booking the correct cities unless you know what they are all called in Italian. It isn't usually necessary to book regional train in advance, but good seats on high speed trains can sell out.
The second benefit to booking on ItaliaRail is that you credit card will work if you are purchasing from the United States or other overseas countries. If you try to book on Trenitalia, there is a good chance your card will not work and the transaction won't go through.
Where To Eat At Firenze Santa Maria Novella Train Station
There are so many choices to satisfy your hunger at this station. La Feltrinelli Bookstore has a cafe for a quick craving for a coffee or croissant. The Piadina is a cafe that has excellent flatbread sandwiches, soups and salads. There is also a Mcdonald's if you are wanting that taste of Americana. Get your gelato fill at Venchi Gelato for that afternoon sweet tooth craving. There are also a few coffee and pastry shops for a quick, on the go grab, before your train.
Where To Stay Near Firenze Santa Maria Novella Train Station
There are many affordable places to stay near the train station. All are within walking distance which can cut down on the time needed to get to your platform in time. The Hotel Santa Maria Novella is a stately hotel that includes free breakfast. If you want chic, stay at the Ambasciatori Hotel Florence. With its stylish rooms and bar with a wonderful ambiance, you can enjoy a drink or two. The Hotel Boccaccio features balconies that overlook a pool as well as a restaurant on the property. Of course, there are always many Airbnb's if you prefer more of a home type stay. You can find many of these within comfortable walking distance to the train station.
How Early Do You Need To Arrive At Firenze Santa Maria Novella
As a rule, it is always a good policy to arrive at the train station and be familiar with where you will need to go 20-30 minutes before your scheduled departure. If you don't know the language, it is best to be early to give you time to orient yourself and go to the ticket counter if there are questions or you need help navigating. There are also information kiosks that can help you navigate the train station.
Best Trips From Firenze Santa Maria Novella
From Florence you can get to many top destinations in Italy. The high speed train options make it possible to be sightseeing so quickly when departing your train. In just over an hour, you can travel to Pisa and see the leaning tower just like you've dreamed about. In two hours you can be navigating the canals of world famous Venice. Visit the Colosseum in under 1.5 hours when traveling to Rome from Florence. Another great option is visiting the beautiful Cinque Terre region.
Taking a trip from the Firenze Santa Maria Novella Train Station can be an amazingly fun adventure. Make sure you tour around the city and take in some sights before your train excursion commences. However, get to the station early and enjoy the amenities before you set off on another European excursion that will build lasting memories.