Bologna Centrale Train Station: A Complete Guide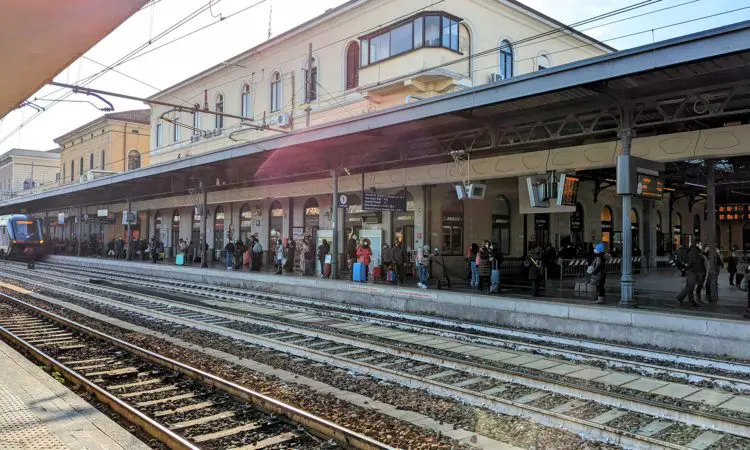 Grounded Life Travel is supported by its audience. When you purchase through links on our site, we may earn an affiliate commission.As an Amazon Associate I earn from qualifying purchases. List of everything we use in our travels.
Bologna is a gorgeous and dynamic Italian city located at the top of "the boot". Not only is it home to some of the best Italian food you will find on the planet, but it is known for having the first university in the world. Established in 1088.A.D, the University of Bologna is so esteemed that it counts Dante and one of its former students.
Bologna has the advantage of being in the middle of the country, it gets many visitors clamoring to see, not only its beauty, but the amazing cities that can be reached from its city center. The Bologna Centrale Station is an energetic and lively station that gets travelers to this city and connects them to other southern parts of Italy such Milan, Florence and Venice.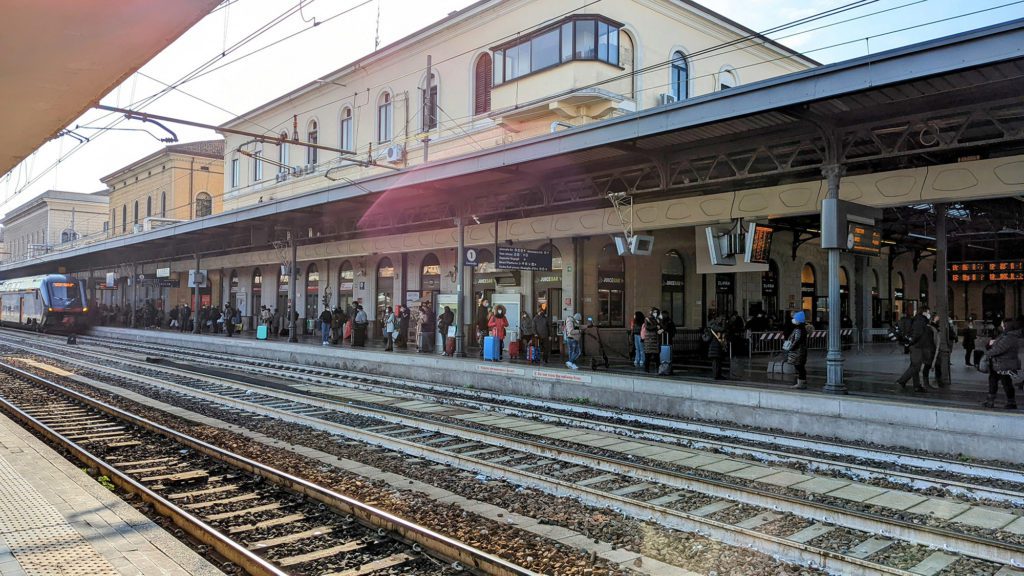 Bologna Centrale Station Overview
The Bologna Centrale Station is a busy place. With more than 58 million people riding its rails per year, it is the fifth busiest train station in Italy. There are 27 platforms that serve over 800 trains daily, taking people to virtually anywhere they would like to go in the country. When you arrive, walk through one of the nine entry doors that will lead you into a beautiful neoclassical style building reminiscent of what you will find in nearby Florence.
One interesting fact about the building is that it was originally built with a clock tower that was, subsequently, bomb in World War II, never to be rebuilt again. Sadly, another bombing in 1980, the Bologna Massacre, also occurred when an IED was detonated killing and injuring almost 200 people.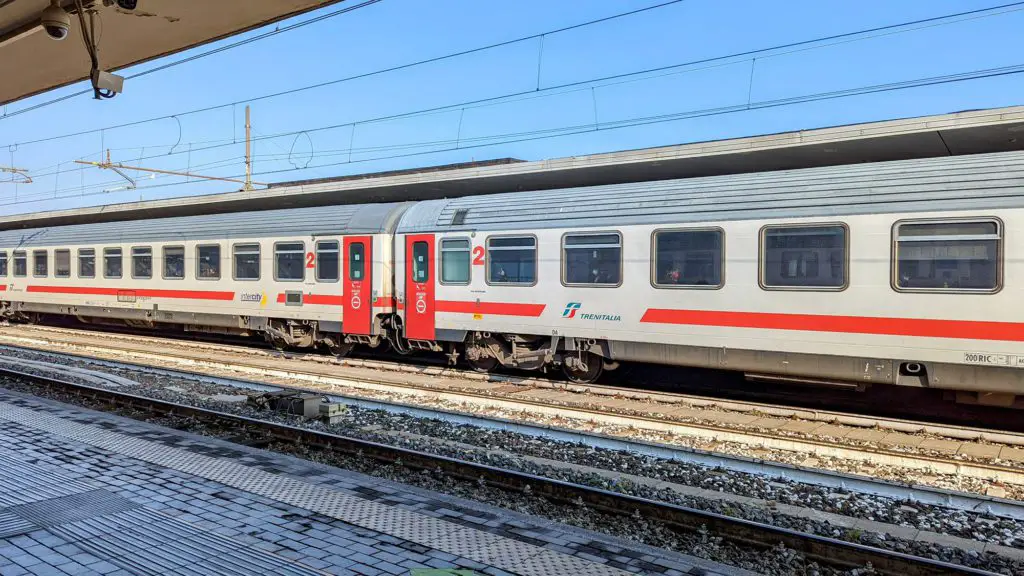 The Bologna Centrale Station is efficient yet can be confusing to a newcomer. The station is divided into what is, essentially, four different stations. There is the main station, the subterranean high speed station, the Ovest/West hall and the Est station. These all will take you to various parts of Italy. Make sure that when you are looking for your platform to note which station you are departing from. The main station, Ovest and Est all will have the same numbering with only the lettering for distinction, so it can be confusing.
When you enter the station you will be entering the atrio centrale or main hall. Here, you can find your departing train and the platform in which it will arrive on the above boards. An announcer will also provide passengers with information on arrival and departures in Italian and English, making it easier to for travelers to follow along.
How To Buy Tickets At Bologna Centrale
There are three ways to buy your train ticket. To your right as you enter the main hall, you will find the ticket counter. You can take a number and wait in line to speak to a ticket agent. This is a good idea if you are new to traveling in Europe or you have trouble navigating new places. If you feel comfortable, you can also visit the self service machines that are provided by Italo and Trenitalia, respectively. If you planned ahead, you may have even purchased your ticket online, which can save time and cut down on confusion.
The best way to book seats for a Trenitalia train is on ItaliaRail if you live outside of Italy. This website is designed to help English speakers easily book tickets on the Italian train system. You could also book directly with Trenitalia, but you'll need to know some Italian, and you'll also need to know each of the city names in Italian. For instance, on Trenitalia, Florence is called Firenze, so you'll have trouble booking the correct cities unless you know what they are all called in Italian.
The second benefit to booking on ItaliaRail is that you credit card will work if you are purchasing from the United States or other overseas countries. If you try to book on Trenitalia, there is a good chance your card will not work and the transaction won't go through.
Where To Eat At Bologna Centrale Train Station
There is a great selection of restaurants in the train station to choose from. You can grab a quick bite or have a four course meal at this station.
Try Dispensa Emilia if you have time to kill. Here, you can get a pasta dish, such as their Traditional Ragu or a stuffed pasta such as Tortellini. Their salads are to die for and can be eaten as a meal as well. With arrival to the train station in the morning, there is no better place to eat breakfast than Dispensa Emilia.
Do you want a famous Italian pizza pie? Look no further than Rossopomodoro. If you are wanting gourmet pizza done the way only Italians can do, try the Nocerina or Cafeuncella, two of their most popular pies. Their dessert can not be beat with ten mouthwatering desserts to choose from.
Do you miss greasy comfort food and need a taste of Americana? There is a Kentucky Fried Chicken right outside the station that can give you a slice of home. Order a bucket of chicken, mashed potatoes, green beans and a piece of apple pie. This is sure to cure any aches your tummy is giving.
Where To Stay Near Bologna Centrale Train Station
Do you have an early train and want to stay near the station? There are a many hotels to choose from in the area.
UNAHOTELS Bologna Centro has class and style with its glass foyer and modern chic. Jacuzzis and gyms round out this hotel that boasts beautifully furnished rooms and suites as well as a bar and restaurant. You get all of this within a two minute walk to the station for your early morning train.
Bologna Centrale Rooms B&B is nice for the budget conscience traveler. This hotel features comfortable accommodations at an affordable price and right across the street from the station. Grab breakfast in the morning if you have time as it will be one of the highlights of your stay.
If you have one minute to spare, you can be at the station from this hotel. The Mercure Bologna Centro is close, has a bar and a garden. What more could you ask for? Accommodations are cozy and clean and you can enjoy free WiFi and free breakfast in the morning.
How Early Do You Need To Arrive At Bologna Centrale?
Arriving early at any train station is a good practice, especially if you are new to the area. This can be a train station that has somewhat of a learning curve because it is broken up into smaller stations. Getting to the station with 45 minutes to spare should allow you to orient yourself and ask customer service any questions that you have. If you have time to spare, you can always grab a gelato!
Best Trips From Bologna Centrale
From Bologna, you can go virtually anywhere you want to go in Italy. With 800 trains coming and going everyday, you are bound to find the right trip for an amazing adventure.
Verona
Start by visiting Verona, Italy. In under an hour by high speed train, you can be in the city most known as being the setting for Shakespeare's "Romeo and Juliet". However, there is so much more to this city. Begin your tour at the Verona Arena and see this marble 1st century spectacle for yourself. Next, visit one of the most beautiful churches in all of Italy when you step into Sant'Anastasia Church. You know it's something to see when you learn it took 120 years to finish! Don't leave Verona without walking the maze of the Giusti Gardens. This 16th century, lovingly cared for garden is a part of the Giusti Palace and is considered one of the best Renaissance gardens in all of Europe.
Rimini
Everyone needs a beach vacation in their lives. You'll find just that in this little gem on the coast. Rimini is only 53 minutes by train from Bologna. Here, you will find relaxed beaches and seaside fun. Spend a day on the beach soaking up the sun and then choose to paddle board or cruise the coast as you watch the sun set. Next, take an e-bike tour of old town and check out sights such as the Piazza Cavour and the Ponte di Tiberio. Beautiful and historical sites are plenty in the sweet Italian coastal town.
Ravenna
Ravenna is fabulous and can be reach from Bologna in a little over an hour. If you have come to Italy to see some stunning architecture than Ravenna has you covered. There are eight early Christian monuments of Ravenna that are a must see. During the 5th and 6th centuries, a flurry of architecture and art coupled with the new found Christian Era made Ravenna the epicenter of magnificent building and artistic expression. Spend the day or a week, but Ravenna must be seen to be believed.
Any trip you take from Bologna is bound to fulfill your need for exploration and adventure. Starting at Bologna Centrale Station is a great way to ensure you see every part of the Italian landscape, making for a superb vacation.