Venezia Santa Lucia Train Station: A Complete Guide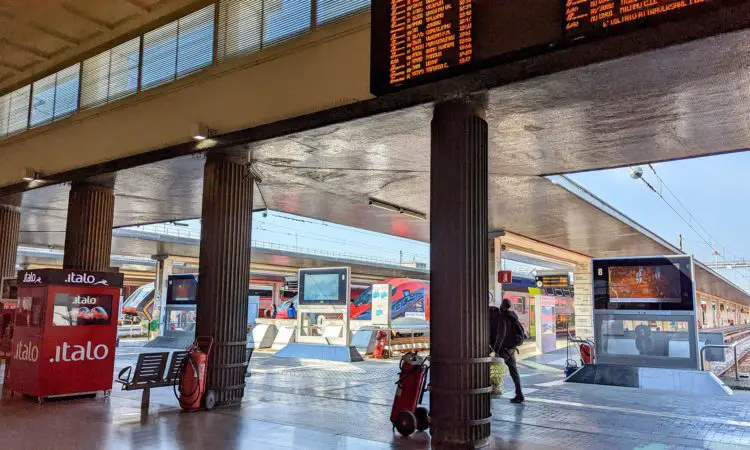 Grounded Life Travel is supported by its audience. When you purchase through links on our site, we may earn an affiliate commission.As an Amazon Associate I earn from qualifying purchases. List of everything we use in our travels.
Traveling around Europe is a lifelong dream for many. When traveling there are many modes of transportation that one can choose. Train travel is a convenient and comfortable way to get from city to city when exploring all the European highlights.
Venice is one of those absolute highlights that just can't be missed. The canals, the food, the history and the people make this a stop that must be included on any itinerary. The Venezia Santa Lucia Station is a located on the Grand Canal and is a fantastic place to start your tour of Italy and beyond.
Venezia Santa Lucia Station Overview
Venezia Santa Lucia Station was born out of a church that was established in 1192, B.C. to serve as the final resting place for St. Lucy. Over the years, it would become a nunnery and finally in 1860, a train station. Although the original structure was demolished and St. Lucy's body was moved to a nearby church called San Geremia, the history and the remnants of the church are still apparent today.
The modern building that you see today was the result of a compilation of construction and renovations that took place over a period of eighty years where many architects brought their ideas and expertise to this historical location.
One of two very important station's in Venice, the other mainline station is Venezia Mestre. This is connected to Venezia Santa Lucia by the Ponte Della Liberta. The station is not short on history and lore, and this fact helps it shine against the backdrop of the Grand Canal that you will be eager to explore.
How To Navigate Venezia Santa Lucia
Navigating the Venezia Santa Lucia is simple once you learn that there are twenty-three platforms in which your train may depart. To get to these platforms, you must first enter the building where you will be delighted by retail shops among many lighted screens that detail all the departures and arrivals for train travel. There are three passageways between the retail shops that lead to areas such as the ticketing office, the food court and the luggage office.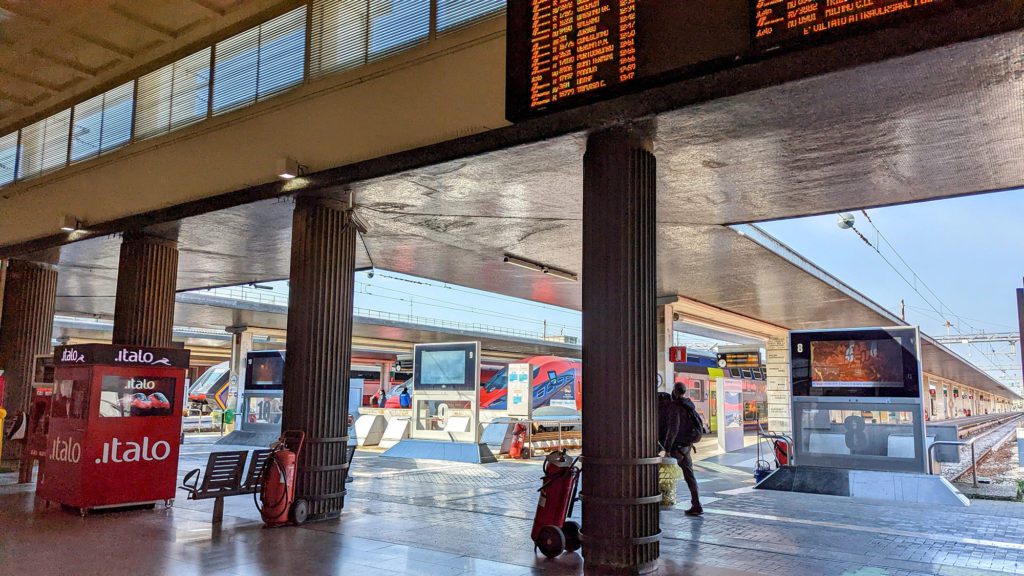 How To Buy Tickets At Venezia Santa Lucia
The passageway to the left when you walk in the front doors of the plaza will lead you to the Trenitalia ticket office where you can take a number and wait to be called for ticketing. Alternatively, you can save time if you use one of the Trenitalia and Italo self service ticket machines that are located throughout the station. There is an option for English speaking patrons, therefore getting a ticket is quick and easy.
The best way to book standard class seats for a Trenitalia train is on ItaliaRail. This website is designed to help English speakers easily book tickets on the Italian train system. You could also book directly with Trenitalia, but you'll need to know some Italian, and you'll also need to know each of the city names in Italian. For instance, on Trenitalia, Florence is called Firenze, so you'll have trouble booking the correct cities unless you know what they are all called in Italian.
The second benefit to booking on ItaliaRail is that you credit card will work if you are purchasing from the United States or other overseas countries. If you try to book on Trenitalia, there is a good chance your card will not work and the transaction won't go through.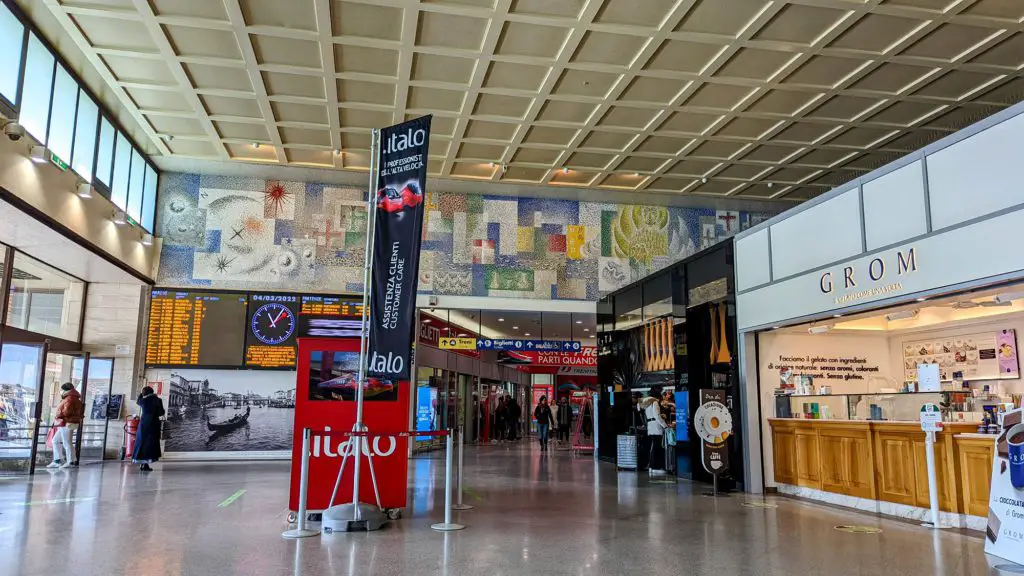 Where To Eat At Venezia Santa Lucia Train Station
This train station can keep you occupied with food and drink, alike. If you are on a layover or you just have time to kill and want to explore more great Italian food on your visit, you must eat! VyTA is a cafeteria in the station that is a great place to grab a croissant, coffee or any other pastry or delicacy you may be craving. They also have sandwiches if you have a penchant for something more.
Rossopomodoro Venezia Stazione is where you need to go for pizza. Pizza is from Italy and they know their was around a slice. Bistrot Santa Lucia is a great place to go for a drink and a small plate or light lunch. The Auto Grill is also a delicious cafe for a sandwich and a drink on the go. Spizzico is also a nice pizza joint for pizza on the run or to take onto the train.
However, if you just want to relax and have a coffee, try Relaxation and Coffee and reenergize yourself for the next leg of your trip.
Where To Stay Near Venezia Santa Lucia Train Station
There are a variety of places to stay if you are looking to get an early start the next morning on you r rail adventure. All within a third of a mile or less of the train station, you can book with the Hotel Moresco and stay in a 19th century Venetian style hotel that is decadent and showcases both old and new is a very appealing way.
Venice Maggior Consiglio has a choice of many rooms for families or the lone traveler. Enjoy a continental breakfast before you set off in the morning. Likewise, the Hotel Carlton Capri is a stylish Venetian hotel that is pet friendly and has a buffet for the crowd that is hungry in the morning.
There are also many single family properties that can be booked through Airbnb or VRBO. If you plan to stay in Venice for a while and need a home base, these are all definitely worth looking into.
How Early Do You Need To Arrive At Venezia Santa Lucia
If you've been to the station and know the layout there really is no need to get to the station very early. However, if you are a traveler, navigating a new place and translating a foreign language, it is always a good policy to arrive at least thirty minutes before you're departure time.
There are electronic signage boards throughout the station that will detail departures and times. The platform where you will need to go at the time of boarding will also eventually show next to departure.
It's also a good policy to get to the station early so that you can be aware of any delays or maintenance that can crop up. Therefore you can plan your day, accordingly.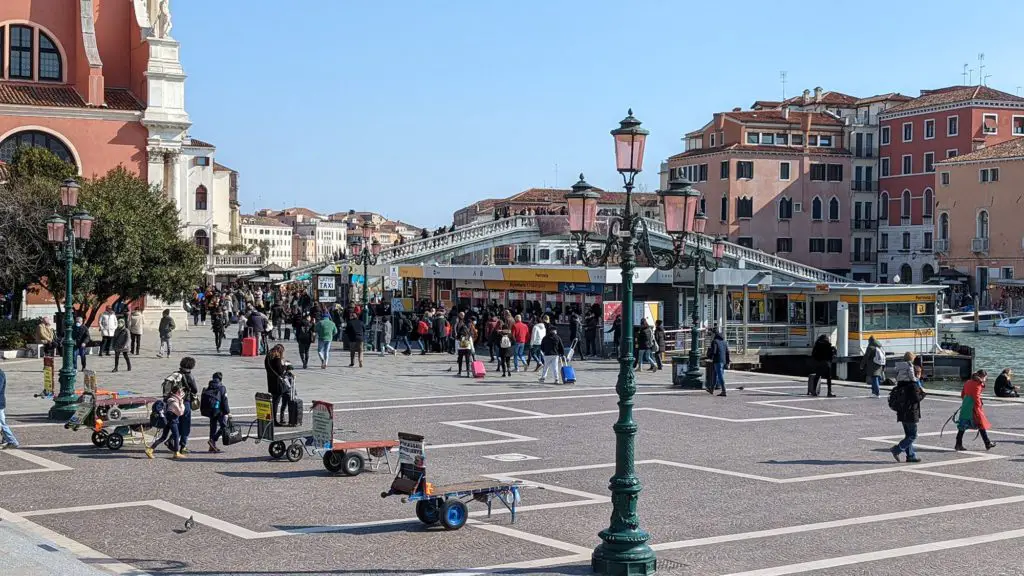 Best Trips From Venezia Santa Lucia
Venezia Santa Lucia is the main train station in Venice and you can get to many top destinations in Italy using this station.
Milan is a popular place to visit while touring Italy. Your trip from Venice to Milan will only take around two 2.5 hours. You will be touring the famous Milan Cathedral or peering upon Leonardo Da Vinci's Last Supper before you know it.
Florence is another great Italian destination from Venice that you won't want to miss. In a little over two hours you can be in a city that is filled with masterpieces of the Renaissance era, magical Italian gardens and tales of Medici.
If you want to really get away, choose a different country altogether. You can get to Paris. France for example, in a little under 11 hours. Start off in Venice where you'll have your morning coffee and dine under the Eiffel tower by dinner time. Make time to walk by the River Seine, tour the Versailles Palace and take selfies in front of the Arc de Triomphe.
Train travel in Europe is the best possible way to see the continent. It's relatively affordable, you can take advantage of the time you have on the train to do other activities and you can watch the European countryside pass before your eyes.
Book a trip and hop on a train. You will never regret the decision to ride the rails around Europe, starting at the Venezia Santa Lucia Station in Venice.