Options For Taking Amtrak To New York City
Grounded Life Travel is supported by its audience. When you purchase through links on our site, we may earn an affiliate commission.As an Amazon Associate I earn from qualifying purchases. List of everything we use in our travels.
New York City, home of the newly built and gorgeous Moynihan Train Hall is one of the most popular places to go on Amtrak. There are several reasons you should take Amtrak to New York City over flying, and luckily no shortage of trains and routes to get you there. New York City is the main hub of train travel on the east coast.
Moynihan Train Hall
Moynihan Train Hall, which is located right next to Penn Station and Madison Square Garden, sits right in the heart of the city. By taking the train you'll avoid a costly and time consuming ride from the airport to get into the city.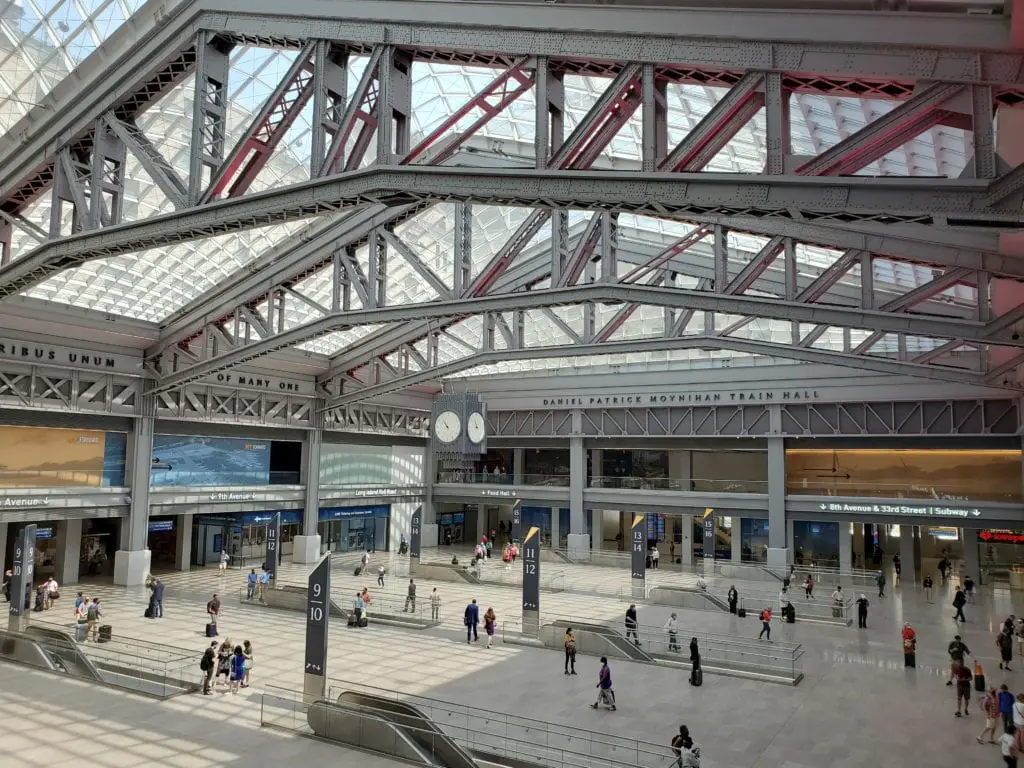 Moynihan Train hall also has the best Amtrak Metropolitan Lounge in the country. It features a spacious area to sit, desks to do work, bathrooms, cubicles to hold your bags (no locks), and complimentary food and drinks. Unlike other Metropolitan Lounges, the food at Moynihan Train Hall includes some hot cooked meal choices including breakfast sandwiches. We've found the staff in this Metropolitan Lounge to be incredible. The Metropolitan Lounge is free to all passengers riding in First Class on the Acela and Sleeper Cars on any other train.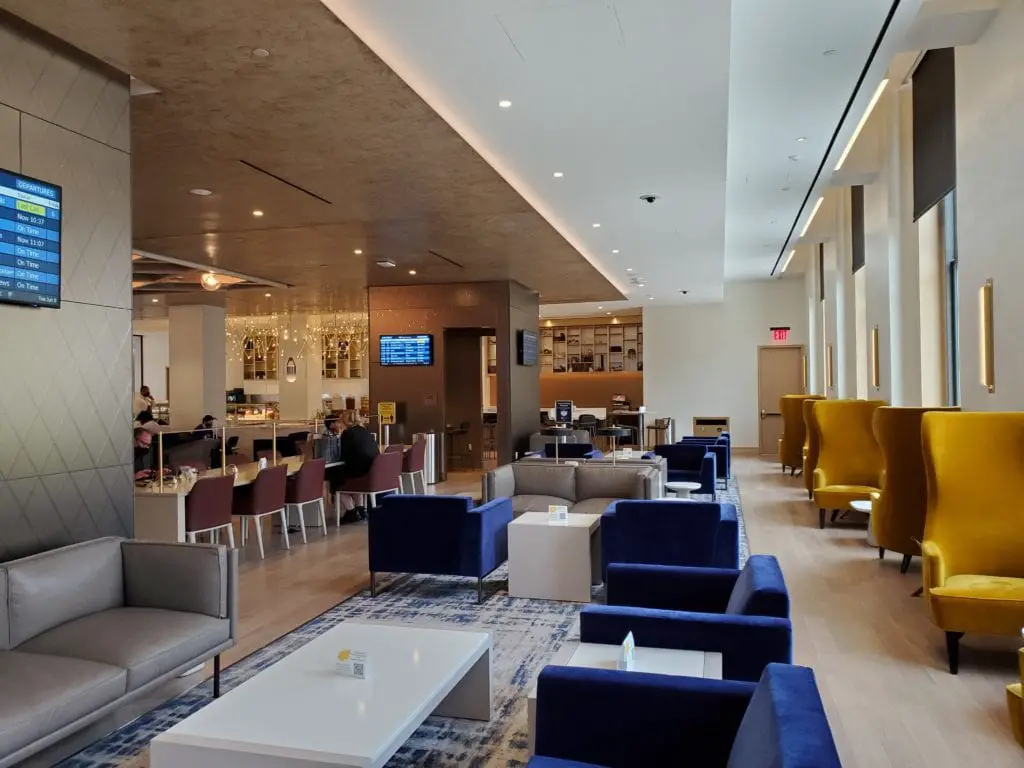 Amtrak Trains That Go To New York City
Map of Amtrak Routes To New York City
Check out all of our Amtrak Maps including cross country routes.
Amtrak From Chicago To New York City
From Chicago you can travel to New York City on the Cardinal or Lake Shore Limited. Both routes offer sleeper car accommodations as well as a dining car and cafe. Ticket prices in coach start at $90 on the Lake Shore Limited, which is the shortest route. The Lake Shore Limited takes 20 hours to reach New York City.
Amtrak From Boston To New York City
To get from Boston to New York City on Amtrak you can take the Acela or Northeast Regional. The Acela is the fastest Amtrak Train reaching speeds of 150mph. Seats are available in First and Business Class on the Acela. The Northeast Regional train has Coach and Business Class seats, with little difference between them, except free drinks in Business Class. The ride from Boston takes 3.5 hours on the Acela and 4 hours on the Northeast Regional. Tickets start at $29 on the Northeast Regional and $59 on the Acela.
Amtrak From Atlanta To New York City
You can reach New York City from Atlanta on the Amtrak Crescent. Tickets are available in Coach Class and Sleeper Car accommodations. It takes 18 hours and 45 minutes to reach New York City from Atlanta and Coach tickets start at $131. The Crescent features a Dining Car and Cafe but does not have an Observation Car.
Amtrak From Florida To New York City
New York City can be reached from Florida on the Silver Meteor or Silver Star. Both trains start in Miami and travel up the east coast on their way to New York City. Both trains have Sleeper Car Accommodations as well as a Dining Car and Cafe. The Silver Meteor takes 27 hours and the Silver Star takes 31 hours as it also goes through Tampa, FL. Choose the train based on which time schedule suits your needs. The price of both trains is the same and starts at $130 in Coach.
Amtrak From the West Coast To New York City
To travel to New York City from the west coast the best options are to connect with a train in Chicago or New Orleans. From Chicago you can take the Cardinal or Lake Shore Limited and from New Orleans you can take the Crescent to reach New York City.
Where to Stay In New York City Near the Amtrak Station
Our top recommendation for accommodations in New York City when riding Amtrak is the Fairfield Inn and Suites New York Midtown Manhattan/Penn Station. It is directly across the street from the Moynihan Train Hall. We've personally stayed there and found it to be incredibly convenient.
How To Book Amtrak Tickets
To book a ticket for any Amtrak train, use our Amtrak ticket booking guide. It can help you purchase tickets at the lowest price in any class. Amtrak also runs sales and discounts on most routes.
For more information on Amtrak trains check out our Amtrak Tips page. We also have a route guide for each train and station lists for each state that can be accessed on the menu or by clicking here.