Complete Guide To Riding Amtrak For The Single Female Traveler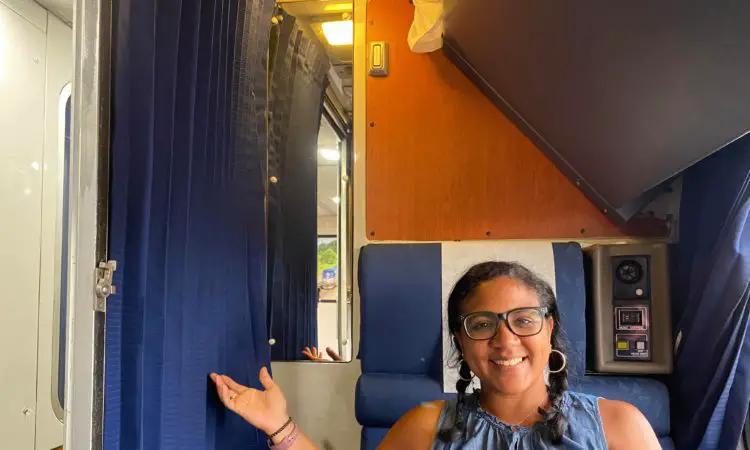 Allie on the Lake Shore Limited
Grounded Life Travel is supported by its audience. When you purchase through links on our site, we may earn an affiliate commission.As an Amazon Associate I earn from qualifying purchases. List of everything we use in our travels.
There are lots of options for single female travelers but we have put together this complete guide to riding Amtrak for the single female traveler to make things easier for you. We'll answer the question if Amtrak is safe for single women traveling alone, as well as give you some tips for booking your trip and preparing for your journey.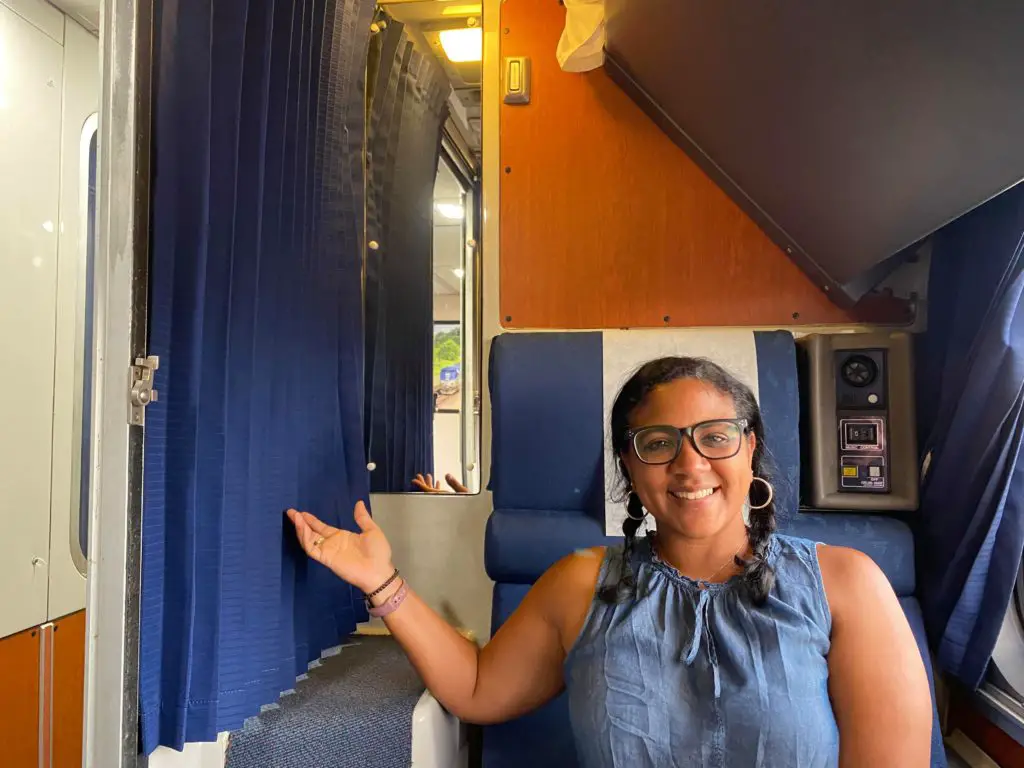 Is Amtrak Safe For Single Woman?
We often get the question "Is Amtrak safe for single woman", the short answer is yes. You are in a train car full of people. One of the great things about Amtrak is the space. On airplanes the seats are so close together that it's hard to avoid touching your seat mates. On Amtrak the seats are very spacious as well as lots of space to get up and move around. The other great thing about Amtrak is the staff. You can always easily find staff if you have any issues while on board.
Can One Person Book A Roomette On Amtrak?
If you are looking for a more private accommodation on Amtrak, you will want to book a sleeper car room. In the past, it was difficult to book a roomette for one person. However, it is no longer an issue. You can easily book a roomette for one person. There is no discount for booking a roomette for one person but there are some ways to cut the cost a bit. You can purchase a sleeper car accommodation with one of the sales that is offered throughout the year. For more info on discount options click here.
How To Book A Solo Amtrak Journey
There are 3 ways to book your trip with Amtrak. You can book directly through www.amtrak.com, you can use the Amtrak app to book or you can call 1-800-USA-RAIL. We walk you through each of these in this detailed blog. I will go through each one briefly here. The Amtrak website can be challenging to manage but if you know your train names or numbers it will be easier to book. It is a very straightforward way to book your trip but you do need this information, if you don't know the trains you will be on, it will be harder to book on the Amtrak website.
The Amtrak app is our preferred method of booking. If you are a Guest Rewards member, you can easily and quickly access your account info and use your points to book your trip. You will also be able to use the app to board the train. Your eticket code will be easily accessible in the app. Be sure to take a screenshot your ticket as often times it disappears after it has been scanned, in case you need it again.
The last resort for booking a train trip on Amtrak is using their 1-800-USA-RAIL. Although the staff is very helpful and knowledgeable, wait times to access such staff can be very lengthy. It is also challenging to book in this manner as you don't have all the options in front of you to see.
How To Prepare For Your Solo Trip On Amtrak
There are several things to consider for single female travelers on Amtrak, one of those things is what and how to pack. Since you will be traveling alone you not want to have too much with you. Amtrak offers two free checked bags as well as two free carry on bags. If you are traveling with lots of bags, you will want to check your bigger bags so you don' t have to hassle with trying to find a spot on the luggage rack in the train car.
You will also have to consider your carry on bags. There is room above your coach seat and below the seat in front of you to store your bags. You will want to make sure the things you store on board the train are not valuable. You will want to store any valuables in one bag that you will keep with you no matter what. I keep a smaller cross body bag with me where I keep my wallet, phone and Kindle. When I travel with my laptop, I carry a small backpack to keep all my valuables secure. I can take either of these bags with me around the train.
If you are in a roomette or other sleeper car accommodation, I suggest a small overnight bag with your toiletries and a change of clothes to store your room with you. There are two different types of sleeper car accommodations, Superliner and Viewliner. They are very different, in one you will have storage in your roomette and the other you will have a shared luggage rack to store you bags. Learn more about the Superliner Roomette and the Viewliner Roomette from here.
Tips For A Young Woman Riding Alone On Amtrak
Here are a few tips that will make your solo trip on Amtrak much better. Be sure to arrive to the station at least 30 minutes early. Some of the bigger stations are a bit more challenging to maneuver so be sure you have time. Be sure to have an ID with you, in case it is requested. They do not always check ID but some stations are a bit more strict about this. If you are checking bags, be sure they are not overweight. They are very strict about this. Their staff has to handle the bags and anything over 50lbs may be too much for some. If you can choose your seat, be sure to pick one by a window. You will have access to the power outlet and have the best views.
Keep your ticket within reach once you board, it will be scanned by the conductor once the train departs. If you have an eticket via the Amtrak app, be sure to screenshot the ticket, in case there are any connection issues. Bring a blanket with you in coach, it gets chilly in these cars and you can not control the temperature. Download music, books and movies you wish to watch as you will not always have access to cell service or WiFi. There are snacks available for purchase from the cafe but the trains are cashless so you will need to have a debit or credit card with you. If you prefer, you can bring your own food with you. I have seen passengers with their own coolers on board the train.
There are different types of restrooms on each car. Some of them are similar to airplane restrooms but some are a bit larger, labeled accessible. If you are in coach you can use the restroom in any coach car, including the accessible restroom. If your cafe car has a restroom, that will likely be the least used restroom thus it will be cleaner.
Amtrak provides a great service for those who want to avoid the hassle of flying or driving to a destination. They also provide a safe environment for passengers, especially for single female travelers. We hope this complete guide to riding Amtrak for the single female traveler is helpful to you on your next journey.