Best Amtrak Trips From Boston
Ready for a ride on the Acela
Grounded Life Travel is supported by its audience. When you purchase through links on our site, we may earn an affiliate commission.As an Amazon Associate I earn from qualifying purchases. List of everything we use in our travels.
Boston is a stunning city in so may ways. The architecture that is 300 years old coupled with the history that oozes from every nook and cranny makes this destination something everyone should strive to see. However, if your starting point is Boston and you would like to see some other cities that can be reached by train, Amtrak can get you there.
There are three Amtrak stations in Boston that will take you to a multitude of places north of the city and into the deep south. You can make a trip to the White Mountains in Maine, see a Broadway show in New York City or see Independence Hall and the Liberty Bell in Philadelphia.
Whatever you do, taking an Amtrak train will save you time and money in the long run, as well as increase productivity, especially if you are on a work trip.
Portland, ME
How to get to Portland, ME on Amtrak
From Boston, you may choose an exciting and fulfilling trip to Portland, Maine. This quick jaunt is only a 2.5 hour trip, but is a great way to see some of the countryside and to enjoy a little shopping between these two cities. Train travel adds a little spice to your trip and will introduce you to a great new way to explore.
The Amtrak Downeaster can be found at Boston's North Station and is the only Amtrak train that goes to Portland. It's easy to get to and from these cities because Amtrak runs this route round-trip five times daily, giving you plenty of flexibility on your trip. Enjoy Business Class that will allow you to enjoy free beverages on-board as you sit in your comfortable reclining seat. Of course, coach seats are always available and have a high level of comfort as well. Coach tickets start at $24 and Business Class starts at $39 per ticket.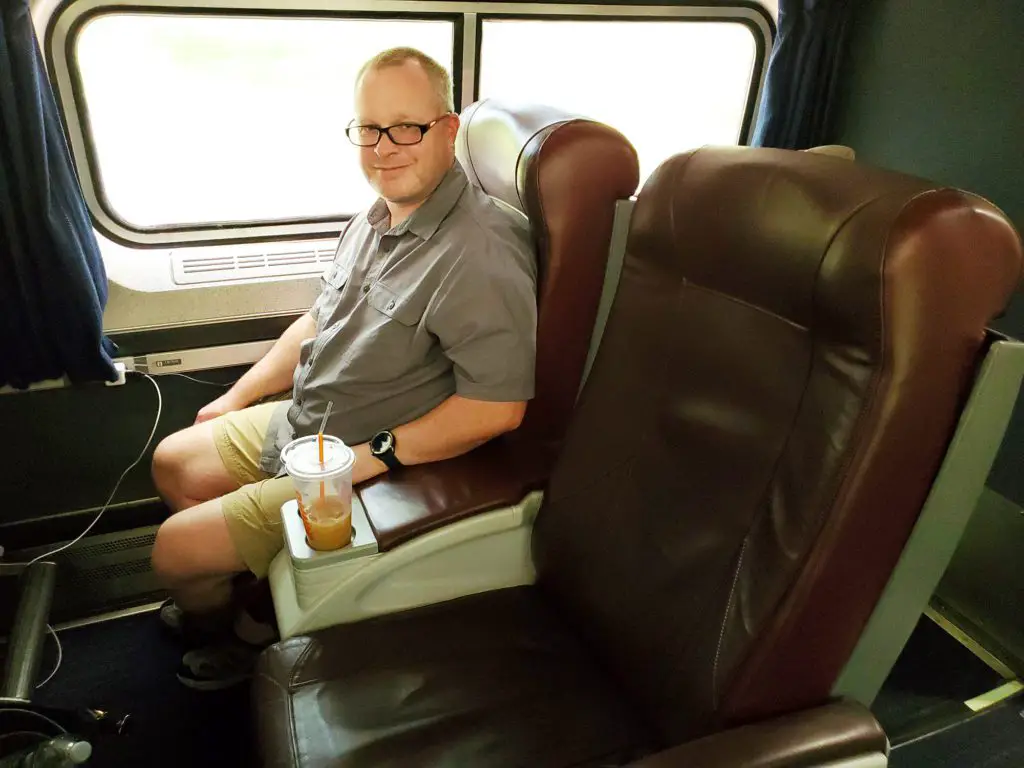 What to do in Portland, ME
If you are looking for a U.S. city that boasts summer time temperatures in the seventies and a delicacy to enjoy on every corner. Look no further than Portland, Maine. Enjoy numerous shopping opportunities both in uptown and downtown Portland. Don't miss fabulous cuisine that consists of the most coveted delicacy in all the land…lobster. Have a unique experience on the waterfront exploring the lighthouse that dot the coast.
If you like fermented drink, then try a few of the more than 17 microbreweries that are spread throughout Portland. Wine is also something this city lays claim to and you can go on a Maine wine tasting tour that will both satisfy and surprise you.
New York City
How to get to New York City on Amtrak
Getting to New York City from Boston by train should be on everyone's bucket list. Sometimes it's not just about the destination, but the journey as well. Your trip will take you 3.5 hours compared to 4.5 hours when driving. So, not only will you get there quicker, you can enjoy the ride free of traffic and tolls. In fact, the Amtrak Acela goes to speeds up to 150 mph, getting you there fast. When you arrive at New York's Moynihan Train Hall you will feel welcomed by its 92-foot-high gorgeous skylights.
The Amtrak Acela is a comfortable train that features Business Class and First Class Seating. Reclining, comfortable chairs with footrests and tray tables equipped with WiFi and charging capabilites help with your need to stay connected but rested. Business Class tickets on the Acela from Boston to New York City start at $58 and First Class tickets start at $192.
But don't fall asleep on this quick ride because you might miss the magnificent scenery out your window. The coast is beautiful with its ocean caps and beautiful beaches. When the trip comes towards its end watch for the New York skyline to appear in the distance. This never fails to disappoint no matter how many times you experience it.
What to do in New York City
There is never a shortage of things to do in one of the most beautiful and exciting cities in the world. The Big Apple never sleeps and it's up to you to capitalize on the time that you have planned for your trip. Start at Time Square and take in the sights. Don't forget that selfie for your Instagram page. Next, move on to One Trade Center and pay your respects and feel the reverence this place exudes from all that transpired on the fateful day.
As the sun starts to dip, make your way to Jane's Carousel at Brooklyn Bridge Park and watch the sunset with the Brooklyn Bridge in view. This is a spectacular, quintessential New York experience that you shouldn't miss. You'll be hungry after all this activity, so head over to do some carb loading at Noodle Pudding. Choose a pasta that tickles your fancy, but don't miss dessert.
Buffalo, NY
How to get to Buffalo, NY on Amtrak
The trip from Boston's South Station to Buffalo's Depew is a thirteen hour trip by train compared to a 7 hour trip by car. This is a non stop trip so you won't have to depart trains to make a connection. Amtrak uses a Viewliner train for this route which has all of the luxurious accommodations you would want for an overnight trip.
The Lake Shore Limited Viewliner is equipped with Roomettes, Bedroom, a dining car and an Observation Car, giving you the best comfort Amtrak offers. Because the trip is overnight you will probably want to book a roomette or a bedroom so that you can get some sleep. Remember that your meals are included with these tickets and you can have a hot meal in the dining car when you choose. A roomette on the Lake Shore Limited from Boston to Buffalo can be bought from $327.
Don't worry about missing the scenery as you sleep, there will be plenty of time the next day to see the shores of gorgeous Lake Michigan, the Mohawk River and the Erie Canal. This is the most scenic route in the east and is a must do for any lover of exploration.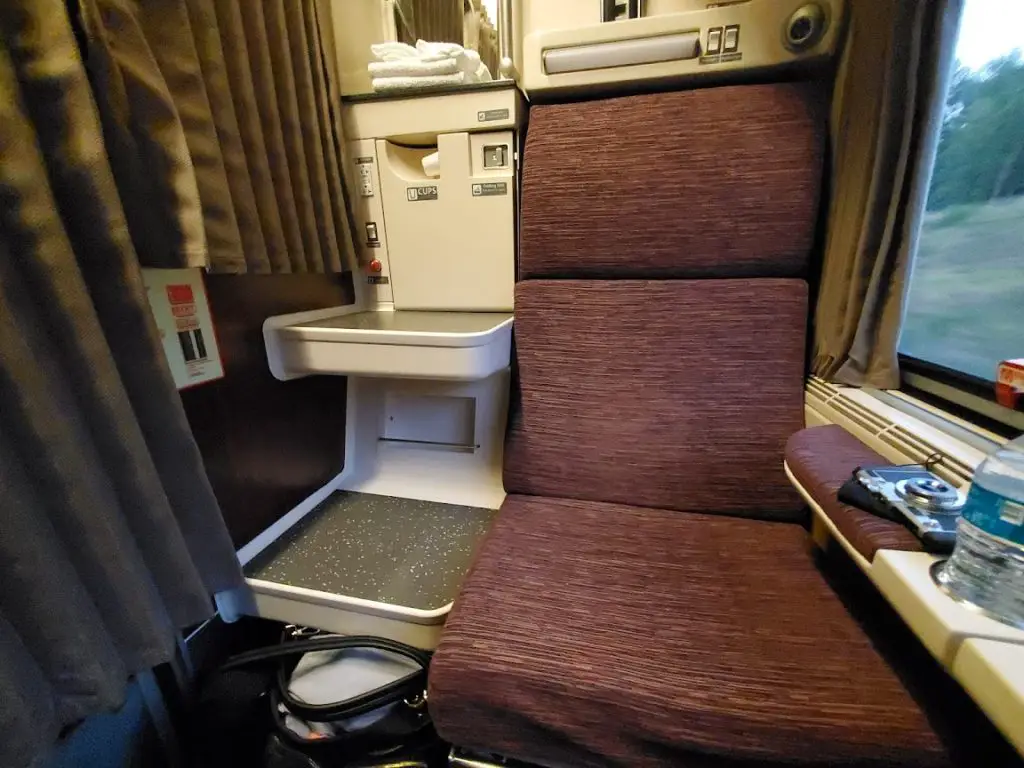 What to do in Buffalo, NY
When you arrive in Buffalo, you will probably be hungry. So, if you're in Buffalo, you must have Buffalo wings, right? Stop in at Duff's where you can try the the Death Sauce. Don't worry if this is too harsh, there are other flavors, as well. Then tour the beautiful Buffalo AKG Art Museum in Delaware Park. This museum is not to be missed for the modern art lover. Next, visit the "Falling Water" of New York when you tour Frank Lloyd Wright's Martin House. Considered to be the most important building of his Prairie School Era, this is one to put on your radar.
Philadelphia, PA
How to get to Philadelphia, PA on Amtrak
From Boston you can take Amtrak's Acela train that will take you from Back Bay Station to Philly's 30th Street Station. By taking the train you can avoid congested road traffic and save on absorbent tolls. This trip is a fun little five hour jaunt through the most historical parts of America. See quaint little Revolutionary Era towns mixed with coastal communities and land in the "City of Brotherly Love".
The Amtrak Acela is a a distinctive train that features only Business and First Class. This train can get you to where you are going at a fast rate of up to 150 mph. But, this doesn't mean you won't be able to enjoy the scenery. Pass through scenic towns that will make you want to stop and visit before you get to exciting and historical Philadelphia, PA. Business Class tickets purchased well in advance on the Acela from Boston to Philadelphia are $69 and First Class tickets are $228.
What to do in Philadelphia, PA
Once in Philadelphia, the world is your oyster. Visit all the historical sights like Independence Hall, the Liberty Bell and all the museums that line Benjamin Franklin Parkway. Then, go get yourself a Philly Cheesesteak at Dalessandro's Steaks and you'll know what heaven is like. You can't end the day without running to the top of Philadelphia Museum of Art to see how Rocky felt when he was conquering the world.
Any trip from Boston is likely to take you to amazing places that line the east coast. Any time of year and any time of day, this can be an exciting trip that has something special awaiting you.