A Complete Guide To Moynihan Train Hall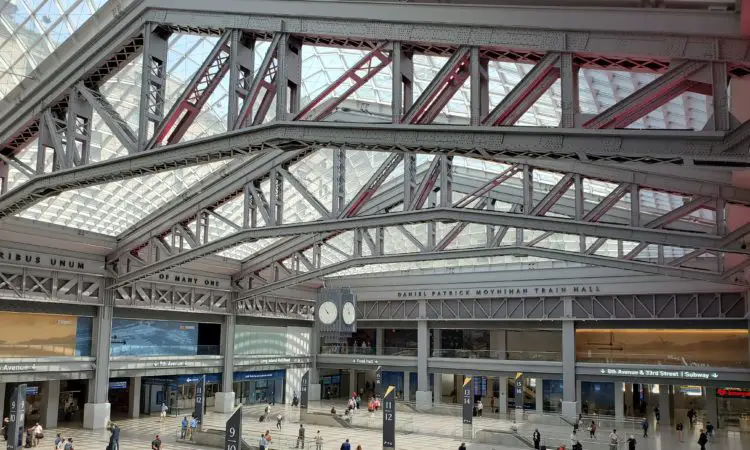 Grounded Life Travel is supported by its audience. When you purchase through links on our site, we may earn an affiliate commission.As an Amazon Associate I earn from qualifying purchases. List of everything we use in our travels.
It's no secret that Moynihan Train Hall is one of our favorite Amtrak train stations. In this complete guide to Moynihan Train Hall, we'll not only tell you all about it but we'll share why we love it. You'll learn a little about it's history, what you can do at the station as well as many other things like dining options and the famous new Metropolitan Lounge.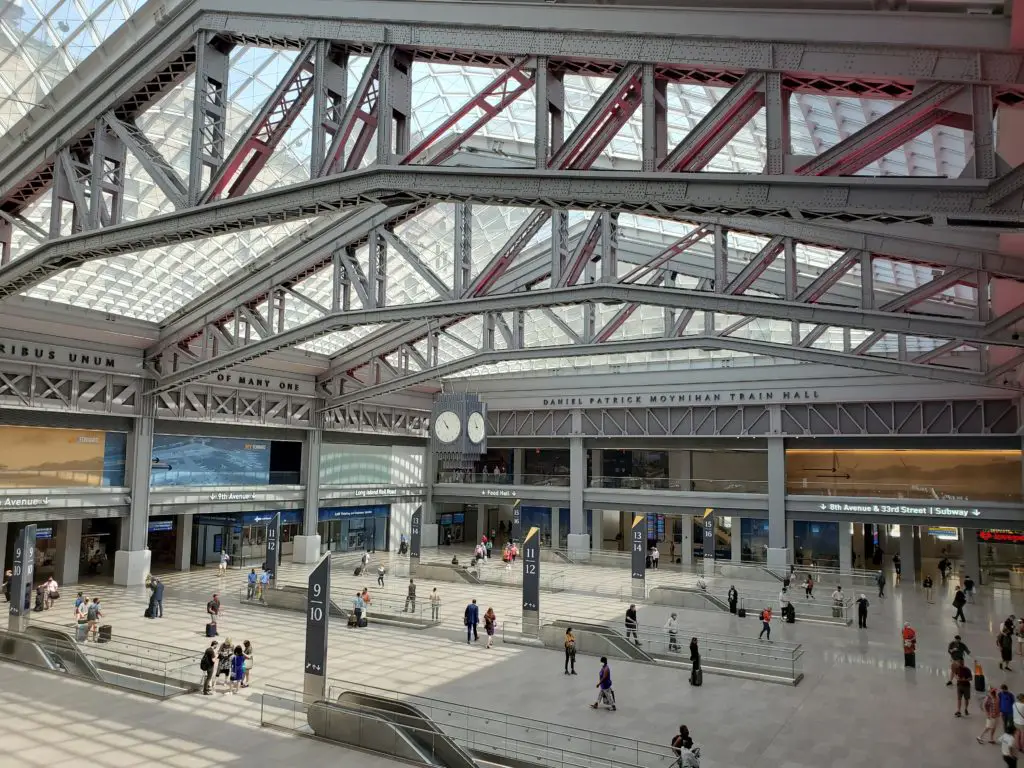 Moynihan Trian Hall Station Overview
Moynihan Train Hall was built for Amtrak and Long Island Rail Road. It has double the concourse space of it's predecessor, Penn Station, at 255,000 square feet. It is in a convenient location as it's directly across the street from Penn Station which can be accessed underground. Moynihan Train Hall is incredibly accessible subway lines A,C,E and 1,2,3 as well as CitiBike, taxi's and rideshare just outside the hall.
Moynihan Train Hall is open from 5am to 1am daily, you can still access Amtrak and LIRR trains at Penn Station from 1am to 5am. This incredible new property has so much to offer the daily train traveler as well as the just for fun, vacation traveler. There is shopping as well as many food options.
We can't end this station overview without discussing the brand new, state of the art, Metropolitan Lounge. This new lounge is what makes Moynihan Train Hall so great. It is the prototype for future renovations at Amtrak metropolitan lounges.
Metropolitan Lounge At Moynihan Train Hall
To access the Metropolitan Lounge at Moynihan Train Hall you will need to have a First class ticket or sleeper car ticket for travel on the day you arrive to the station. Head up the escalator and get checked in by the concierge who will make sure you can access it. Once welcomed you will walk into this beautiful lounge as you pass the lockers, and the restrooms.
Once past the lockers and restrooms you will enter the main lounge area. We love all the seating arrangements in this area. Most of the seating areas have electrical outlets available for charging. Find a good place to sit and relax. Once you get a hungry, head for the counter. This is where the magic happens. Not only do you have cold food choices but now there are hot food choices.
Specially curated sodas as well as flavored water and tea is available. You can also get a coffee beverage made to order from the attendant at the counter. There is also a bar where you can purchase drinks. Once you have enjoyed your food, you can head out to the balcony viewing area. This area has a fabulous view of the concourse below. You will not leave disappointed from this Metropolitan Lounge.
Dining Options At Moynihan Train Hall
We certainly can not leave out food options from this guide to Moynihan Train Hall. The station has not been open so long that it is full yet but there are many food options and they are growing by the day. Each time we visit the station we find a new restaurant.
There is something for everyone from a quick coffee and pasty from Starbucks to a sweet treat for the road from Magnolia Bakery. You can also grab any last minute items at one of the shops as well as any forgotten souvenirs you need to buy.
All the food options can be found at the concourse level at this time. There will be more dining options upstairs near the 31st Street Entrance. Be sure to check their website to see what options are available as they change over time and they are opening new restaurants often.
Hotels Near Moynihan Train Hall
There are so many options for hotels near Moynihan Train Hall. The closest option is the Fairfield Inn & Suites Penn Station. We stay at this hotel because it is so close to the station. You walk out the side entrance and cross the street to the hotel. You don't have to worry about crossing from Penn Station.
What Amtrak Trains Leave From Moynihan Train Hall
There are many great train routes that leave from Moynihan Train Hall or pass through here. Here is the list, you can click each one to learn more about that route:
We've also compiled a list of the best Amtrak trips from New York City.
Is Moynihan Train Hall The Same As Penn Station
Moynihan Train Hall and Penn Station operate as one complex. This is why Moynihan is called a hall and not a station. It's actually an extension of Penn Station, you can access them via an underground walkway. Moynihan Train Hall was built to alleviate some of the congestion at Penn Station due to Amtrak traffic as well as Long Island Rail Road traffic.
The new train hall also features a brand new and very improved Metropolitan Lounge. Moynihan's concourse is nearly double the size of Penn Stations at 255,000 square feet. Moynihan Train Hall also boasts lots of new restaurants and coffee shops, featuring the new Magnolia Bakery, which is also packed but worth the wait.
Penn Station (Pennsylvania Station) is the busiest transportation facility in the Western Hemisphere with over 600,000 passengers per weekday and is the main intercity railroad station.
How Do You Get To Moynihan Train Hall
Moynihan Train Hall is a fairly easy train hall to access on 8th avenue across from Madison Square Garden. You will find it's easy to get dropped off by taxi or rideshare. Taking a CitiBike there is also an option or use the subway with direct access via A,C,E or 1,2,3 lines. You could also take a bus to the station.
Here is the physical address for the station: Moynihan Train Hall, 421 8th Avenue, New York, NY  10001