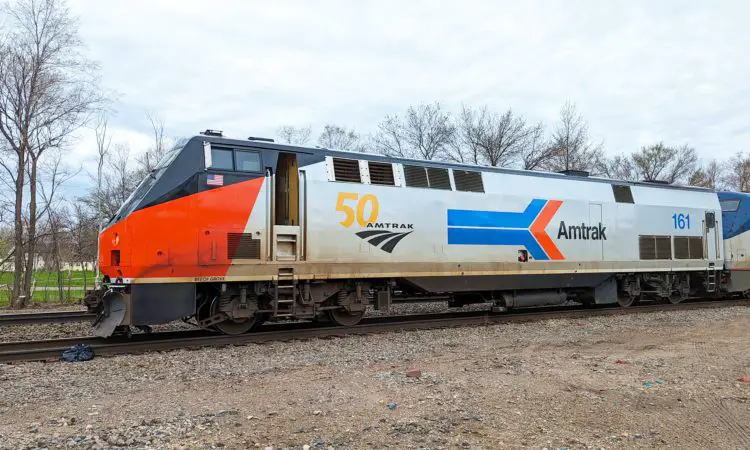 Grounded Life Travel is supported by its audience. When you purchase through links on our site, we may earn an affiliate commission.As an Amazon Associate I earn from qualifying purchases.
When thinking of booking a trip somewhere, there are so many things to think about. What accommodations are available? What particular areas do you want to explore? Also, how are you going to get there? Many people drive to their destination and even more people take air travel.
However, there are two modes of transportation that often get overlooked. Taking a bus or a train can be an adventure in itself. Watching the countryside pass before you is an experience that you can't get on a plane. Likewise, if you are driving, your dashboard concentration will have you missing much of the scenery. Not to mention, there will be no relaxation for the driver. But, what are the differences between bus travel and train travel. Two companies dominate in these arenas and we've set out to explore, when it comes to Amtrak versus Greyhound, which one should you ride?
Greyhound and Amtrak have the market when it comes to convenience. You don't have to navigate your way through a large crowded airport, battle long security lines or pay high priced parking fees. However, when it come to the two, which one should you ride? Which is the best to take in order to get you to your destination?
When choosing between Amtrak and Greyhound to get to your destination, Amtrak is the winner between the two due to its comfort, food, bathrooms and customer service.
Which is more timely, Amtrak or Greyhound?
If you need to get to a destination, time is always a factor. Amtrak and Greyhound both can have their glitches.
With taking a Greyhound bus, you are at the mercy of the traffic on the road. Traffic accidents, road work and weather can all slow you down or take you to a grinding halt. Some routes are riddled more with this problem than others. If you are to go from Cincinnati, Ohio to Des Moines, Iowa, which runs through the middle of the country with no major cities, you may glide right through with no delays. However, bus routes times running through multiple major cities can be greatly hindered by all of the above factors.
You may also be waiting to board your bus due to the above problems. This can really eat into your plans. So, you will have to pad your arrival with some extra time. This is such a rampant problem that you need to add 4-6 hours of time to your arrival for problems such as this.
In contrast, taking an Amtrak train is better when it come to delays, many of the problems that buses encounter don't exist with train travel. However, Amtrak does have its probelms with delays. One problem that a Greyhound bus will never run into is the need to yield to a freight trains. Although the current law requires freight trains to yield to passenger trains and has for fifty years, this law has largely been ignored by freight companies. Therefore, delays are also rampant with Amtrak, which can result in getting to your destination late.
The Rail Passenger Fairness Act has been proposed by congress, which would allow Amtrak to sue rail track owners for failing to yield to passenger trains. This legislation is being proposed in hopes that the 700,000 minutes of delays that were caused in 2020, become a distant memory.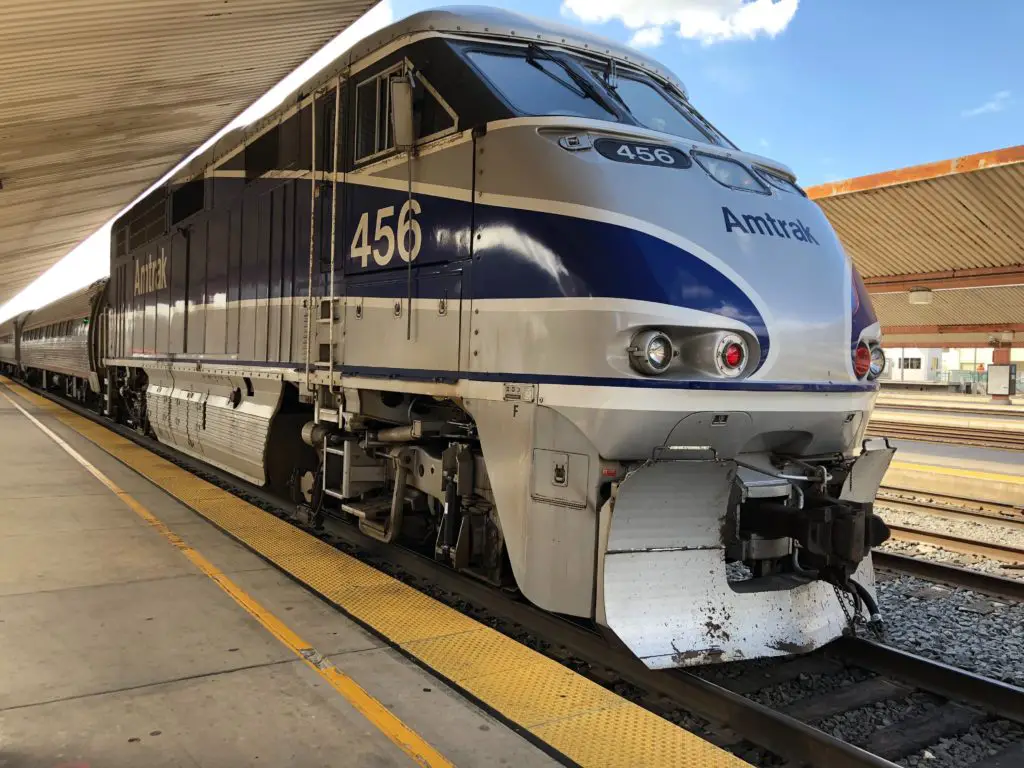 Which is more convenient, Amtrak or Greyhound?
Greyhound has the upper hand when it comes to convenience. Due to the ease of getting onto almost any road in America's 4 million miles of roadways, Greyhound has many more destinations. There are 2,700 destinations offered by Greyhound. Furthermore, when you arrive at your destination, chances are, your travel time to you Grandmother's house or your cousin's wedding will be shortened because Greyhound takes you directly to that smaller town.
Amtrak operates on over 21,000 miles of track, but only delivers to over 500 destinations in 46 states. This means that Amtrak can get you close to your destination, but you will probably have to find an additional mode of transportation to your chosen town if it is not a large city on an Amtrak route with a station.
Therefore, Greyhound wins when it comes to convenience, due to the fact that it just has more destinations than Amtrak.
Which is more comfortable, Amtrak or Greyhound?
Greyhound seating, Wi-Fi and facilities
Greyhound has a first come first served seating arrangement, so you can choose your seat when you board. You can even pay a little extra to board a few minutes early so you can get that prime seat that you want. Greyhound bus seats are all leather and recline, so they are relatively comfortable as well. There are only two seats per side, so no climbing over that middle person to use the facilities.
However, if you are looking for reliable Wi-Fi, charging capabilities that work and room to move around, Greyhound is sorely lacking in this department. It is widely reported that Wi-Fi is either painfully slow or does not work at all on Greyhound buses. Therefore, you will need to have either an unlimited data plan or external hotspot to enjoy that marathon of Seinfeld you had planned to take you from Chicago to Phoenix. It has been reported by riders that up to fifty percent of the time, the charging outlets at your seat will not work. So, take a long book just in case.
Greyhound does have a bathroom to use for your convenience, but don't expect it to be clean and free of smells. This is also the only way you can stretch your legs; in the aisle, to the bathroom with the other sixty passengers.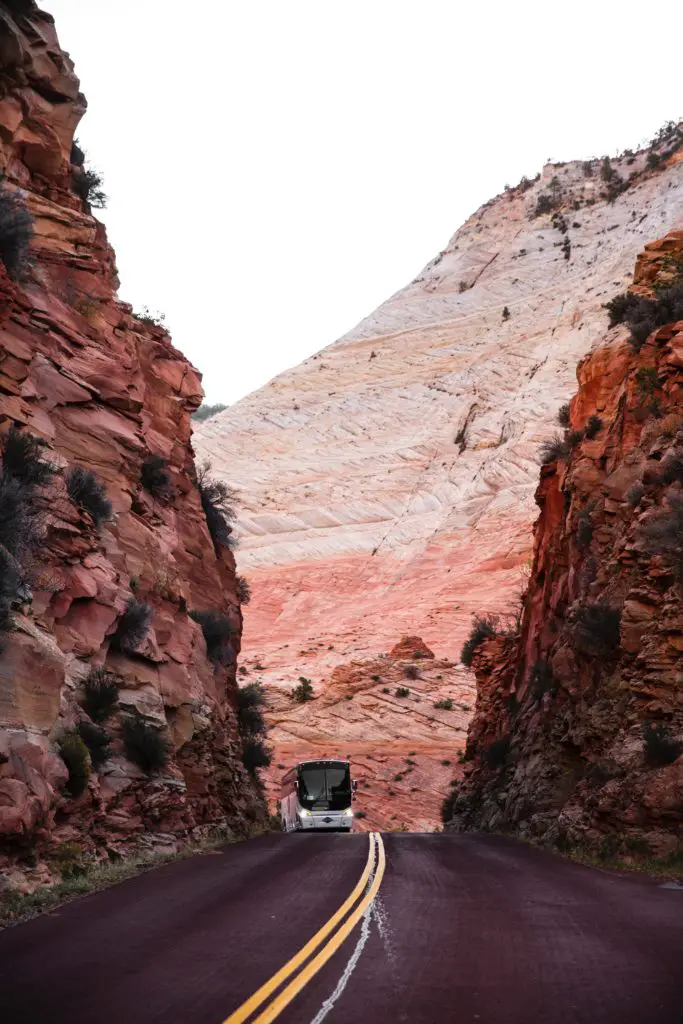 Amtrak Wi-Fi, seating and facilities
Amtrak trains are also equipped with leather seating, but only in first class and some business class sections. Coach has cloth seating, but it does recline similar to a home reclining chairs. Like Greyhound, there are no middle seats on Amtrak. You do have to book your seat, which is convenient for choosing your seat. But, you won't have any control on who you are seated with. Amtrak greatly differs from Greyhound in that you can choose to book a Superliner or Viewliner sleeper car that will give you all the conveniences of a hotel room.
Amtrak offers free Wi-Fi on most train routes. The reliability of the Wi-Fi is dependent on the proximity to cell towers along your route, therefore if you are on a cross country trip, you may have very spotty service. In addition, you will not be able to stream using the train wifi. If you plan to watch a streaming service, you need to own a hotspot or have an unlimited data plan.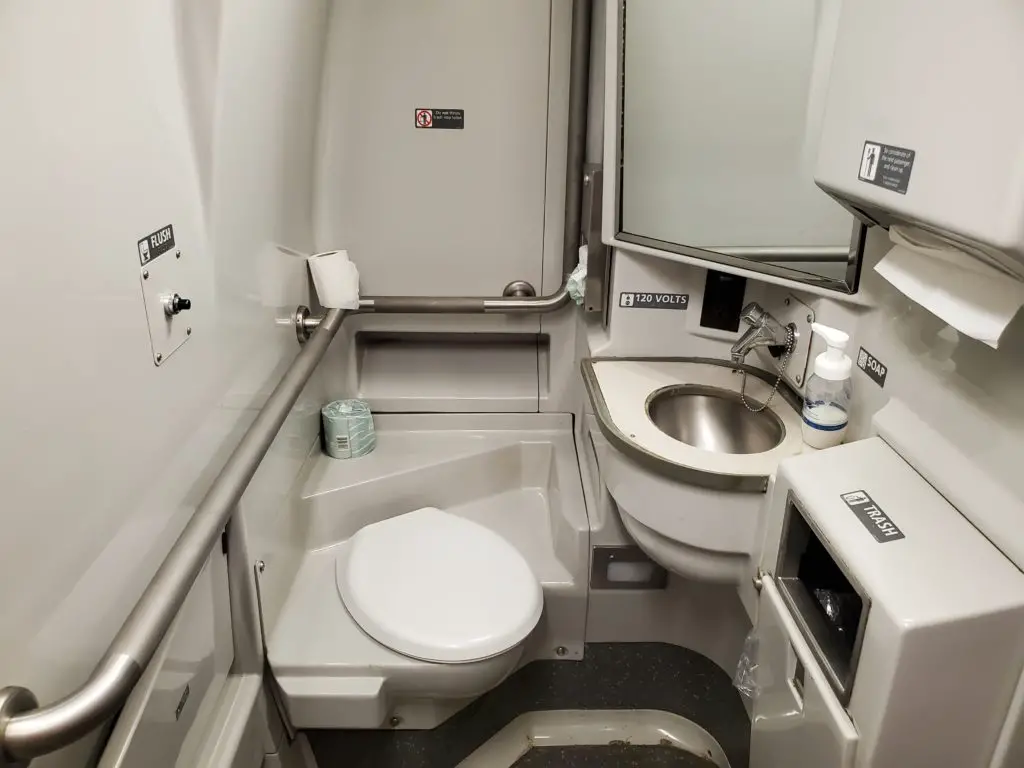 Amtrak has a bathroom in every train car with four to five toilets in each car versus Greyhound's one toilet. You can also go to the next train over if the restroom is full or you just need to stretch your legs. Speaking of stretching your legs, Amtrak is great for moving around. On long distance trains you can visit the Observation Car and see the countryside go by your window. You can also visit the Cafe Car and get a bite to eat. First class passengers can visit the Dining Car and get full service dining complete with a view.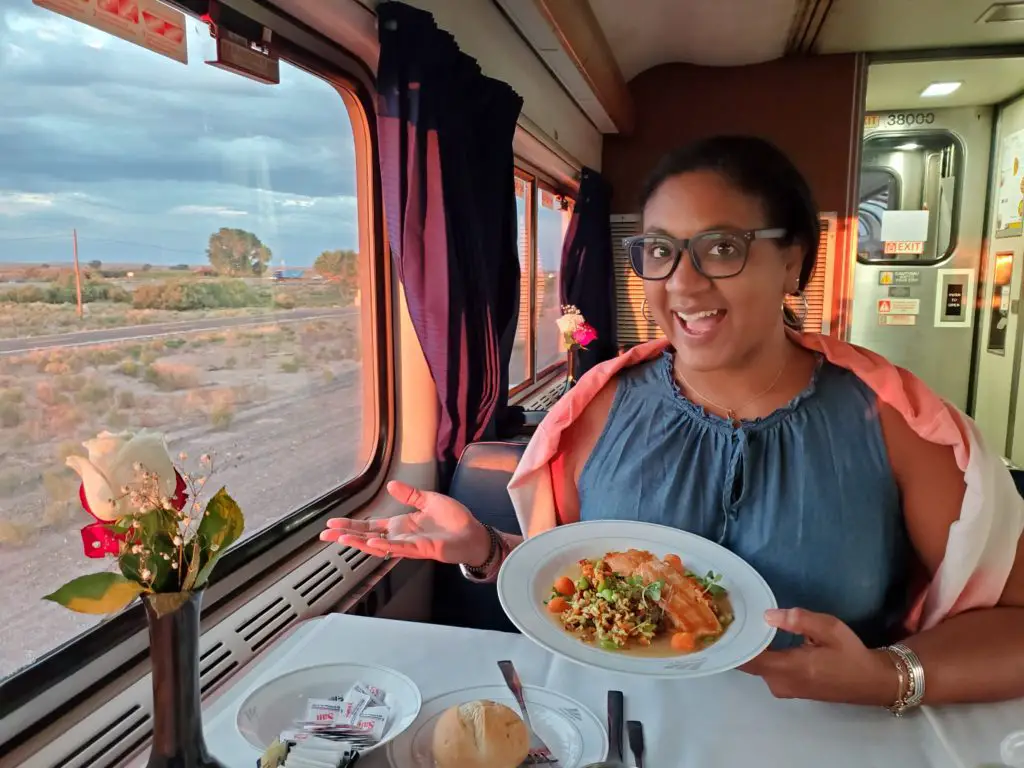 For services and amenities Amtrak tops Greyhound by a wide margin.
What is the cost difference between Amtrak and Greyhound?
Amtrak travel is usually more expensive than Greyhound bus travel. Amtrak travel can be anywhere from 30-100 percent more expensive than a Greyhound bus. In a comparative example, a trip from Atlanta, GA to New Orleans, LA by Amtrak costs $81.00 one way where the same route on Greyhound is only $48.00. In addition, when you get to your destination, there is a good chance that you will have to take a bus to the town in which you are connecting, because Amtrak does not have as many stations as Greyhound. This can add to your costs as well.
Which is safer Amtrak of Greyhound?
Amtrak and Greyhound are some of the safest forms of travel available. With plane travel being the safest way to travel, bus travel lingers behind, then train travel. In the last two years, there have been 140 bus accidents that have led to injuries and deaths. With Greyhound buses traversing down interstate and highway roads, through traffic and weather, more accidents are bound to happen.
However, Amtrak has not been free from accidents. Because there are so many passengers on a train, there are more lives effected when there is an accident. In the last two years there have been seven deaths and 200 injuries caused from derailments.
Amtrak has the reputation of being a relatively luxurious way to travel, and you will pay for that luxury. Greyhound on the other hand tends to be the more affordable option. Petty crime can be a problem such as theft. Greyhound buses also may stop in remote or high crime areas adding to the problem of crime while on your way to your destination.
Greyhound and Amtrak add an alternative to flying or driving to your destination that is needed in today's high fuel price climate. Greyhound is great for the person on a budget or a college student trying to get home for the holidays. However, if you have the means, the time and an adventurous spirit that wants to take in America, Amtrak is the way to go.