Amtrak Coach Seats: Is Upper Level or Lower Level Better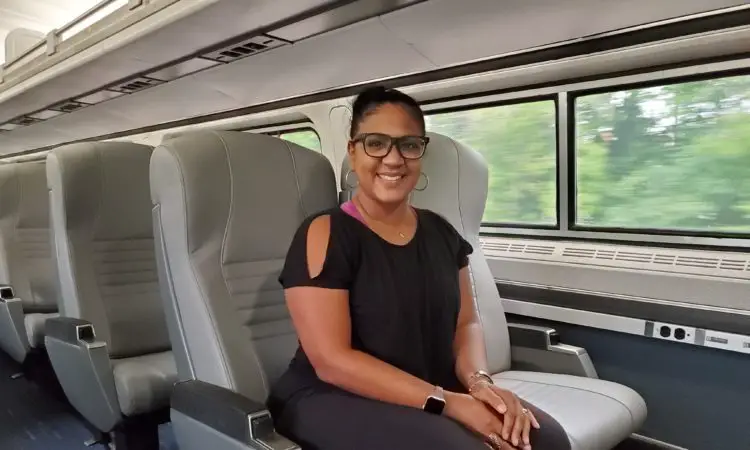 Grounded Life Travel is supported by its audience. When you purchase through links on our site, we may earn an affiliate commission.As an Amazon Associate I earn from qualifying purchases. List of everything we use in our travels.
Traveling in America today can be fun, entertaining and an adventure. Most people use the transportation that is available in these modern times as a way to get from point to point. It's easy to lose sight of how amazing it is that we have so many options available to us today. Traveling by car is by far the most popular way to get around. However, if you are taking that cross country trip, airline travel beats out any other way of traveling.
However, If you have the time and you want an experience out of the ordinary, one way that many might not think about is to traveling by train. It is a comfortable, exciting way to travel that often gets overlooked. Although it isn't as economical as bus travel, it often is cheaper than getting on a plane.
You can get those more economical seats in coach class, or you can splurge for the high end bedroom suite and often pay less than one plane ticket. There are so many choices for traveling by train that it makes this way of getting around a pleasure.
Whether going from one city to another close by or taking that 2,000 mile trip from the East to West coast, train travel is something everyone should try at least once. Amtrak is the only long distance train company in America and it can get you to a whopping 500 destinations in 46 states including Canada. Most people will begin their train experience with Amtrak coach seating to try this newly discovered form of travel.
Coach seating on Amtrak is a lovely way to get to your destination. It's comfortable, convenient and you can still get around and experience other areas of the train. If you are going to travel coach on Amtrak there are some things to know in order to get the most out of your train trip.
What is the difference between coach, business class and first class seating?
Amtrak is a great way to travel no matter where you are seated, but there are slight differences between first class, business and coach seating.
First Class Seating
You can reserve your seat for first class online so you don't have to scurry about to find that perfect seat, however you can change your seat once on board for no additional cost. Spacious two-by-one seating is available as well as conference style tables so that you can get some work done. There are extra large tray tables available as well as power outlets and WiFi available. First class seating is available on the Amtrak Acela.
Before boarding First Class passengers can enjoy station lounges at select stations that have spaces that feature luxurious couches, adult beverage selections and conference rooms for that last minute meeting.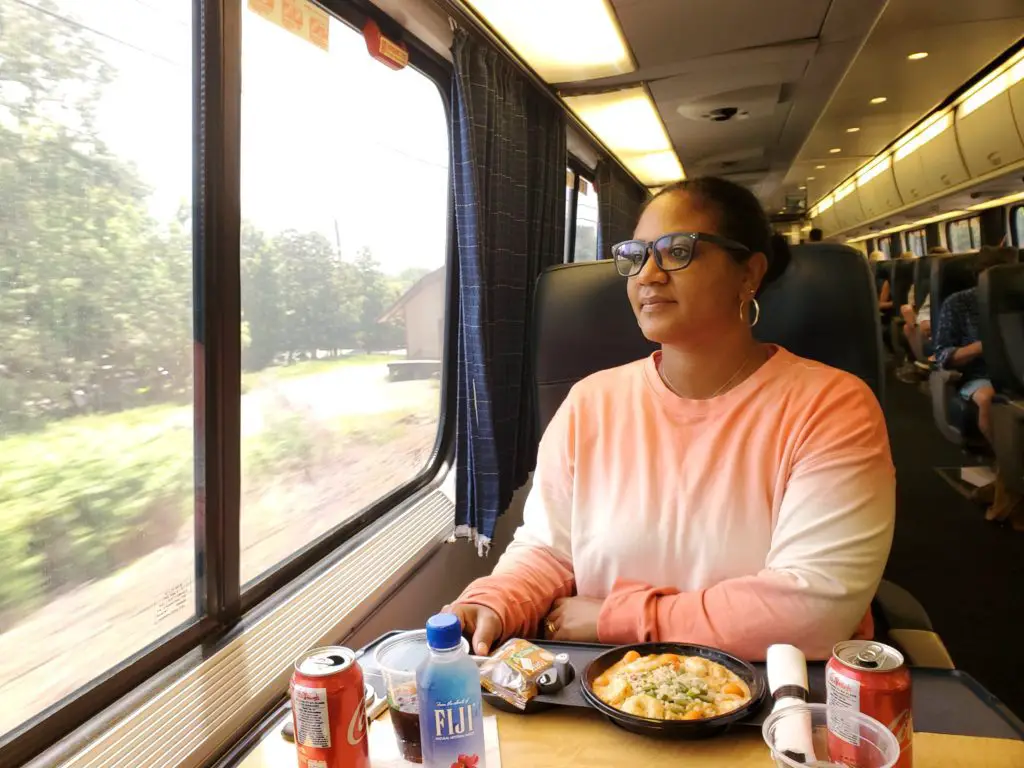 Business Class
Although not always offered on all trains, reserved seating can be selected with many business class routes. Extra legroom is enjoyed by the business class passenger as well as wide, comfortable seats and complimentary non-alcoholic beverages.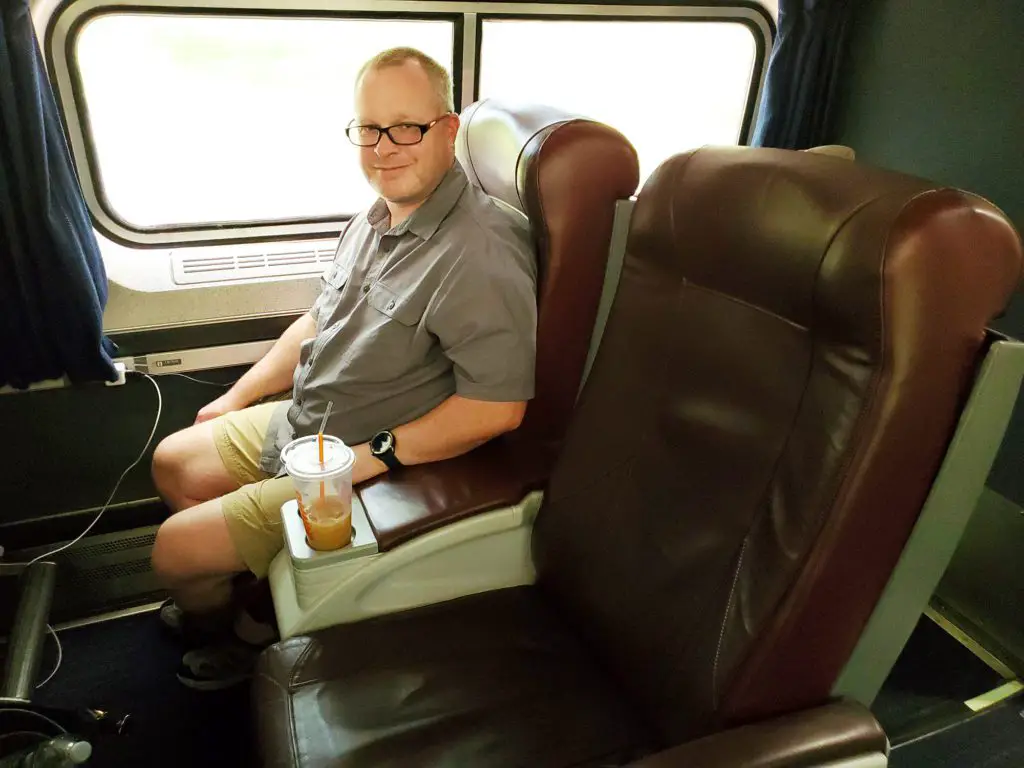 Coach Class
Coach class offers wide reclining seats with ample legroom, power outlets, a fold-down tray and a reading light can be found at every seat. Complimentary WiFi is also available on most trains. Restrooms are available on every car as well as overhead baggage storage.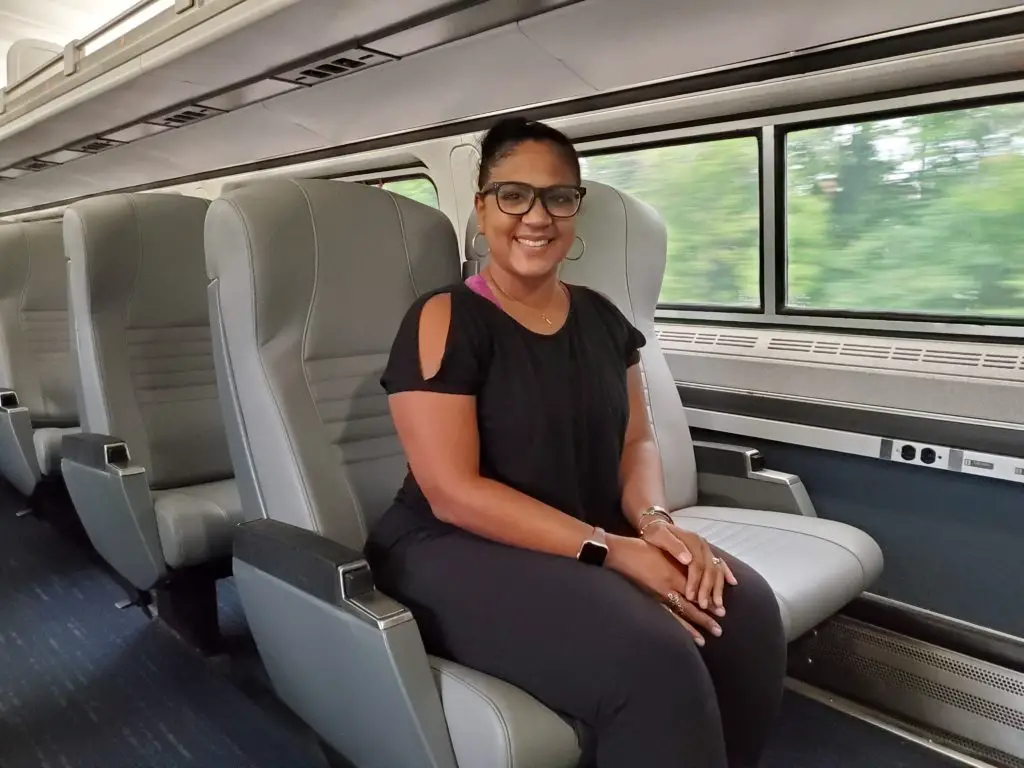 What is the difference between Viewliner and Superliner on Amtrak?
Viewliner Amtrak train routes are primarily for routes in the Northeast Corridor. These train cars are one level. On Viewliner cars there is coach class seating as well as reservable roomettes and bedrooms.
Superliner Amtrak trains can take you across the country. These trains are double decker trains and have coach class, roomettes, bedrooms and bedroom suites.
When it comes to Amtrak Coach seats, which is better, upper level or lower level?
The Superliner has the advantage of having upper and lower car seating that is accessed by an internal stairwell. There are some advantages and disadvantages to sitting in both areas.
Lower Level
There are advantages to sitting on the lower level of a Superliner train car. Easier access to getting on and off is a major advantage when the train stops. You don't have to navigate a set of stairs and wait to exit the car. You will also feel less sway on the lower level, which is great for the traveler that may suffer from motion sickness. If you have trouble navigating stairs, the lower level is a great place to sit. There are also 12 coach seats on the lower level reserved for people that have this challenge as well as a wheelchair accessible restroom.
The are also disadvantages to sitting on the lower level. When the train stops and the doors open, there can be temperature fluctuation which might be uncomfortable. On a hot Phoenix day it can be scorching outside. Likewise, when traveling through the northeast in a snowstorm, that cold air gets let in quickly when the doors open. The views are also not as good on the lower level, due to the fact that the ceiling is lower and the windows are shorter.
Upper Level
The best place to sit in Amtrak Coach Class is on the upper level. It's all about the view on the upper level. This is the biggest advantage of sitting in the upper level. You can also move from car to car more freely as there is access from each car on the upper level. The observation car and the dining car are also accessed through traveling from car to car on the upper level. There is less noise from the tracks so it is a quieter, more peaceful ride and the temperature is more constant because there are no exit or entry points to the outside from the upper level.
A few disadvantages include the fact that the upper level tends to sway more, which can lead to motion sickness. There may be more traffic in the upper level as this is the only way to move from car to car. Furthermore, the majority of coach seating is on the upper level, however the restrooms for coach are located downstairs.
You are riding the train for an adventure and to see some of America. Therefore, if you enjoy riding coach and you don't get motion sick, traveling in the upper level will be a more exciting and enjoyable experience. Watch the beautiful countryside pass you by as you travel in style and comfort. Enjoy traveling seamlessly from car to car exploring and enjoying the dining car as well as the observation car. Keep a comfortable and serene environment as you avoid the throngs of people that will clamor to enter and exit at scheduled stops.
Riding the upper level will be an adventure that you will be glad you chose to take. So, what are you waiting for? Book that coach ticket on Amtrak and start exploring!