Top 10 Tips For First Time Amtrak Riders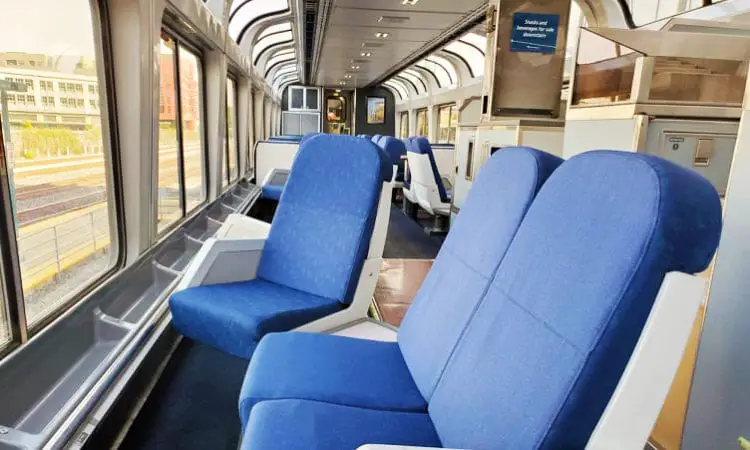 Grounded Life Travel is supported by its audience. When you purchase through links on our site, we may earn an affiliate commission.As an Amazon Associate I earn from qualifying purchases. List of everything we use in our travels.
We share our top 10 tips for first time Amtrak riders to help make your journey more fun. It can be challenging to find all the information you need for your very first ride on Amtrak but we have make it a bit easier for you. We share tips for all passengers, coach passengers as well as sleeper car passengers.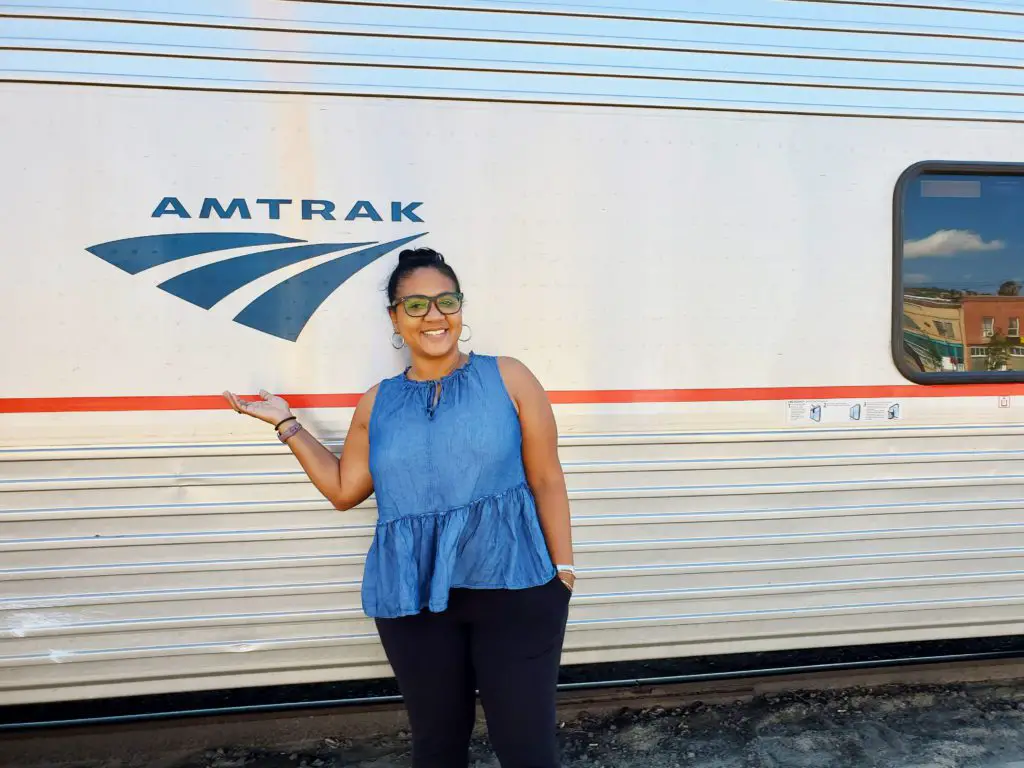 Observation Car Is For Everyone
Most coach passengers on Amtrak do not know that they have access to the Observation Car on the train. You will find the Observation Cars on the cross country routes as well as the Coast Starlight on the west coast. The Observation Car is a great place to sit and watch the world go by. There are windows above as well as on the sides. You will find tables and seats facing the windows for better views. If you are traveling on a cross country route with an Observation Car, be sure to use it, it's for both coach passengers as well as sleeper car passengers.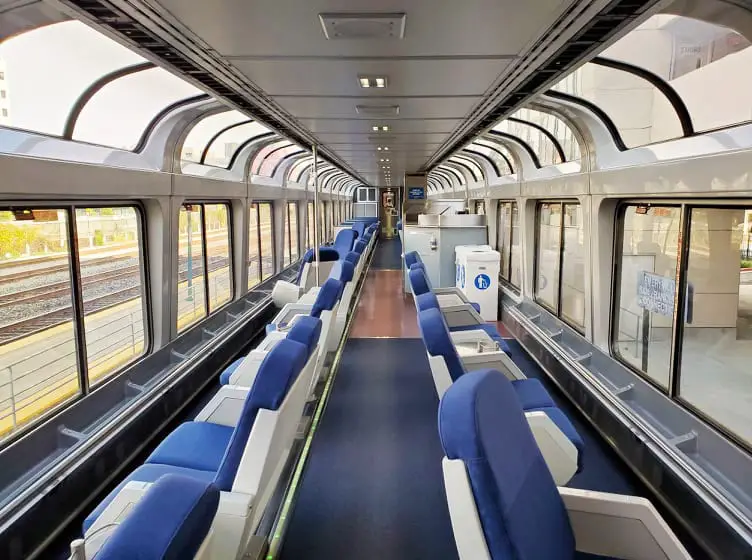 Bring Snacks
Food is something you can easily overlook when planning your train journey. If you are on a longer train ride, you will need to eat meals on the train. All trains have a cafe with food and drinks available for purchase. Meals are included for sleeper car passengers but you also need to account for after hours snacks. The cafe usually closes by 10pm, if you are a late night snacker, you will want to have something on hand. If you are in coach you will need to consider all your meals. You can bring your own food and drinks on the train with you in a small cooler. Not all stations have food readily available so make a plan for your meals.
Don't Make Close Connections
As first time Amtrak riders you likely are not aware that Amtrak has some timing issues. Often times trains are late, it can be as little as a few minutes late and as much as 16 hours or more. When making plans for connections be sure to give yourself enough time to not have to worry about it. If you have booked your connections with Amtrak, they will take care of it but if you have your own plans such as flights, rental cars and such, you will need to give yourself a big window. You don't want to have to worry about these types of things while you are on the train. The east coast routes tend to be more on time than the cross country routes.
Know The Different Types Of Train Stops
There are different types of stops the train will make. The first kind of stop is just a pick up and drop off stop, this stop is the fastest kind. The train only stops long enough for passengers to get on the train or to get off the train. If there are no passengers waiting to get on or get off, the train will simply slow to a stop for just a few seconds and then continue on. The next type of stop is the fresh air break. This break can run from 5 to 10 minutes, depending on the train and schedule. These stops are built in to allow passengers to get off the train and stretch their legs and get some fresh air, this is also a good time for smokers to hop off and grab a smoke too. The last kind of break is a crew change, these tend to be a bit longer as the crew has to update the new crew as they board the train. You can usually step off the train for these breaks as well. Be sure to listen to the crew as they will tell you which type of stop it will be and how long you have. Never leave the train platform so you can hear the "all aboard" call. The train waits for no one.
Sign Up For Guest Rewards
Guest Rewards is the points program from Amtrak. It is free to sign up and you can travel for free with your points. Download the Amtrak App to keep track of your points easily. As part of the Guest Rewards program you will receive alerts via email for upcoming sales. It's a great way to be an insider for Amtrak sales on fares. If you are looking to earn points a bit faster you can also sign up for the Amtrak World Mastercard, they often have point bonuses of 20,000 and up to 50,000.
Find All The Bathrooms
This seems like a strange tip. As a first time Amtrak rider you may not know that you are not limited to the restroom in your car. You can use the restrooms in any car of the same class you are in. If you are in coach, you can use any coach car restroom. If you are in a sleeper car, you can use any public use restroom on the train. Most restrooms are about the size of those on an airplane but there are several restrooms that are a bit bigger, these are designated as accessible restrooms but are open for all passengers to use. If you need a bit more space in the restroom, seek one of these out.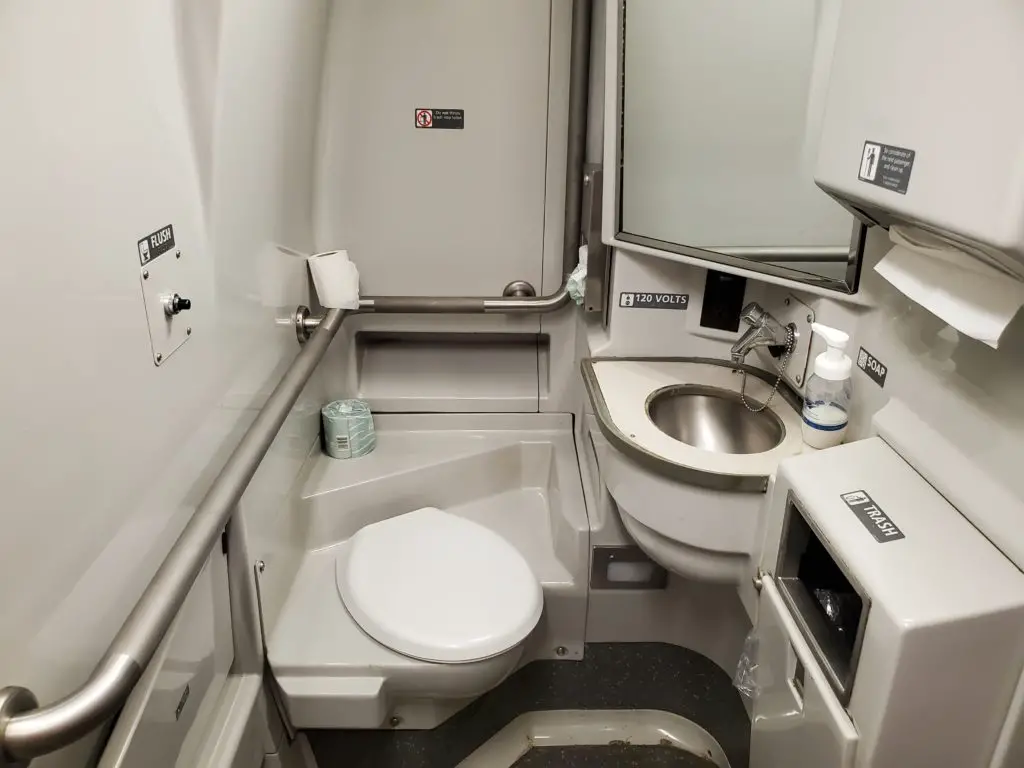 Don't Bring Too Much
A common mistake people make on Amtrak is bringing too much stuff. Unlike airlines, Amtrak offers 2 free checked bags as well as 2 free carry on bags. It's easy to get carried away when you can bring so much without extra fees. The issue is keeping track of all the bags. The other issue is the safe keeping of all your things. It's hard to track all the bags once you are on the train. Keep your luggage to a minimum for ease of travel.
Use The Metropolitan Lounge
If you are traveling in a sleeper car accommodation you will have access to the metropolitan lounge at the major stations in Chicago, Boston, New York City, Los Angeles, Portland and Washington DC. Plan to arrive early so you can enjoy this perk. These staffed lounges are a nice place to rest up, and they also have complimentary food and beverages available. Once in the lounge, you will receive priority boarding onto the train. Don't miss out on this great bonus with your Amtrak fare.
Have A Transportation Plan For After
Amtrak trains can arrive to your destination at odd hours. The stations are often located in odd parts of the city. It can be hard to find transportation once you arrive, especially if you arrive after hours. Ubers are not always reliable late at night outside the city. You will want to make sure you have someone who can pick you up or schedule a pick up with a car service to ensure you don't get stuck at the station. Most stations close after the last train comes by and you won't be able to stay there. Know the area you are arriving to and have a transportation plan ahead of time.
If You Have Special Needs
Those traveling with any special needs on Amtrak are in luck. Amtrak does a great job of assisting those who require it while on board. If you have any special needs be sure to convey that information when you book your ticket. There are lots of accommodations on board the train for those with mobility issues as well. If you plan to book a sleeper car, you can now book an accessible room for your trip.
Top 10 Tips For First Time Amtrak Riders
We hope these 10 tips have helped shed some light on what your first journey on Amtrak will be like. If you have never traveled by train it can be confusing to know what you can do and what you should do. Do you have a train trip planned, if so, where are you planning on going? If you have not planned a trip, be sure to check out our blog on how to book your own trip.