Grounded Life Travel is supported by its audience. When you purchase through links on our site, we may earn an affiliate commission.As an Amazon Associate I earn from qualifying purchases. List of everything we use in our travels.
There is no Amtrak train station in Las Vegas, Nevada, but it is possible to reach Las Vegas on Amtrak by connecting with an Amtrak Thruway Bus. You can also take the Southwest Chief to Kingman, AZ and rent a car and drive around 1.5 hours to reach Las Vegas.
You can book your ticket to Las Vegas directly on Amtrak.com or in the Amtrak app or by calling 1-800-USA-RAIL.
Ways To Reach Las Vegas On Amtrak
Southwest Chief To Kingman, AZ and rent a car
Southwest Chief To Kingman, AZ and take Amtrak Bus
Coast Starlight To Oxnard, CA and take Amtrak Bus
From the East Coast
If you are traveling from the east coast you'll need to book a ticket on the Southwest Chief. Book your ticket either for Kingman, AZ, at which point you can rent a car, or Las Vegas, NV, which when you arrive in Kingman, AZ you'll be put on an Amtrak bus.
From the West Coast
From Los Angeles you can book a ticket from LAX to LSV which will have you on the Coast Starlight to Oxnard, CA and then on a bus from Oxnard to Las Vegas, NV.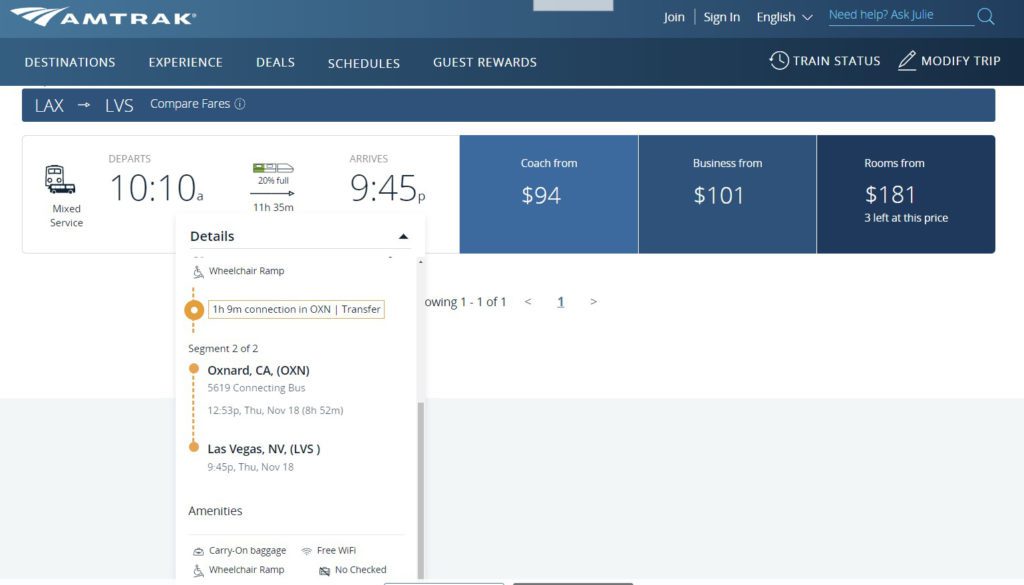 Amtrak To Las Vegas Tips
It is possible to book a sleeper car on the Southwest Chief to Kingman. Doing so will give you a place to rest during the day and traditional dining for all your meals. From the east, the Southwest Chief gets to Kingman at 12:21am and from the west it arrives at 2:15am.
You won't be able to rent a car until the next morning, so we recommend using the Amtrak Bus option. If you book your ticket directly to Las Vegas, you can get into your hotel and secure a car the next day if you require one for your stay.
Las Vegas, New Mexico is also an Amtrak station so don't be fooled into booking a ticket there, it is not the same as the Las Vegas in Nevada.
Amtrak Kingman Station
When we stayed in Kingman, we chose the El Trovatore Motel, due to it's historic nature along Route 66. There are several motels to choose from in the area.
After you've rented your car, do not miss the Route 66 stretch from Kingman to Seligman. It is where the inspiration for the cars movie happened.