Guide To Driving Through and Around Zion National Park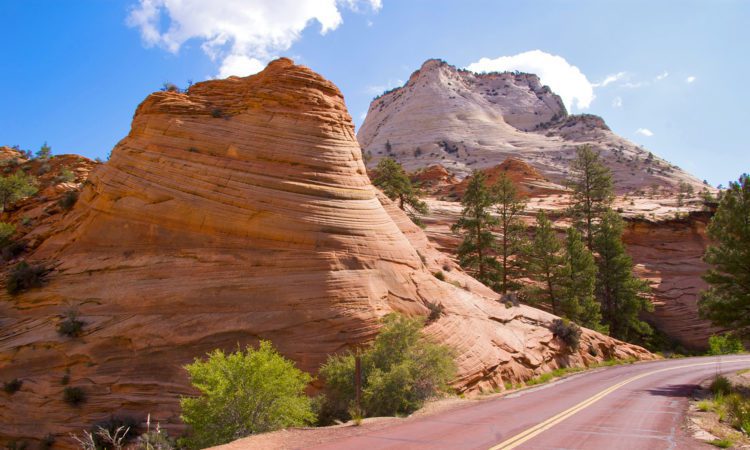 Navajo sandstone formations along the scenic Zion Mount Carmel Highway, Zion National Park
Grounded Life Travel is supported by its audience. When you purchase through links on our site, we may earn an affiliate commission.As an Amazon Associate I earn from qualifying purchases. List of everything we use in our travels.
The hiking and biking in and around Zion National Park is some of the best and sought after in all the world. People come from all over to conquer The Narrows and Angel's Landing for the challenge and unique experiences they give.
However, what if you aren't a thrill seeker? What if you enjoy the scenery just as much as anyone else, but hiking isn't your thing? Sometimes you just want to get in the car and DRIVE!!
Dashboard scenes can be just as fun and rewarding and you can get a taste of the park while you are comfortable within your 72 degree rolling chamber. Whenever you feel like it, get out, stretch your legs and hike a bit, or don't. It's up to you!
There are so many things to see from your car window in this great national park. Follow this Guide To Driving Through and Around Zion National Park, and experience the park in a convenient and comfortable way.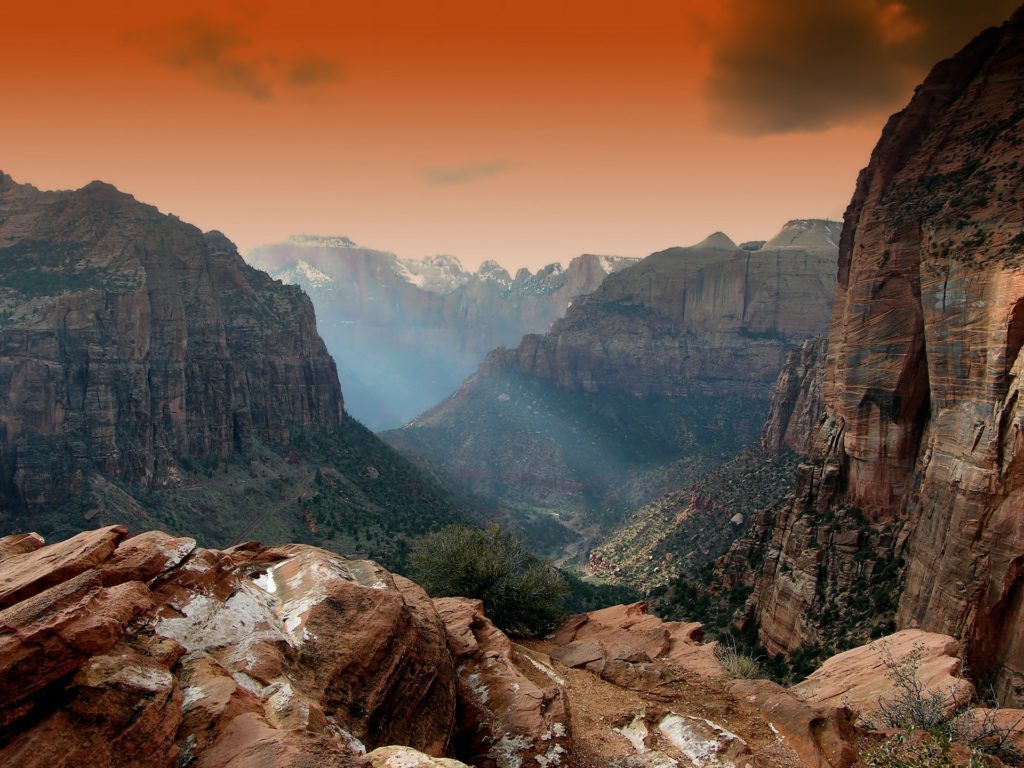 It's hot in Zion National park in summer. The 100 degree temps combined with the dry air can leave you parched and withered. Getting in the car to see some of the sights is a great way to break up your trip if you need a rest after that long and hot 8 mile hike the previous day.
Driving through Zion National Park
The Zion National Park Scenic Drive is open all year long, but if you are visiting between March and November, it will be closed to private vehicles. However, don't fret, as this is not a problem and may even be better for the driver in your group.
Zion National Park has an outstanding FREE shuttle service that runs from the town of Springdale all the way through the park, giving you amazing views and stopping at nine scenic points and trailheads. You can get off and get back on as often as you like and you don't have to worry about parking. Taking the shuttle is great in summer when crowds can be heavy.
From November to March you can drive the scenic drive by car and take your time to see the sights. This drive is 8 miles long one way and will take you about thirty minutes to drive without stopping. But, what's the fun in that? Stopping at every view, trailhead, point of interest and natural formation is what it's all about. Take the six to eight hours to devour the park and learn how amazing it truly is.
Zion Canyon Scenic Drive
Zion Canyon Scenic Drive is an 8 mile drive that will take you through some of the major interests of the park. When taking the scenic drive, make sure you stop at these points on your tour to get the most of your day of sightseeing.
Stop 1: Visitors Center
When visiting any national park, my advice is to go to the visitors center first. You can learn so much about the park by perusing museums, gathering maps and talking to a ranger. The visitors center will orient you and pique your interest about the history, geology and topography of the park as you drive through. There's also a gift shop and a place to get refreshments before your trip.
Stop 2: Zion Human History Museum
The Southern Paiute and the settlers from the east inhabited this area as far back as 1100 A.D. The Zion Human History Museum touches on the lives of these historical humans and how they have shaped the area. Stop here and learn more about why and what has drawn people of all walks of life to this area and how they have effected and changed this part of the world.
After visiting both of these stops, you will arrive at the entrance to Zion National Park. Here, you can pay a $30 entry fee per car or if you have you National Park Pass, which is $80 per year, you can show this and enter.
Stop #3 Canyon Junction
This is where the Zion Scenic Drive really starts. Here, you can park and choose to hike the Pa'rus Trail, a 1.7 mile one way trail that is great for pets and wheelchairs as it is very wide. Great scenery and several crossings over the river will be a great way to stretch your legs while you are on your sight seeing journey.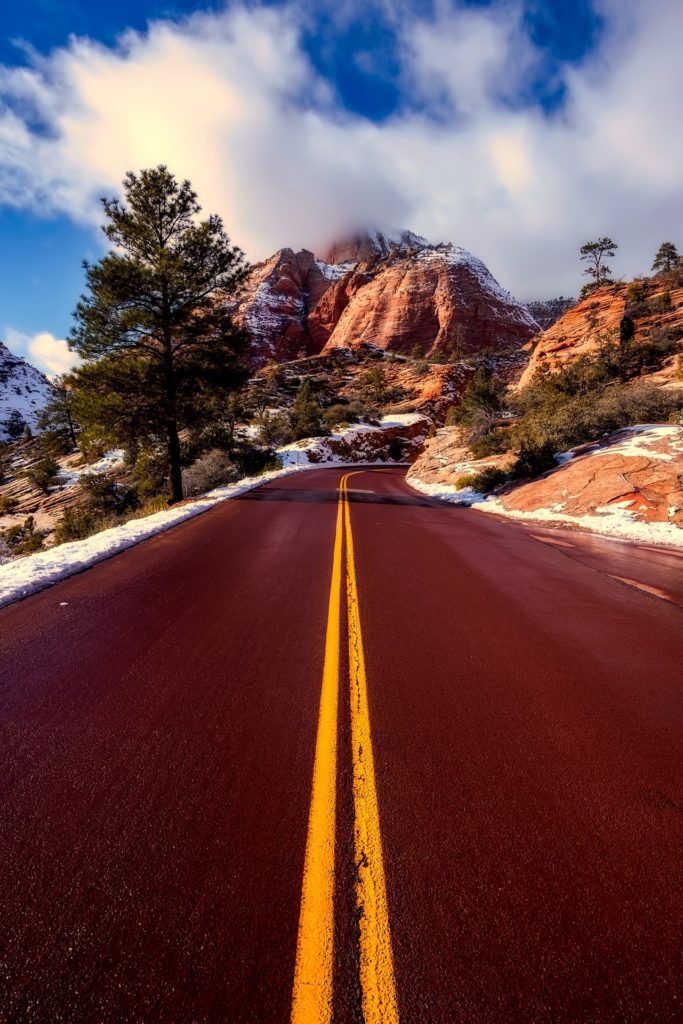 Stop #4: Court of Patriarchs
If you didn't stop at the last place, this is another chance to get out for a moment and see a scenic overlook. A very quick walk takes you to see the formations called Abraham, Issac and Jacob. This is also the point where you can begin the Sand Bench Loop Trail, which is a 3.5 mile trail that takes you to some good canyon views below.
Stop #5: Zion Lodge
Zion Lodge is the only accommodation within the park. Sleep within an interior that gives you a southwestern vibe and is comfortable, with access to a multitude of trails. Access famous trails such as Angel's Landing, Emerald Pools and The Grotto trails. The Red Rock Grill is also just a short walk if you need a bite to eat.
Stop #6: The Grotto
For amazingly scenic views and a chance for a picnic on a nice day, this stop is also a great photo opportunity. The Grotto is also the official start to Angel's Landing, and other notable hikes, so it could be crowded. If you are there on a winter day, it should be pleasant and quiet.
Stop #7: Weeping Rock
The Weeping Rock Trail is currently closed due to a massive rock fall in 2019. No update has been given as to when it may reopen. However, when it does reopen you will be in for a treat as it is a beautiful place to stop. One of the shortest hikes in the park will take you to walls of rock that continuously seep water, therefore creating an amazing habitat for all sorts of hanging plants to thrive. This trail will be closed mostly in winter due to the fact that hanging ice can fall and is very dangerous.
Stop #8: Big Bend
Although there are no trails from this stop, the main attraction is a chance to gaze at the Virgin River as it sharply turns through the canyon. The red of the canyon, the river and the blue sky all create one of those fabulous scenes that make Zion so famous. The opportunity to catch a fantastic photo is yours for the taking.
Stop #9: Temple of Sinawava
The Temple Sinawava is one of the most coveted hiking journeys in Zion, if not the United States. Walk the path one mile to the beginning of The Narrows where you can hike through the Virgin River between 1,000 foot cliff walls that narrow into beautiful passageways and slot canyons. Of course this is an all day commitment, but it's great to at least explore to where the narrows start, which is just one mile if you have time.
After this last stop, you can turn around and go back to Springdale and see a completely different view than what you saw coming into the park.
Zion Mt. Carmel Scenic Drive
The Zion- Mt. Carmel Scenic Drive is a forty mile scenic drive that runs from the South entrance of Zion National Park to the Mt. Carmel Junction and U.S. Route 89. It was built in 1930 to allow visitors to easily move from Zion National Park to Bryce Canyon National Park and enjoy the scenery while doing so.
On this drive, you will encounter numerous stunning rock formations, hoodoos, arches, hilltops and various strata of rock laid over a vast amount of time. Erosion and other feats of nature have created the gorgeous scenery you will see on this drive.
You will enter the mysterious Zion-Mt. Carmel Tunnel that will give you a glimpse of the scenery through "windows" that were engineered to give the passenger a flash of imagery as you drive through. The tunnel is very narrow and barely big enough to fit two lanes of traffic, so drive slowly and use caution.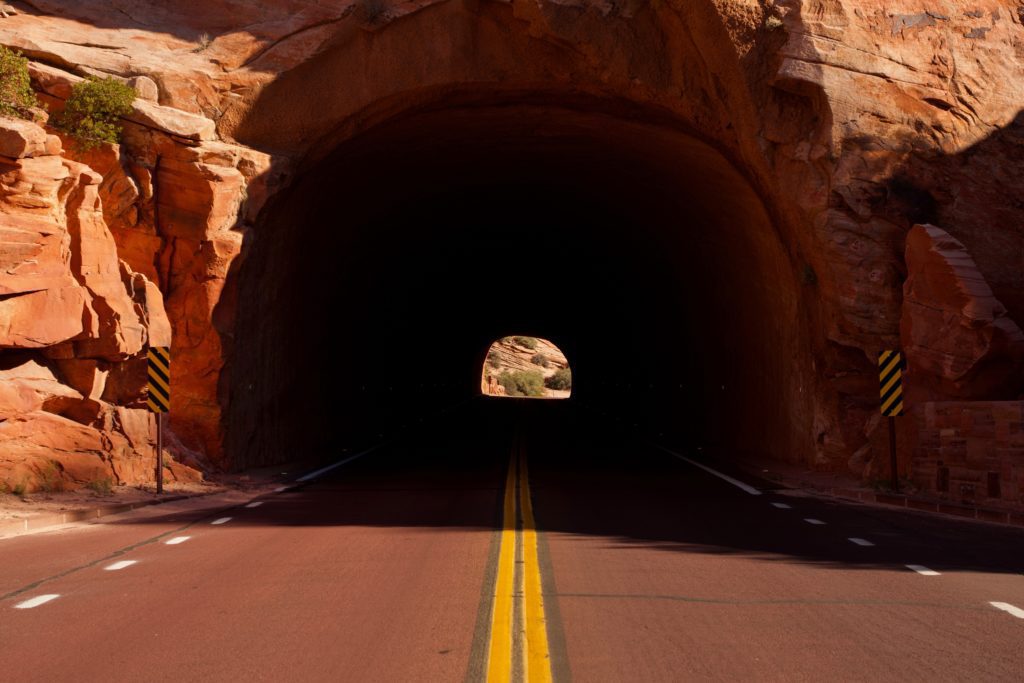 There are also various places to hike if you want to get out of the car for a bit. Try Echo Canyon, a slot canyon in which you will see experts rappelling and rock climbing. If you don't have the gear, you can just watch, which is just as fun and a whole lot safer.
Check out Checkerboard Mesa, which features a unique mound of rock where the erosion has left a checkerboard pattern over time. The East Rim is also accessible from this route and you can choose to hike the entire 10 miles or just a portion as you check out the stunning topography around you.
You will eventually get to Mt. Carmel Junction and Hwy 89, at which point you can turn around or continue to Bryce Canyon, which is only about an hour from this point.
Zion is a magical place whether you see it by hiking, biking, airplane or car. Doing one or both of these scenic drives will give you the feel of why everyone in the world has Zion National Park on their list of things to do before they die.