12 Things You Need To Know Before Visiting Badlands National Park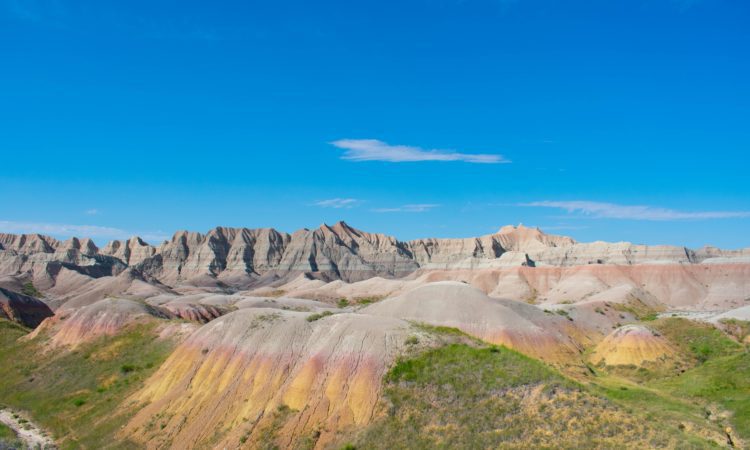 Grounded Life Travel is supported by its audience. When you purchase through links on our site, we may earn an affiliate commission.As an Amazon Associate I earn from qualifying purchases. List of everything we use in our travels.
Badlands National Park is one of those parks that is intriguing, but yet has so much hidden within its golden and pink hills to discover that you may not know about until you have your first visit.
There's the scenic views, the amazing trails through sand spun valleys and the millions of fossils to discover along the way. Who would have ever thought that ancient alligators, deep seas and marshes used to cover this vast plain of rock and grasslands.
If you are visiting for the first time, here are 12 things you need to know before visiting Badlands National Park in order to get the most out of your trip.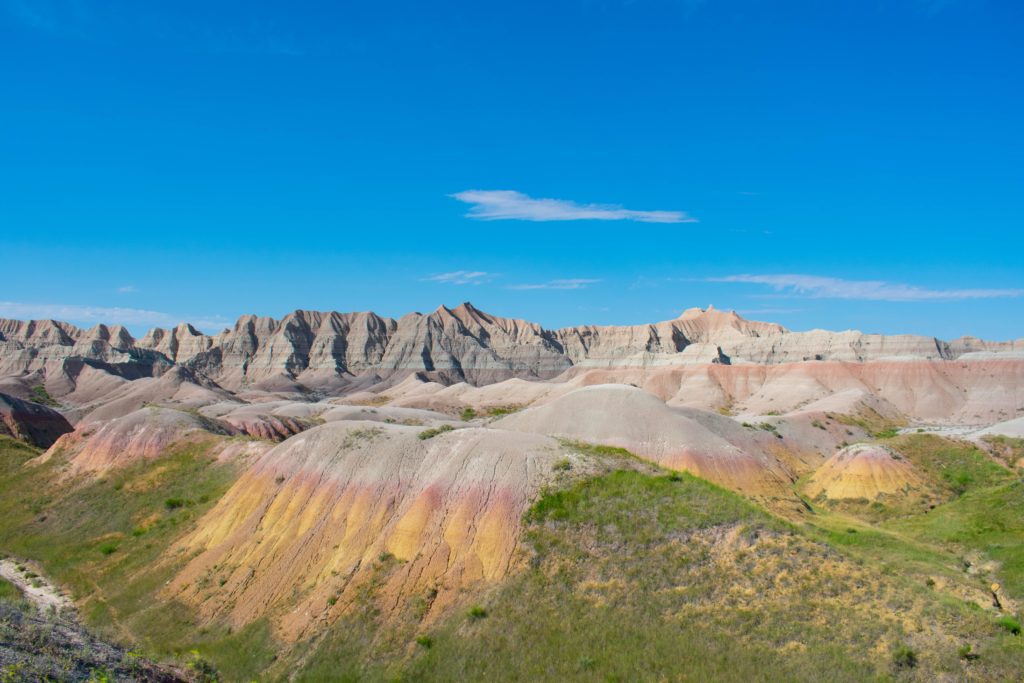 Is it worth visiting Badlands National Park?
Badlands National Park is one of those underrated parks because the pictures just don't do it justice. To be standing on an outcrop of 75 million year old sediment that tells multiple stories through space and time is something you just have to experience.
Not only does every layer have a story to tell but they are ever changing and eroding away at the rate of one inch per year. These magnificent mounds contain pieces of the past in the form of fossils that are constantly being uncovered. In fact, so many fossils are present, that there are signs posted within the park with the protocol to follow if you find a fossil. For amateur geologists, history buffs and seekers of beautiful vistas, this national park is definitely worth visiting.
Many people visit Badlands National Park on their way to Mount Rushmore. However, you can add Sturgis, Deadwood and the Black Hills to that list, rounding out a perfect road trip!
Is Badlands National Park free?
Badlands National Park isn't free. Like all national parks in America you will need to pay an entrance fee of $30.00 for each private vehicle, which will allow you to enter and exit for seven days from the date of purchase. If you have purchased the "America the Beautiful" pass, which covers your private vehicle for one full year in all national parks, you will be able to show your pass and enter.
Badlands National Park also has its own park pass for $55.00 that admits your private vehicle for one year from month of purchase.
How many days do you need in the Badlands?
If you have two full days, you will be able to accomplish a lot of sight seeing and exploring in the park. First, you should drive the 39 mile Badlands Loop and take in all that there is to see. There are 16 different viewpoints on this route. Stop at a few and then take note of which ones you want to explore more. Then, plan accordingly for the rest of your day, as well as another day in the park.
There is so much to see and you will want to stop at special vista viewpoints and leave time for a hike or two to really experience the essence of the park. There are eight official hiking trails in the national park, but this park has an "Open Hike Policy", which means you are allowed to hike off trail. This opens all sorts of possibilities for exploring!
Does it cost money to drive the Badlands Loop?
The Badlands Loop is a 39-mile stretch of road that twists and turns through some of the most gorgeous rock formations on the planet. Even though it seems like you might have to pay to drive a route that has been featured in video games because it's so fun to drive, it's completely free! You will pay the entrance fee or show your park pass when entering the park. Once you have entered the park you can drive the Badlands Loop without paying additional fees.
Is there cell service in the Badlands?
The official answer is that you can't count on cell phone service in Badlands National Park. However, there are pockets in which some carriers work. Conata Picnic Area and Basin Overlook are reported to have good coverage with popular carriers. The Southeast entrance of the park and the Cedar Pass Area are also reported to have good coverage. Therefore, if you are trying to combine work with sightseeing, these places are the best place to stop.
Are the Badlands near Mt. Rushmore?
Great news! It's relatively easy to combine your Badlands National Park trip with a trip to Mount Rushmore. The two parks are only about 80 miles apart and there are two ways to get from one to the other. You can start at the north entrance, drive through the park and then catch SD-244 east towards Mount Rushmore. This will take you around an hour and a half.
Another popular way is to explore the park and then drive north to Wall, South Dakota. You can take a pit stop at the wildly famous Wall Drug Store and pick out a few gifts and treats at this store that has it all. Then, continue on Interstate 90 towards Mount Rushmore. This will also take you around an hour and a half, without stopping. However, who can resist a stop at an iconic landmark.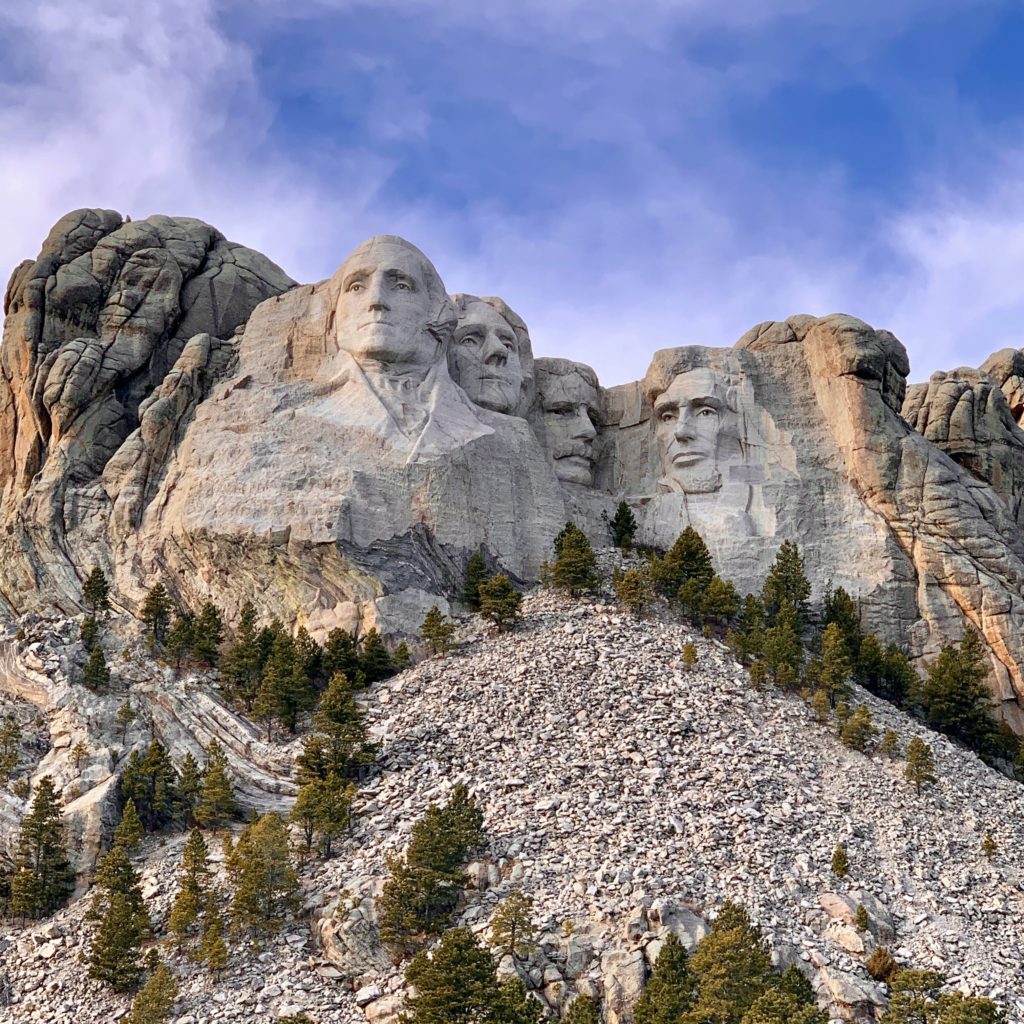 Is It worth visiting Wall Drug?
Way back in the 1930's when cross country travel was becoming the all American adventure, Wall Drug was trying to find the perfect gimmick to set them apart from all the other stop off of Interstate 90. Turns out, all it took was a cup of free ice water to every patron and an American success story was born.
Today, stopping at Wall drugs can be a five minute bathroom break or a two hour wander through a store that has everything from Native American jewelry to phone chargers. Grab a buffalo burger at the Western Art Gallery Restaurant and peruse their impressive collection of western oil paintings. Then, let the kids pan for gold and take selfies with a Giant jackalope. No road trip would ever be complete with a stop at a historic and fun landmark like Wall Drug.
How far is Wall Drug from the Badlands?
Wall Drug is only eight miles from Badlands National Park. Believe me, after touring a hot and dry place such as the Badlands, you will be craving that free cup of ice water!
Does Wall Drug have showers?
Wall Drug itself does not have showers. However, Sleepy Hollow Campground, located 1.5 miles from Wall Drug does have restroom facilities and showers for patrons of the campground.
How long does it take to go through Wall Drug?
If you and your traveling partner want to get a snack, use the restroom and browse a bit, I would reserve 45 minutes to an hour to walk through Wall Drug. However, if you are a family with children or you are in a larger group, you may need a couple of hours to peruse this historical stop.
Is the Corn Palace worth visiting?
If you are in the state of South Dakota, you must stop by The Corn Palace in Mitchell South Dakota. Situated 200 miles east of Badlands National Park, this would be a good place to add to your summer road trip of South Dakota.
The Corn Palace is the only building made of corn in the world and has existed since 1892. If you have ever seen this palace of epic proportions, you must go back, because the community designs and builds a new facade every year for your enjoyment. Students from the nearby university design the next year's murals, then a local farmer grows over 375,000 ears of corn in 12 varieties. Now that's some operation worth stopping for!
The Badlands and the surrounding areas can be the perfect addition to your summer road trip. Hit the road armed with a good camera, gas in your car and the excitement of what is to come on the highways of America.