Best Month To Visit Zion National Park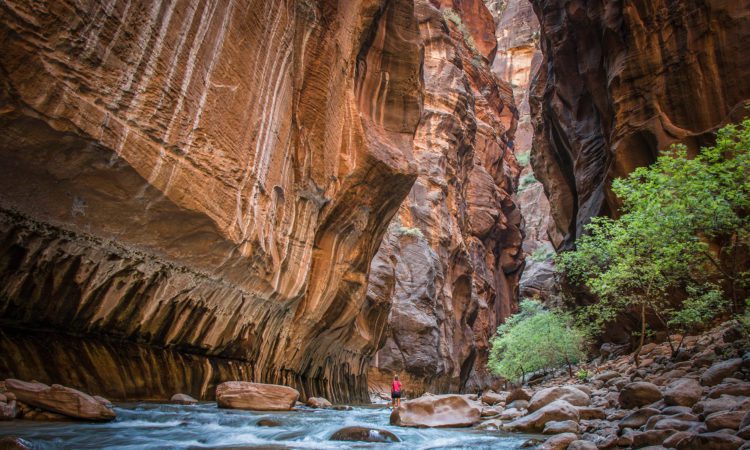 Grounded Life Travel is supported by its audience. When you purchase through links on our site, we may earn an affiliate commission.As an Amazon Associate I earn from qualifying purchases. List of everything we use in our travels.
Visiting Zion National Park is on so many world traveler's agendas. It is breathtakingly gorgeous and will give you some uniquely adventurous activities that you won't experience anywhere else in the world. But, if you are spending thousands on a vacation, you want to know when the best time is to visit Zion National Park.
Spring has the flowers that cover the canyon and the edges of the 112 trails that are scattered about Zion. The weather is warmer and you don't have to worry about the occasional snowstorm shutting down trails. But, the spring thaw will bring torrents of water into the canyon resulting in a monstrous flow in the Virgin River. Unfortunately, this closes the Narrows in late spring. When the thaw is over and the rush of water is under 150 cubic meters per second, you will be free to traverse The Narrows once more.
Summer is dry and hot and The Narrows will be open for all to enjoy. However, the key word "all" means that The Narrows as well as the rest of the park will be flooded with guests clamoring to see all that makes Zion, one of the most sought after parks in the national park system.
Winter is a unique time to see the park and you won't encounter crowds. Investing in a good camera is a great idea because when it snows, the park transforms into an amazing contrast in color. Blue sky, white mountains and red rocks lead to the sparkle of the Virgin River, which gives you the most fabulous opportunity for the photo of a lifetime. But, that snow can stop you in your tracks, literally, when trails might close and roads may be impassable.
That leaves us with fall. Fall is the perfect time to visit Zion National Park. The crowds are back at work and feverishly learning at school. The weather has mellowed out and isn't so breathtakingly scorching. The Narrows are open and Angel's Landing isn't as packed. Fall is a great time to visit for all of these reasons and more. October in particular is a great time to come and see this amazing park.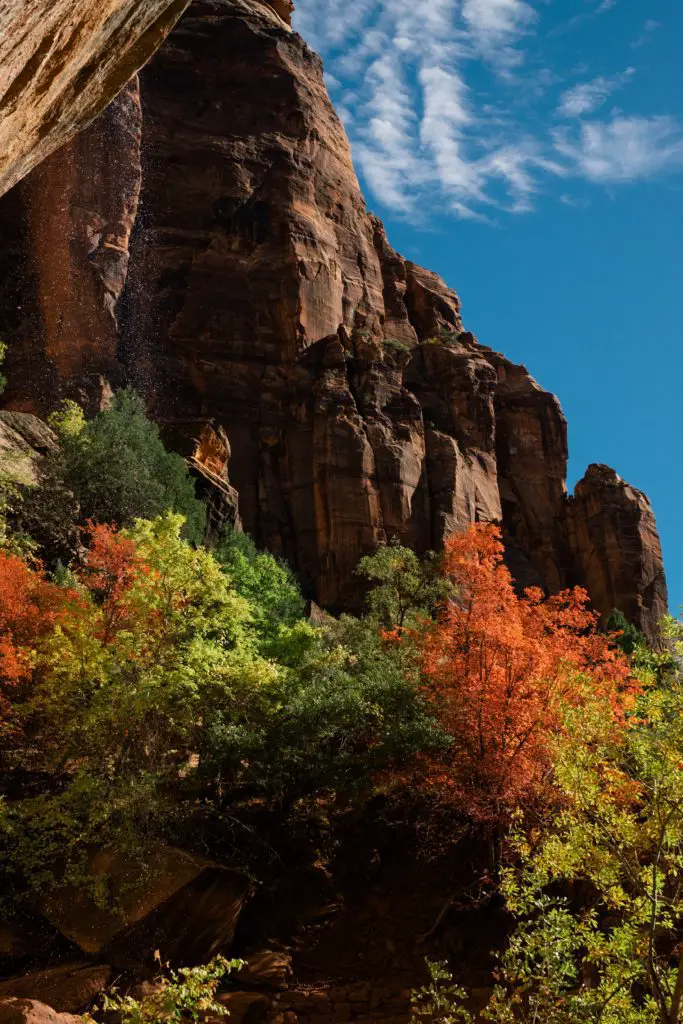 October is a great time for hiking
The fact that it is not in the triple digits anymore should bring a huge smile to your face. October's temperatures range anywhere from a high of 69 degrees for the high and 42 for the low. These are the absolute best hiking temperatures you can ask for.
Taylor Creek Trail
This trail is in Kolob Canyon and will take you 5 miles round trip through some amazing topography as well as historic sights. But the main event is the tree lined Taylor Creek where the Cottonwood Trees steal the show. With their golden and bright orange canopy lining the babbling creek, you will be sure to feel like you have hit the fall wonderland lottery. With various views and color everywhere, this is one hike not to miss!
Canyon Overlook Trail
This trail is perfect for families that want a big payoff without a ton of work. The Canyon Overlook trail is a one mile round-trip hike that will dazzle you with the sight of the canyon floor in full color. Bright oranges and yellows mix with the pinyon pines against the red and brown rock of the Zion Canyon. Go at sunset and you will be wowed with one of the most gorgeous experiences available on earth.
October is a great time for bicycling
Whether its cycling on the Zion Canyon Scenic Drive or mountain biking on the Pa'rus Trail, October is a great time because there will be fewer bicycles on the trail and the weather will be cooler, leading to a more enjoyable experience.
Zion National Park provides shuttles through October on Zion Canyon Scenic Drive. Not having to compete with sightseers in cars is a bonus as it can be more dangerous. Shuttles only occasionally pass, so that you can really get the full feeling of seeing Zion without the stress of thousands of tourist filled cars.
October is a great time for climbing
If you have never climbed, Zion is a perfect place to try this spine tingling, adrenaline inducing sport. If you're a seasoned wall rat, then you know it doesn't get much better than Zion. There are climbs for every level and every age. Try it on your own if you have the experience or hire a guide at one of the ten major outfitters waiting to introduce you to the sport or help you level up your game.
For the novice climber you'll be trying climbs such as "Touchstone Wall" or "Moonlight Buttress". For the climber who needs a challenge, Angel's Landing is a must. "Dancin with the Devil", which scurries up Angel's Landing's peak might be just what you're looking for. You can also try the ten other routes at Angel's Landing to see what you're made of.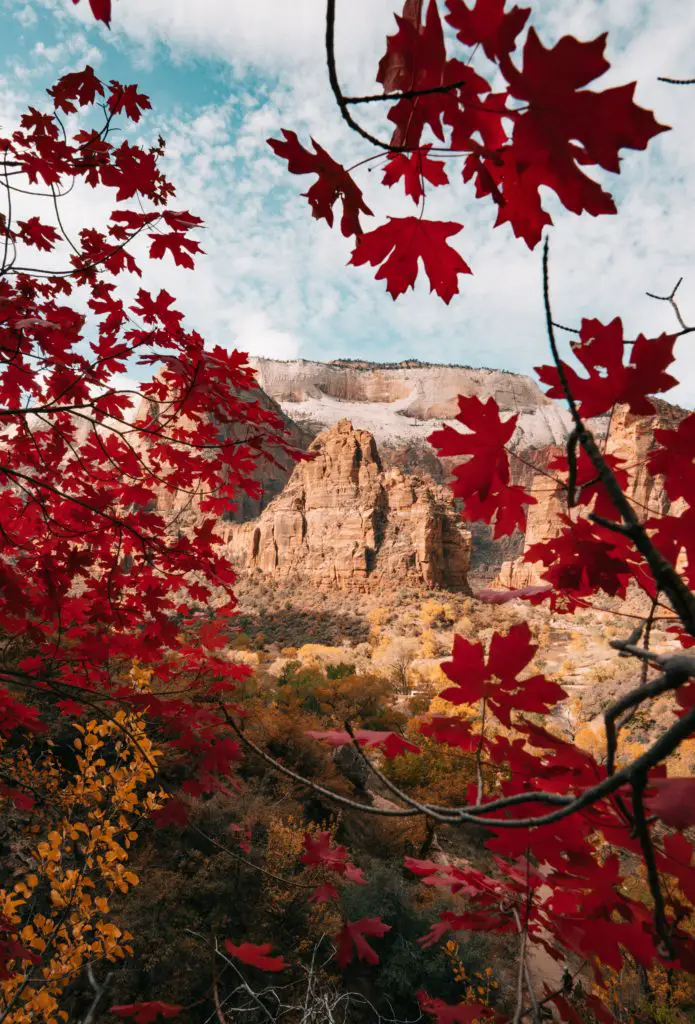 October is a great time for photography
If you live in America, you know that October is the time of color almost anywhere you live. Zion is no exception to this rule and the beautiful vistas, stunning canyons and gorgeous riparian landscapes give novice and professional photogs the chance to hone their skills.
The Watchman is said to be one of the top places to photograph in the park. Capture a replica of that iconic photo we all know and love with the Virgin River hugging The Watchman's banks. Going at sunrise or sunset will give you that extra ambiance you are looking for the perfect photo.
At the Temple of Sinewava, the starting of The Narrows Hike, you can capture some gorgeous Virgin River scenes. The famous weeping ferns and mosses along with the bright yellow and orange Cottonwoods use the red rocks of the canyon to their eye catching advantage. This is a great walk to take anytime of year, but October is the best in my opinion.
October is a great time for Stargazing
On the days before and after a new moon, you can see millions of heavenly bodies almost anywhere in the park. The best place to go is in Kolob Canyon where any light pollution will be far from sight, giving you the most spectacular night sky. If you time is right you can go when there is a meteor shower.
The Draconid meteor shower is one to look for in early October as it passes by Earth producing as many as 100 meteors an hour. Orionid also comes by Earth in late October and can give a spectacular display of meteors in the early morning hours.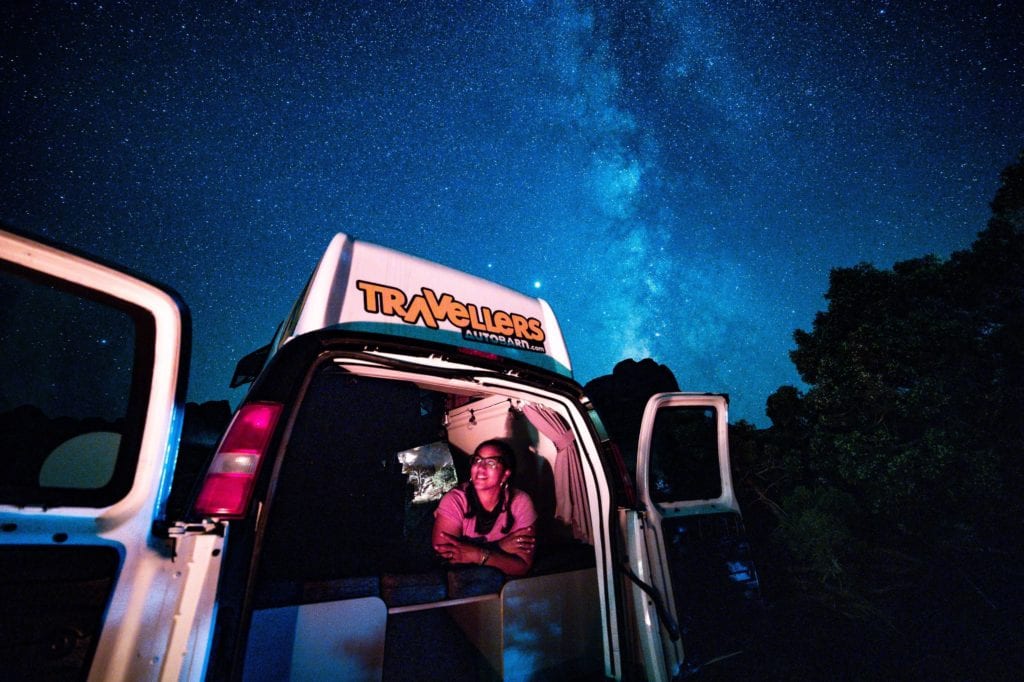 October is a great time for camping
Zion is famous for its scenic camping spots. Although you won't be alone, you will be in one of the best places in Zion for camping. When you open your tent flap in the morning, you will be greeting by astounding views and a feeling of great appreciation for nature.
Watchman Campground
Along with the best views in the park, you can enjoy cell phone service and electricity for streaming on late nights. As the name implies, The Watchman towers over you as you enjoy cooking over open flames or relaxing by the campfire.
South Campground
South Campground is just as scenic but lacks electric hookups, so you will be roughing it a bit more. Try for one of the great campsites on the Virgin River and enjoy the babbling as you are lulled to sleep under the stars.
Visiting Zion anytime of year is a great decision without a doubt. However, if you can swing a trip to Zion in October, you will be presented with the park at its absolute finest. Get your calendar out and pen down some dates. This is a choice you will never regret!