Zion National Park Vs. Bryce Canyon National Park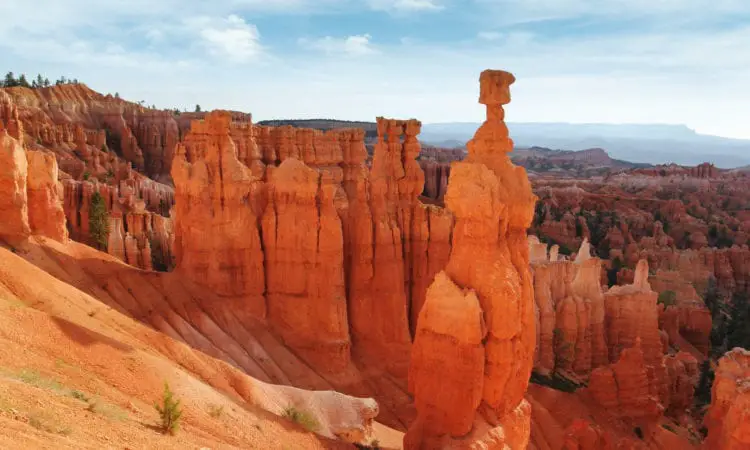 Bryce Canyon National Park, Thor's HammerHoodoos orange rock formations. Utah, USA. From Sunset Point
Grounded Life Travel is supported by its audience. When you purchase through links on our site, we may earn an affiliate commission.As an Amazon Associate I earn from qualifying purchases. List of everything we use in our travels.
There are 423 national park sites in America. All are unique, interesting and beautiful in their own way. They were selected because they are parts of what makes America so great. The rolling plains, the tallest mountains, pristine rivers and gorgeous lakes all deserve a visit by everyone, for they are the fabric of America.
Utah has some of the best national parks in the system. The "Mighty Five", five national parks in southern Utah that include Arches, Zion, Bryce, Canyonlands and Capitol Reef National Parks, draw over 12 million visitors a year. Many people may take off on a summer adventure, traveling from one park to another as a pilgrimage and homage to the great American road trip.
Two of these great national parks are very close together and you may be wondering what the difference is between the two. If you've seen one, have you seen the other? Zion and Bryce Canyon are two parks that are very different indeed, but each definitely deserves your attention.
How does the climate differ between Zion and Bryce?
Zion National Park has a diverse climate due to the elevation ranges in which it contains. From 4,000 feet in Springdale to 8,700 feet in elevation at the summit of Horse Ranch, there are many biomes in this interesting park. There's the desert, the riverine areas and the coniferous forest, which gives Zion such a diverse climate.
Therefore, temperature ranges can have great variation depending on where you are in Zion. But, if you are staying in Springdale, which is located in the canyon, you can expect temperatures to be fairly moderate. In winter, temperatures hover around the freezing mark for lows and are quite pleasant in the afternoon in the mid 50's for highs. Summers are hot and it is not uncommon for temperatures to rise to over 100 degrees. As you rise in elevation, you can experience a temperature change of ten to fifteen degrees, so head out into the mountains on these sweltering days.
In contrast, Bryce Canyon National Park is located at the edge of the Paunsaugunt Plateau and has a desert biome on one side of the park and a forest biome on the other side. This is possible due to its variations in elevation. Elevation in the park is anywhere from 6,600 feet to 9,100 feet. These high elevations make winters cold and summers pleasant. In winter, snow and ice are common as well as frigid temperatures as low at 9 degrees. But, in summer you can enjoy highs that rarely get above the mid 80's, which is a perfect reprieve from the heat of Zion.
How does the scenery and topography differ between Zion and Bryce?
Zion National Park is located in the Colorado Plateau which includes the red rock cliffs that have undergone the uplift, tilt and erosion to form the majestic sights we all enjoy. The Virgin River is a major River and has carved a canyon into the park that includes a variation of gorgeous plants and shrubs that surround the river. Cacti is found as you move away from the river. The green beauty contrasting with the red cliffs is a sight to see. The park road winds around these incredible features that have eroded with time.
Bryce Canyon is a bit of a misnomer, as Bryce is not really a canyon. Canyons are formed by the erosion of a central stream, but Bryce was created by uplift in the Colorado Plateau, which has eroded over time by wind, rain and snow to form the great Hoodoos you see in the park today.
Bryce has a distinctive variation of biomes. On the eastern side of the park is the desert part where you find little vegetation, but on the western side there is an alpine forest that provides a habitat for many animals in the park. It is amazing to see the difference as you drive the park roads.
What various activities are available at Zion and Bryce?
Hiking in Zion
Zion has an array of activities that can be enjoyed year round. Hiking is probably the most popular activity with 112 hiking trails available. Choose one of the 24 easy trails such as the Riverwalk Trail that runs along the Virgin River. But, if you want a challenge the spine tingling Angel's Landing should be on your radar.
Biking in Zion
Biking is also a great activity, especially in the cooler months in Zion. You can bring your own bike or rent a bike in Springdale and enter through the park gates that are right in town. Additionally, You can also take the shuttle to various spots in the park and bike from there. Make sure you ride single file on the right side of the road and wear your helmet. The shuttle will share the road so be aware!
The Zion Narrows
The Zion Narrows are probably the most unique feature of the park and most people aim to walk at least some of intricately beautiful slot canyons in the Virgin River before they leave. The water can be frigid depending what time of year you go. In winter, make sure you invest in renting a dry suit to keep from getting hypothermia. Boots or river shoes and a walking stick are also crucial to navigate the waist high river water for miles through the slots.
Hiking in Bryce Canyon
Bryce Canyon's most popular activity is hiking. To get down into the canyon and see the hoodoos from the bottom up is awe-inspiring and something you should definitely do. For little effort and great reward consider taking the Queens Gardens and Navajo Loop Trail. The views never stop from start to finish on the trail as you hike through the hoodoos.
Horseback Riding in Bryce Canyon
Horseback riding in Bryce Canyon through the canyon is one of the most memorable experiences available in Bryce Canyon. Descend into the canyon on a horse that likes to walk the edge as they all do to give you a little extra adrenaline. Enjoy the astounding scenery as a guide tells you all about the features and history of the park. This is one of the most enjoyable ways to see the park and a definite must do.
What cities are near Zion and Bryce for accommodations?
Springdale
Springdale is the closest city to Zion and is literally right outside the park. You can stay almost anywhere in Springdale and access the park by using one of the town shuttles that will take you to the entrance. From here, you can take a park shuttle to one of the nine stops in Zion. The shuttle comes every fifteen minutes making it easy to see the park this way.
You will find everything you need in Springdale. The restaurants are top notch and there is everything from five star spa hotels to more humble motels and inns for the budget conscience traveler. Plan an excursion with a local outfitter and go rock climbing or canyoneering or rent a bike or scooter to see the sights.
Bryce Canyon City
Bryce Canyon City is a smaller place in comparison to Springdale as it was only incorporated in 2007. But, there are ample places to stay and a few restaurants to fill your needs at the end of a long day in the park. Bryce Canyon City has an old west feel that permeates its surroundings and really feels authentic. The area is anchored by Ruby's Inn that has been in operation for over 100 years. The 700 room resort has three restaurants, a general store, an RV park and a campground. You can also plan an excursion with one of the outfitters for horseback riding, ATV tours or even a sight-seeing flight.
Zion and Bryce don't have to compete with each other for your attention as they are uniquely interesting and beautiful in their own right. Picking a favorite would be like picking your favorite child. You just inherently love them both the same. A vacation to see both parks will be a great plan that all in your party will thoroughly enjoy.