Visiting Zion National Park In March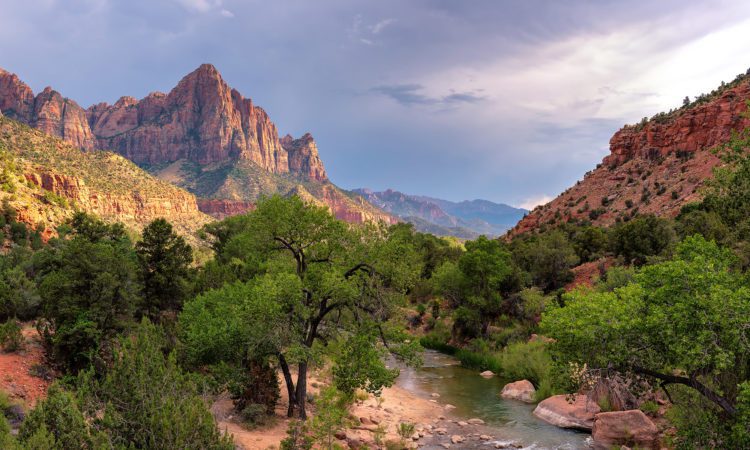 Grounded Life Travel is supported by its audience. When you purchase through links on our site, we may earn an affiliate commission.As an Amazon Associate I earn from qualifying purchases. List of everything we use in our travels.
Springtime is amazing almost anywhere in America. The air is crisp but getting warmer everyday. Everything is sprouting and that feeling that life has a new start permeates everything around us. What better way to celebrate this amazing time of year than to visit Zion National Park.
Spring time is a great time to visit the park. The park is bursting with life from all of the plants and animals that are emerging from their winter slumber. The crowds have not yet formed at their feverish heights like they do in summer. It is not yet too hot to comfortably hike in the canyon, where in summer it can get into the triple digits.
Spring can be a great time to take a vacation and explore the park and all it has to offer the adventurous soul.
What is the weather like in Zion in spring?
Zion National Park is in a red rock desert and high altitude forest. This means that you can get extremes in weather and temperatures. Springdale is in the canyon, therefore, you will experience milder weather than on the rim.
However, when you wake up on a spring day in Springdale, you can expect temperatures to be hovering around freezing, but up on the rim there may be snow. This makes for some unbelievable scenery, so it's great to prepare with your best camera.
By the time you are ready to get going on the hike, temperatures should have moderated to the mid 50's, making it excellent hiking weather. Make sure you stop by the visitors center and check out trail conditions before you head out to ensure there aren't closures due to ice and snow.
How should I dress for Zion in March?
Frolicking in Zion in the spring time can have you bundled in the morning and stripping your layers by lunchtime. You should really pack for all season, but to make sure you don't have to pay for luggage on your flight you can leave the bulky parka and huge sweaters at home.
If you're heading out as the sun comes up, you should dress warmly. Start with a great pair of insulating long underwear. You can layer this with a lightweight fleece and top it off with a wind/light rain jacket. Zip-off pants or track pants work well for this time of day. The zip-off pants are great for when the temperature rises.
If you set off mid-day in March, your hike will warm you quickly. Forgo the long underwear and just layer as described before. Don't forget your sunscreen with an SPF of at least 30 and a wide brimmed hat. The sun can be brutal anytime of year, so ensure you prepare.
As mentioned, nights can be quite frosty. But, your long underwear along with a good insulating jacket, beanie, gloves and a scarf should keep you toasty. If you are camping, you may want to invest in some warm packs to keep in your sleeping bag for a comfortable night's sleep.
What trails will be open when visiting in March?
Weather and precipitation are always a factor when planning a hike in any national park. Most trails will be open in March, but you should always check the national park website or stop by the visitors center to ensure the trail you have chosen is open. Here are a few that you should check out on your trip.
Angel's Landing
Angel's Landing is the most sought after hike in the park due to is reputation for being equally dangerous, difficult and stunningly beautiful. This 5.4 mile 1,500 foot elevation change hike is one of the top rated hikes in the world. This draws many to this trail. Due to the danger of the hike the trail may close if there is ice or too much wind or rain. Believe me, you do not want to be on this trail if it is slippery. With the width of 4.5 to 5 feet trails that drop 1,000 feet on either side, one slip would mean an eternal nap.
Angel's Landing can definitely be conquered in March, but timing is everything. Pay close attention to weather and trail reports so that you can experience this trail without added worries. Hopefully, you'll still get the bragging rights you are hoping for.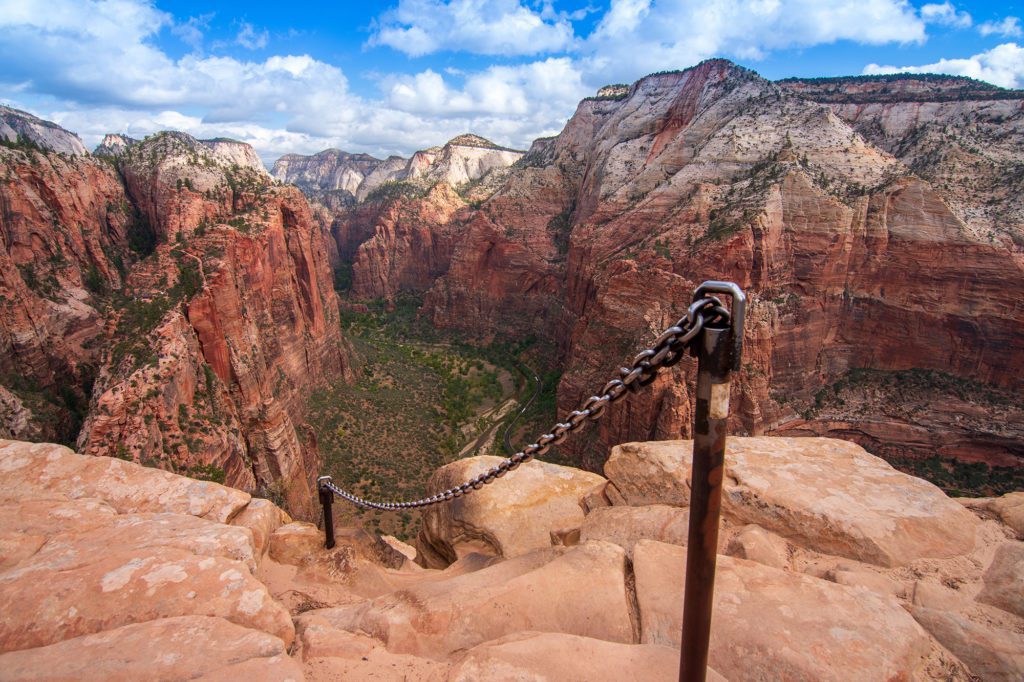 Emerald Pools Trail
Emerald Pools Trail is a hike that is broken into three separate sections. The Lower Pool, Middle Pool and Upper Pool. The Lower Pool is almost always open due to being located at the bottom of the canyon. If this is the only part of the trail that you can hike, then it is worth it. This paved .6 mile path is easily reached by young and old alike and is surrounded by a beautiful amphitheater and dripping cliff sides, complete with weeping flora. Later in spring, these gorgeous plants will flower and there will be color. Because March is typically a little wetter than other months, you have the added benefit of having a potentially rushing waterfall at the bottom that may be only trickling at other times. Precipitation and melting snow can contribute to this, therefore you are in for a treat if conditions allow.
If the weather allows and the trail isn't icy, you can make it to the Middle Pool. A quarter mile from the lower pool is a dramatic cliff face that feeds the pool below. Slippery without ice in its own right, you should take great care not to lose your footing.
The Upper Pool is a sight to behold and is tough but if you are moderately fit, this half mile climb from the Middle Pool should be easily manageable. Once you are there you will have to pinch yourself to ensure you are not dreaming! This 400-foot waterfall surrounded by red rock cliffs is nothing short of astounding. Water levels should be higher than usual in March due to snow melt and precipitation. You will be tempted to go for a wade in the pool, but don't, as this is not only dangerous but prohibited by the national park service.
Riverside Walk
This walk is a must do anytime of year. It is a flat 2-mile trail that hugs the banks of the Virgin River and has some of the most fantastic scenery in the canyon. With its green weeping walls and sounds of flowing water, it is especially relaxing after a long strenuous day in the park. The trail should be less crowded than other times in the year, adding to the benefit of visiting in March. You can also gauge how things look towards the end of the walk as this path also leads to the beginning of The Narrows.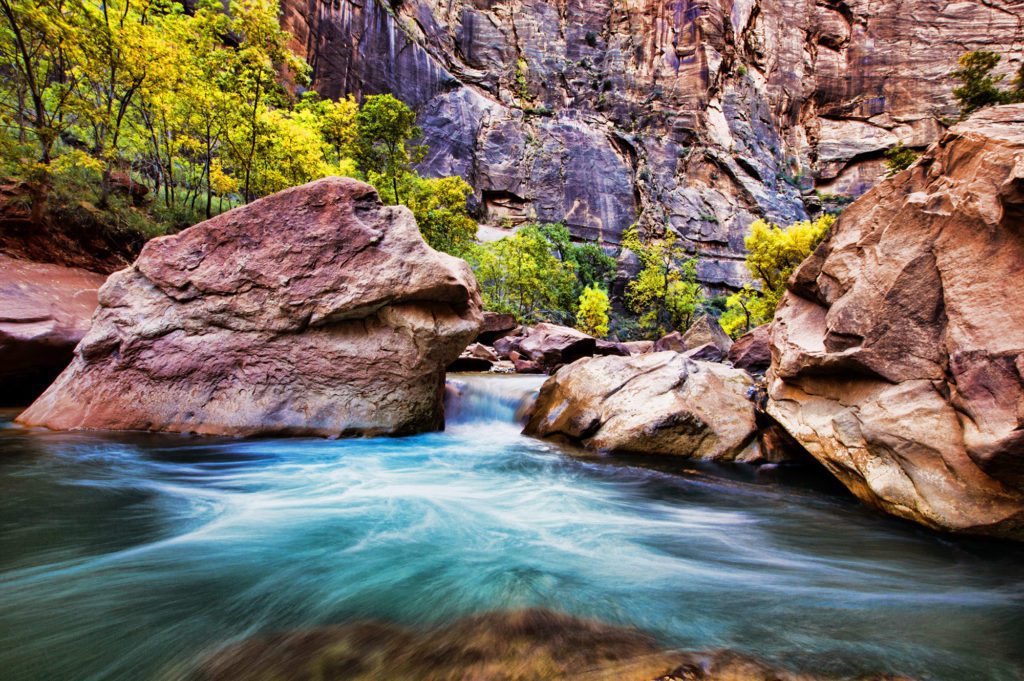 The Narrows
The Narrows can be a crapshoot in March. Due to snowmelt, it may be closed because of safety concerns. If the flow rate of water is over 150 feet per cubic second, the park service will close The Narrows. If you are visiting in early March, you have a greater chance to experience this unique feature. It will be colder and snowmelt may not yet be a factor. As the spring wears on, the rush may become too risky.
However, if The Narrows is calm enough, you can't miss this opportunity to explore the slot canyons of Zion in such an interesting and thrilling way. Make sure you arm yourself with the right gear for this time of year. Drysuits are essential to prevent from getting hypothermia from the 35-40 degree water. You can rent these, along with a good pair of boots in a few locations in the town in Springdale. Remember a good walking stick as well to keep you upright as it is slippery and getting your footing can be a challenge at times.
Visiting Zion National Park in March is a great time to come and experience the park at a time when it won't be crowded and the weather is pleasant. The snow-capped mountains, the emergence of new life and the opportunity to see the park like few get to see it, will give you the experience of a lifetime in one of America's favorite places.