Grounded Life Travel is supported by its audience. When you purchase through links on our site, we may earn an affiliate commission.As an Amazon Associate I earn from qualifying purchases. List of everything we use in our travels.
The Amtrak Crescent is one of the longest east coast Amtrak routes. It takes passengers form New York City to New Orleans by way of Atlanta.
Does the Crescent have a dining car
The Amtrak Crescent does have a dining car. The dining car on the Crescent serves the flexible dining menu. Dining car meals are included in the ticket price of sleeping coach passengers and will be available for purchase to coach passengers in late 2022.
There is also a cafe on board the Crescent, which is located in the middle of the train near the dining car. The cafe is open to all passengers to purchase hot and cold food throughout the day.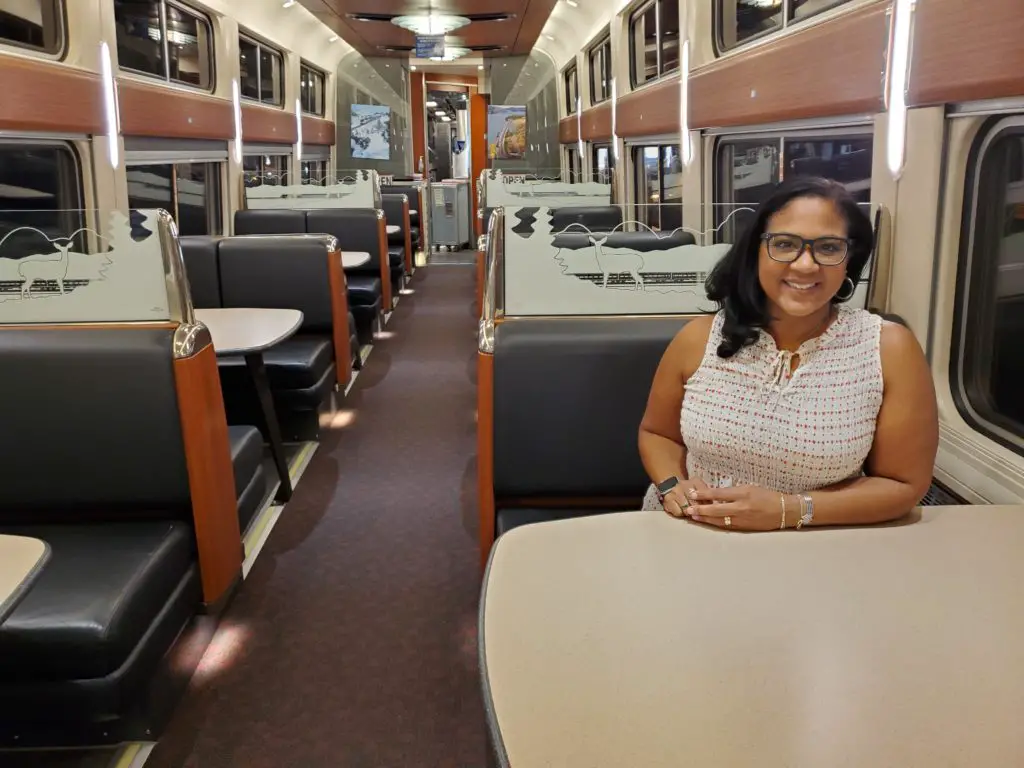 What is a Crescent Roomette Like
The roomette rooms on the Amtrak Crescent will be Viewliner Roomettes. They feature two chairs that face each other during the day. At night the two chairs slide together to form a lower bed and the upper berth folds down from the ceiling. There are no bathrooms or showers in the Viewliner II roomettes, but Viewliner I roomettes will have a toilet and sink. Bathrooms and showers are located down the hall for Viewliner II passengers.
Doors on viewliner roomettes will lock from the inside, but not the outside when you are out of your room. Access to the car is limited to sleeping coach passengers.
There is only one power outlet in the viewliner roomette, so be sure to bring an adapter or portable charging station, as we've talked about in our 20 must have items for an Amtrak trip.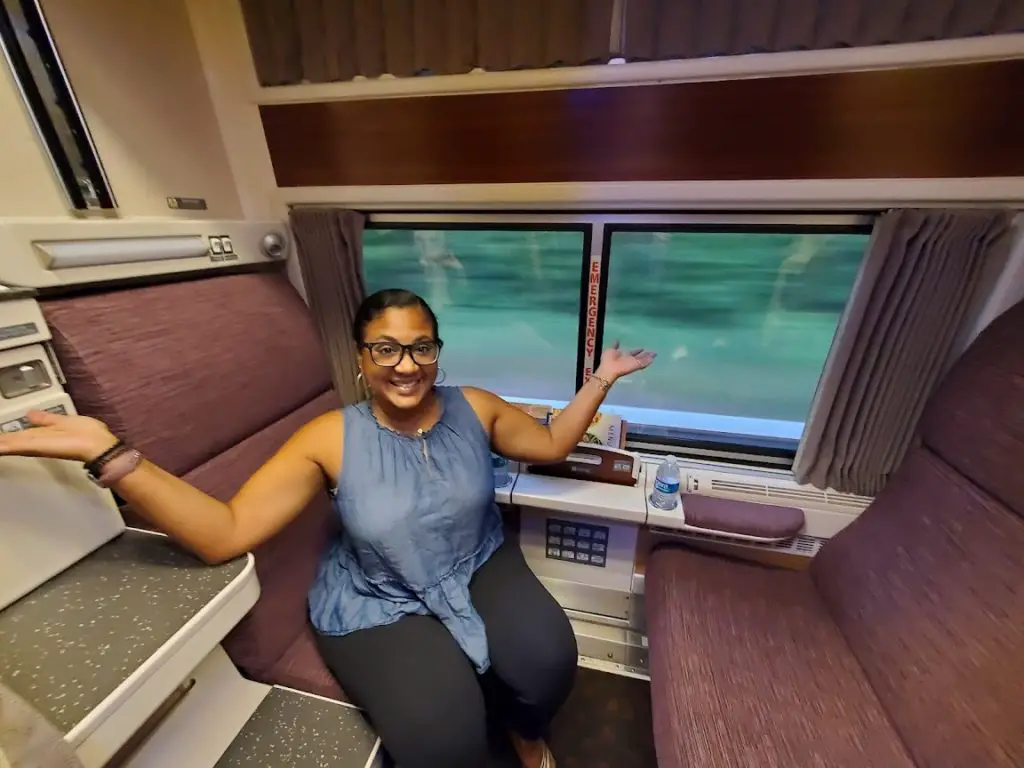 What Is A Crescent Bedroom Like
Bedrooms on the Crescent will be Viewliner Bedrooms and are more spacious than a roomette. During the day a bedroom will have a couch on one side and a chair that faces it on the other. At night the couch folds down like a futon to form the lower bed and the upper berth folds down from the ceiling. Viewliner Bedrooms have a private bathroom with an all in one shower and toilet area. Next to the couch there is a sink and counter area.
Is The Amtrak Crescent Scenic
The Amtrak Crescent is not considered a scenic train ride. There are nice portions, mostly near New Orleans as you pass by Lake Pontchartrain, but most of the northern section is just trees. Don't expect to see beautiful scenery out of your windows on the Crescent. There is no observation car on the Amtrak Crescent, which makes it even more difficult to see, as you'll only be able to see out the side of the train you are seated on.
How Long Is The Ride From New Orleans To Atlanta on the Crescent
There is one train per day from New Orleans to Atlanta. The Amtrak Crescent leaves New Orleans at 9:15am and arrives in Atlanta at 11:00pm, taking 12 hours and 45 minutes. The Amtrak Crescent continues on from Atlanta to New York City.
What days does the Amtrak Crescent run
The Amtrak Crescent runs every day in both north and south directions. There is one northbound daily departure from New Orleans at 9:15am and one southbound daily departure from New York City at 2:15pm on Sunday, Monday, Tuesday, Wednesday, Thursday, Friday and Saturday.
The Crescent is not a hop on hop off train, you'll need a ticket each time you get off and get back on the next day.
Where Should You Stay In New York City and New Orleans
In New Orleans you'll need to take a cab to your hotel. We've stayed at the Troubadour Hotel, which is about a mile from the station and really enjoyed it.
When riding the Crescent from New York City our favorite hotel is the Fairfield Inn & Suites. It is located right next to Moynihan Train Hall and makes for a very easy transition to the station.
Does the Crescent have WiFi
The Amtrak Crescent does have WiFi. While many Amtrak trains have WiFi connections on board, some do not, so it is always good to check. The WiFi will not be faster than you cell phone connection though, but if you want to save data or use a computer it is a good option.
Does the Amtrak Crescent have an observation car
The Amtrak Crescent does not have an observation car. Observation cars are only found on Superliner trains, which operate going west from Chicago. No train that visits New York City will have an observation car.
How long are the stops on the Crescent
Most stops on the Amtrak Crescent are 3 minutes. Every few hours there is a fresh air break stop, which lasts 10-15 minutes, and a few times on the trip there will be a crew change stop which will last around 30 minutes. You are allowed to get off the train during a fresh air break or a crew change stop but not the shorter stops. You should never leave the platform and you should be ready to board when all aboard is called.
Is the Amtrak Crescent Worth It
The Amtrak Crescent is worth the money and a great way to see the United States. Since it feature more spacious Viewliner cars and only travels for 1 night, it is a great trip for first time Amtrak riders. The Amtrak Crescent has an incredible approach into New Orleans by Lake Pontchartrain.
How Long Is A Train Ride From Georgia To New York
The Amtrak Crescent travels from Atlanta to New York City in 18 hours and 39 minutes. The Crescent leaves Atlanta at 11:39pm and arrives at Moynihan Train Hall in New York City at 6:08pm the next day. This train originates in New Orleans.
Where does the Amtrak Crescent stop